Chocolate Pavlova with Strawberries and Cream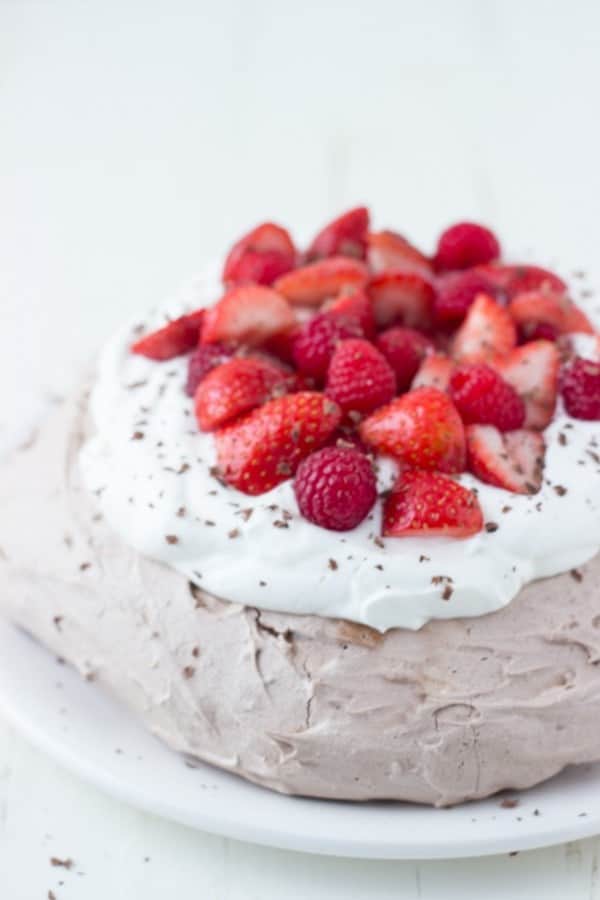 Happy Monday friends! I hope you had a wonderful Valentine's Day weekend. It was miserably cold for us here this weekend so it made it easier to stay in with hot beverages and couch cuddles. The hubs and I made dinner, I made cake (coming later this week) and watched a marathon of Parenthood. It was kinda perfection in my opinion.
Talking about Parenthood, do any of you watch that show? It is seriously the best show I have seen in forever. It follows the story of a family, three generations sharing the joy, heartaches and challenges of a modern family. It is real, funny, family friendly and just amazing. If you are like me and didn't even know it existed until a few months ago, get on board ASAP. Netflix has you hooked up and I mean…5 seasons worth of laughing and crying on your couch.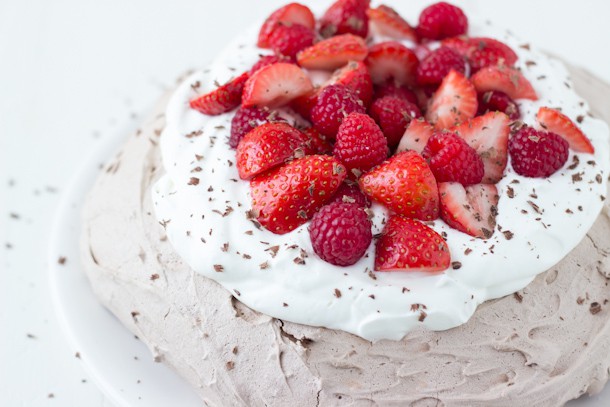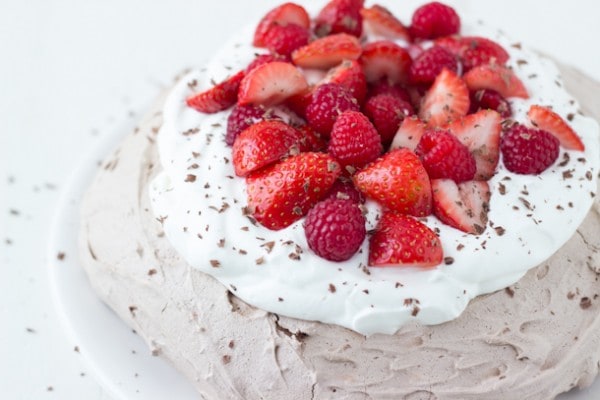 But I am sure you are not here for my TV show addictions. This chocolate pavlova with strawberries and cream must have caught your attention. It caught mine too when I saw it in an issue of Food Network Magazine a few months ago. I love pavlova (pretty much a meringue) but have never tried a chocolate version. This chocolate pavlova doesn't only have cocoa powder in the shell, it also has chopped chocolate baked into the middle. It is incredibly decadent!!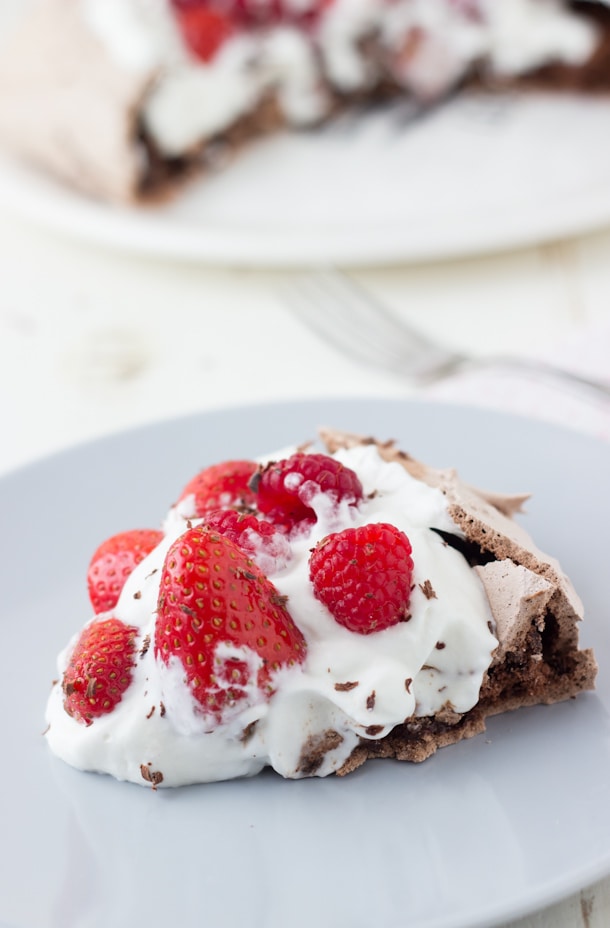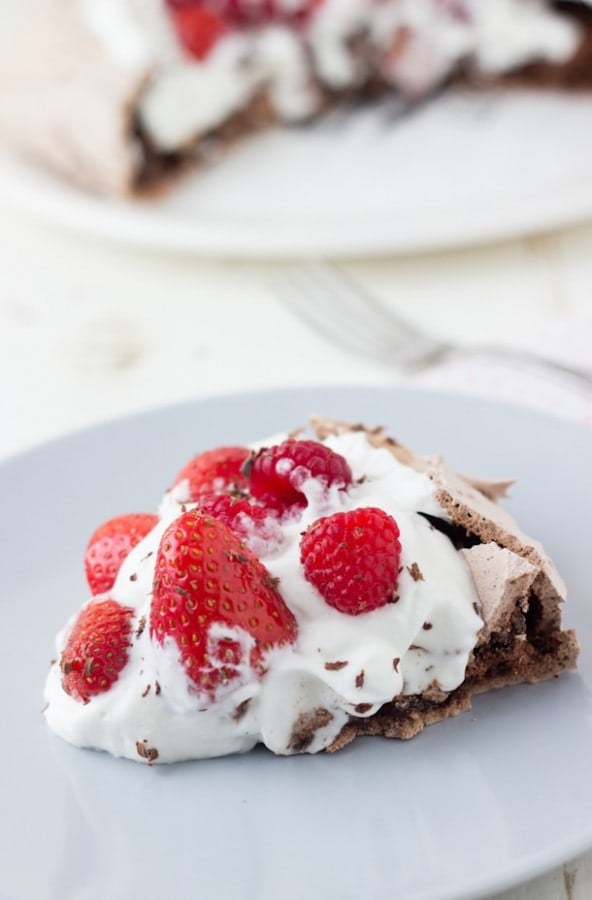 Not only is this chocolate pavlova a stunning dessert for any occasion, it will make all the chocoholics happy. The soft sweet chocolate center is wrapped inside a crisp shell and topped with whipped cream and fresh strawberries for a easy presentation.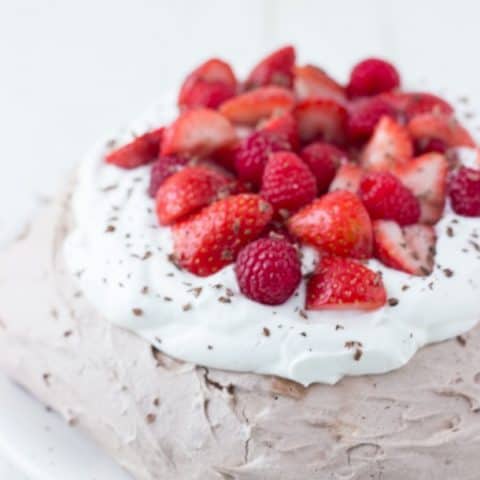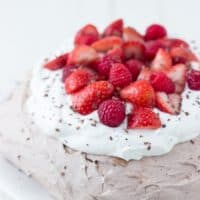 Chocolate Pavlova with Strawberries and Cream
Total Time
2 hours
15 minutes
Ingredients
For Pavlova:
5 large egg whites, room temperature
pinch of cream of tartar
pinch of salt
1 ¼ cups granulated sugar
5 tablespoons unsweetened cocoa powder
2 ounces bittersweet chocolate, finely chopped
For the Toppings:
1 ½ cup heavy cream, cold
½ cup sour cream (or Greek yogurt)
1 teaspoon vanilla extract
2 tablespoons sugar + 1 teaspoon
2 cups strawberries, cut in halves
1 cup raspberries
Instructions
Preheat oven to 250 degrees F. Line a baking sheet with parchment paper.
In a large bowl, combine the egg whites with cream of tartar and salt. Beat the egg whites on medium-high speed until foamy, about 2 minutes. With mixer going, gradually beat in sugar, 2 tablespoon at a time. This will take about 3 minutes. Continue beating until stiff and shiny peaks form.
Sift the cocoa powder over the egg mixture and sprinkle in the chopped chocolate. Using a rubber spatula, fold to combine.
Spread the meringue onto the prepared baking sheet, making an 8-inch circle. Create a shallow well in the center.
Reduce oven temperature to 225 degrees F and bake until firm and dry, about 2 hours. Turn off oven and open the oven door. Let the meringue cool in oven completely, about 3 hours. Carefully remove the parchment and transfer to a plate.
For topping: beat the heavy cream, sour cream, vanilla extract and 2 tablespoons of sugar until soft peaks form, about 2 minutes. In a small bowl, toss the berries with remaining teaspoon of sugar.
Top the pavlova with whipped cream and berries. Serve immediately.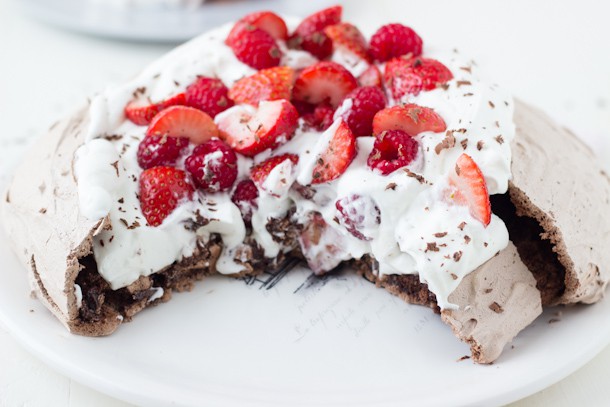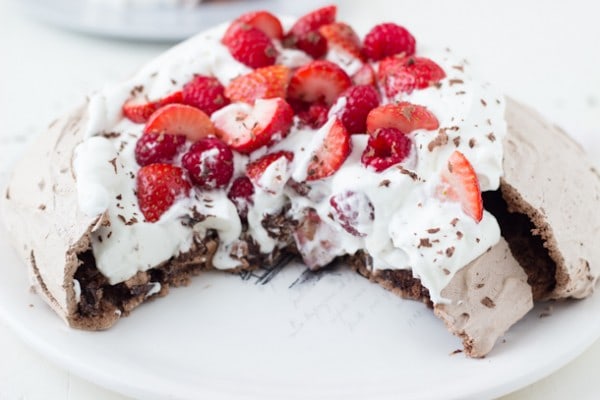 More Pavlova recipes from Across the Web:
Snickers and Brownie Pavlova – Bakers Royale
Blackberry and Meyer Lemon Pavlovas – Honestly YUM
Raspberry Pomegranate Layered Pavlova – The Hungry Australian
Pistachio and Rosewater Pavlova – Adventures in Cooking