Classic Chocolate Cake Recipe
Everyone needs a classic chocolate cake recipe for when those chocolate cravings call!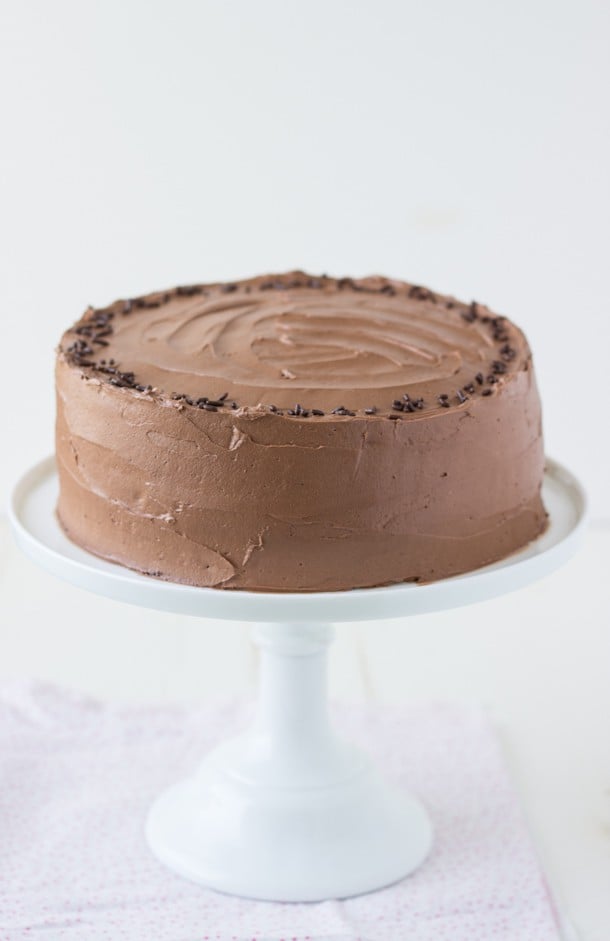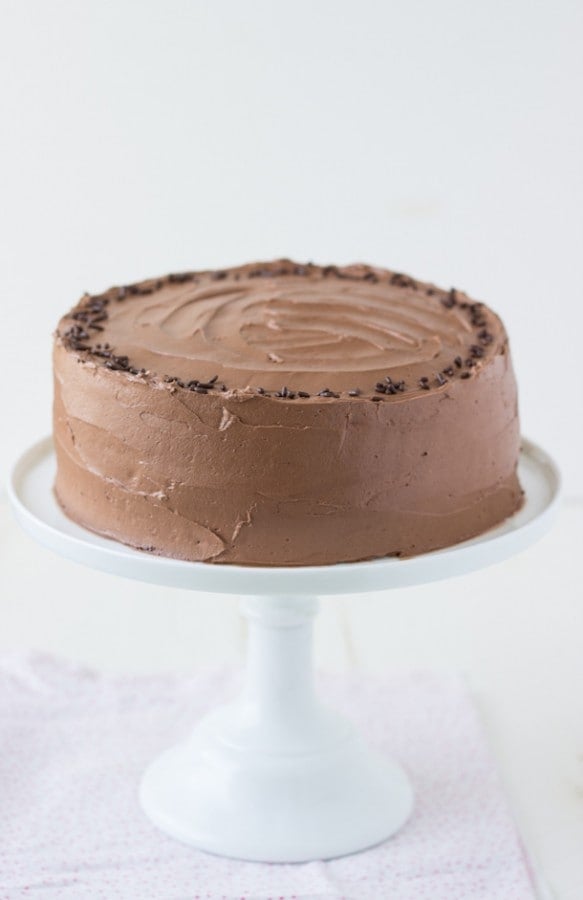 Just like I promised on Monday, we are indulging in classics this week! Everyone needs a classic chocolate cake recipe in their arsenal and this is the ONE I run to every time I get a birthday request for chocolate, which is very often in my family (#chocoholics).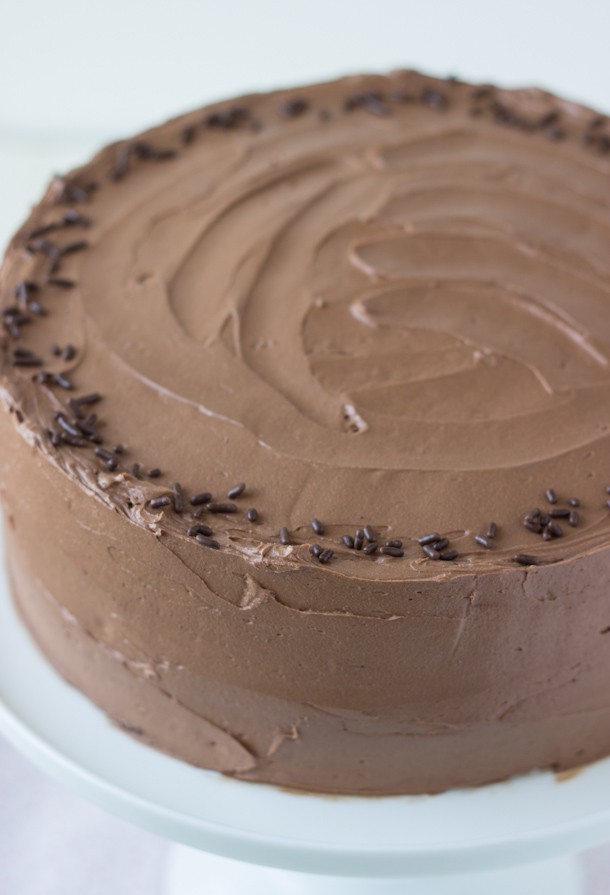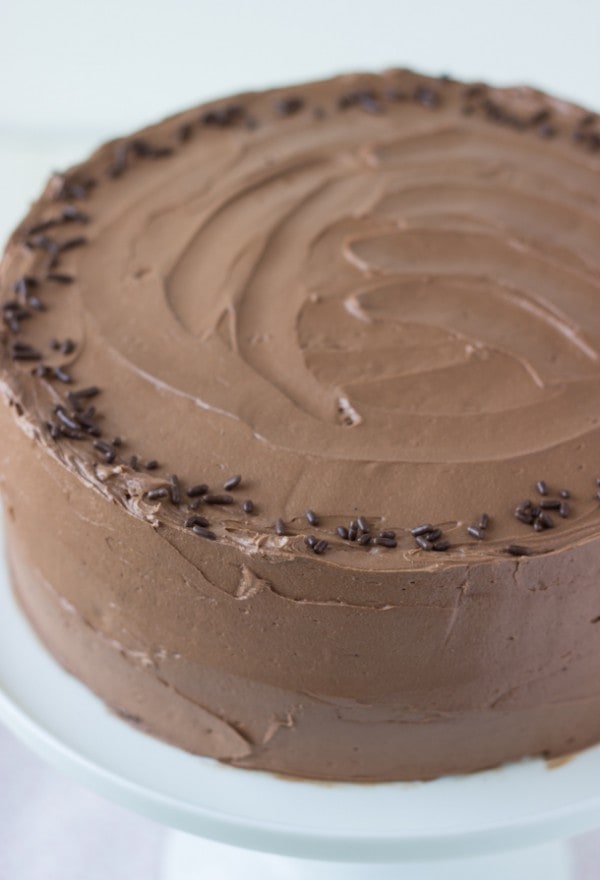 I didn't realize there was no simple chocolate cake recipe on the blog until recently when a friend texted me asking for my favorite chocolate cake recipe. I said "check the blog chica, I am busy right now" and she said "Well I did but there is always something with your chocolate cake. Caramel, peanut butter or something". I was stunned and realized I've failed as a blogger or I just cannot do chocolate on its own (the latter me think). Either way, it is my goal to fix that this year! I need to share with you my favorite basic go-to recipes that I use to build a lot of other creations.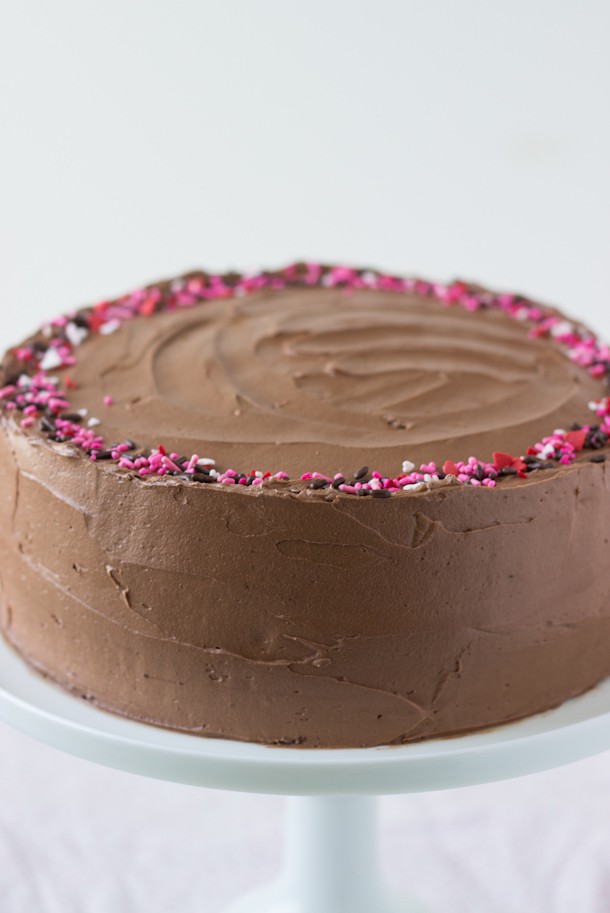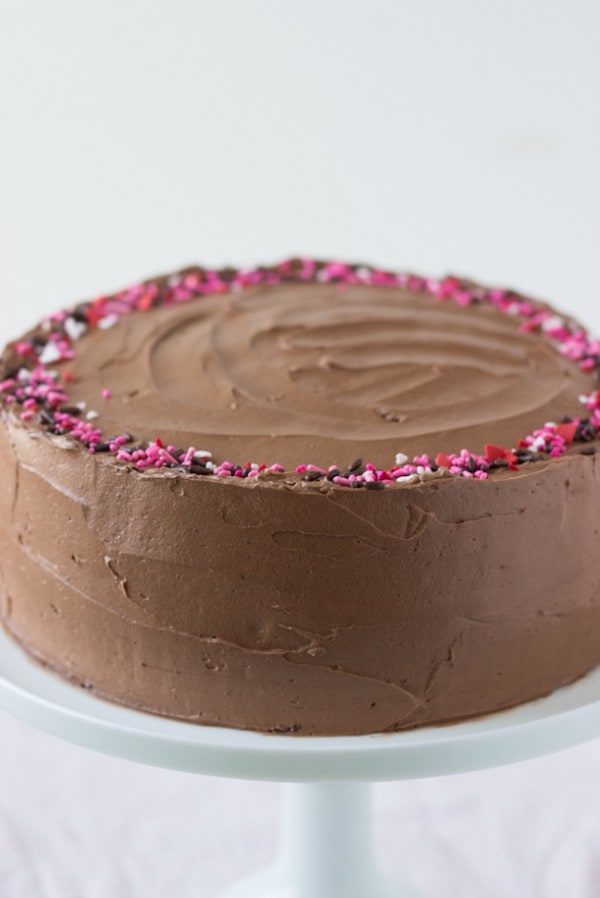 What do you look for in your chocolate cake? I feel like indulgent is top of my list. So each slice needs to be decadent, soft, moist and well let's face it delicious and hit that spot! That's what I was going for with this recipe. It's going to fulfill all your chocolate cravings.
And guess what? It is Valentine's Day perfect!! What's valentine's day without a little chocolate anyway? And some pink & red sprinkles? This year, whip up my favorite chocolate cake recipe for your Valentine and show them how much you care.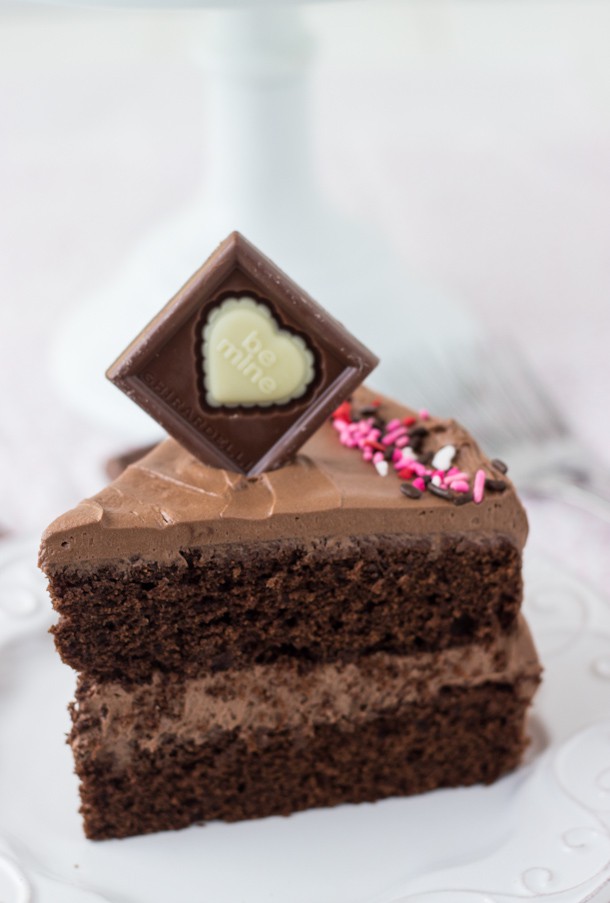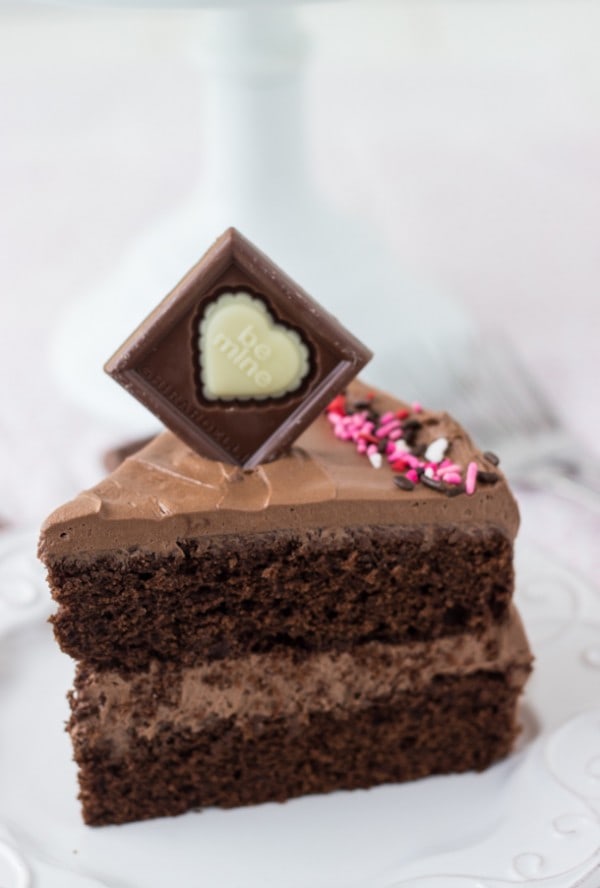 I made this cake with Ghirardelli chocolate, inside and out. When you want quality chocolate to make your baked goods extra special, you know you have to grab Ghirardelli. Armed with their 60%  Cacao baking chips, unsweetened cocoa powder and these new Valentine's Day Impressions, I packed this cake full of chocolate that you will just love.
Please don't make me beg, make this cake!!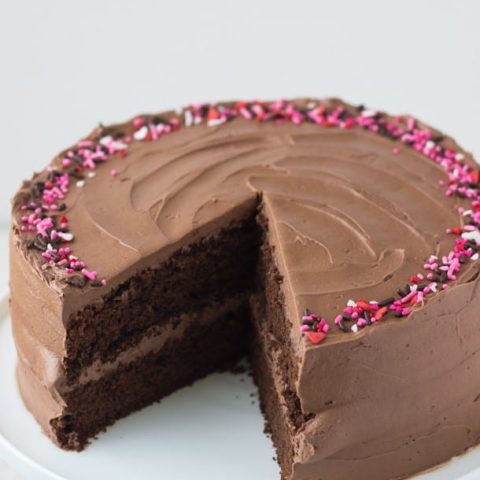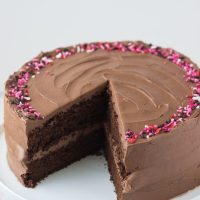 Yield: 1 9-inch cake
Classic Chocolate Cake Recipe
Everyone needs a classic chocolate cake recipe for when those cravings call!
Total Time
1 hour
10 minutes
Ingredients
For the Chocolate Cake:
2 cups all-purpose flour
½ cup unsweetened 100% cocoa powder (I used Ghirardelli)
½ teaspoon baking powder
½ teaspoon baking soda
½ teaspoon kosher salt
1 cup (2 sticks) unsalted butter, softened to room temperature
1 ½ cup granulated sugar
3 large eggs, at room temperature
1 cup 60% cacao baking chips, melted (I used Ghirardelli )
1 teaspoon pure vanilla extract
1 cup whole milk
For Chocolate Frosting:
1 cup (2 sticks) unsalted butter, room temperature
3 cups powdered sugar
½ cup unsweetened 100% cocoa powder
3 tablespoons heavy cream
1 teaspoon pure vanilla extract
A pinch of salt
Instructions
Preheat oven to 350 degrees F. Grease and line two 9-inch cake pans with parchment paper. Grease the parchment.
In a medium bowl, sift together the flour, cocoa powder, baking powder, baking soda and salt.
In a large bowl, using an mixer on medium speed, cream the butter and sugar together for 3-5 minutes. Add the eggs, one at a time, scraping down the sides of the bowl as needed. Add in the melted chocolate and vanilla extract. Beat until combined. Alternately add the flour mixture and milk, beginning and ending with the flour mixture. Mix until just combined. Don't over mix or over work the batter.
Divide batter evenly into the prepared pans. Bake cakes for 30-35 minutes or until a cake tester inserted into the center comes out almost clean.
Let cakes cool in pans for 10 minutes before removing and cool completely on wire racks.
To make buttercream:
In a large bowl, beat the butter until light and creamy. Sift the powdered sugar and cocoa powder over the butter. Add the rest of the ingredients and mix on low until just combined. Beat the buttercream on medium speed for 3-5 minutes.
To assemble cakes: Level the cakes if needed. Onto a cake stand, place the first layer of cake. Spread a layer of buttercream on top. Add the top layer of cake. Crumb coat the cake with a thin layer of buttercream. Then spread the icing evenly and frost the cake. Decorate as desired with chocolate sprinkles.
Cake will store in an airtight container at room temperature for up to 4 days.
Recommended Products
As an Amazon Associate and member of other affiliate programs, I earn from qualifying purchases.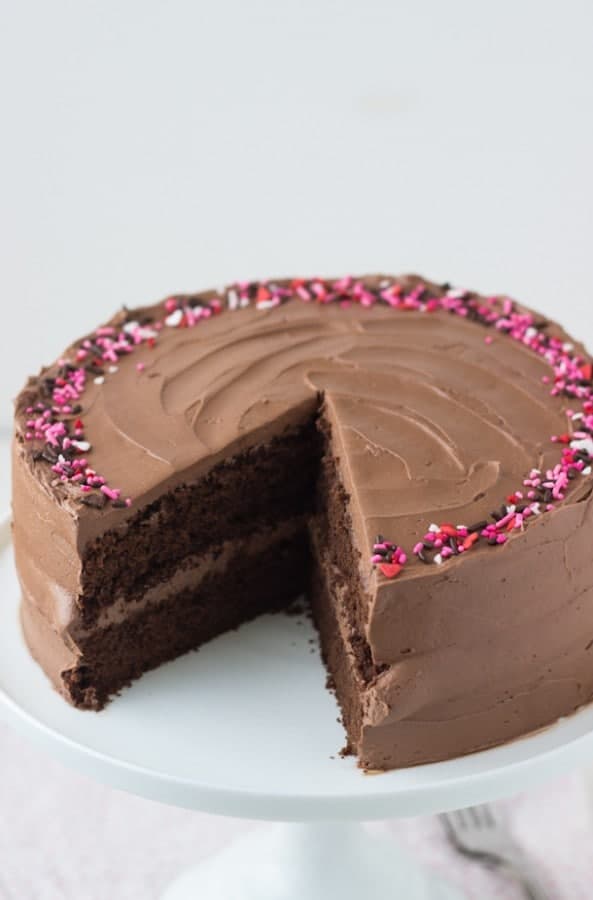 I was selected for this opportunity as a member of Clever Girls and the content and opinions expressed here are all my own.