Meyer Lemon Cake with White Chocolate Mousse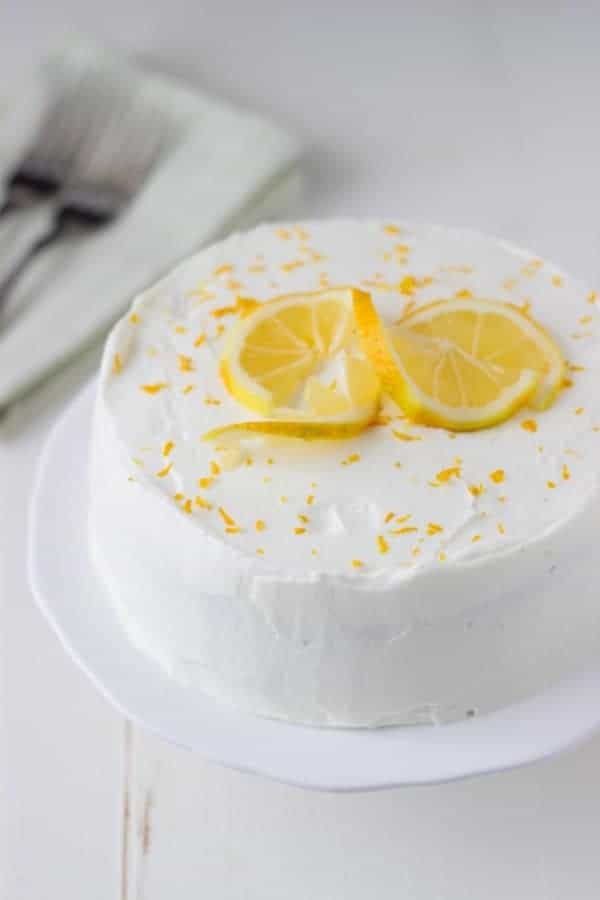 Happy Happy Friday!!
Yes, yes I know, I need to stop with the lemons already. I am sorry but I am a bit excited for Spring. It was a long and COLD winter. But don't you worry, this is the last lemon recipe for a while. The meyer lemon obsession ends with this Meyer Lemon Cake with White Chocolate Mousse. I saved the best for last for sure. First of all, it's a small cake so no judgement when you eat it all and secondly, MEYER LEMON + White Chocolate = WHOA! Happy feelings in your tastebuds and belly!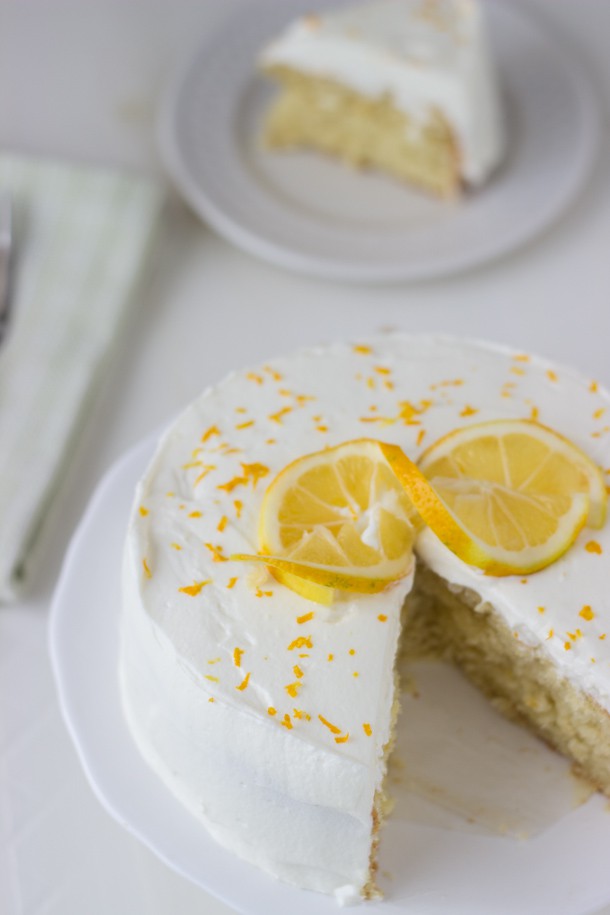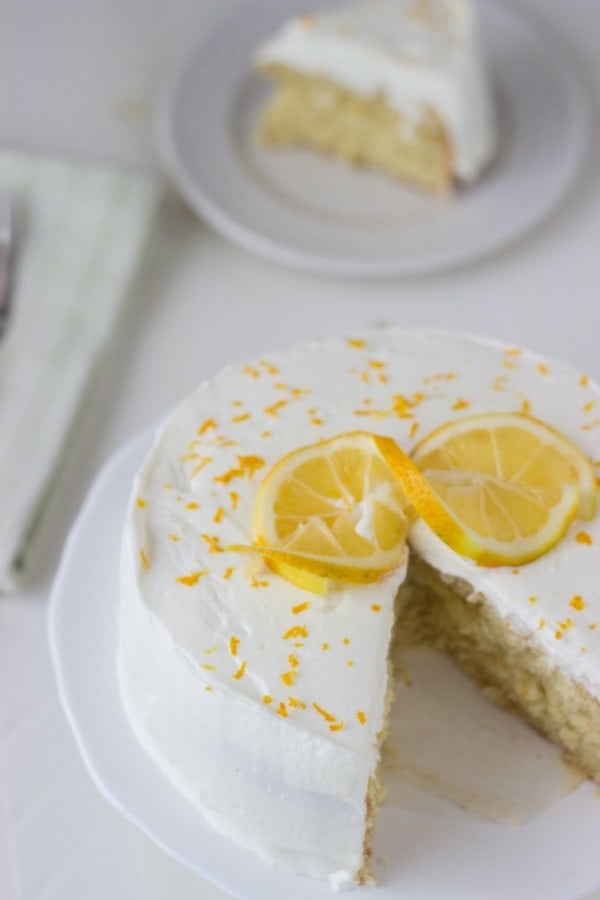 The fact that meyer lemons are a bit sweeter than regular pucker in the face lemons makes them a great match for white chocolate. This cake is a one layer 6-inch cake filled with the juices and zest of meyer lemon. A soft and crumbly lemon cake gets even better when topped with a light mousse frosting. A whipped cream mousse with lemon zest and melted white chocolate is used to finish off what is a perfect cake in my opinion.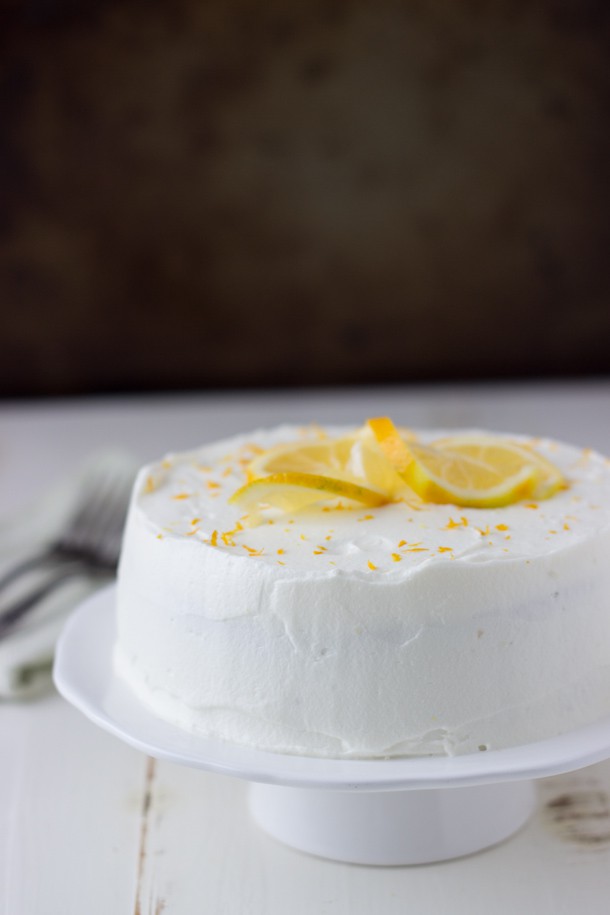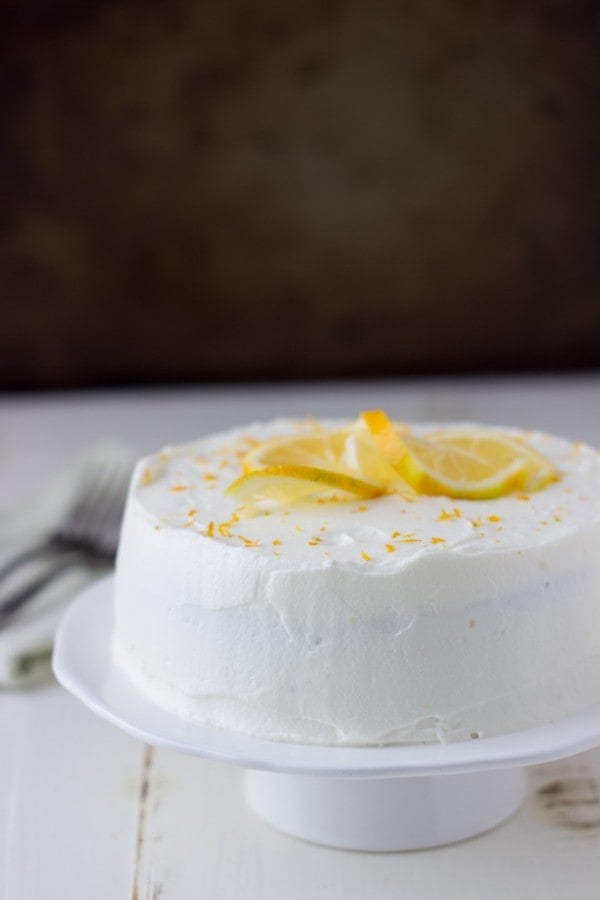 If you make only one cake this spring season, it HAS to be this cake. I promise you it will be a great surprise how wonderful it is. This recipe is from a new cookbook I'm loving – Dessert For Two: Small Batch Cookies, Brownies, Pies, and Cakes
by Christina Lane. Dessert for Two takes well-loved desserts and scales them down to make only two servings. Genius right? Yeah, go check it out and you will find many recipes you will enjoy.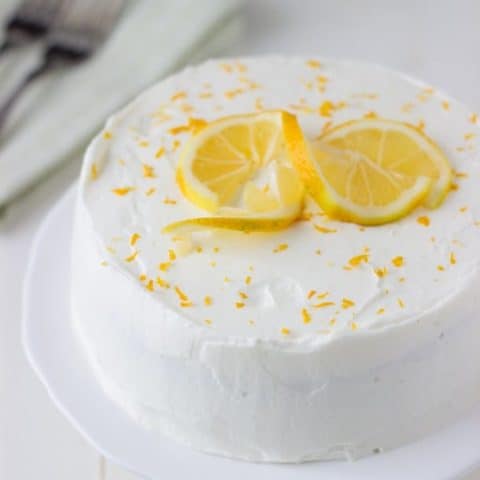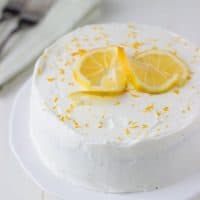 Yield: 1 6-inch cake
Meyer Lemon Cake with White Chocolate Mousse
Total Time
1 hour
15 minutes
Ingredients
For Cake:
3/4 cup all purpose flour
1/8 teaspoon salt
¼ teaspoon baking soda
6 tablespoons unsalted butter, at room temperature
½ cup granulated sugar
zest and juice of 1 meyer lemon
1/8 teaspoon almond extract
1 large egg, room temperature
¼ cup buttermilk
For White Chocolate Mousse Frosting:
1 cup heavy whipping cream, divided
2 ounces white chocolate, chopped
1 tablespoon powdered sugar
1 lemon, thinly sliced for decoration
Instructions
Preheat oven to 350 degrees F. Grease and line a 6-inch round pan with parchment. Grease the parchment too.
In a small bowl, whisk together flour, salt, and baking soda.
In the bowl of an electric mixer, cream butter and sugar together until pale and fluffy, about 2-3 minutes on medium speed. Add lemon zest, juice, almond extract and egg, beating until just combined.
Reduce speed to low and slowly add a third of the flour mixture to the batter. Add 2 tablespoons of buttermilk and beat until just combined. Add another third of the flour and mix. Add the rest of the buttermilk and finally the last third of the flour. Scrape down the side of the bowl as needed. Do not overmix.
Transfer batter into prepared pan. Bake cake until lightly golden or a toothpick inserted into the center comes out clean, about 30- 35 minutes. Remove from oven and let cake cool in pan for at least 10 minutes before turning over on to a cooling rack.
To make mousse frosting:
Place a medium bowl and whisk beaters in the freezer for at least 10 minutes to chill. In the meantime, combine the chocolate and a fourth cup heavy cream in a small heatproof bowl. Microwave for 30 seconds or until cream starts boiling. Do not stir the chocolate, let sit for at least 2 minutes.
Remove the bowl from the freezer and pour in the rest of the heavy cream. Using an electric mixer, beat the heavy cream until soft peaks forms. Add the powdered sugar and beat until combined.
Whisk the chocolate and cream until smooth and slowly pour the melted white chocolate into the whipped cream mixture, while beating continuously. Beat until incorporated.
Use the frosting to frost the cake. Cover and refrigerate cake for at least two hours for mousse to set before serving. Top with lemon slices.
Notes
From Dessert for Two, with author's permission.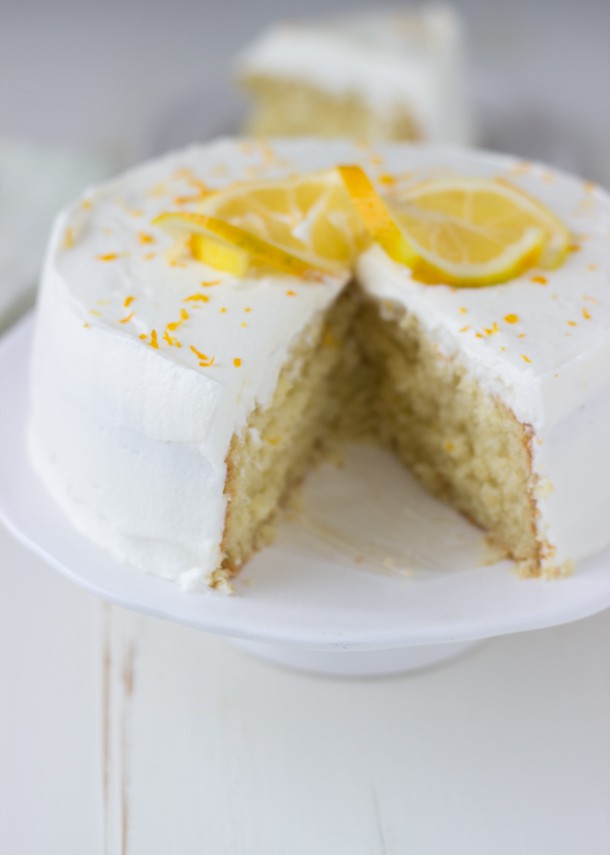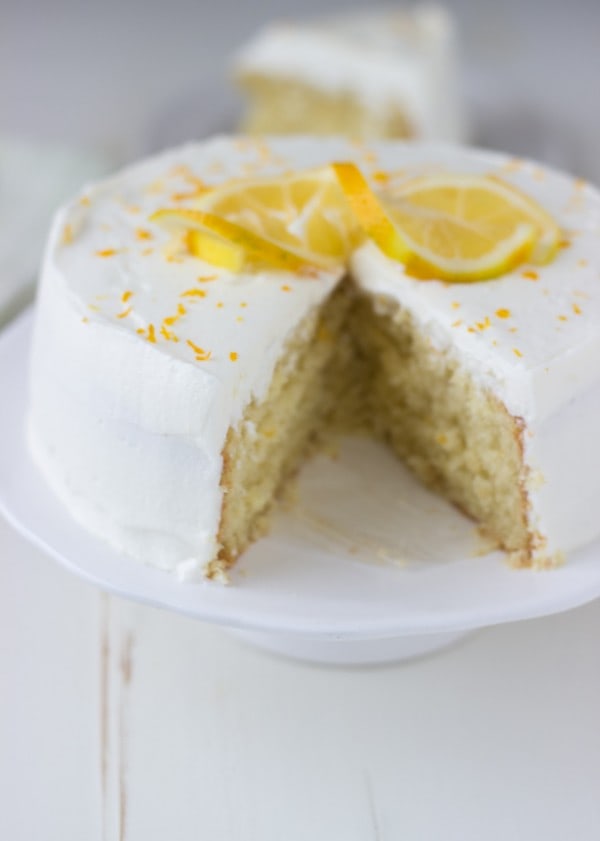 *Affiliate links included above*