Meyer Lemon Souffle
Have you heard? Joanne is having a baby!! And we are showering her today with lots of love and Spring recipes as she and Michael welcome their sweet little girl into their family!!
I'm sure you know her Joanne of Eats Well with Others because she's the incredible MD/Phd student who's got a kickass healthy repertoire of recipes on her blog along with a sizable sweet tooth. You can see why I heart her right? Hard working superwoman scientist who motivates us to eat healthy and yet enjoy our sweets! If you haven't met her yet, GO love her now 🙂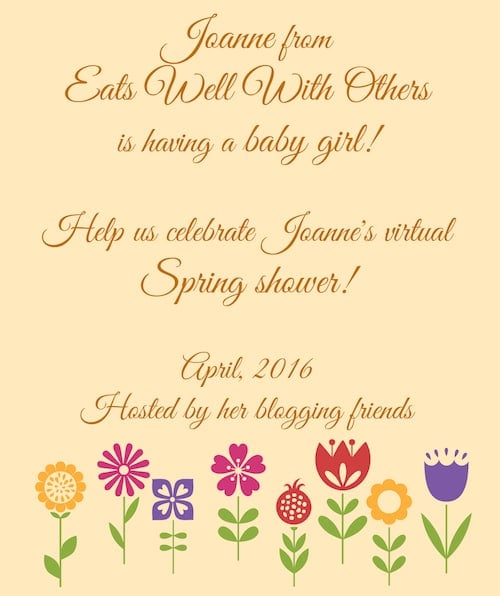 In line with the Spring theme of the virtual shower, I brought this meyer lemon souffle to the party! You know I have a thing for Meyer lemons and just can't resist their sweet and tart flavor and it happens to be one of Joanne's favorites as well.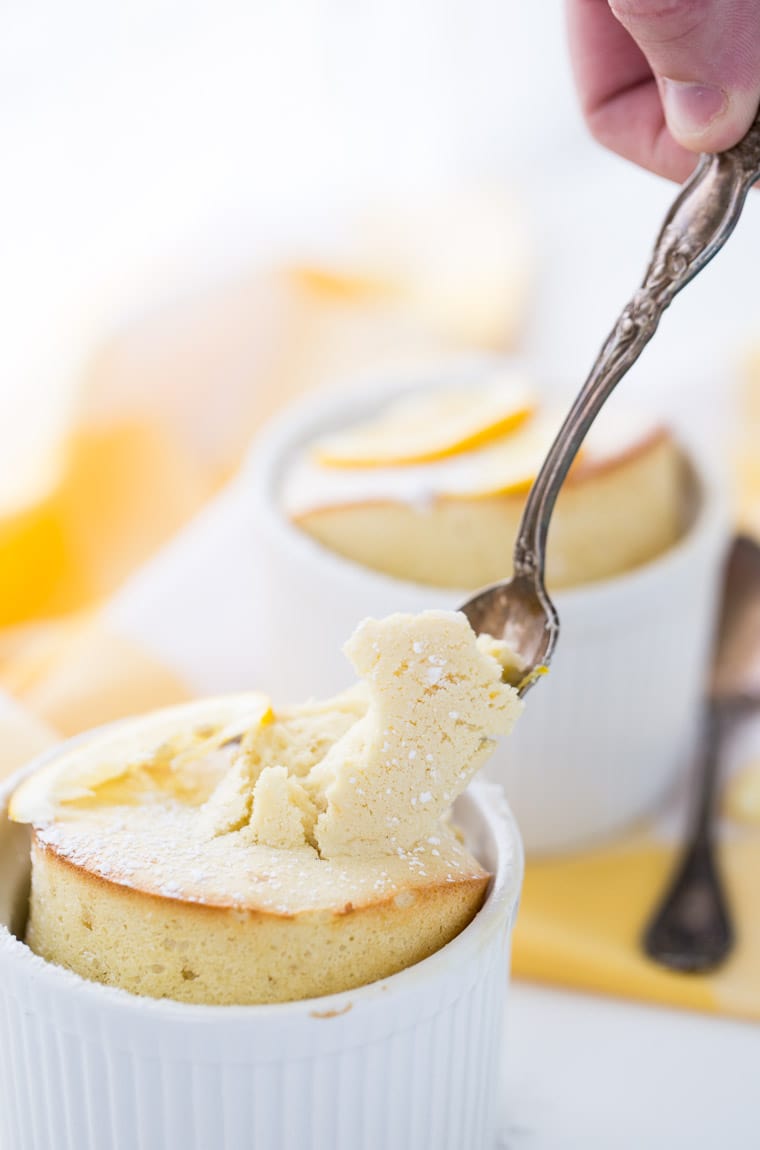 My first attempt at souffle was this chocolate almond souffle which was amazing but I've been dying to try a vanilla version. And being the season of all light and bright things, lemons just made sense as an addition to a creamy vanilla souffle. This meyer lemon souffle has a rich and gooey center bursting with fresh citrus flavor and a light and fluffy cake topping. It's all so delicious and classy and perfect for dinner parties celebrating Spring.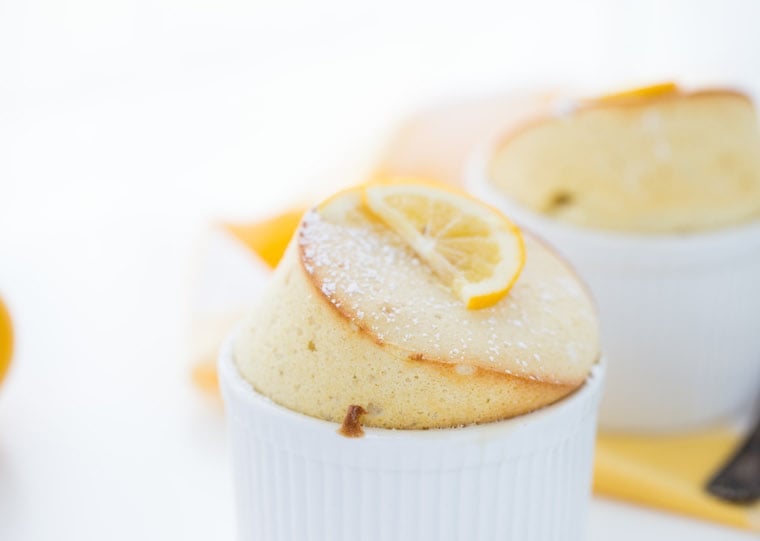 Congratulations Joanne! I am so so excited for you!! I know your little girl is going to a) be the cutest b) have the best parents in the world and c) have impeccable taste for delicious food. I can't wait for you guys to meet her and enjoy the incredible journey of parenthood. xoxo
Be sure to check out the rest of the shower menu!
Orange Ginger Spritzer from The Lemon Bowl
Asparagus and Pea Puff Pastry Tarts from Belly Full
Blood Orange Doughnuts from Cook Like a Champion
Lemon Raspberry Cheesecake Cups from Keep It Sweet Dessert
Meyer Lemon Soufflé from Blahnik Baker
Strawberry Tartlets from The Cooking Actress
New York-Style Rhubarb Crumb Cake from Warm Vanilla Sugar
Berry Fool Tarts from Bake or Break
Lemon Raspberry White Chocolate Chip Cookies from The Baker Chick
Mini Pineapple Upside-Down Cakes from Baker by Nature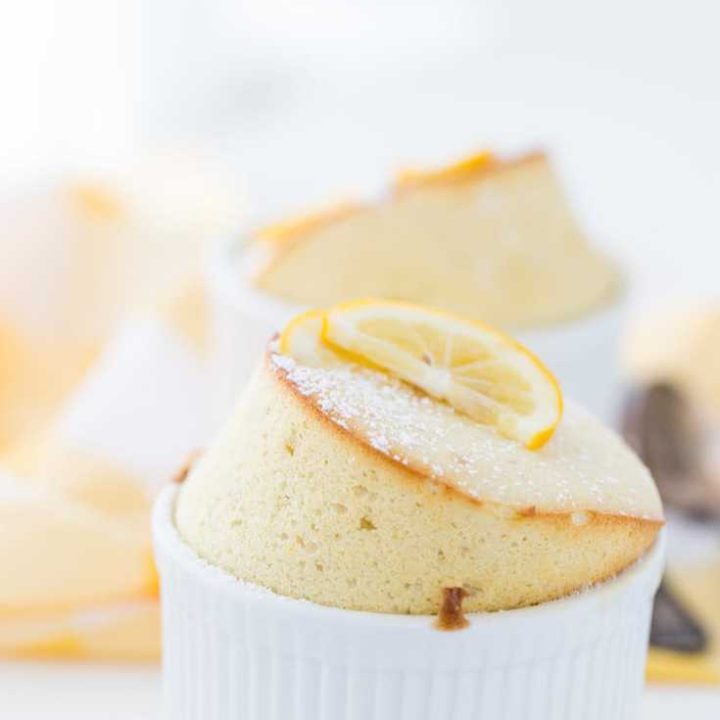 Yield: 4 6-oz ramekins
Meyer Lemon Souffle
Ingredients
3 tablespoons all-purpose flour
3/4 cup milk
1/3 cup granulated sugar
4 large egg yolks
2 tablespoons unsalted butter, softened
1 tablespoon pure vanilla extract
1 teaspoon Meyer lemon zest
1 tablespoon Meyer lemon juice
5 large egg whites
⅛ teaspoon salt
1 tablespoon granulated sugar
Powdered sugar (for serving)
Whipped cream or vanilla ice cream for serving
Instructions
Preheat oven to 400 degrees F.
Grease the inside of soufflé dishes with baking spray or butter. You will need 4 6-ounces dishes.
Into a medium saucepan, add the flour. Whisk in the milk, little by little, until a smooth cream forms. Then add the rest of the milk and whisk to combine. Add in the sugar and place the saucepan over medium-high heat. Stirring continuously bring the mixture to a boil. Once boiling, keep stirring for an additional minute, as the mixture thickens. Remove from heat and whisk for another minute to cool slightly. Whisk in the egg yolks, one by one. Add in the butter, vanilla extract, lemon zest and juice. Whisk to combine all.
In a separate large bowl, beat the egg whites and salt until soft peaks form. With the mixer going, sprinkle in the granulated sugar and beat until stiff shining peaks form.
Stir half of the whipped egg whites into the mixture until combined. Then gently fold in the rest.
Once combined, pour the mixture into the prepared soufflé dishes. Fill each to just below the inside rim. Place soufflé dishes onto a baking sheet and place into oven. Reduce oven temperature immediately to 375 degrees and bake for about 20-25 minutes.
When soufflé is well risen and cracked, quickly sprinkle the surface with powdered sugar. Continue baking for another 5 -10 minutes. The soufflé is creamy in the center when a cake tester inserted into the cracked tops comes out slightly coated.
Optional: you can continue baking for a few more minutes if you want the center to be fully done and the souffle will stand up well.
Serve immediately with whipped cream or vanilla ice cream.
Recommended Products
As an Amazon Associate and member of other affiliate programs, I earn from qualifying purchases.
Total side note
: I've made this souffle twice the past month and I failed to get great pictures each time (bummer!). It's almost impossible to take pictures of souffles when you want a gooey center (versus a more finished center) as it deflates very fast as it cools. Thus, it's a hustle from oven to picture taking, which most times is not more than 5 minutes to get all your pictures. And God forbid your baby decides that is the perfect time to scream for your attention in the next room. You end up with souffle pictures with a GIANT crumb front and center of your shot because you failed to review the pictures as you took them. I was not about to redo the recipe again just for pictures so you get a not-so-perfect image but hey, they taste the same!