Red Velvet Donuts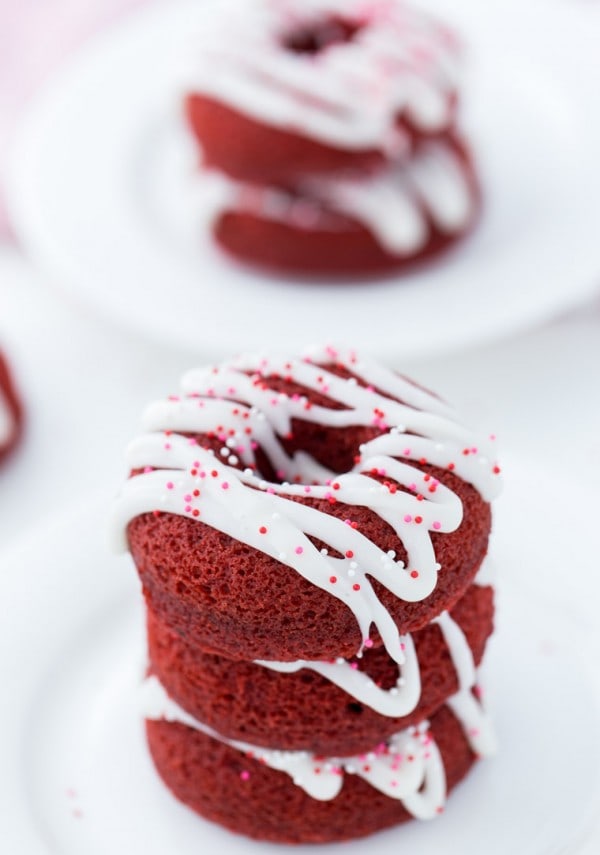 1 ¼ cups all-purpose flour
⅓ cup granulated sugar
1 teaspoon baking powder
3 tablespoons unsweetened cocoa powder
½ teaspoon salt
⅓ cup buttermilk
2 tablespoons vegetable oil
1 large egg
1 teaspoon vanilla extract
2 teaspoons red food coloring
¼ teaspoon baking soda
2 teaspoons apple cider vinegar
1 cup powdered sugar
3 tablespoons milk
Preheat oven to 375 degrees F. Lightly grease a doughnut pan with baking spray and set aside. In a medium bowl, whisk together the flour, sugar, baking powder, cocoa powder and salt. In a measuring cup, whisk together wet ingredients; buttermilk, oil, egg, vanilla extract and food coloring.
Add the wet ingredients to the dry ingredients and mix until just combined. In a small bowl, combine the baking soda with vinegar and mix. It will bubble. Add this mixture to the batter and mix until combined. Do not over mix as you will have rubbery donuts. Using a small spoon, scoop batter into prepared donut pan, filling each about ⅔ full.
Bake for 8-10 minutes or until the donuts are baked through and spring back when lightly touched. Let cool in pan for 1 minute and then transfer to a cooling rack to cool completely. While cooling, make the glaze.
To make glaze, combine the powdered sugar and milk until runny. Spoon glaze over cooled donuts and let it set for 10-15 minutes. Decorate with sprinkles.