Flower Cupcakes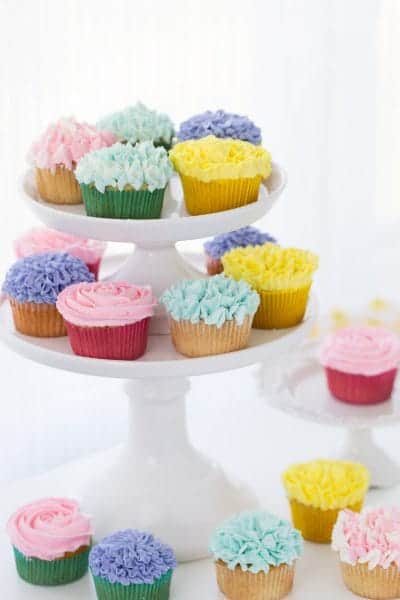 One batch Vanilla Cupcakes
One batch Whipped Vanilla Frosting (recipe found HERE)
Gel Paste Coloring of your choice (I used yellow, pink, blue, teal and purple)
Decorating Bags
Decorating Tips (104, 2D, 1M and 59/79/81)
Color 2 cups of your frosting blue/teal. Mix in some white into the frosting but do not blend all the white in so you have streaks of it.
Fit Wilton Tip 2D to a decorating bag and fill with the frosting.
Starting on the outside, position your tip straight above the cupcake and pipe out stars. Each star will be 'spiking' up. Go around the cupcake and fill in the centers the same way. Increase your squeezing pressure if you want higher 'stars'.
Using yellow frosting, fill a decorating bag and attach Tip 104. Grab a smooth topped cupcake and place the Tip in the center of the cupcake (with the widest part of tip down and thin edge upwards). Apple some pressure to the bag and pipe a closed wavy center. Go around this center slightly making waves. You can make the petals tighter by angling the tip inward or looser by angling the tip outwards.
Using Wilton tip 1M and pink frosting, place the nozzle in the center of the cupcake. Be sure the tip if straight up. Start piping a swirl around a circle and rotate the cupcake as you go. Finish by pulling away when you reach the edge of the cupcake.
Note: Mine turned out different than the chrysanthemum but that's because I used a smaller tip and didn't angle my tip up. So learn from my mistake.
Using the purple/violet frosting, fill a pastry bag fitted with tip 79 (or 59). Holding the bag at a 45-degree angle against the edge of a cupcake, gently squeeze the bag while pulling out in a quick stroke. Repeat this all around the cupcake and then form layers by filling in the center. For an upward spiking petal, pull the bag upward with each layer as you go around.