Rosemary Olive Oil Bread
This rosemary olive oil bread is very soft on the inside with a golden crunchy crust.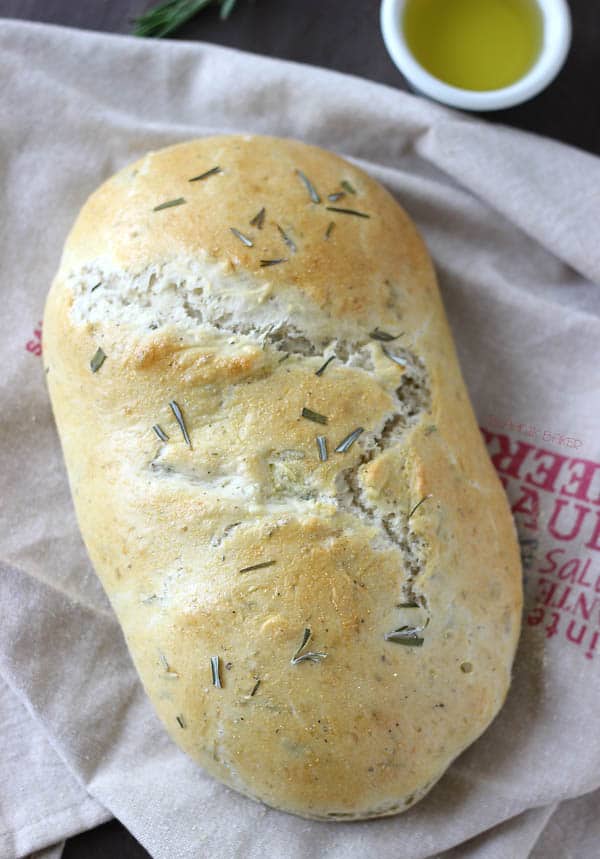 How was the long weekend? I hope you guys had a relaxing one and got some time to get into the summer spirit. I had my best friend visiting so it was a great weekend hanging out with her and catching up. We shopped, baked, went to the gym (after all that baking!), had a movie date and spent numerous hours talking. It was the perfect girl's weekend. After she left, I started some weekly prep. I figured we should start the week with a warm loaf of bread. This rosemary olive oil bread is the best thing I baked yesterday and I did bake a few things (coming soon!!).
Our local grocery store carries a rosemary bread that the hubs and I love to get every time we are making a fresh batch of pasta and it was the inspiration for this loaf. Remember the not so terrific process behind this honey whole wheat bread? Well, that did not happen this time! This gal has been learning and is no longer scared of yeast. (Thanks for all the encouragement!)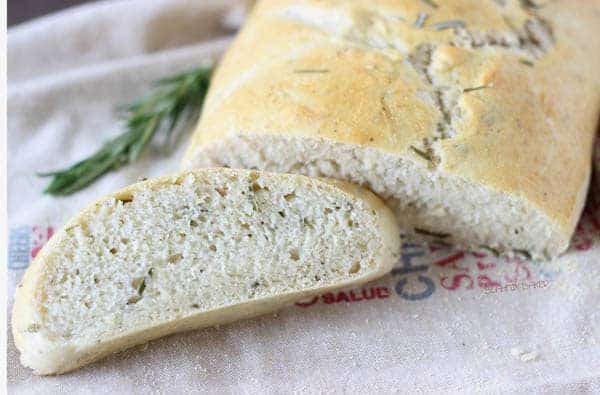 This rosemary olive oil bread came together very easily, under 3 hours with most of that being downtime as the dough rises. First to get the dough ready, proof the yeast. I used Red Star Yeast and thanks to the good folks over there I am well stocked with their high-quality yeast (One of you will be too soon, but more on that later!). Once the dough is formed and kneaded, let rise until doubled for about an hour. This is what the dough looks like before rising: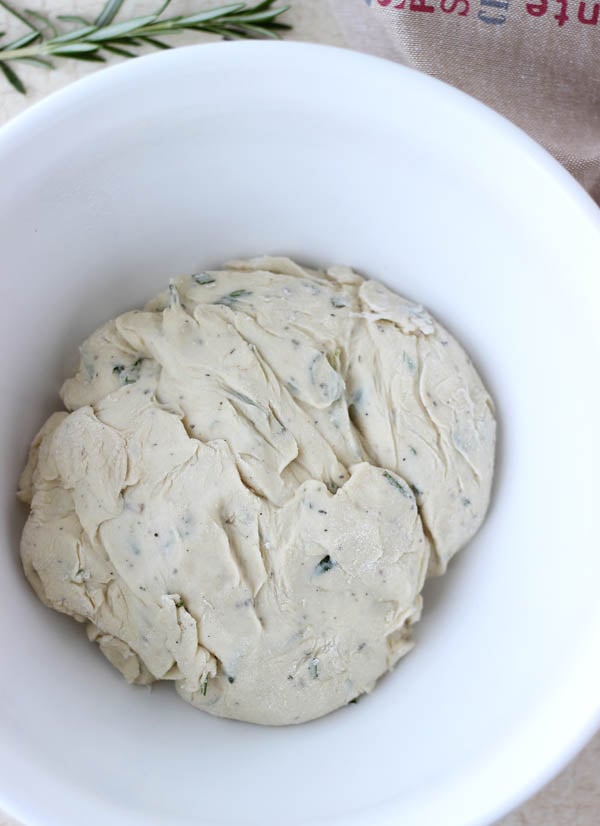 And here is what it looks like after it has doubled in size: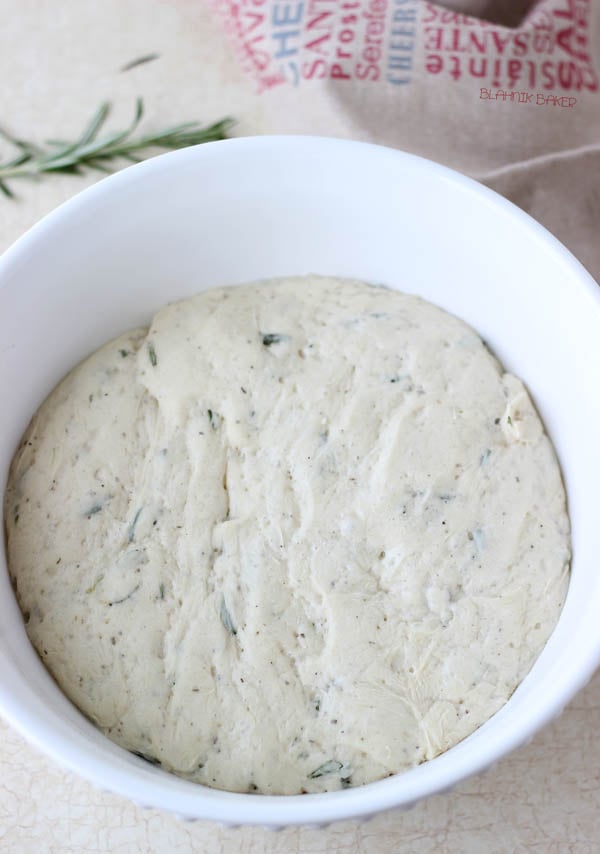 After the first rise, punch down the dough and form the loaf. Let rise again until double, about 45 minutes before baking.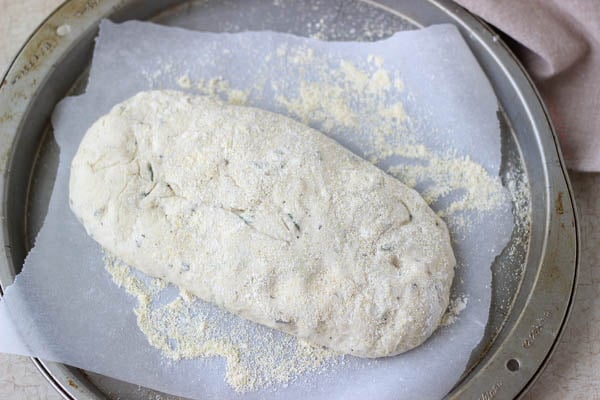 Easy right?? Look how beautiful and crusty that loaf looks. And you know the best part? It smells great!! There is nothing like the smell of freshly baked bread, especially herb bread in one's apartment. Just wonderful.
The rosemary in the bread is present but not overpowering and thanks to the olive oil the bread is extra soft. It is soft on the inside with a perfectly crunchy crust. I think this bread is best enjoyed warm and that is how we enjoyed half of it last night; warm, right out of the oven. But wrapping in an airtight container at room temperature will preserve it for a few days.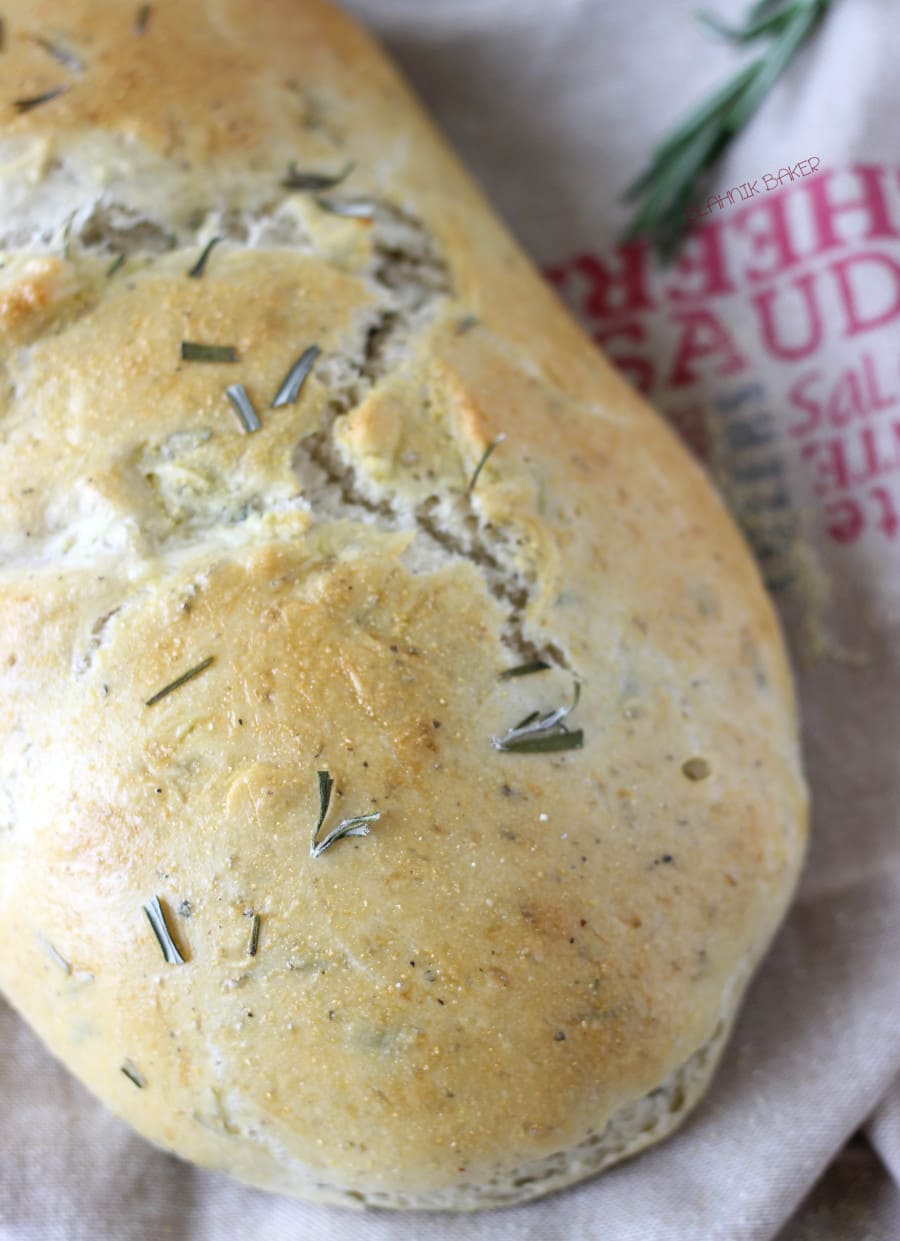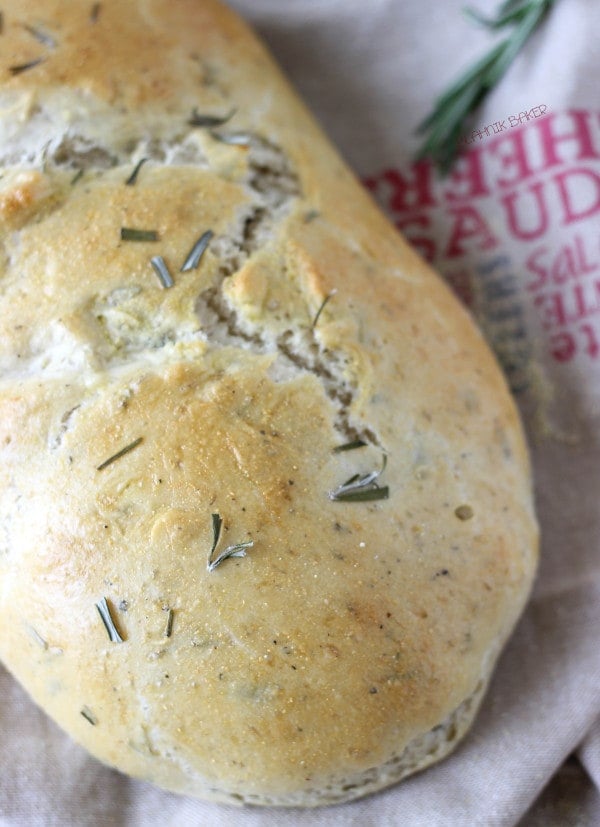 I am no longer in camp yeast phobia!!! Thank you Red Star Yeast for helping me along this journey. I know I still have a long way to go but with everything, it will take practice and patience. But now that the fear is gone, I can't wait to fill my house with the sweet smell of fresh bread and get my carb-overload on!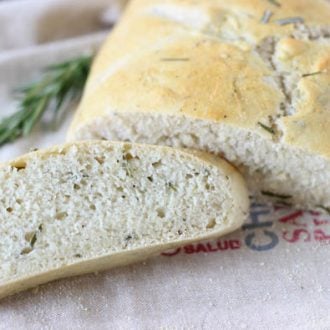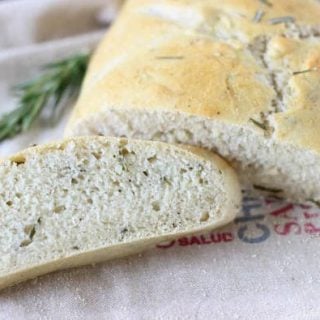 Yield: 1 loaf
Rosemary Olive Oil Bread
This rosemary olive oil bread is very soft on the inside with a golden crunchy crust.
Prep Time
2 hours
30 minutes
Total Time
4 hours
55 minutes
Ingredients
For Dough
• 1 cup warm water (110 degrees F)
• 1 tablespoon sugar
• 1 package Red Star active dry yeast (about 2¼ teaspoons)
• 1 ½ cups all-purpose flour
• ½ cup bread flour + more for kneading
• 2 tablespoon fresh rosemary, chopped
• ¼ teaspoon Italian seasoning
• ¼ teaspoon freshly ground black pepper
• ½ teaspoon salt
• 2 tablespoon extra virgin olive oil
• 2 tablespoon cornmeal
• 1 egg + 1 tablespoon water, lightly beaten
• 1 tablespoon fresh rosemary, chopped for sprinkling
• 1 teaspoon coarse sea salt for sprinkling (optional)
Instructions
Combine the warm water, sugar and yeast in a small bowl. Let sit for 10 minutes to proof.
In a medium bowl or the bowl of a stand mixer if using, whisk together the flours, rosemary, Italian seasoning, black pepper and salt. Add the yeast mixture together with the olive oil. Mix until just combined and dough starts to form. Transfer to a well-floured surface and knead for 5 minutes until dough is elastic. OR using the hook attachment of a stand mixer, knead for 5 minutes. If dough is sticky, add in some flour, a tablespoon at a time.
Lightly grease a bowl and transfer dough to it. Cover with a towel and place in a warm area and let rise until dough doubles in size, about an hour.
Once dough has risen, punch it down and transfer to a lightly floured surface. Form into a round or long loaf. Dust a pizza stone or pan with the cornmeal and place the loaf on top. (I used a round pizza pan and lined it with parchment paper. Dusted the parchment with cornmeal and placed the loaf on there.) Cover the loaf with a damp towel and let rise for 45 minutes.
About 30 minutes into dough rising, preheat oven to 400 degrees F. Place a pizza stone or pizza pan in the oven as it preheats. (I placed two baking sheets underneath my pizza pan to prevent the bottom of my loaf from burning.)
Once dough has risen, brush the top with egg wash. Using a sharp knife, cut two to three slices across the top of the loaf. Sprinkle with rosemary and coarse sea salt.
Carefully place loaf in preheated oven and bake until top is golden brown and is hollow when tapped, about 20-25 minutes.
Remove bread from oven and let cool slightly before slicing.
Dip in olive oil or balsamic vinegar.


(COMPLETED)
Now for the giveaway!! The good folks over at
Red Star Yeast
are kindly giving away a
Beginner's Bread Baking Kit
to ONE lucky reader.
Disclosure: This is not a sponsored post. Red Star Yeast is not paying me … I just love their products. I received free samples that I used to make this bread. All opinions are as usual 100% mine.

Disclaimer: RED STAR Yeast is sponsoring the giveaway and providing the winner with the items. The winner will be randomly chosen on

June 3rd, 2014

and will be notified by email. If the winner does not respond within 48 hours, another winner will be chosen and contacted via the same method.