Snowball Cookies
Snowball cookies, Russian tea cakes, Mexican wedding cakes – most of us have enjoyed this delightful cookie by one name or another! They're quick to make and will disappear just as fast off the plate! These Snowball Cookies are buttery dough rolled in powdered sugar, filled with walnut pieces. They're a quintessential holiday cookie!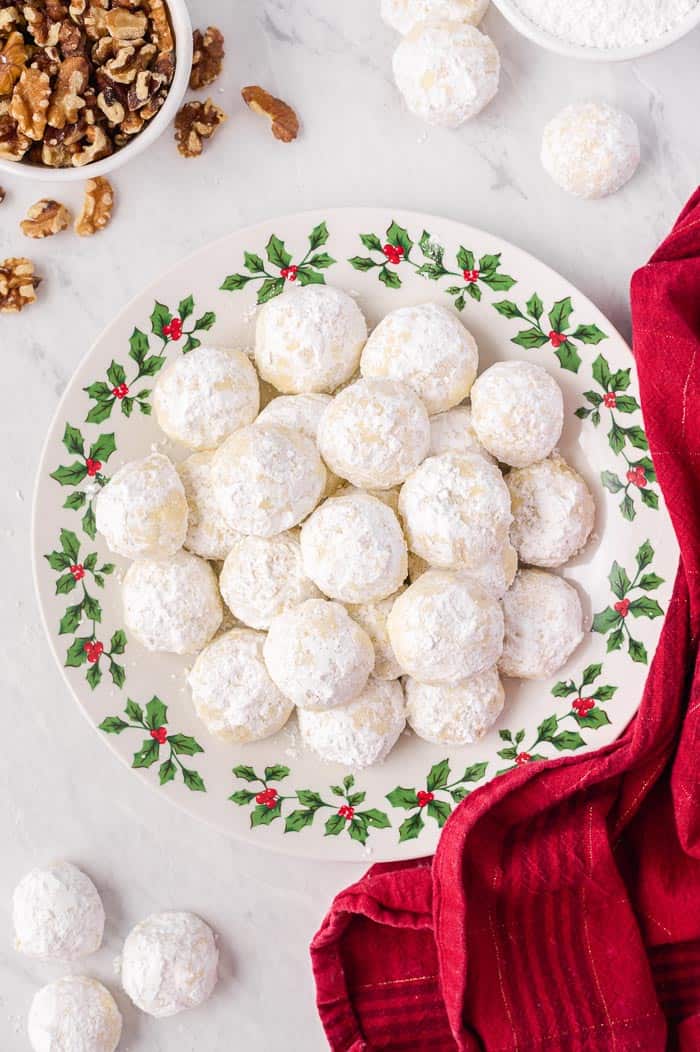 Hey there friends! The time has come for the ground to be covered in a beautiful blanket of white, fluffy snow. When the kids bundle up in their warmest clothes to build snowmen, sled down the biggest hills they can find, and only come inside once their cheeks are as red as a strawberry. Most of the time they don't even want to come inside because the snow is such a magical experience for them. What better way to warm up than being in a warm kitchen baking some seasonal favorites? Keep the cold snowballs outside and bake some delicious Snowball Cookies to warm everyone up from the inside.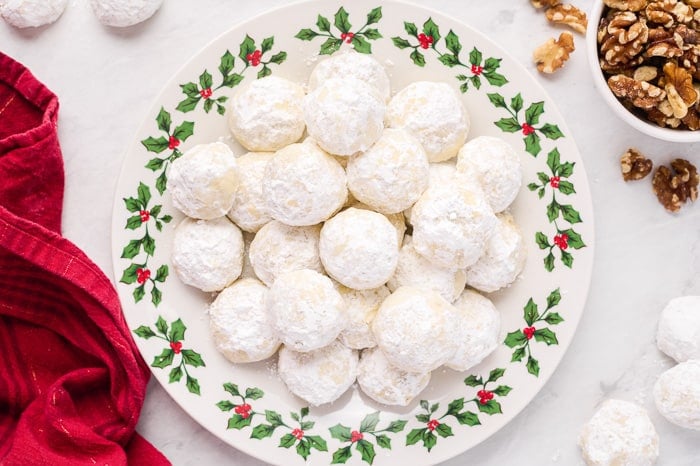 What they lack in the traditional holiday cookies they make up for in the richness of the buttery dough rolled in powdered sugar. Snowball Cookies go by many names all over the world, Russian Tea Cakes, and Mexican Wedding Cookies.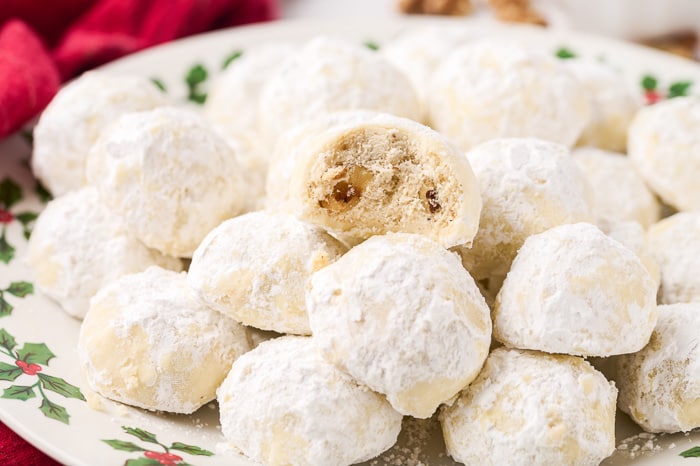 As quickly as you can bake them, they will disappear from your plate just as fast. My kids were apprehensive at first. My daughter said, "Mommy, where's the chocolate?!" Trying to tell a child that not everything needs chocolate to be delicious is like telling a mom you don't need a huge cup of coffee every morning.
Once they tried them, it was love at first bite. Their faces and hands were covered in powdered sugar and their smiles were from ear to ear. Now, each holiday season these Snowball Cookies are one of the top requests for our annual baking day.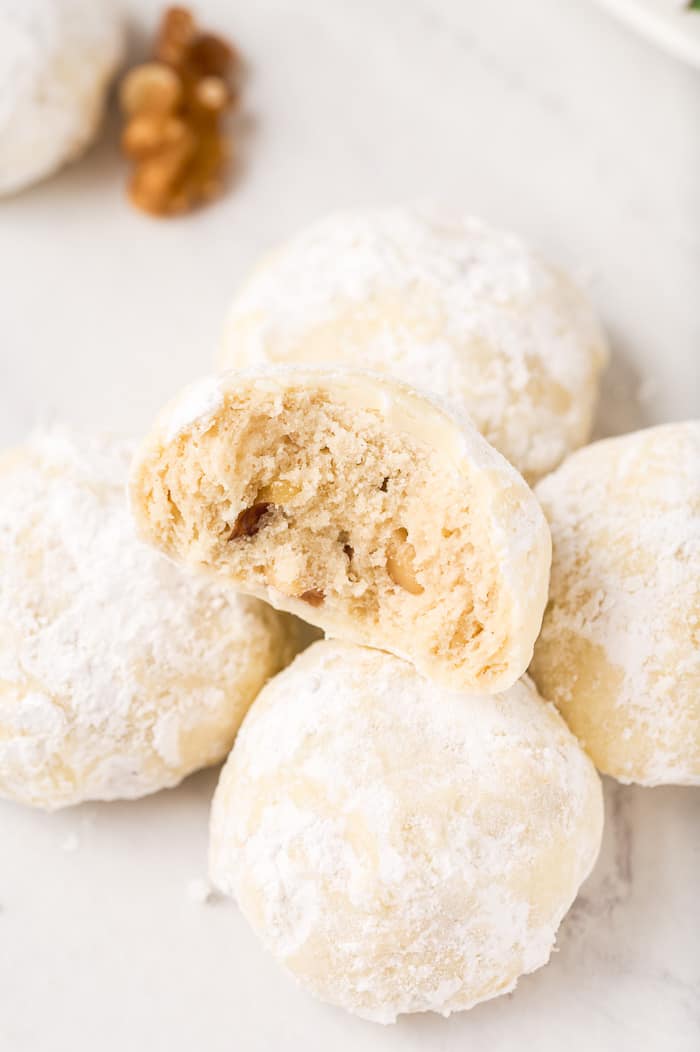 Now, let's walk through the easy step-by-step method of baking these holiday treats for your loved ones. If you don't want to see the instructions here, simply scroll down to the bottom now for the full recipe.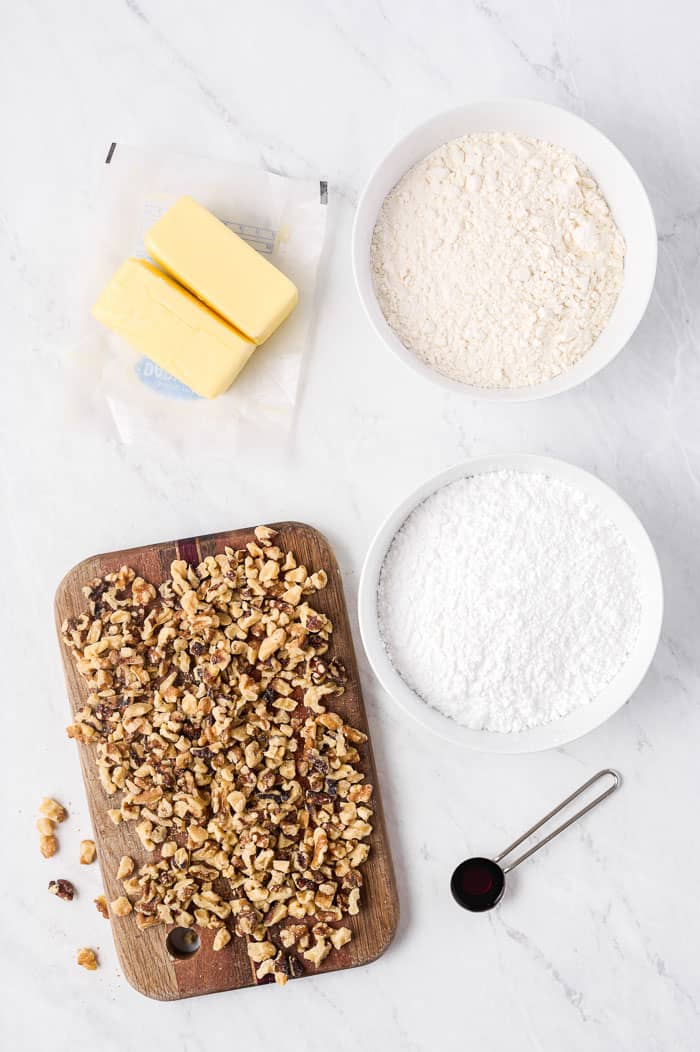 Beat the butter until it is smooth and creamy.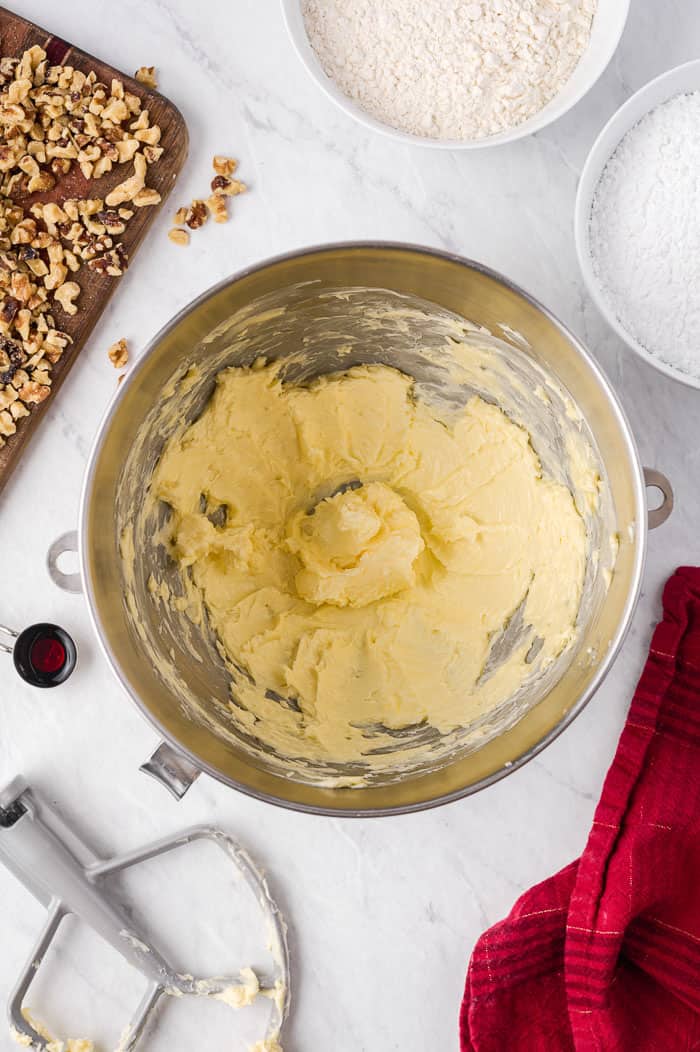 Add in your other ingredients and ⅓ of the powdered sugar. Mix until the dough ball forms.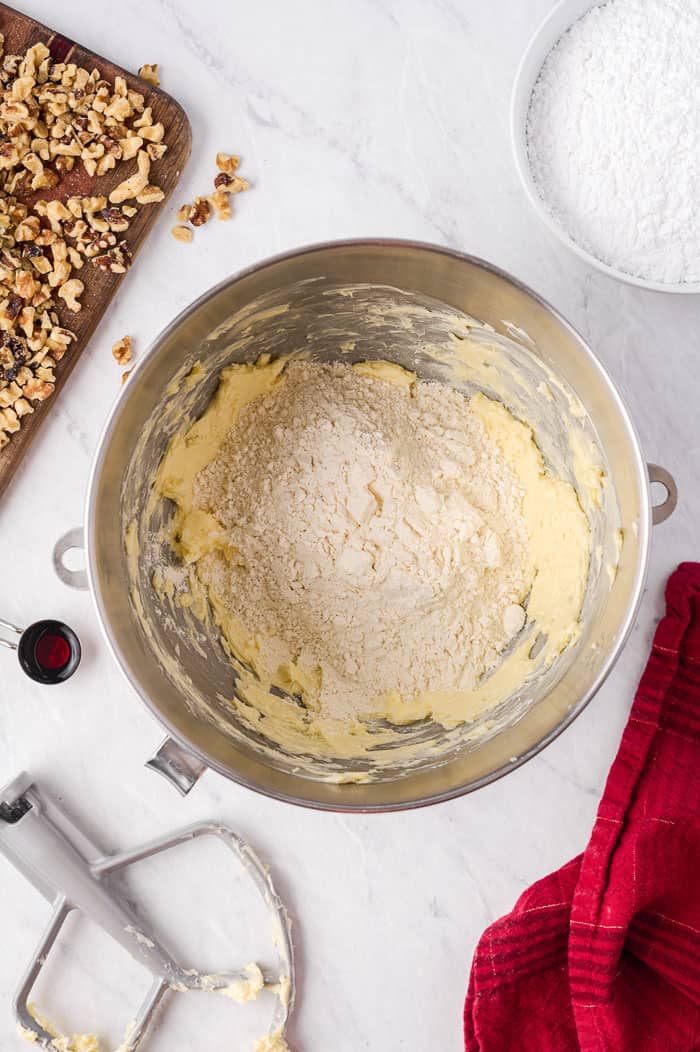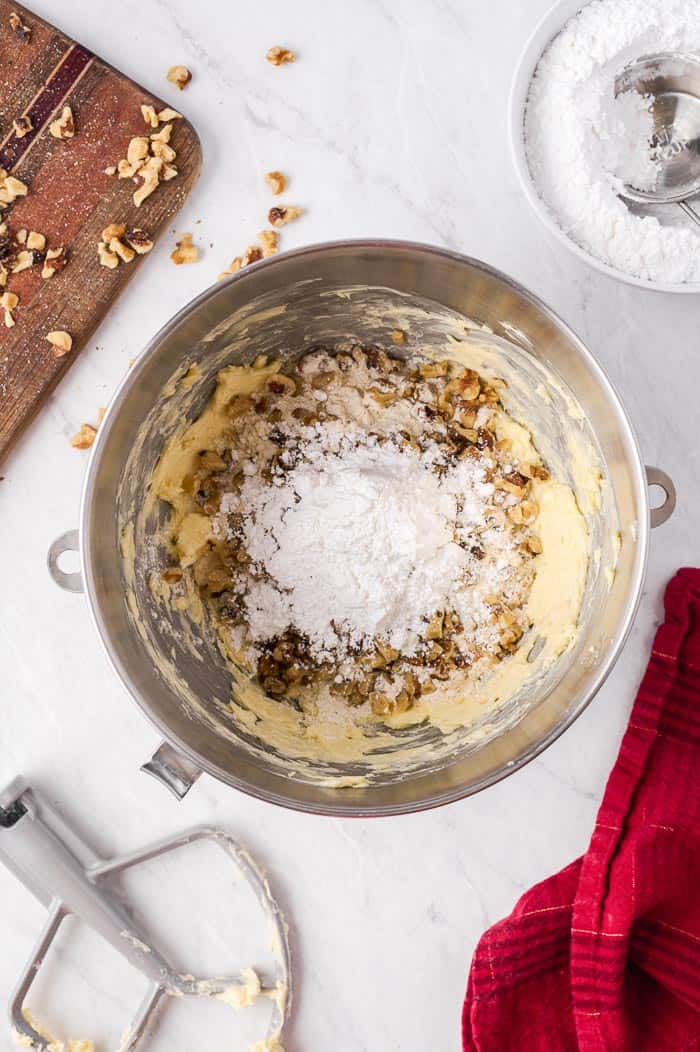 Roll your dough into balls and bake for 15 minutes.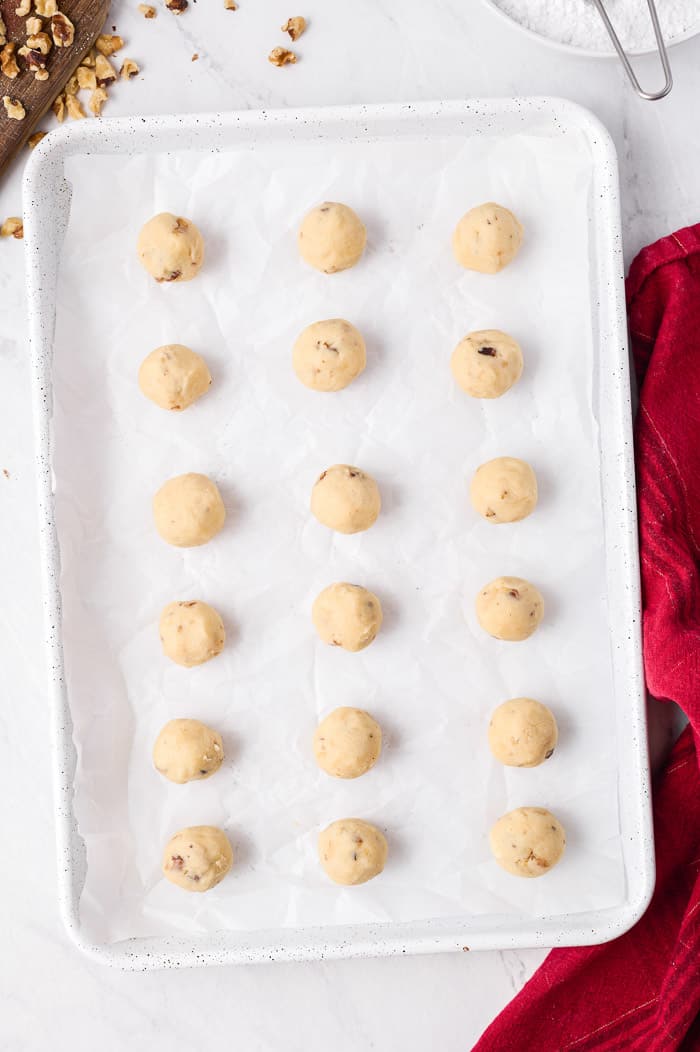 Once cookies are cooled down, roll in the remaining powdered sugar.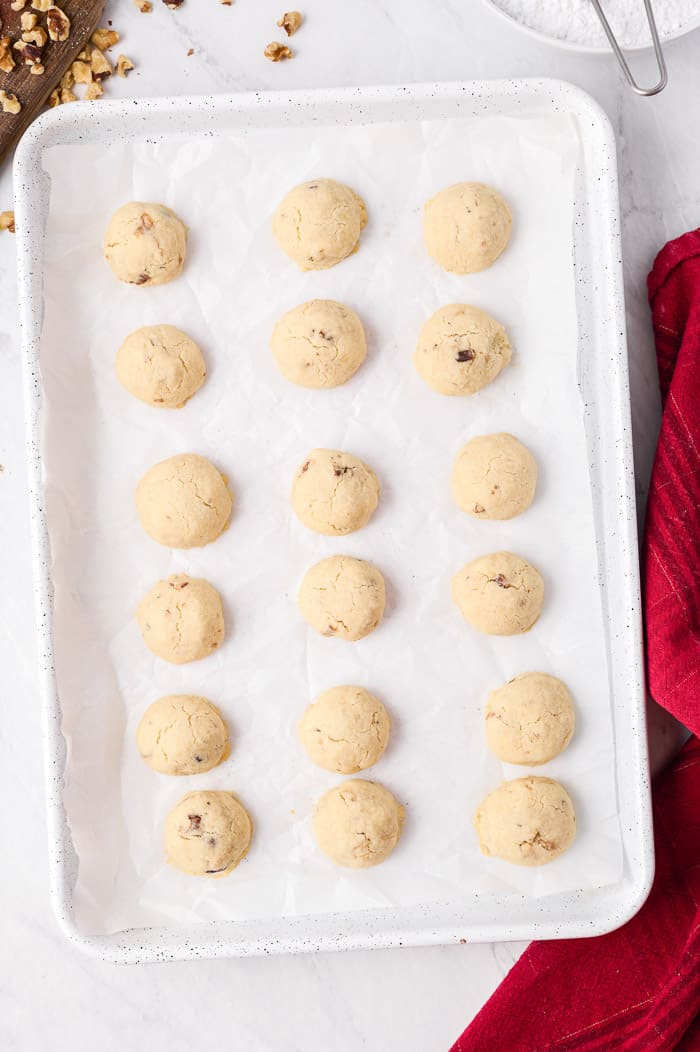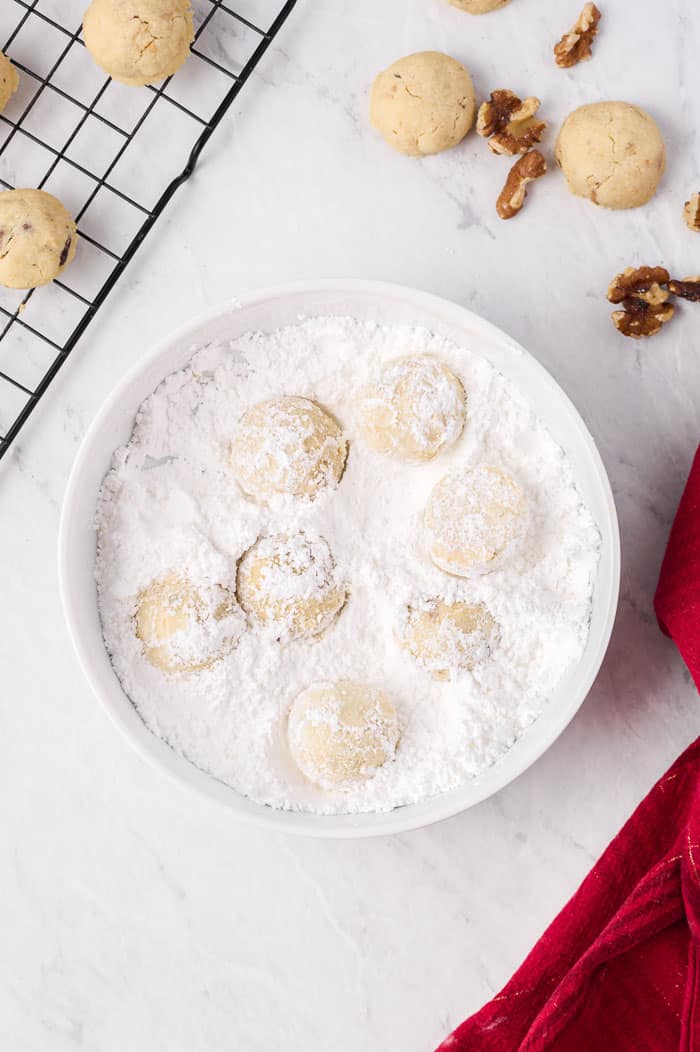 Serve with a napkin or a plate to avoid getting powdered sugar everywhere from how quickly these cookies will be eaten.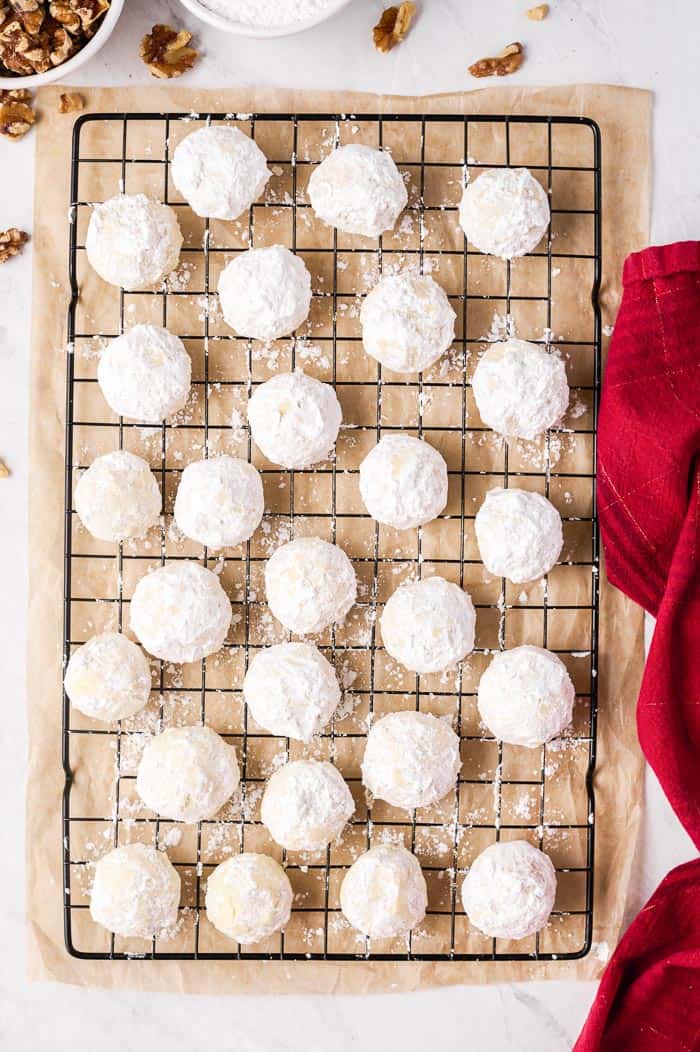 Within 45 minutes these pillowy soft cookies will be ready to serve! Add on to a seasonal decorative serving tray and watch them fly.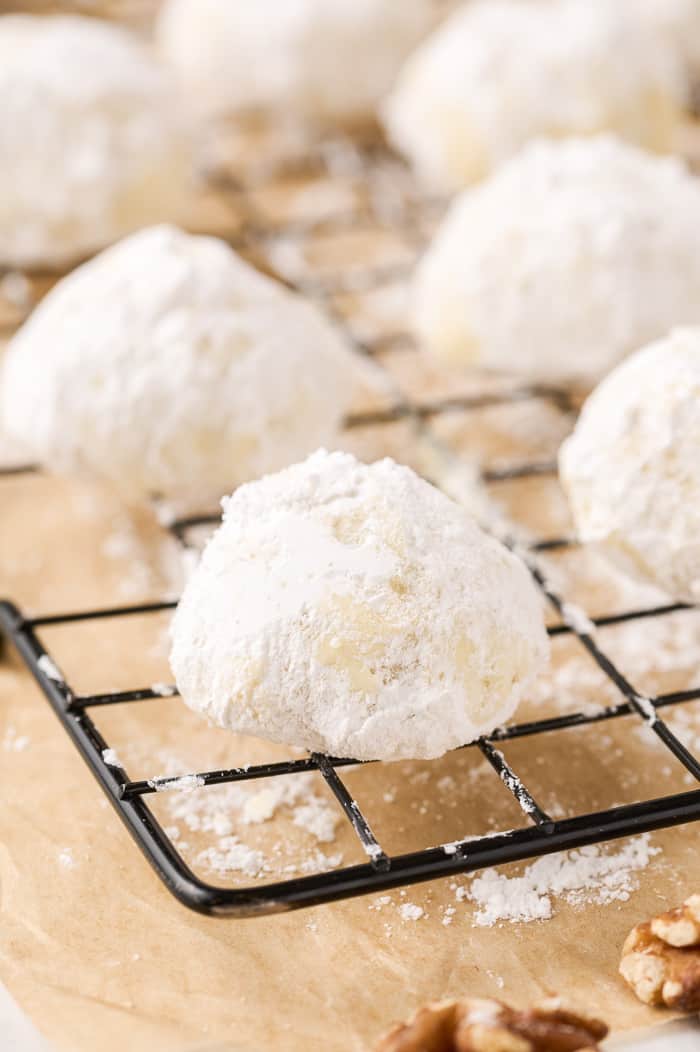 If you spread the joy of the holiday season with treats, don't forget to add these Snowball Cookies into your tins. Nothing says the holiday season like baking! If you bake to spread cheer during this time of the year, you must check out my Easy Christmas Decorated Cookies or these Gingerbread Cookies.
Do you add these festive treats to your holiday baking menu? Let me know in the comment section below what you think of this recipe! 2021 is all about social media! So if you bake these cookies and share them make sure to tag #aclassictwist so I can see what's written come to life!
Happy holiday baking :-).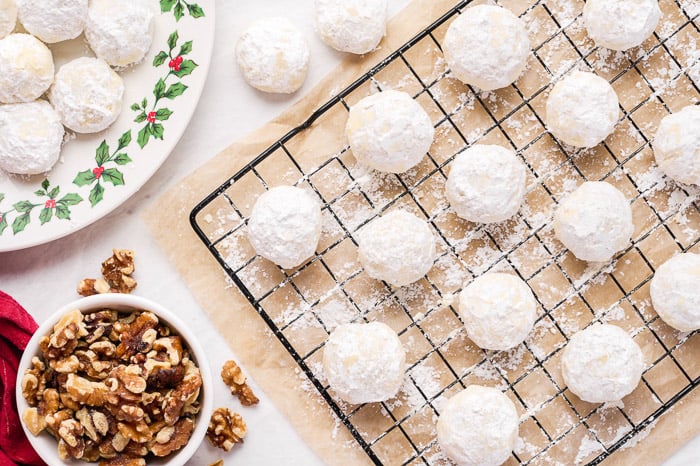 What ingredients will I need to complete this recipe?
You will need the following ingredients:
unsalted butter

We used unsalted butter for this recipe, but if you wanted a little bit of saltiness to them, you could use salted butter

all-purpose flour

We used unbleached all-purpose flour, but bleached flour will work as well. Please note, this recipe wasn't tested with alternative flours.

chopped walnuts

Walnuts are classic for this recipe. Pecans are another favorite nut to use, just make sure to chop them small!

vanilla extract

Imitation vanilla extract will work well for this recipe as well. Almond or maple extract would make delicious variations to this recipe!

powdered sugar
What supplies will I need to complete this recipe?
You will need:
Baking sheet and parchment paper
Standing mixer and paddle attachment

We love our Kitchen Aid mixer!

Cooling rack
Tablespoon measuring tool
Shallow bowl
Can I make this recipe without a standing mixer?
Sure! You can use a handheld mixer with beater attachments instead of a standing one. Because creaming the butter by hand is quite the workout, using an electric mixer is strongly recommended.
Are snowball cookies, Russian tea cakes, and Mexican wedding cakes the same thing?
Yep! We all know this cookie by one name or another! They're all baked balls of dough rolled in powdered sugar filled with chopped nuts. Absolutely delicious whichever name you know them by!
How long do snowball cookies last?
These will stay fresh for 3-4 days in a sealed container at room temperature. If you place the container in the refrigerator, they may keep it for up to 2 weeks. If it's been a few days, we like to give the cookies a quick fresh roll in powdered sugar before serving.
Why did my snowball cookies flatten?
One possibility is that the butter may have been too warm. We've found ideal temperature for "room temperature" butter ranges between 60-65℉.
The handling of the dough can also warm up the cookies and cause spreading. If you think this may be the case, place the baking sheet of cookies in the freezer for a quick 10 minutes before baking.
Also, if the snowball cookies don't all fit on one baking sheet, make sure to use a new, cool baking sheet for the second round of cookies. Placing the cookie dough on a warm baking sheet will cause them to spread.
Why are my snowball cookies crumbling?
If you pick up or eat a cookie before it finishes cooling (hey, we can't blame you!) they may crumble. As the cookie cools, it's also solidifying its structure, so make sure to allow the cookies to fully cool.
If the cookie has fully cooled and is still crumbling, it may be too dry. One possibility could be extra flour if you measured a very heaping scoop, resulting in some extra dryness. Note, this recipe doesn't ask for the flour to be spooned and leveled, but a heaping scoop could cause the cookies to be crumbly.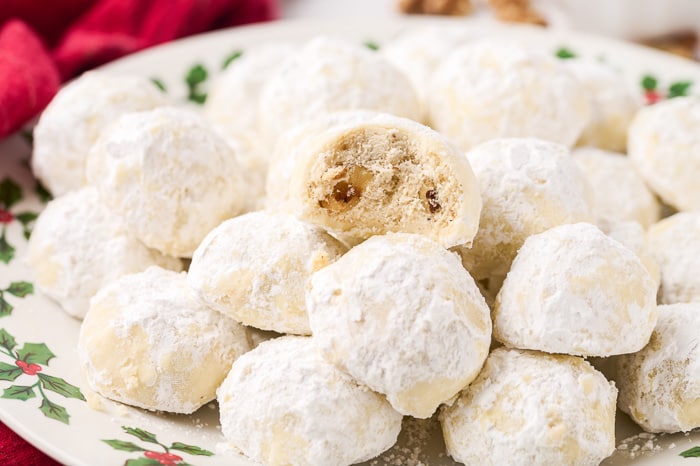 Snowball Cookies
Snowball cookies are buttery dough rolled in powdered sugar, filled with walnut pieces. They're a quintessential holiday cookie!
Additional Time
15 minutes
Ingredients
1 cup unsalted butter, room temperature
2 cups all-purpose flour
1 cup chopped walnuts
1 teaspoon vanilla extract
2 cups powdered sugar, divided
Instructions
Preheat the oven to 350 ℉ and line a baking sheet with parchment paper.
Add butter to the bowl of a standing mixer and beat on a medium speed until creamy, about one to two minutes.
Add the flour, chopped walnuts, vanilla extract and ⅓ cup powdered sugar. Mix on the stir setting for 15 seconds, scrape down the sides and continue to mix on the stir setting until a ball of dough forms, scraping down the sides as needed.
Scoop 1 Tablespoon of the mixture and use your hands to roll the dough into small balls about 1 inch big and place them evenly spread out on the prepared baking sheet.
Bake for 15 minutes. The edges should be a light brown. Set on a wire rack until they're still warm, but cool enough to handle.
Place the remaining 1 ⅔ cup of powdered sugar in a shallow bowl or lipped plate.
Once cool enough to touch, roll the cookies in the powdered sugar. Set back on the wire rack until completely cool. Once cooled, roll the cookies again in the powdered sugar. *
Notes
Cooling time includes the time it takes to coat the cookies in sugar (about 15 minutes):
* The cookies should be cool enough to handle after about 30 seconds of sitting on the wire rack.
The first round of coating the cookies takes about 2-3 minutes and an additional 10 minutes to cool completely plus 2-3 minutes for the second round of cookies.
Powdered sugar is messy! Place some wax, parchment paper, or a cool baking sheet under the wire rack to catch the powdered sugar.
We tested baking one round of cookies on a Silpat instead of parchment paper and found that the ones on the Silpat were more prone to spreading during the bake, while the ones baked on parchment paper, did not.