2023 Baking Gift Guide
Hi friends! Today, I'm sharing some of my favorite things that are perfect for the holidays. This 2023 baking gift guide is for you, the baking goddess, because we deserve something special this time of year, too!
This is my first time making a gift guide for you, and I hope to make it a yearly tradition.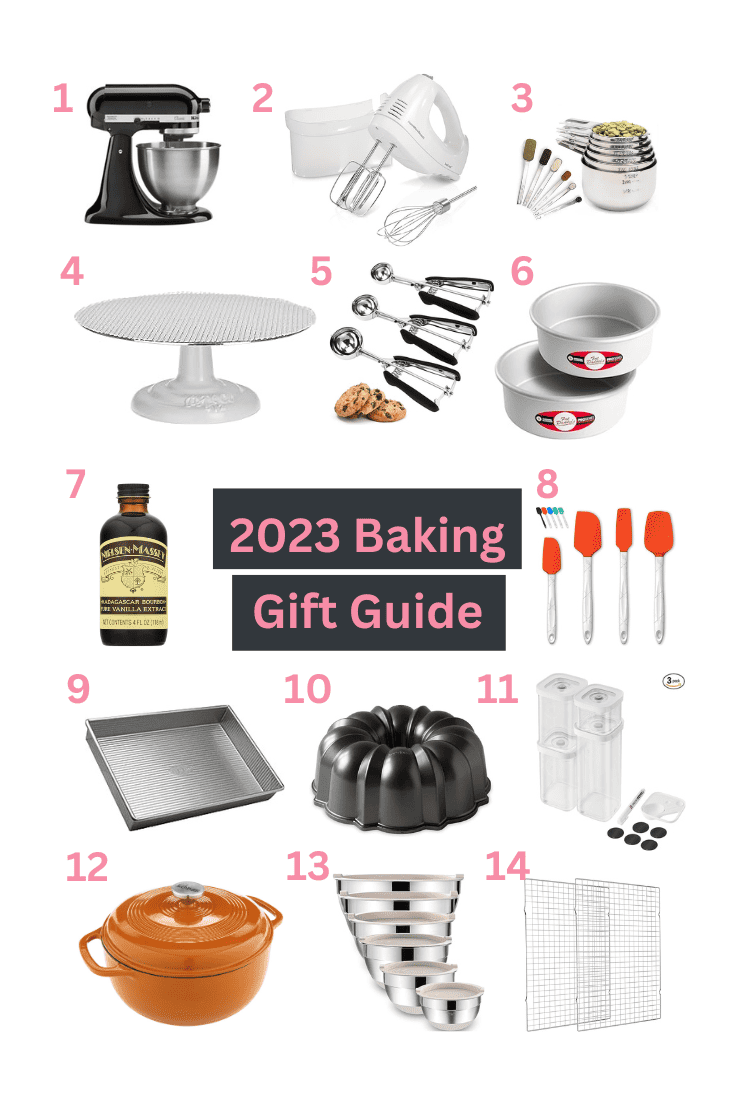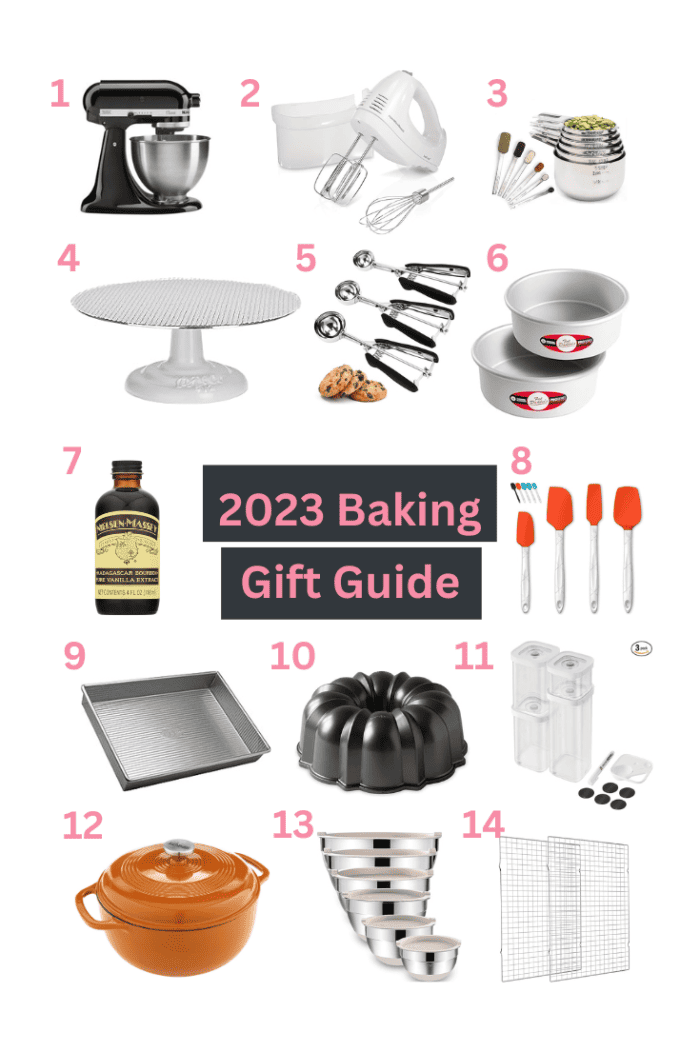 Baking Gift Ideas
1. KitchenAid Stand Mixer – This is my go-to stand mixer. I got mine 12 years ago as a wedding gift, and it is still going strong. It has a 4.5-quart bowl, 10 speeds to pick from, and works with a large assortment of attachments. It is worth every penny!!! This mixer is what dreams are made of!
2. Hand Mixer – I love this hand mixer. It is an excellent alternative if a stand mixer is not in your current budget. It's affordable and never fails me. It has multiple speed settings and the essential attachments you need for any recipe.
3. Measuring Cup Set – Everyone needs a good set of measuring cups and spoons. This set is stainless steel and won't rust. I love that the design of the cups prevents any spillage and makes it easy to measure accurately.
4. Cake Revolving Stand – If you love decorating cakes as I do, then this cake stand is a must-have, and what better time to get one than at Christmas time? I love this cake stand because the base is heavy, so it will never tip over, and it has a turntable to make cake decorating easy. Plus, the revolving cake base is detachable for easy cleaning. It comes with a non-slip pad, so your cake will stay in one place.
5. Cookie Scoop – This cookie scoop is how I make perfect cookies. It comes in 3 different sizes, and the hand has a non-slip grip. Plus, you can use it as an ice cream scoop, meatball scoop, etc.
6. Round Cake Pans – I don't use just any cake pan; I prefer these from Fat Daddio. It's made of anodized aluminum and is designed for round-tiered and layered cakes. You can also use it for deep-dish pizzas; it fits inside an 8-quart pressure cooker. My cakes always release effortlessly from these cake pans.
7. Pure Vanilla Extract – This is my favorite vanilla extract to use. It makes a lovely gift for yourself or a loved one. It is made with hand-picked vanilla beans from Madagascar.
8. Spatula Set – This spatula set is heat resistant & BPA free. It comes with four pieces and in 5 different colors.
9. Rectangular Cake Pan – I always use this 9 x 13-inch cake pan and love that it is non-stick. The coating is PTFE, PFOA, and BPA-free. A rectangular cake pan is a necessary item for every baker.
10. Bundt Pan – I love making bundt cakes; this is one of my favorite bundt pans. It's by Nordic Ware, made with cast aluminum, so you get even heating for excellent results. It also has a PFOA-free, non-stick coating.
11. Storage Organizer Set – I love this Zwilling Fresh and Save Cube storage organizer set because it is space-saving. They are easy to stack, and it comes with reusable labels and a chalk pen.
12. Dutch Oven – I love the Lodge brand, and they make an excellent Dutch oven that is gorgeous and affordable. I picked the apricot color, but it comes in 20 beautiful colors.
13. Mixing Bowls – This 6-piece set comes with airtight lids. It's not only perfect for mixing food while baking, but I use it for storing items in the refrigerator, like salads. I also love that it has a non-slip bottom, which makes it easy when mixing food or whipping some whipping cream.
14. Cooling Rack – I prefer large cooling racks because I'm an avid baker and always bake a lot at once, especially around the holidays. This cooling rack is 16×10 inches and comes in a pack of 2, and the price is about $9, making it a steal!