Pineapple Orange Rum Punch
My go-to drink for this spring and summer is this Pineapple Orange Rum Punch. Transcend yourself to the tropical islands even when sipping on this drink in your kitchen.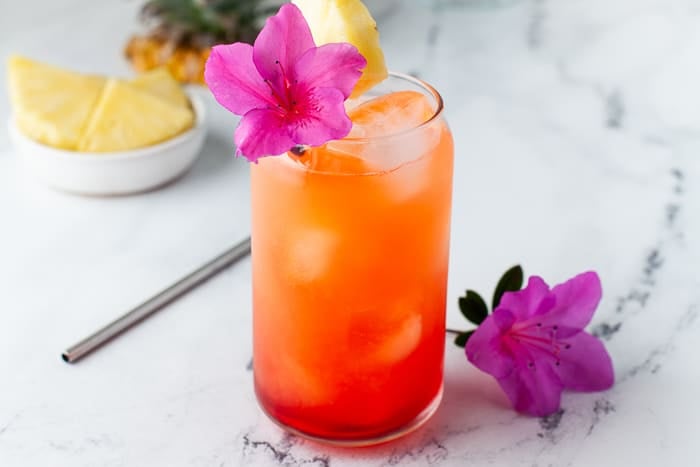 Welcome back, my friends! Spring cleaning is in full effect over here and it just feels so good to purge stuff you don't use anymore. I feel like a tornado going through these rooms. Clearing out clothes, decorations, home decor, and the kitchen. Do you spring clean your entire house too or just your clothes?
As a baker, I definitely have a huge supply of ingredients in the kitchen but I do a cleanout seasonally so I can focus on the freshest ingredients for all of you and of course my taste testers. I'm making way for all the vibrant and fresh flavors of the spring and summer seasons.
Is there a better seasonal flavor for those scorching days than tangy citrus and refreshingly sweet pineapple? This Pineapple Orange Rum Punch is a super simple adult beverage that goes hand in hand with all your favorite seasonal activities.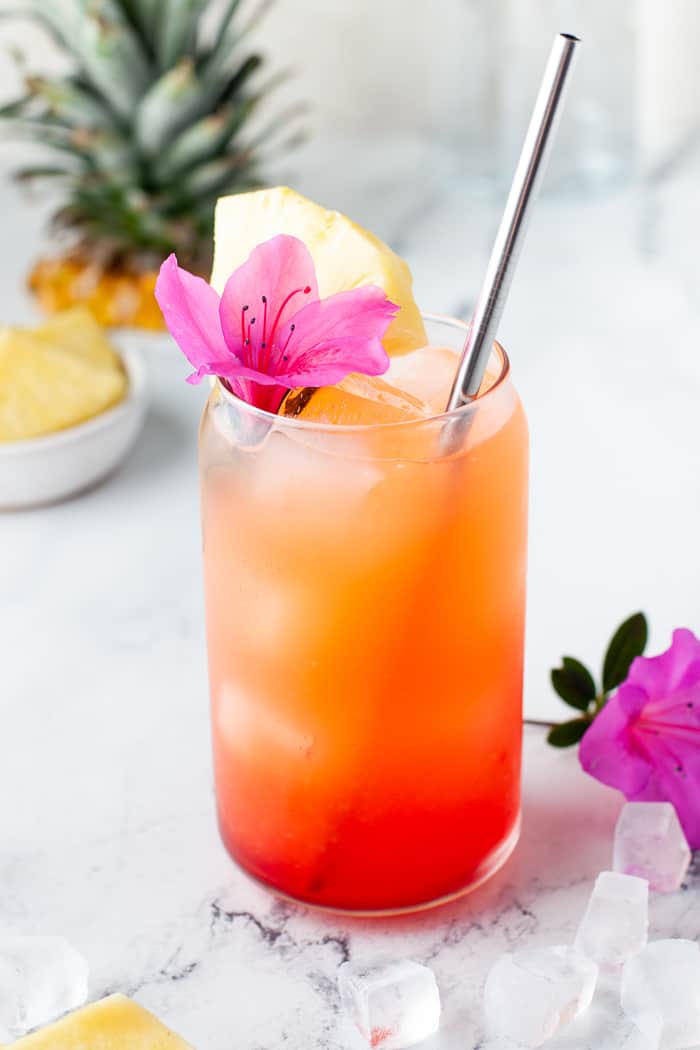 If you live near a high-end market, international market, or maybe a farmers' market you can try to search for pineapple oranges. I had never heard of them before but they have a sweeter flavor but don't have an overwhelming pineapple flavor. They are actually the oldest variation of oranges in Florida (your fun fact for the day). You could use these with pineapple for a sweeter beverage!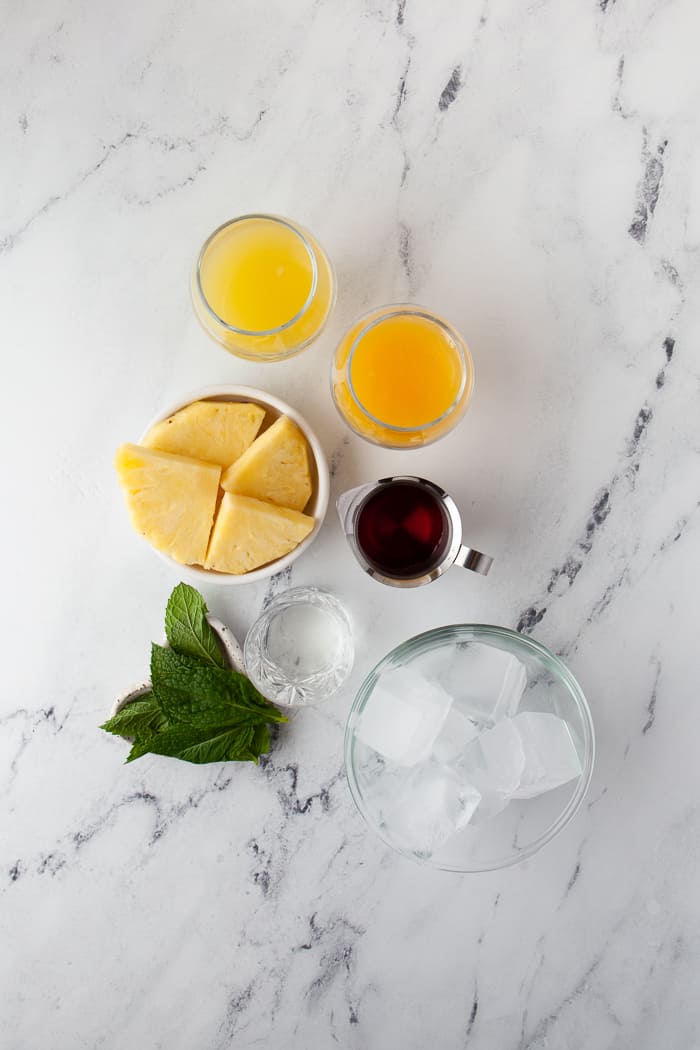 Let's walk through quickly how you can create this simple Pineapple Orange Rum Punch for you to enjoy.
Add ice to your glass.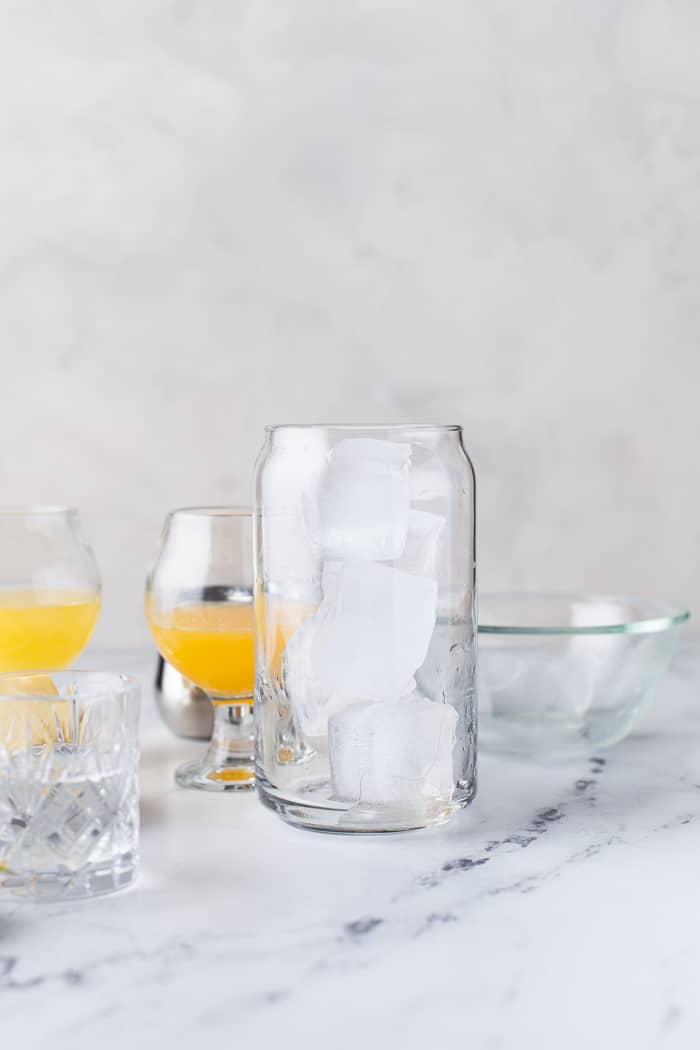 Add grenadine to the bottom of your cup.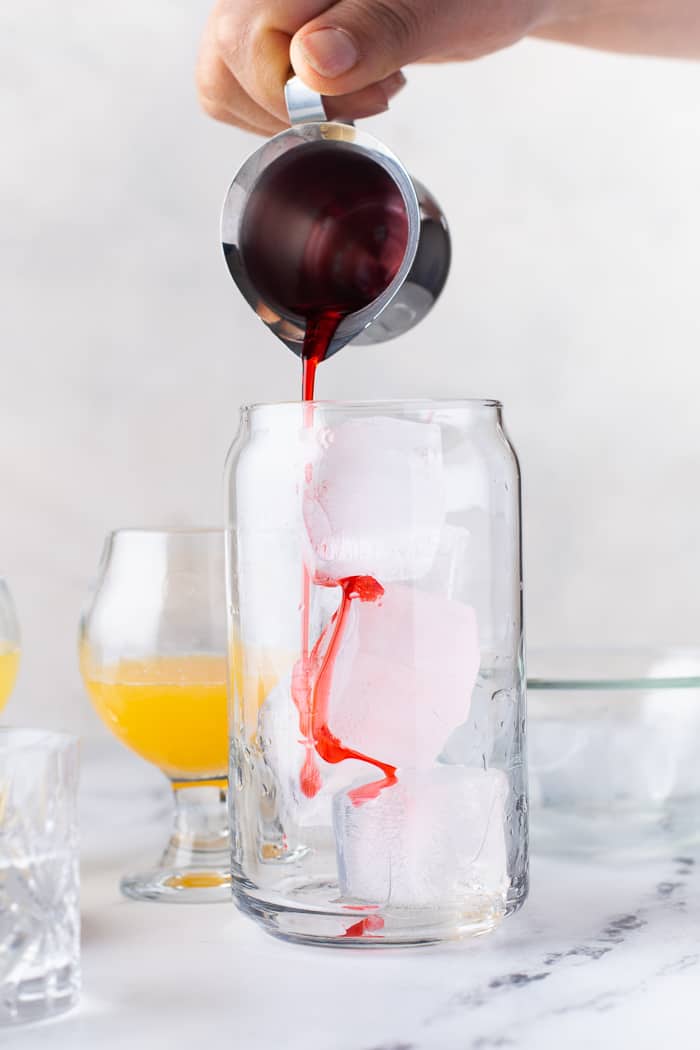 Add your favorite rum ( if you want a sweeter drink then use coconut rum), orange juice, pineapple juice and mix.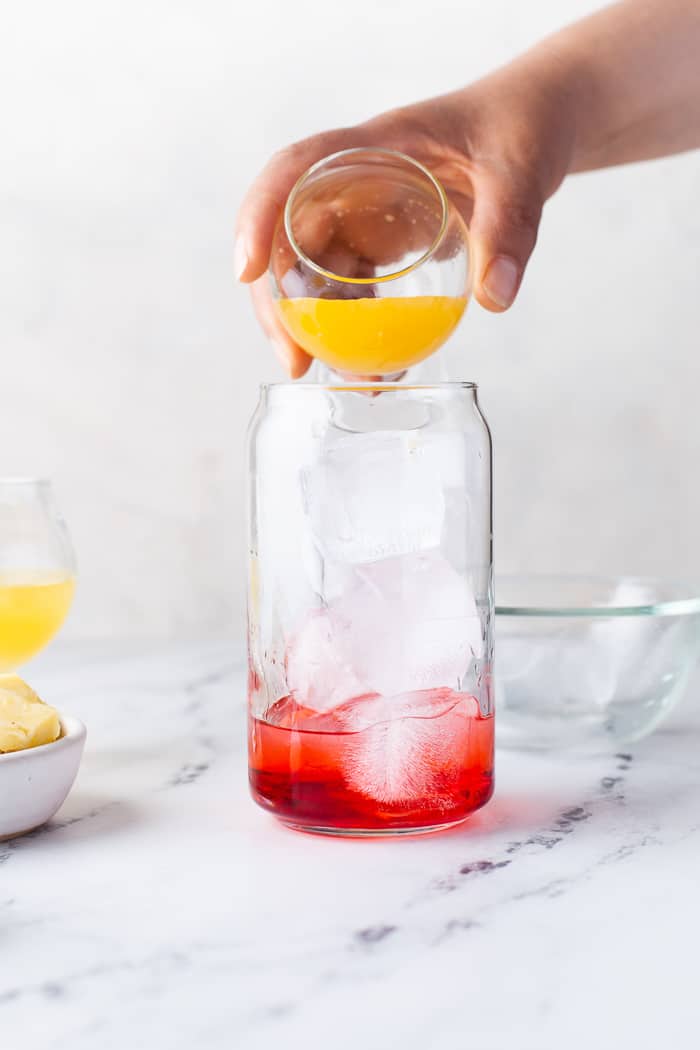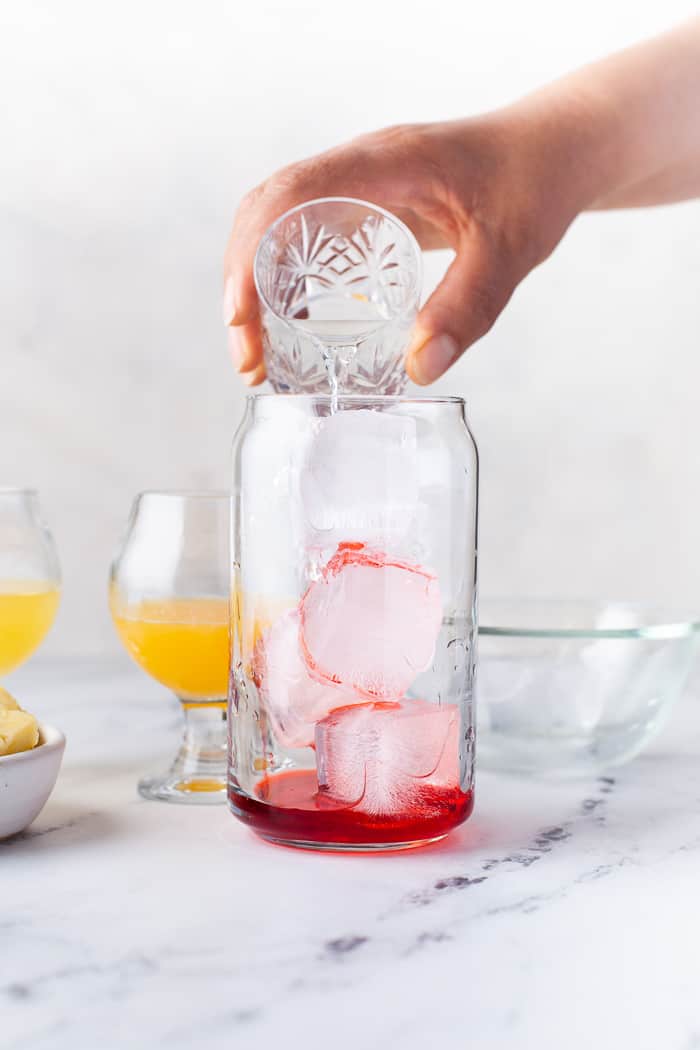 Garnish with your sliced pineapple and oranges.
Take a sip and enjoy!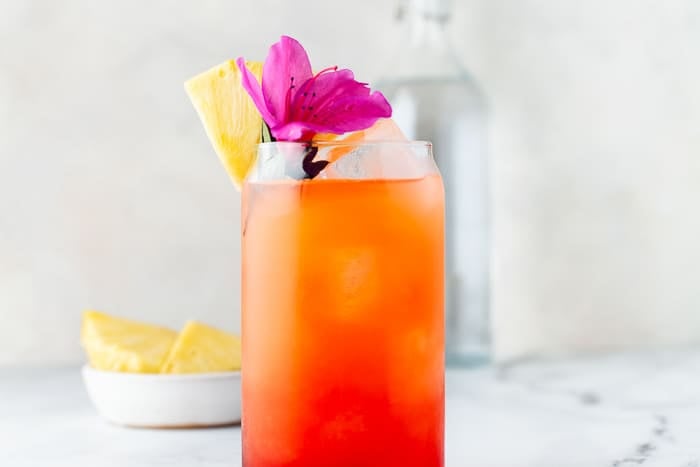 My husband and I like to make these after a long day while enjoying them on the porch for a moment of peace and quiet before the little ones get bored with whatever they are doing.
The short amount of time we have alone is precious so making every second count is top on our list. I know many of you can relate and agree with this haha.
If you value the 15 minutes you get alone just as much as I do then you need to check out these other recipes. Pink Lemon Cocktail, Watermelon Wine Slushie, Blood Orange Cocktail with Mezcal, or any cocktails from the blog.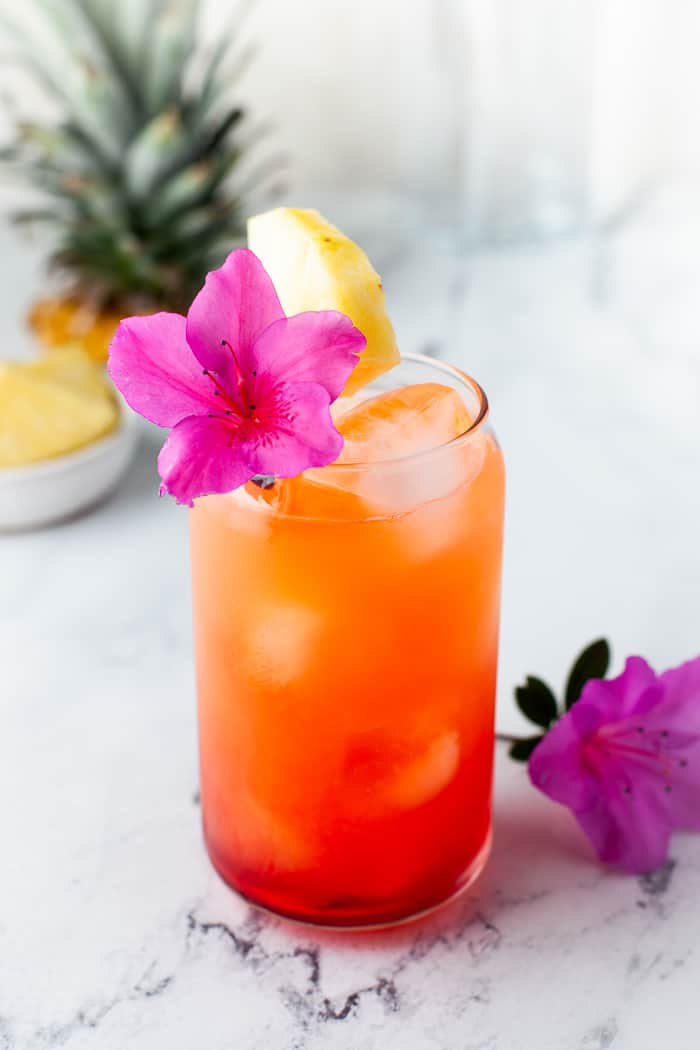 What do you think of this Pineapple Orange Rum Punch? Would you substitute for pineapple rum or have you ever tried a pineapple orange? Let me know in the comment section below. As always, if you share across social media make sure to tag #aclassictwist so I can see your beautiful mixology skills come to life.
Happy Mixing :-).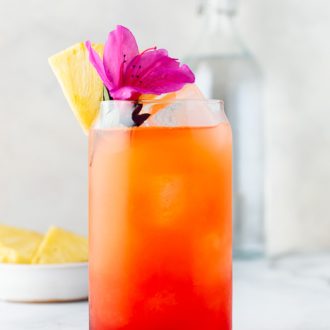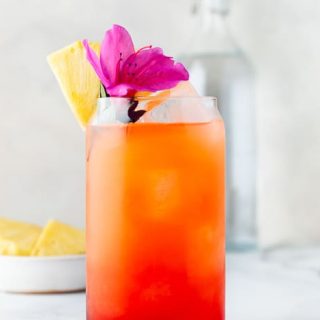 Yield: serves 1
Pineapple Orange Rum Punch
The drink for spring and summer is Pineapple Orange Rum Punch. Transcend yourself to the tropical islands even when sipping on this drink in your kitchen. The tangy citrus flavor and sweet, refreshing pineapple are so refreshing that you won't even believe you are drinking an alcoholic beverage.
Ingredients
½ ounce grenadine
1 ½ ounces white rum (or use coconut rum)
2 ounces pineapple juice
1 ½ ounces orange juice
Ice
For garnish use extra pineapple and orange slices.
Instructions
Fill a glass with ice.

Add the grenadine to the bottom of the glass.

Then continue to add the rum, the pineapple juice, and orange juice. Mix well with a bar spoon.

Garnish with pineapple or orange slices.

Serve immediately.

Notes
You can double or triple this recipe for a crowd.