Summer Pasta Salad Recipe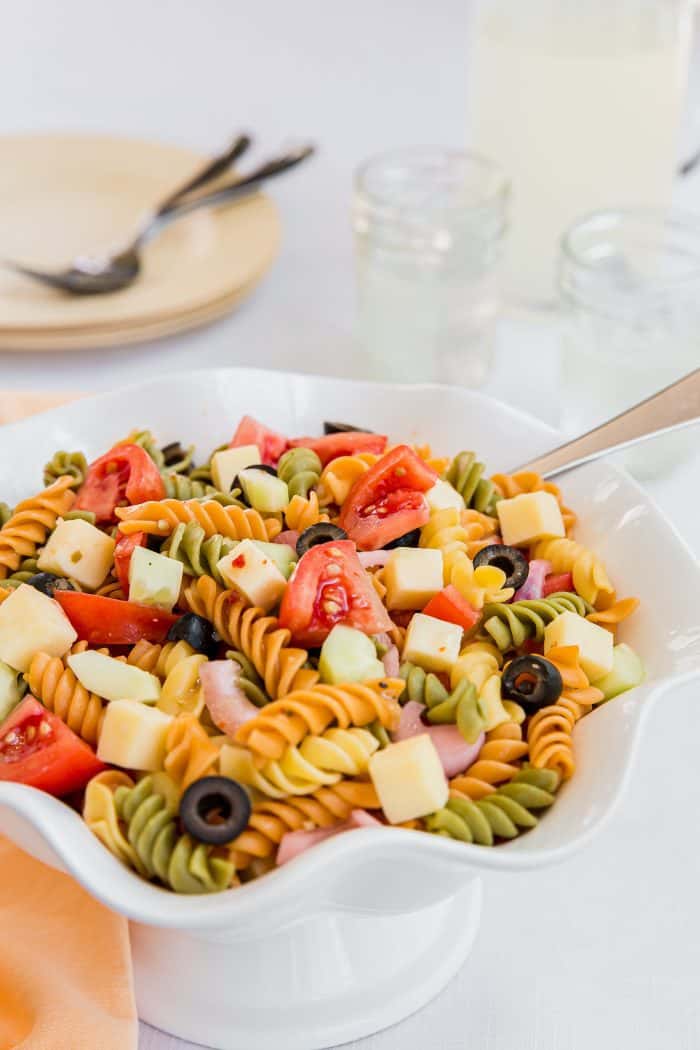 Hey party people! It's time for another savory recipe. Our last savory recipe was this summer corn salad and before that my favorite bacon cheddar cheeseburger. Today's recipe is my husband's popular and legendary pasta salad recipe.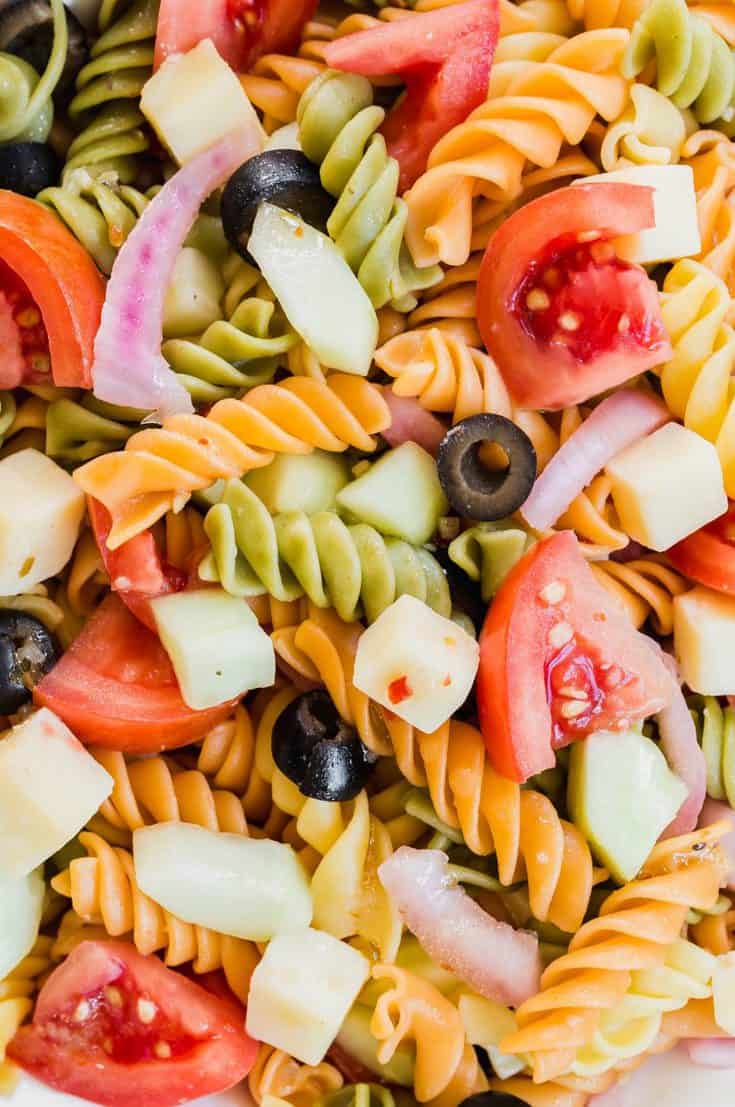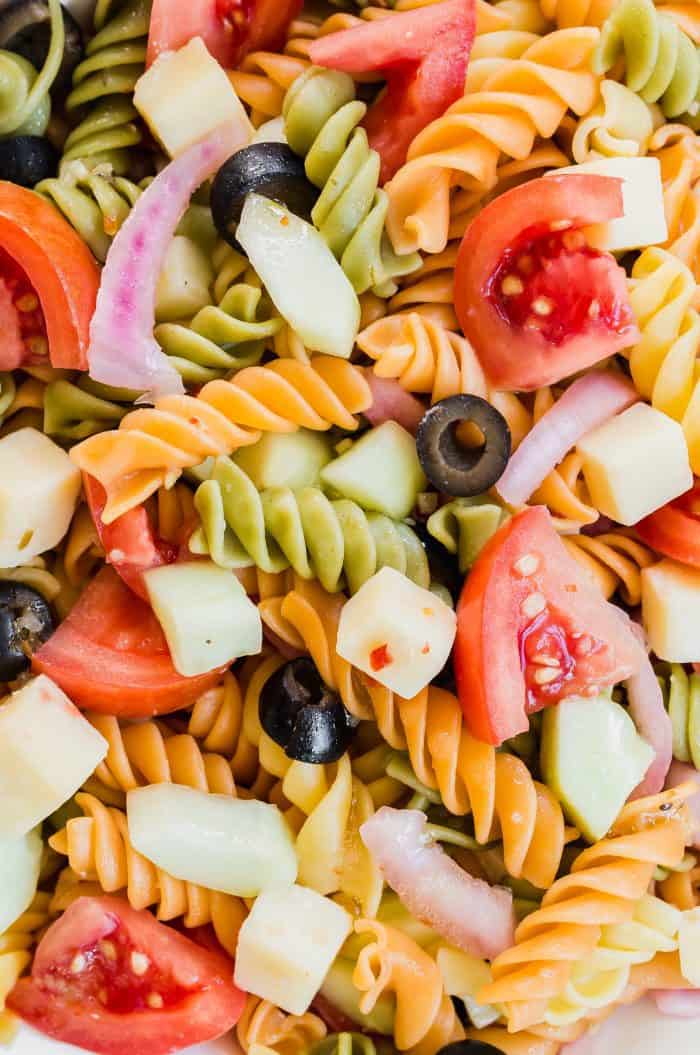 As you know, the hubs is the cook around here. I bring the baked goods and him the food. We are a match made for each other when we get invited to summer gatherings. He brings his famous pasta salad recipe, and I bring a summer pie or s'mores cupcakes. This year, of course, has been different and we haven't had the occasion to do this but that didn't prevent us from making a batch.
With fresh summer tomatoes in season and a partnership with Cabot Cheese this year that generously gifts me their awesome cheddar cheese, we decided to make a batch just for us. Luckily, the kids LOVE anything with pasta in it so we were able to make a meal out of it.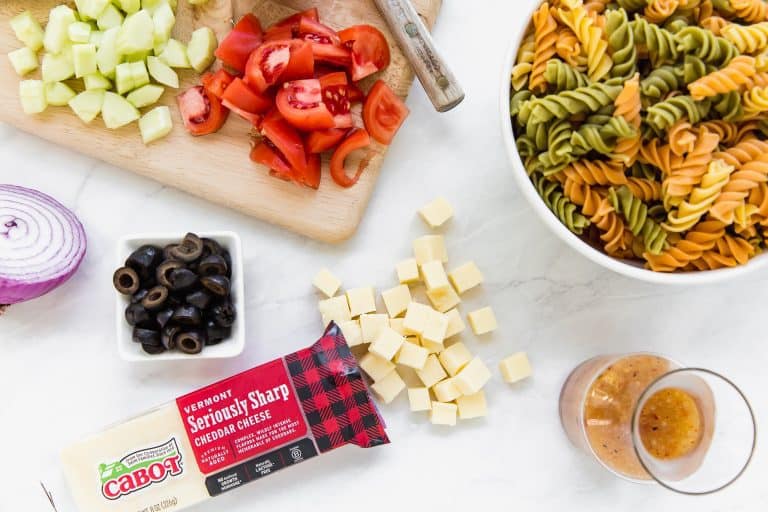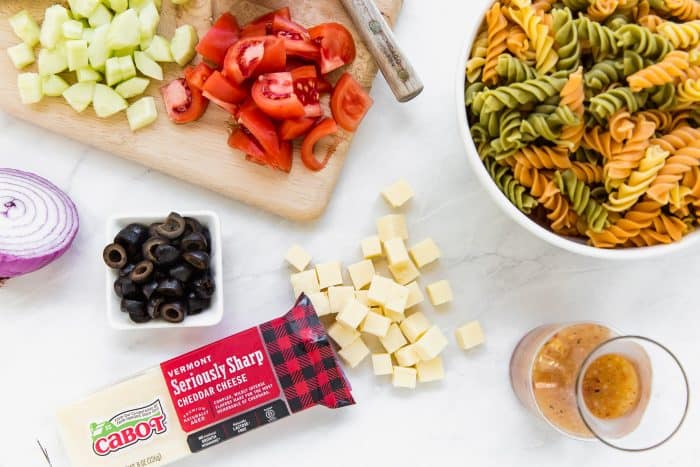 So what goes into this simple yet famous pasta salad?
Rotini (he is adamant about the use of tricolor rotini but any pasta will do, to be honest)
Fresh tomatoes
Sharp cheddar cheese (really important that you use a great sharp cheese. We love Cabot Sharp Cheddar cheese)
Olives (optional)
Cucumbers
Red onions
Robusto Italian salad dressing (he says this is his secret ingredient which I agree it takes it to the next level)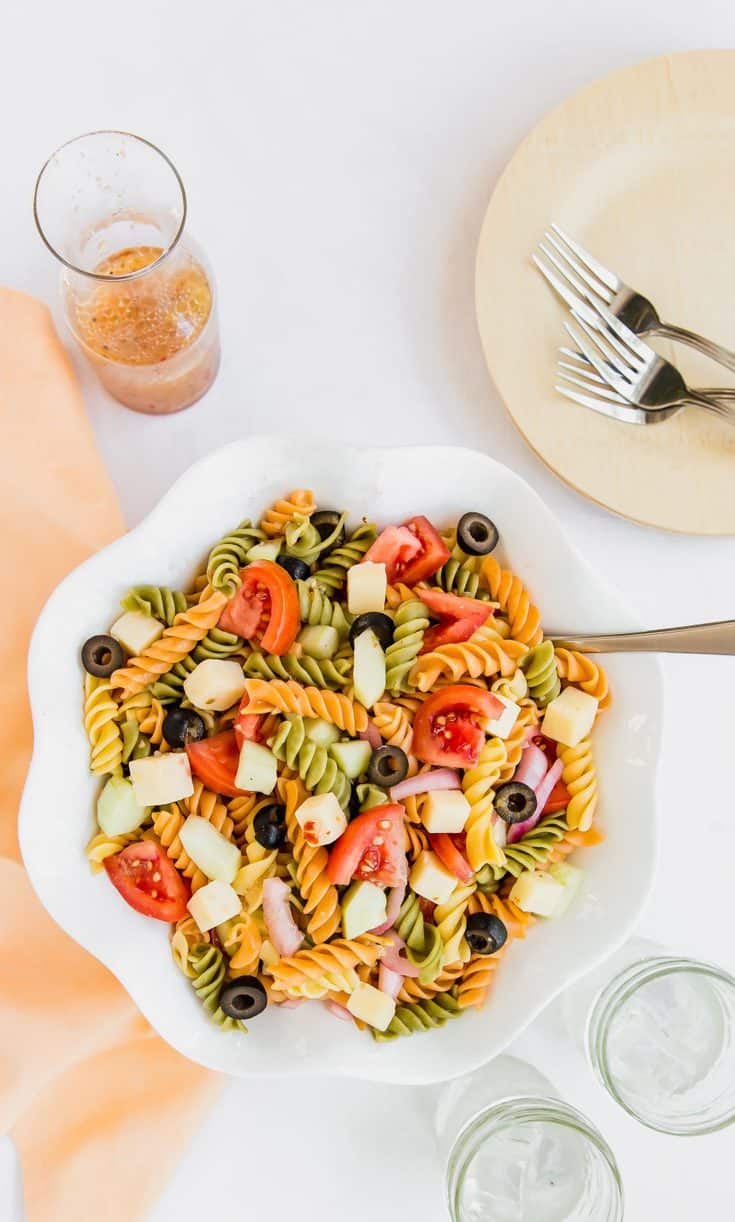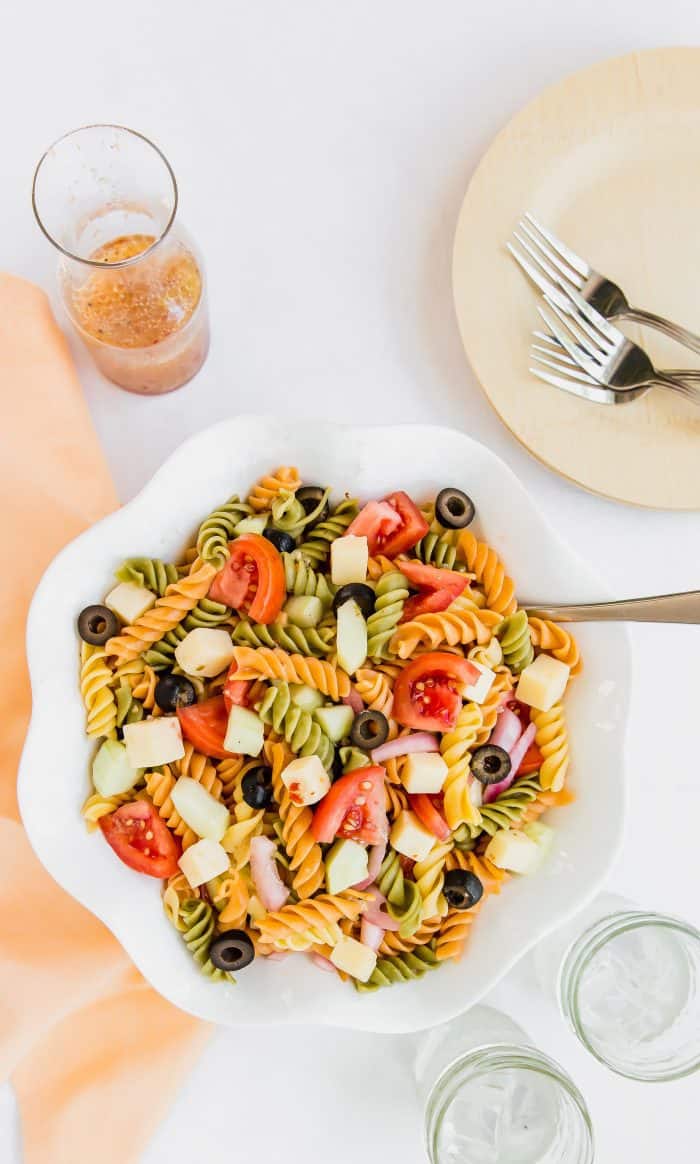 And that is it. It is very simple and easy.
Pro tip: combine all the ingredients together and let the pasta salad sit for a few hours to allow the flavors to blend. For this reason, we always cook the pasta al dente and almost not done so that it soaks up the dressing and it softens as it sits. Do not skip the step of letting the flavors blend together. Refrigerate and watch the magic happen.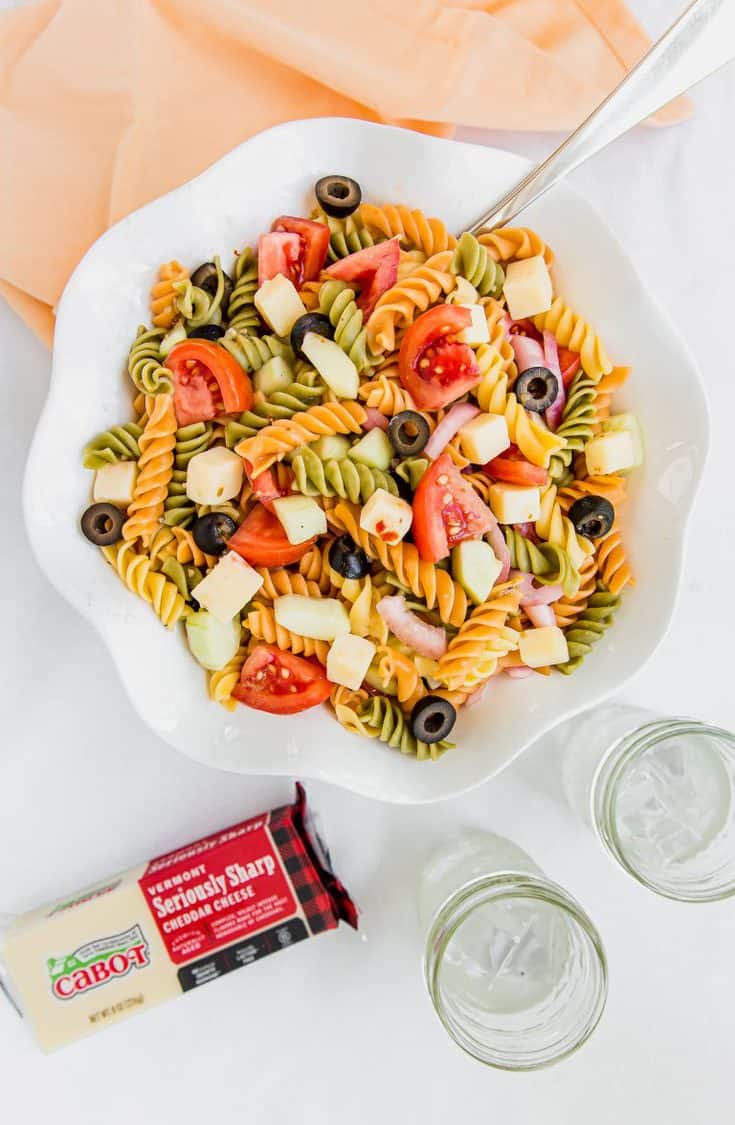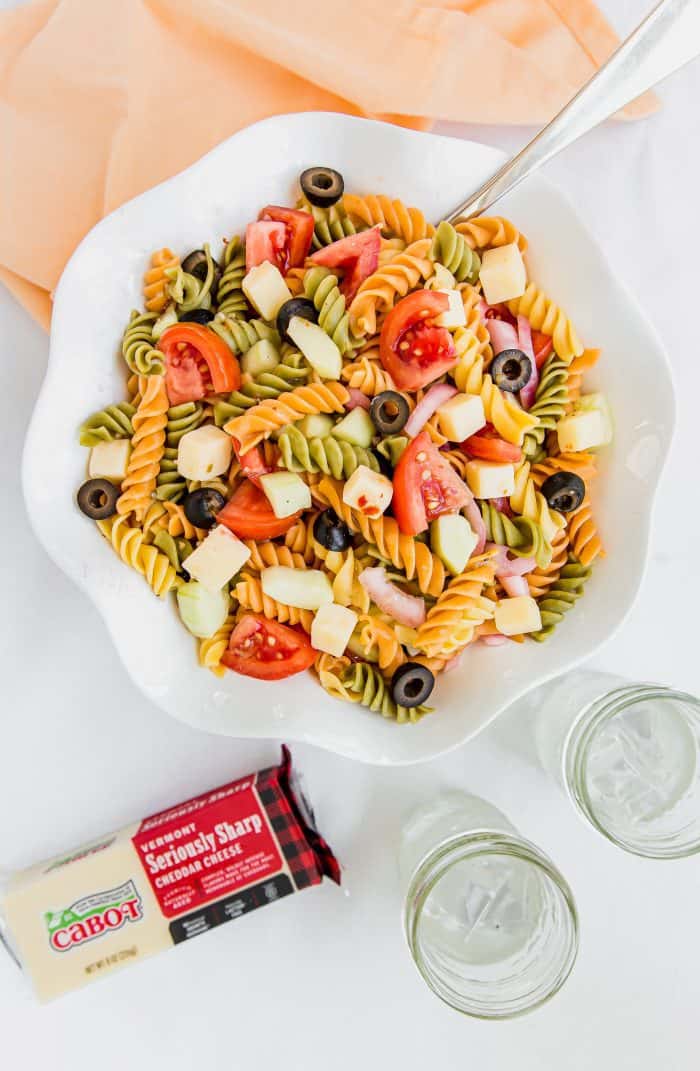 This pasta salad recipe is perfect over the summer for BBQs and picnics. However, we make it all year long. It is just a classic and one I think you will love. With flavors of sharp cheddar, tangy Italian dressing, and crunchy juicy summer vegetables, it is a delight.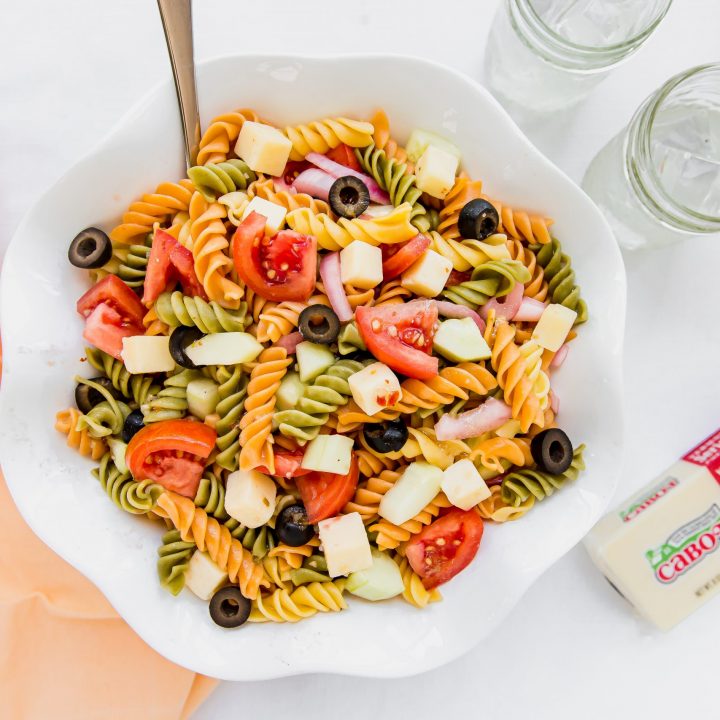 Yield: 6-8 servings
Summer Pasta Salad Recipe
Ingredients
1 box (16 ounces) of Tricolor Rotini
2-3 medium tomatoes, wedged or cubed
1 small cucumber, cubed
1/2 red onion, sliced
½ cup black olives, whole or halved
1 brick (8 ounces) of Cabot sharp cheddar cheese, cubed
1 bottle (24 ounces) of Wishbone Robusto Italian dressing (or any Italian dressing)
Instructions
Cook tri-color rotini, according to box instructions, to al dente. It is important the pasta is al dente as it will absorb liquid from the salad dressing.
Drain pasta and run cold water over until no longer hot. Alternatively, you could let it cool at room temperature or refrigerate it.
In a large bowl, combine the cooled rotini with the tomatoes, cucumbers, onion, olives, cheese, and 3/4 of the Italian dressing. Mix until well combined.
Chill pasta salad for at least 30 minutes to an hour to allow flavors to melange. Before serving, add in the remaining Italian dressing and mix to combine.
Enjoy!
Store leftovers refrigerated for up to 3 days.