S'mores Cupcakes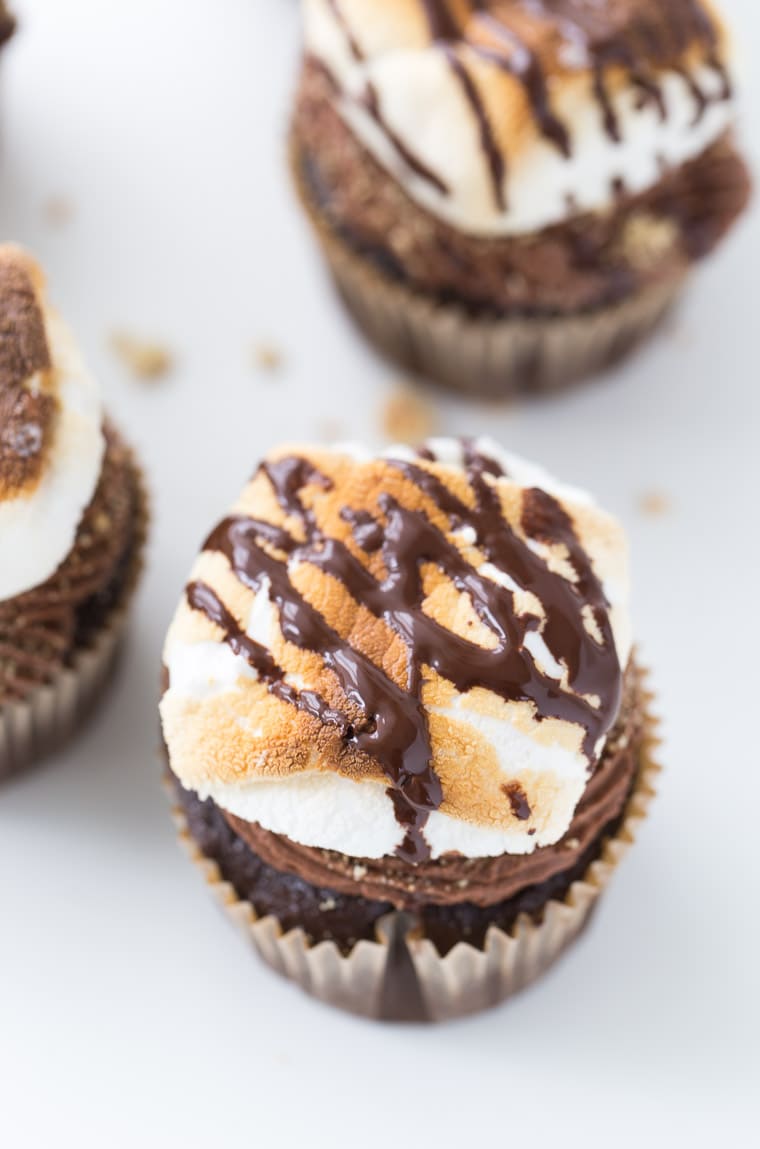 I couldn't let the summer go by without having at least one or two classic summer recipes. These smores cupcakes are my first s'more of the season. Isn't that sad? Seriously, I have lots of catching up to do. But I'm glad I started with these cupcakes.
I had a serious craving for s'mores a week ago after I saw my friend Alice shared a s'mores cupcake on her Instagram. I had to create my own and a cookout at the in-laws this past weekend was the perfect time to have some taste testers.
They received raving reviews like I expected. Both the chocolate lovers and haters loved them and I came home with an empty cake carrier. Why were they a hit? They are decadent!!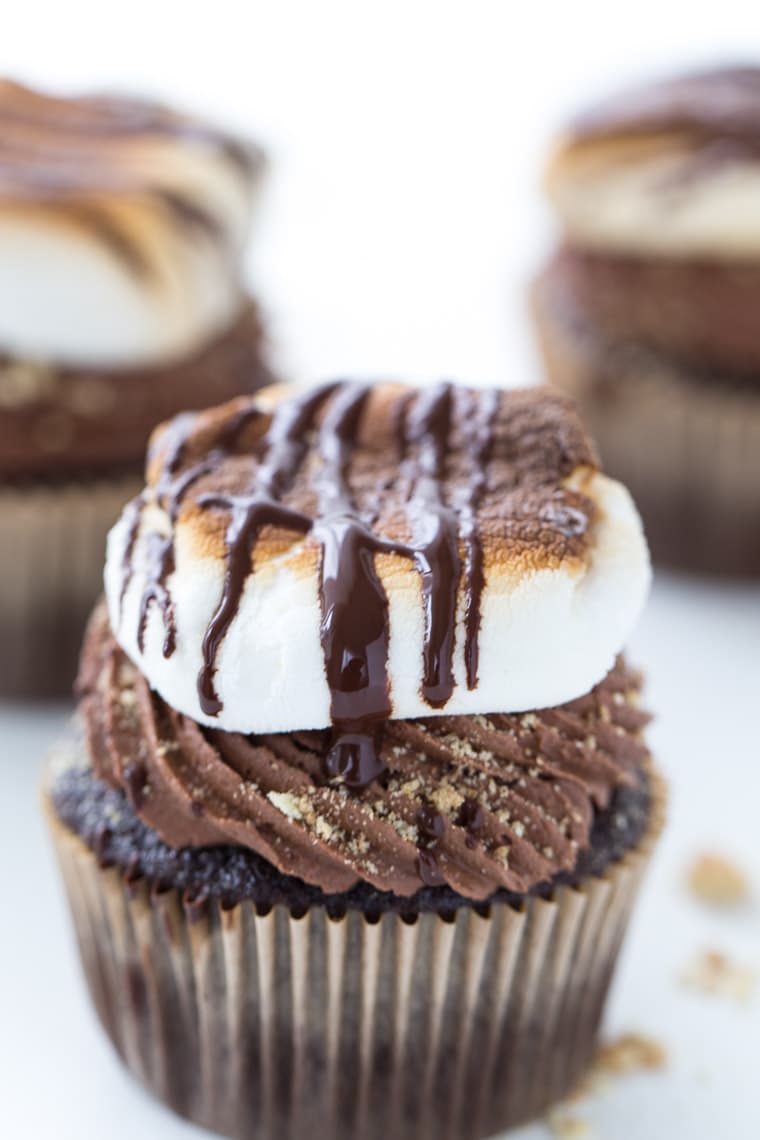 If you are not interested in moist decadent chocolate cupcakes, then these s'mores cupcakes are not for you. Starting with my super duper chocolate cake recipe, I topped them with whipped chocolate frosting, graham cracker crumbs and a toasted marshmallow. One bite of these cupcakes and you are in s'mores heaven without a campfire.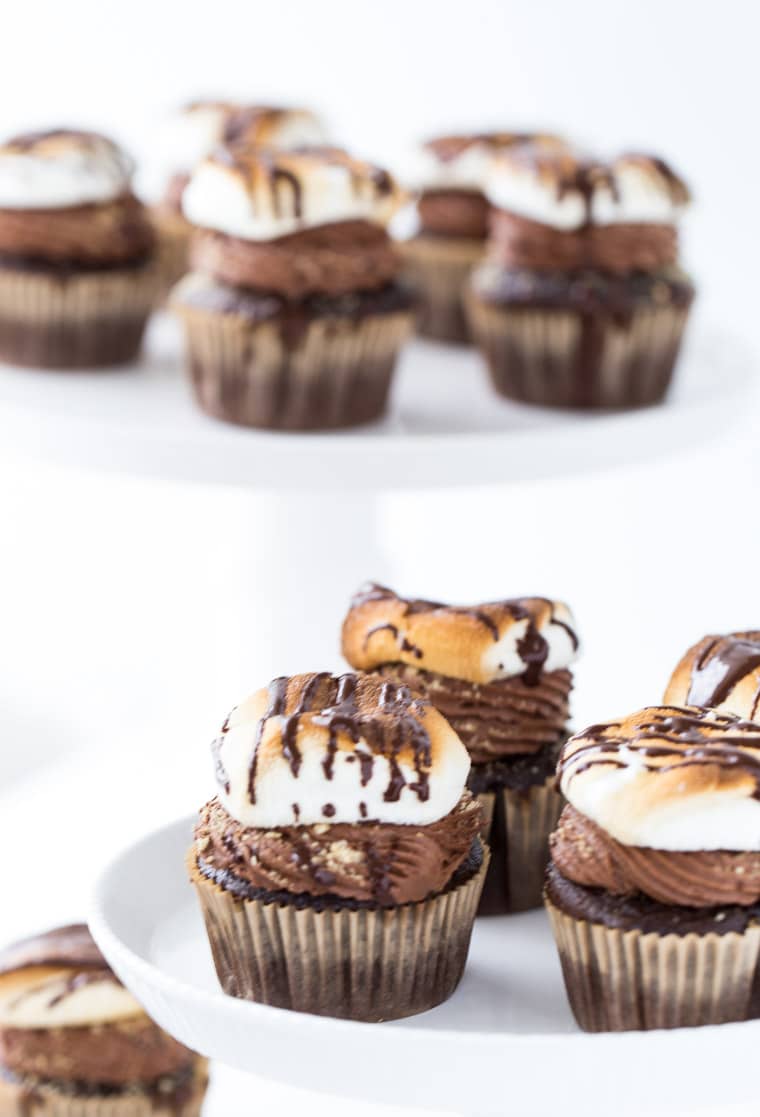 One disclaimer to these cupcakes though – they are a little light on the graham crackers on purpose because I wanted more chocolate. If you want more graham crackers, I've seen people baking the cupcake batter on top of a graham cracker crumb. But in my opinion, these cupcakes are the perfect combination of chocolate, toasted marshmallows and graham cracker crumbs. The best of smore flavors.
They are now my new favorite cupcakes on the blog. Slightly above these  pink velvet cupcakes that have been my favorite for years.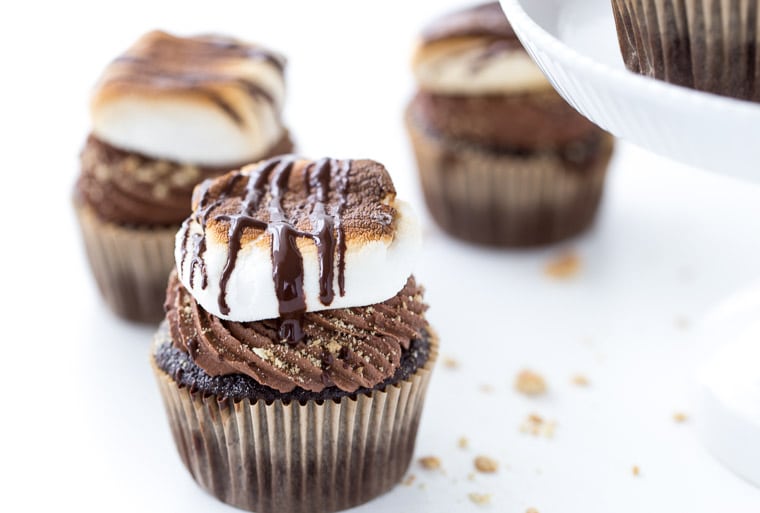 Let me know if you try them! I know you will love them as much as my family did.
Keep summering!!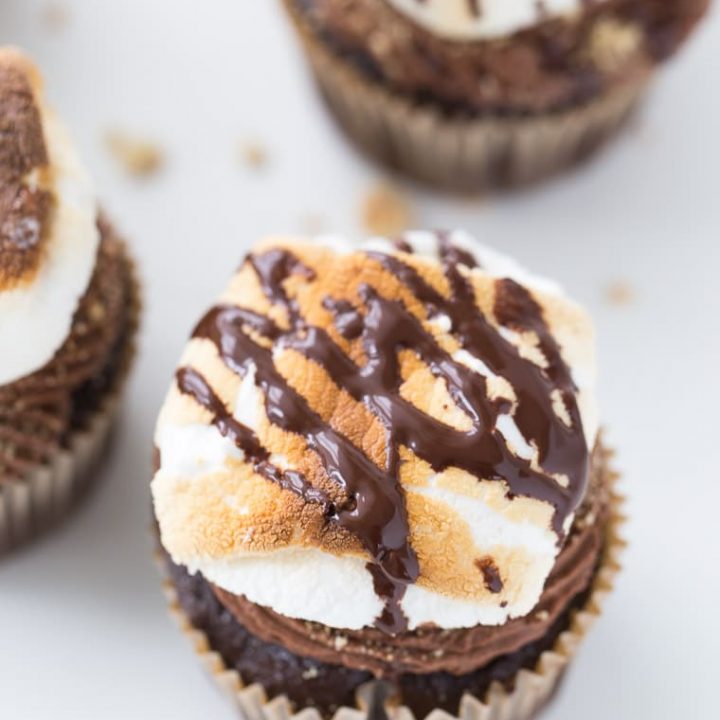 Yield: 12-15 cupcakes
Smores Cupcakes
Ingredients
For Cupcakes
1 cup all-purpose flour
1 cup sugar
1/3 cup unsweetened Natural Cocoa Powder
1 teaspoon baking soda
½ teaspoon baking powder
¼ teaspoon salt
½ cup buttermilk
2 large eggs, lightly beaten
¼ cup vegetable oil
½ cup hot coffee
For Frosting
1 ½ cups (3 sticks) unsalted butter
4 cups powdered sugar
2 tablespoons heavy cream
½ cup semi-sweet baking chocolate, melted and cooled
½ cup unsweetened cocoa powder
Assembly:
2 graham crackers, finely crushed
12-15 marshmallows
Instructions
To make cupcakes:
Preheat oven to 350 degrees F. Line muffin tins with 12-15 cupcake liners.
Sift together all the dry ingredients into the bowl of an electric mixer.
In a medium bowl, whisk together all the wet ingredients using a whisk.
Mix the dry ingredients on low speed for 1 minute. Stop the mixer and add half of the wet ingredients. Mix for a minute on medium speed and scrape the sides and bottom of bowl. Add the rest of the wet ingredients and mix for additional minute on medium speed. The batter will be thin. Using a medium cookie scoop, divide the batter evenly among the cupcake liners. Fill each liner about ¾ of the way.
Bake cupcakes for 12-15 minutes or until a toothpick inserted in the center comes out almost clean. Remove immediately from muffin tins and cool cupcakes on wire racks completely. Meanwhile you could start on the frosting.
To make frosting:
Whip butter for 8 minutes on medium speed using the paddle attachment of an electric mixer. The butter will become pale and creamy.
Add the powdered sugar and heavy cream and mix on low speed for 1 minute. Then increase speed to medium and mix for 2-3 minutes until the frosting is light, creamy and fluffy. Add in the melted chocolate and cocoa powder. Mix until well combined.
Assembly:
Frost cooled cupcakes using your favorite decorating tip. I used Wilton Tip 1M for these cupcakes.
Top cupcakes with the crushed graham crackers.
Broil the marshmallows slightly until charred and starting to melt.
Top the cupcakes with marshmallows and drizzle with chocolate syrup.