Pink Velvet Cupcakes
Pink velvet cupcakes start with soft, tender buttermilk cake. It's topped with a tangy cream cheese frosting, giving you a delicious pink velvet cupcake, perfect for your Valentine!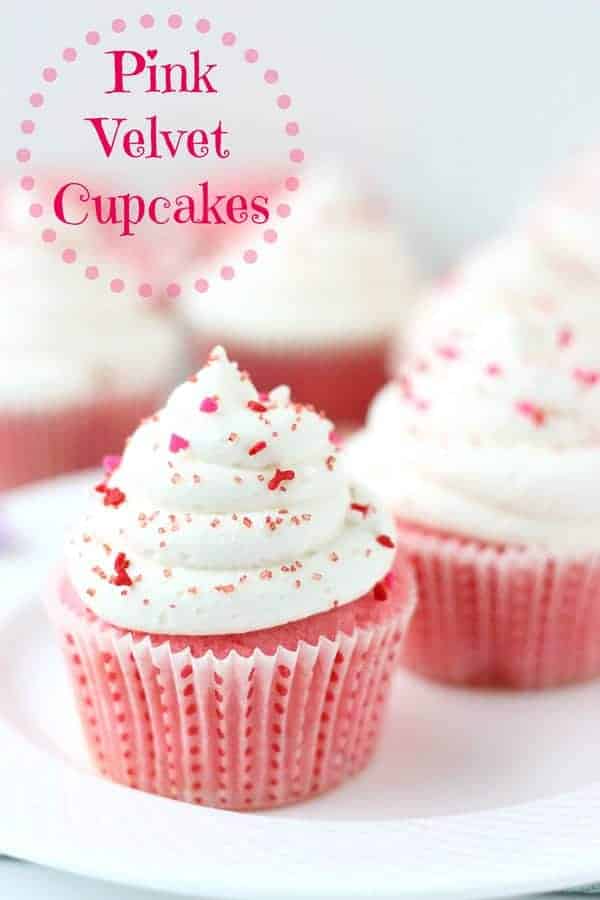 Let's talk about Valentine's Day shall we? I know there are two camps when it comes to this day/holiday. People who love it or those who hate it because it's synonymous to single's awareness day.
When I think of Valentine's Day, I think of my earliest memory of the day; February 14th 1991. I was 7. My dad took my mom on a date to see Pretty Woman at a hotel screening the movie. He let my sister and I tag along on their romantic dinner all dressed up as 'big' girls. After dinner, we sat in the lobby of the hotel as they watched the movie together. Needless to say there started my obsession with Julia Roberts as I remember clearly looking at the movie poster for an hour just imagining what she was smiling about.
Every year since then, I watched my dad go the extra mile on February 14th to show my mom how much he appreciated her and we always got chocolate and presents alongside her. So for the longest time, Valentine's Day was just another day like Mother's Day or Father's Day to show your loved ones how much you appreciate them and it still remains that for me.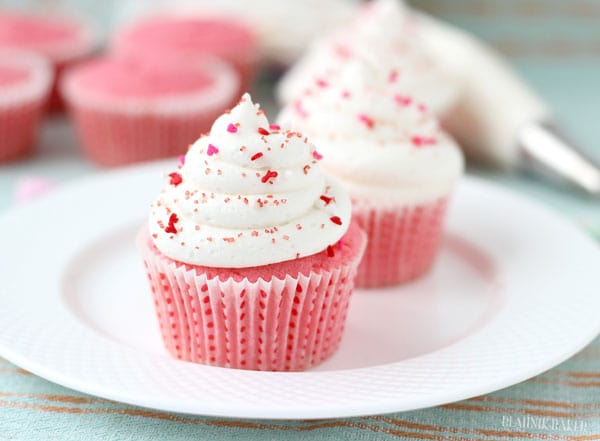 Of course, this doesn't mean it is the only day you should let your loved ones know they are appreciated. But in the world we live today, people get too busy and forget what really matters. We take for granted the loved ones in our lives. Schedules, long to-do lists, work and social media take over. And little signs of appreciation (let alone grandeur ones) seem to end up on New Year resolution lists or Christmas presents. What's one more day to actively celebrate the loved ones in your life?
Sadly the focus on being in a relationship and getting the pressure of getting the biggest bouquet of flowers has ruined this special day for some people. Maybe it's because my introduction to Valentine's Day by my Dad was not focused on romantic relationships, but I've never been miserable on this day, even when I was not in a relationship. Instead, all through college I'll spend the day with girlfriends spreading the love. And even as a married woman today, I still celebrate the day with friends and family dear to me other than my husband. More on that party on Thursday. 🙂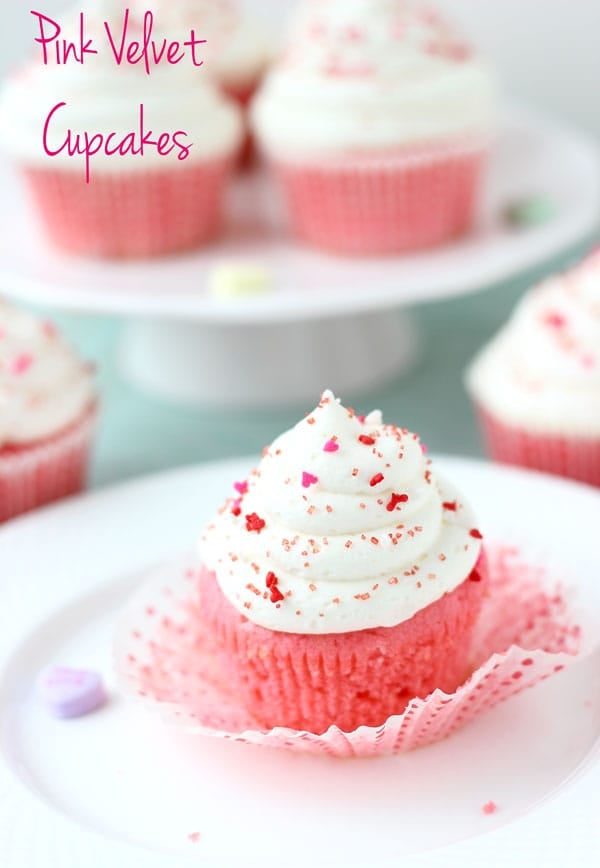 OK, I'll get to the pink velvet cupcakes recipe, assuming that is why you are here.
Simply put, they are scrumptious!! I wanted to make another velvet recipe as truly there is nothing more linked to Valentine's day as red velvet. But I already shared with your my favorite mini red velvet bundt cakes last week so I looked into what really made a cake 'velvet'. And it turns out it is the combination of a buttermilk-based cake and cream cheese frosting. I thought it was the cocoa powder you find in every red velvet recipe. If only I had known when I was trying to make these purple velvet cupcakes last summer for a bridal shower. The things you learn with time.
For these pink velvet cupcakes, I used a favorite moist and fluffy buttermilk cupcake recipe, then topped them with a traditional cream cheese frosting. I used 2-3 drops of pink food coloring to get this pretty color, but if you are opposed to that you can use a teaspoon or so of beet juice.
The cake is really the best part for me, it's so soft and melts in your mouth. The tangy cream cheese frosting breaks down the sweetness a little bit and it's a perfect combination. I love how vibrant the pink color turned out and I think this will be perfect for a girl's birthday party as well as your Valentine's day celebrations.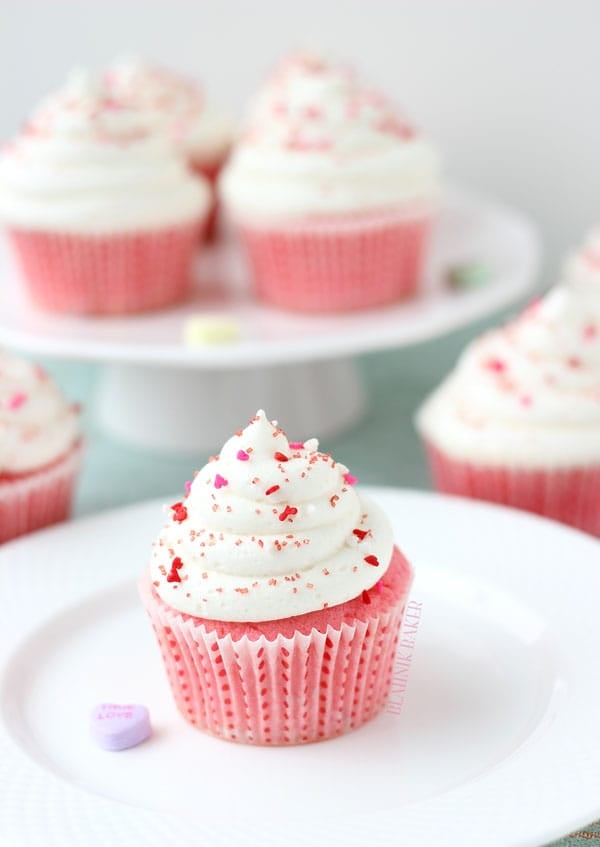 Remember, Valentine's Day is just another day to take time from our busy schedules to express our love for those people in our lives that are worth loving. And hope that we will remember to keep loving them all year long.
With that, make them some pink velvet cupcakes!! Here's the recipe: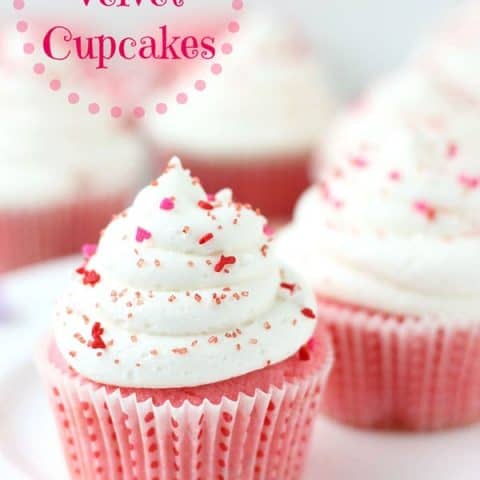 Yield: 12-15 cupcakes
Pink Velvet Cupcakes
Soft, tender buttermilk cake is topped with tangy cream cheese frosting, creating delicious pink velvet cupcakes, perfect for your Valentine. Recipe's here!
Prep Time 1 hour 30 minutes
Cook Time 15 minutes
Total Time 1 hour 45 minutes
Ingredients
For the Cupcakes:
1 ¼ cups all-purpose flour
¾ teaspoon baking powder
⅛ teaspoon salt
½ cup unsalted butter, room temperature
½ cup granulated sugar
2-3 drops pink food coloring
2 large eggs, room temperature
1 teaspoon pure vanilla extract
½ cup buttermilk, room temperature
1/4 teaspoon baking soda
1 teaspoon red wine vinegar
For the Cream Cheese Frosting:
4 ounces cream cheese, softened to room temperature
½ cup unsalted butter (1 stick), room temperature
3-4 cups powdered sugar
1 teaspoon pure vanilla extract
2-3 tablespoons heavy cream
Instructions
For the Cupcakes
Preheat oven to 350 degrees F. Line cupcake tins with liners and set aside.
In a medium bowl, whisk together the flour, baking powder and salt.
In the bowl of an electric mixer, cream the butter and sugar until light and fluffy on medium speed, about 3 minutes. Beat in the food coloring. Add the eggs one at a time, mixing well before each addition. Scrape bowl as needed. Beat in the vanilla extract.
Reduce the speed to low and slowly alternate the dry ingredients with the buttermilk, beginning and ending with the dry ingredients. Mix until just combined. In a separate small bowl, combine the baking soda and vinegar. It will fizzle. Mix into the batter until combined.
Divide batter into prepared baking liners. Bake for 12 – 15 minutes or until a toothpick inserted into the center comes out clean.
For Cream Cheese frosting
In the bowl of an electric mixer, beat butter and cream cheese on medium high until completely smooth about 2-3 minutes.
Reduce speed to low and add sugar, one cup at a time. Beat on low until combined. Add vanilla extract and heavy cream and beat to combine. Increase speed to medium and beat frosting until smooth and fluffy.
If buttercream is not thick enough, place in fridge for 20 minutes to an hour until firm enough to pipe.
Notes
Cupcake recipe adapted from Taste of Home Best Loved Recipes
Recommended Products
As an Amazon Associate and member of other affiliate programs, I earn from qualifying purchases.
If you are making this, check out this link for more reviews:
https://www.pinterest.com/pin/83387030577266953/activity/tried
These are real comments from people on Pinterest who have tried this recipe.
Tools in used in this recipe: (Some affiliates links included)