Heart-Shaped Red Velvet Cake
Treat your loved ones with this 5 layer heart-shaped red velvet cake! Your classic soft and delicious red velvet cake is filled with tangy cream cheese frosting.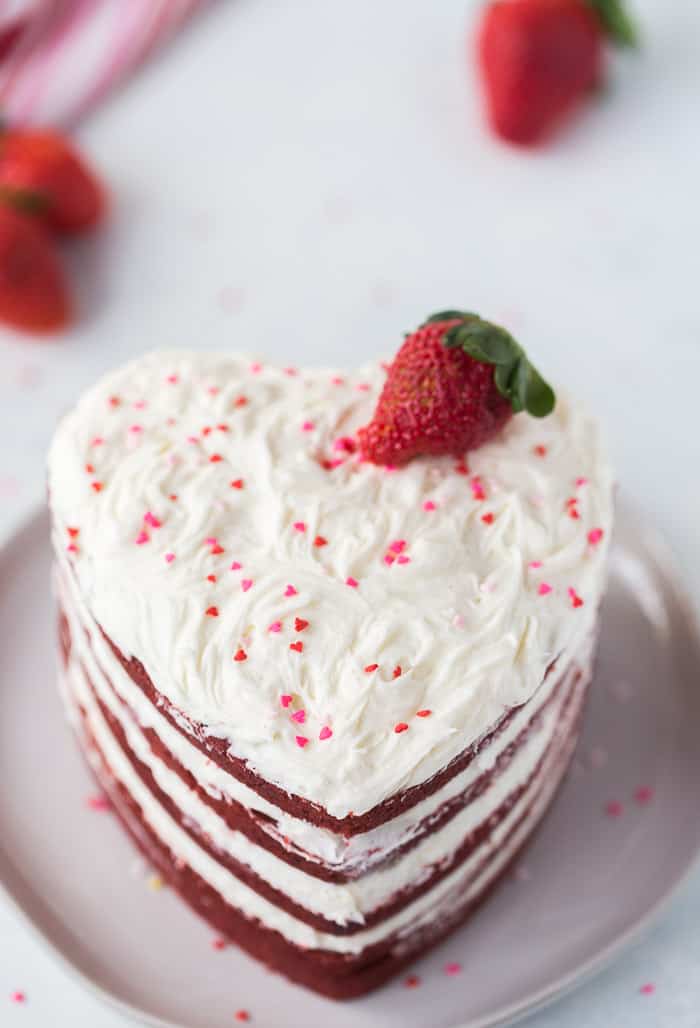 Hello friends! Since Valentine's Day is just around the corner, I thought I'd revisit the first cake I ever baked. Did you know that my baking journey started with a heart-shaped red velvet cake? If you've been around here for a while, you probably know this already. In an attempt to be romantic for Valentine's Day for my then fiance, I baked a heart-shaped cake, in a friend's kitchen as I had no baking equipment in mine. The result was a near disaster as you can see below but it will always be a reminder of why I started baking and sharing my baking online with friends like you. If you care to read about my start, find my first post here.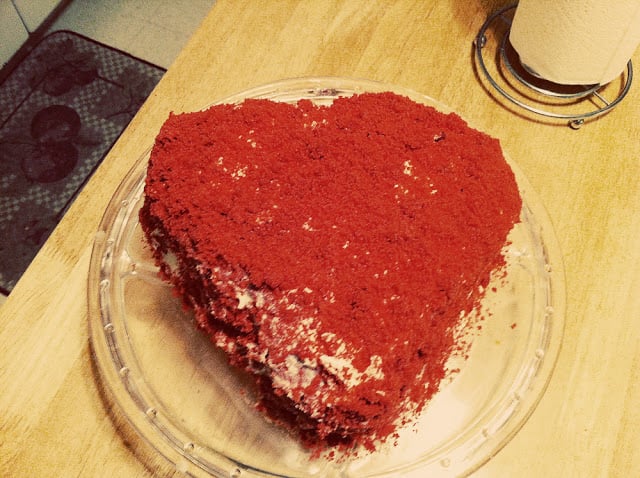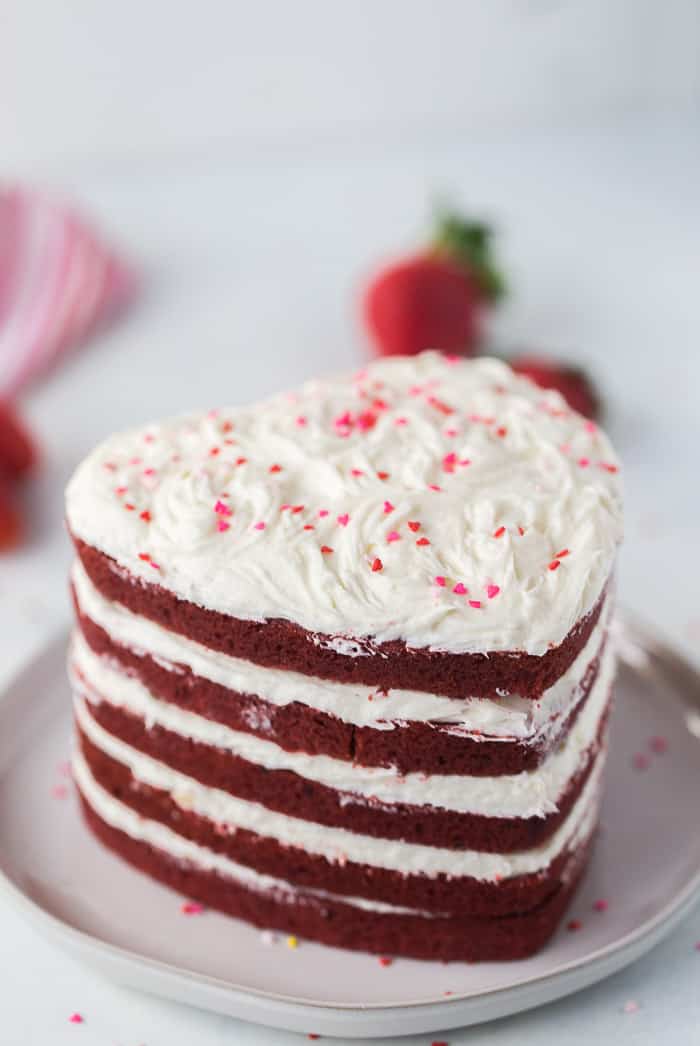 Of course, seven years later I have gotten a little better at baking and decorating cakes. I bought this Wilton heart-shaped pan set two years ago and never got around to using them. Valentine's Day is the perfect time to put them to use especially to recreate a cake that is very special to me and my baking journey.
There's a reason why red velvet cake is a classic dessert all season long. It's sweet, vibrant, tangy, and rich. Everything a good slice of cake should be and it just brings a spoonful of love and happiness with it. This red velvet recipe below is my go-to and has been for the past 7 years. Never fails and can be adapted into a layer cake, mini red velvet bundt cakes, or red velvet cupcakes. If you are looking for a solid red velvet cake recipe, I'd definitely recommend it.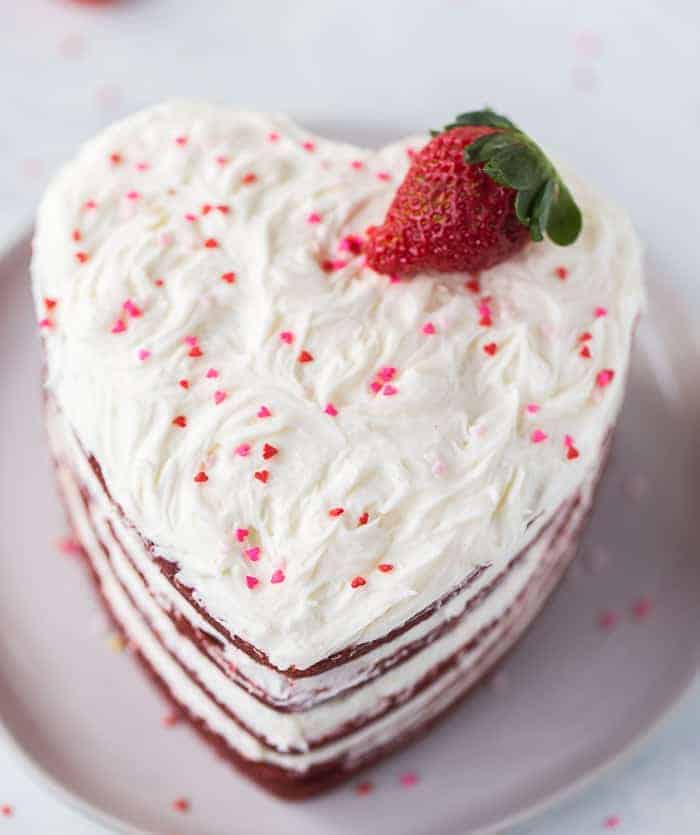 This heart-shaped red velvet cake is simple and divine. A soft, moist cake with a rich red velvet flavor (buttermilk cake + hints of cocoa) is topped with a sweet and tangy cream cheese frosting. Simply divine as I said and stunning as a naked heart-shaped for that favorite loved one. Top with sprinkles or strawberries and you have yourself a romantic dessert!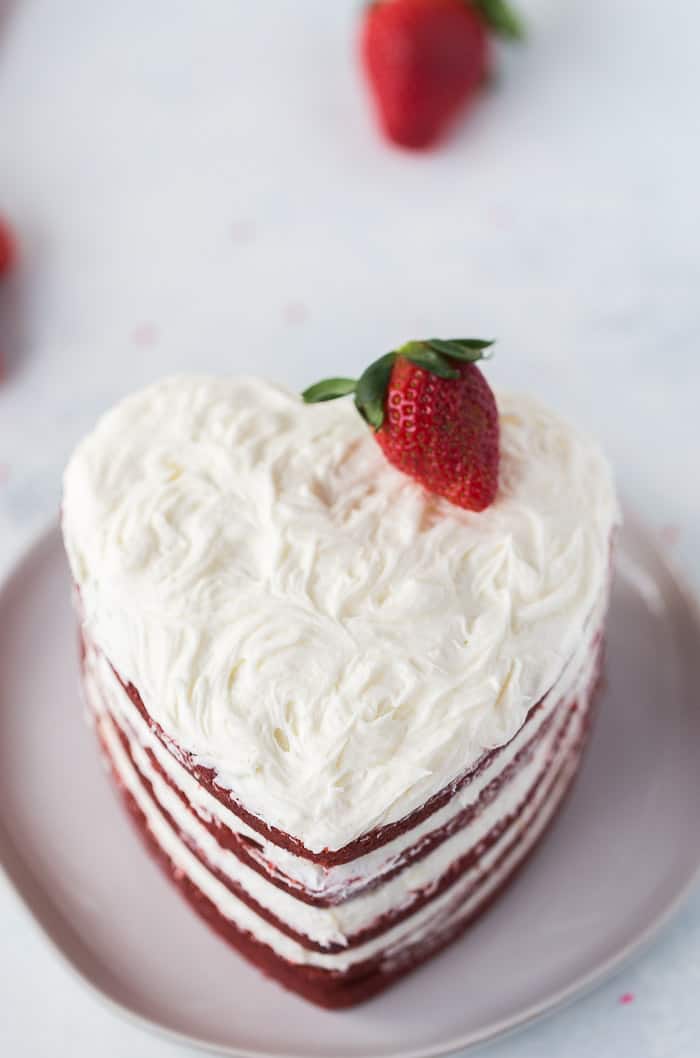 Happy baking! I hope you make this treat for yourself or your sweetheart. Let me know below in the comments if you try this recipe.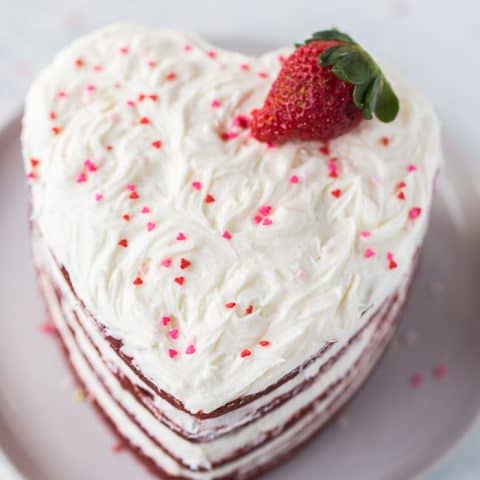 Yield: 1 heart-shaped cake
Heart-Shaped Red Velvet Cake
Treat your sweethearts with this 5 layer heart-shaped red velvet cake! Your classic soft and delicious red velvet cake filled with cream cheese frosting.
Ingredients
FOR THE CUPCAKES:
1 ¼ cups all-purpose flour
½ teaspoon salt
1 cup granulated sugar
½ cup unsalted butter, softened
1 large egg, room temperature
1 teaspoon pure vanilla extract
½ cup buttermilk, room temperature
2 teaspoons liquid red food coloring
2 teaspoons cocoa powder
¼ teaspoon baking soda
2 teaspoons apple cider vinegar (or regular vinegar)
CREAM CHEESE FROSTING:
8 ounces cream cheese, softened
½ cup (1 stick) unsalted butter, softened
1 teaspoon pure vanilla extract
3 cups sifted confectioners' sugar
2-3 tablespoons milk
Instructions
Preheat oven to 350 degrees. Using a baking spray, grease 5 of the heart-shaped cake pans.
In a medium bowl, sift flour and salt together, set aside. In the bowl of an electric mixer fitted with the paddle attachment (or using a hand mixer), cream the butter and sugar until light and fluffy, about 3-5 minutes. Add the egg and mix well. Mix in the vanilla extract.
Alternate the flour mixture with the buttermilk, beginning and ending with the flour mixture.
In a small bowl, mix the red food coloring and cocoa powder until a paste forms. Add this to the batter and mix well. In the same small bowl, mix together the baking soda and cider vinegar. It will foam. Add to the batter immediately and mix until well combined in batter.
Divide the batter evenly into the prepared pans, filling about ⅔ full. Bake for 12-14 minutes, or until a toothpick inserted into the center comes out clean. Let the cakes cool in the pan for 10 minutes before turning onto a wire rack. Let cool completely on wire racks.
In a large mixing bowl, beat the cream cheese, butter, and vanilla extract until smooth. Add the powdered sugar and milk. Mix on low speed for a minute and then increase to medium-high speed to beat until well combined.
Assemble cake by placing a layer of heart-shaped cake on a serving plate. Top with frosting spread evenly. Continue stacking the cake layers until the final layer.
Decorate with sprinkles and hearts.
Notes
Recipe adapted from Sprinkles Bakes
Recommended Products
As an Amazon Associate and member of other affiliate programs, I earn from qualifying purchases.