Vanilla Bean Buttermilk Cupcakes
These soft and moist classic vanilla bean buttermilk cupcakes are perfect for any celebration! Thank you, Wilton, for sponsoring this recipe and providing the tools to create these buttermilk cupcakes for Valentine's Day. All opinions are 100% mine.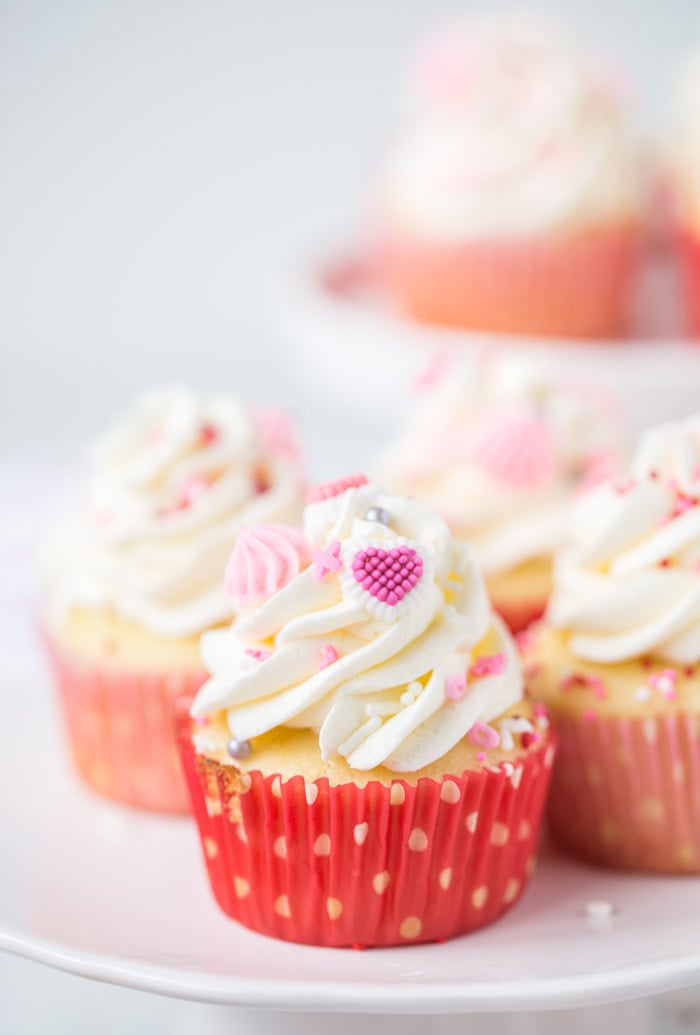 You can never have too many vanilla cupcake recipes. They are staples in any baking repertoire and I am always looking for new ones to add to my recipe box. These vanilla bean buttermilk cupcakes are joining my favorites and for a good reason. They are soft, moist, slightly tangy (thanks to the buttermilk) and just perfect every time for your celebrations. From birthday parties to a Valentine's Day party, they are easy to customize with sprinkles and cupcake toppers!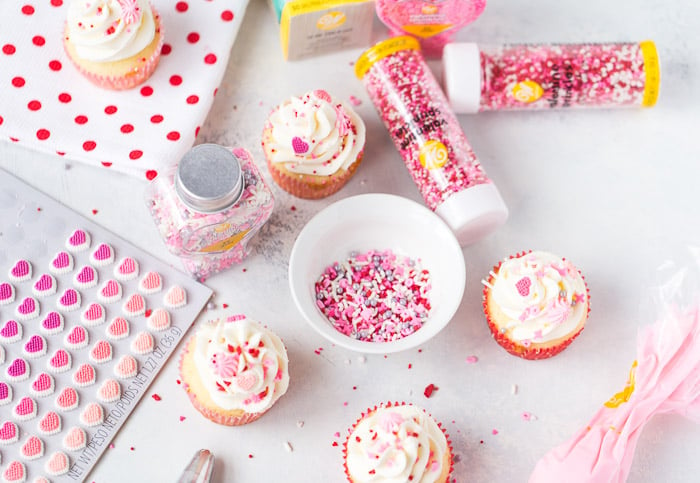 I get very excited about sprinkles as you can tell from almost every cake or cupcake I make around here. Check out this pink champagne cake or these chocolate cupcakes? Which is why when Wilton asked me if I wanted to take part in their Make Happy Happen Together campaign, I was all over it. I already buy and love their products and so it didn't take long to convince me to add some more sprinkles and Valentine's products to my collection especially when it was aimed at creating recipes that focus on connecting with loved ones and creating precious moments.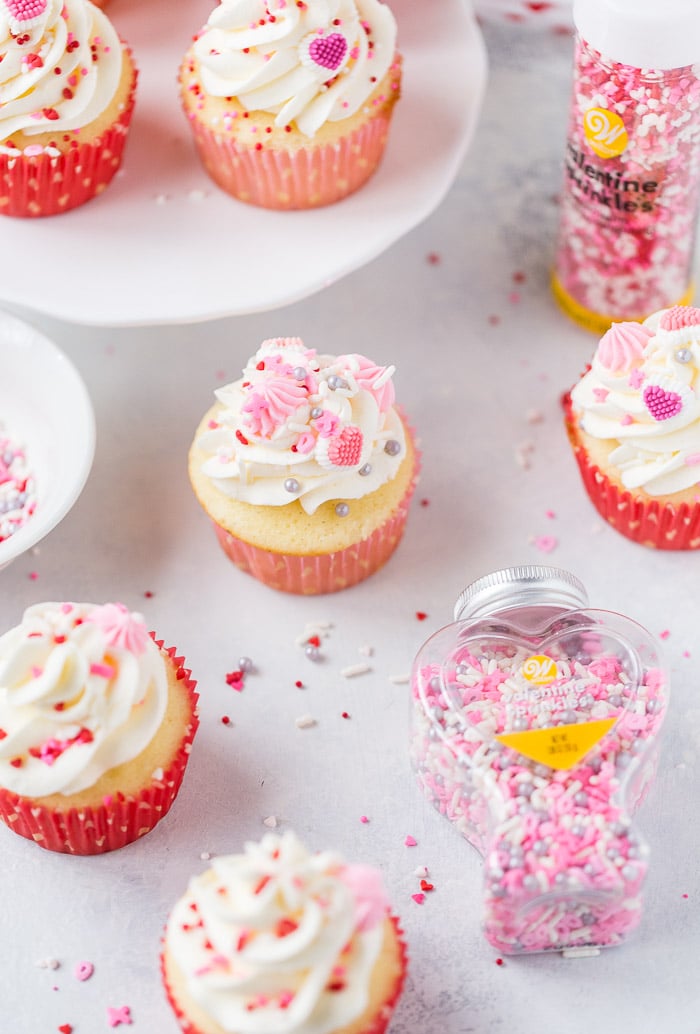 I love baking with my family, especially my young nieces and my toddler. The toddler doesn't get as engaged unless we are making a mess which is why he loves sprinkles. Anything that involves decorating with sprinkles gets him excited.
For these vanilla bean buttermilk cupcakes, I wanted a simple project he could be involved with and that he could help decorate as well. The cupcakes are easy to whip up – you combine all the dry ingredients, add in the cold butter and then the wet ingredients. This reverse-creaming method is my new favorite way of making cupcakes. The toddler can help measure out the dry ingredients or putting the cupcake wrappers in the cupcake tin. I used this Wilton cupcake tin for always perfect cupcakes.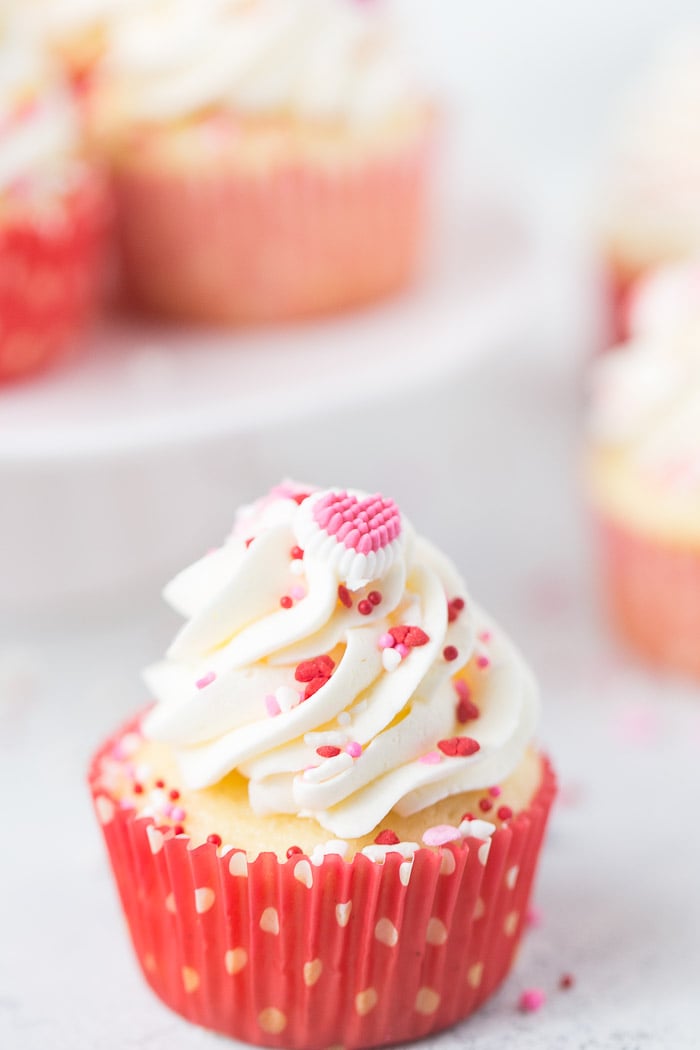 The resulting cupcakes are seriously the softest and moistest cupcakes you will ever have. Rich in vanilla flavor (please use vanilla bean if you can) as well as tangy buttermilk, it is the perfect base for any flavors you may want. I decided to do classic whipped vanilla buttercream for these Valentine's day cupcakes and it was the perfect addition.
To decorate, I used a combination of Wilton Valentine's Day sprinkles. You can find the ones I used here. I also used these mini heart icing toppers as they were too cute to pass on. These are all easy ways to decorate cupcakes or cakes and especially when you want to include the family in a baking project. These would be cute and perfect for a Galentine's Day celebration too.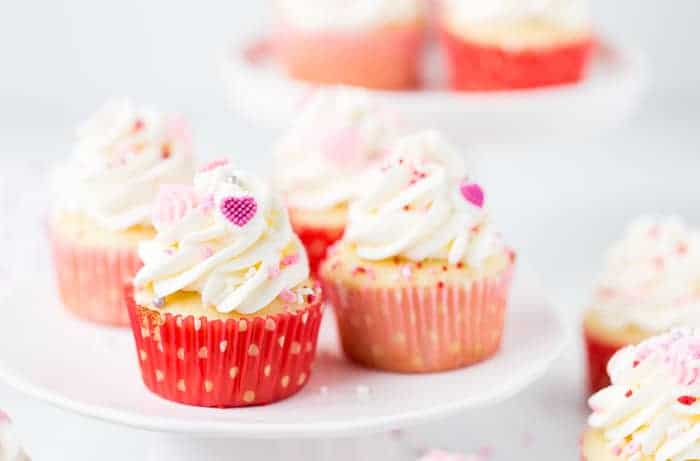 If you are looking for a fun Valentine's Day baking project, look no further than these vanilla bean buttermilk cupcakes. They are easy to whip up, simple, delicious and very customizable. Don't forget to get all your baking tools and decorations from Wilton.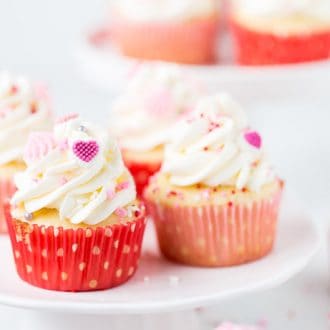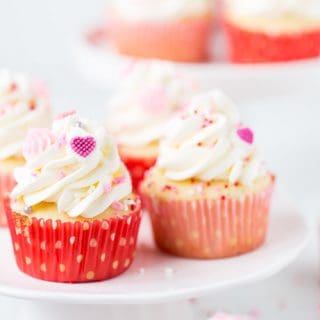 Yield: ~18 cupcakes
Vanilla Bean Buttermilk Cupcakes
These vanilla bean buttermilk cupcakes are your go-to classic vanilla cupcakes with a soft crumb, moist cake and rich vanilla flavor.
Ingredients
For the Buttermilk Cupcake:
1 1/2 cups cake flour, sifted
1 cup granulated sugar
2 teaspoons baking powder
1/2 teaspoon salt
1/2 cup (1 stick) cold unsalted butter, cut into pieces
3 whole eggs, room temperature
3/4 cup buttermilk, room temperature
1 teaspoon vanilla bean paste or pure vanilla extract
1/4 teaspoon pure almond extract
For the Whipped Vanilla Frosting:
1 cup (2 sticks) unsalted butter, at room temperature
3-4 cups powdered sugar
2 teaspoons vanilla bean paste (or pure vanilla extract)
Pinch of salt
2-3 tablespoon heavy cream
Instructions
Preheat oven to 350 degrees F. Line two cupcake tins with cupcake wrappers and set aside.
In the bowl of an electric mixer, combine the cake flour, sugar, baking powder and salt and mix on low-speed until well blended.
Increase speed to medium-low and add the cubes of butter, one at a time mixing each one for a few seconds before adding the next. Mix until there are no large chunks.
Add eggs, one at a time and mix well between each addition. In a small mixing bowl, whisk together the buttermilk, vanilla bean paste and almond extract. Increase mixer speed to medium and add in the wet ingredients in 3 parts, mixing until incorporated and scraping down the bowls after each addition. DO NOT over beat otherwise, you will end up with dense cakes.
Divide batter into prepared pan, filling each about ⅔ full. Bake cupcakes until a toothpick inserted into the center come out clean, 12-14 minutes. Transfer cupcakes onto a cooling rack and let cool completely.
To make the frosting, whip butter on medium speed for about 2-3 minutes in the bowl of a stand mixer fitted with the paddle attachment until light and creamy.
Add the powdered sugar, vanilla bean paste or extract, salt and heavy cream and mix on low for 1 minute until combined.
Increase speed to medium-high and whip for 4-5 minutes until light and fluffy.
Using a pastry bag fitted with your favorite decorating tip (I used Wilton 2D), frost the cupcakes with the whipped buttercream.
Decorate with sprinkles and icing decorations as desired.
Recommended Products
As an Amazon Associate and member of other affiliate programs, I earn from qualifying purchases.
Here's a list of tools I used in this post: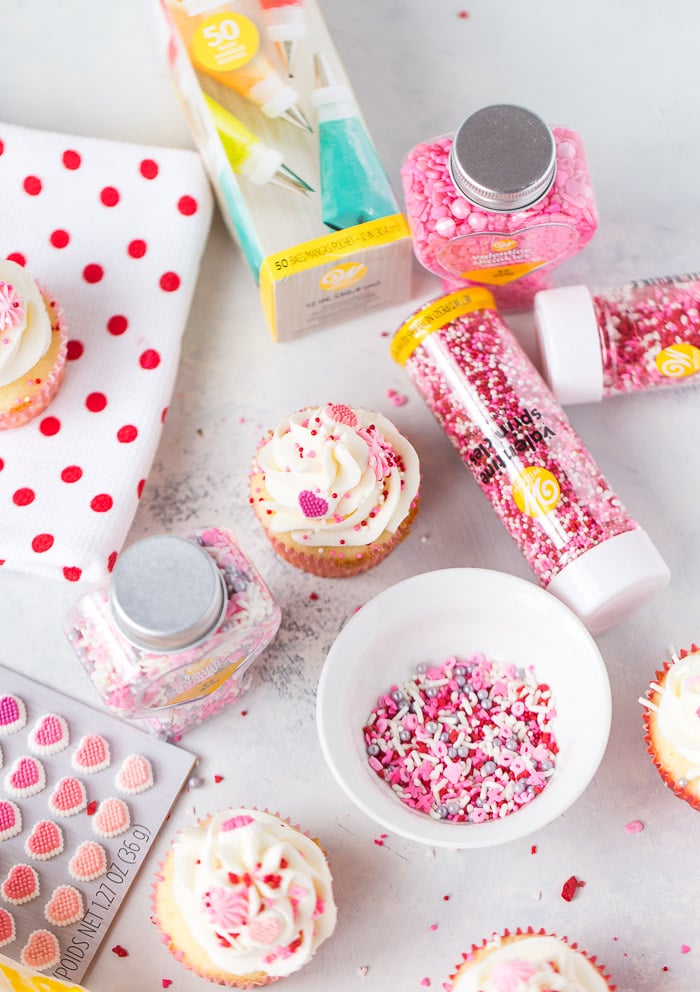 Valentine Sprinkles Decorating Set
Light Pink Polka Dot Cupcake Liners