Easy Apple Cobbler Recipe
Easy Apple Cobbler Recipe
Dessert has never been easier or tastier! This easy apple cobbler recipe is a dump-and-go style recipe, using a few shortcuts with a couple of extra touches!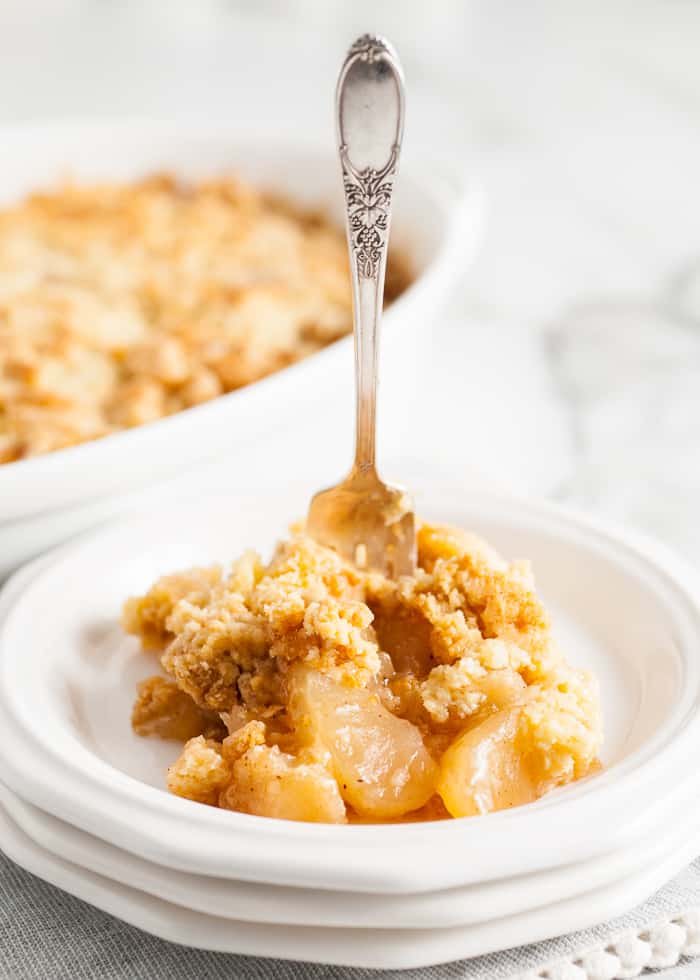 Hey there friends! Picture this; you knock out your to-do list on a Saturday morning before the kids wake up and receive a text.
The text says, "Can't wait to see you today!". Your mind starts racing while you run to your calendar to see what you missed. After flipping to today's date, you see a note that you RSVP'd to a friend's cookout that begins in a few hours.
Panic starts to overtake you as you try to think about what you will wear, getting the kids ready, and what you are going to bring.
Take a breather; all the guests will be happy with your dessert because I have a recipe that will save you time and still be a hit. That recipe is this Easy Apple Cobbler recipe.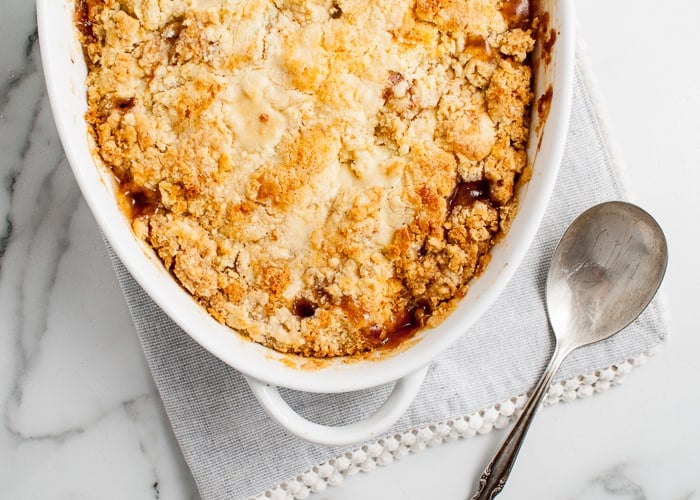 Easy Apple Cobbler
This dessert is a bake and dump, so you won't have to dirty up a ton of pans that you won't want to clean after a day of celebrating. With ingredients, you can probably find in your cabinet or grab them off the shelf at your local store.
Made with a pre-made cake mix, apple pie filling, seasoning, butter, and lemon. I used Duncan Hine's moist vanilla cake as my base. This fluffy batter will cover your cinnamon-flavored apples for a crunchy and creamy dessert that works perfectly for parties.
Easily shared and served from your casserole dish.
Cake Mix Apple Cobbler
As far as tastes go, this is good, dangerously good. The pie filling kind of caramelizes a bit while cooking, so the flavor is rich but bright from the added lemon and spices.
The butter cake mix really makes this cake mix apple cobbler a home run; while you can use any flavor cake mix, the butter cake mix really makes this taste like a cobbler vs. a cake.
The top is buttery and sweet, parts are crispy and crunchy, and other parts are soft and decadent.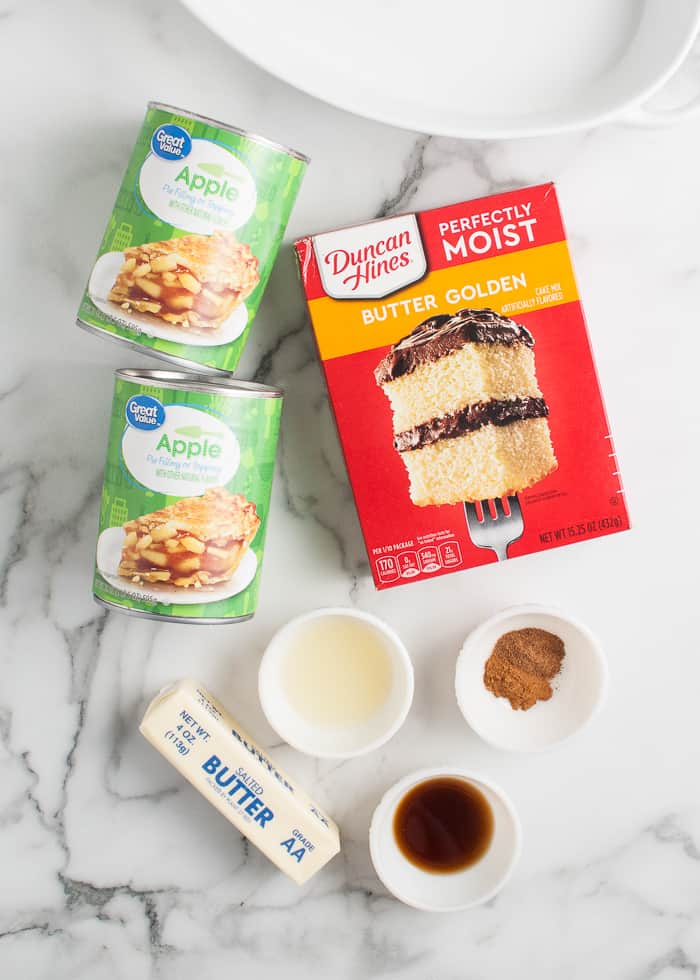 Since you are in a time crunch ;-), let's dive right into preparing your Easy Apple Cobbler with pie filling. If you don't want to see the step-by-step pictures right now, you can simply scroll to the bottom for the recipe.
What is apple cobbler made of?
Apple cobbler is made of simple ingredients that are usually found in your pantry. I think of this as a pantry dessert.
canned apple pie filling
some lemon juice
pure vanilla extract
ground cinnamon
ground nutmeg
a pinch of ginger
butter cake mix
unsalted butter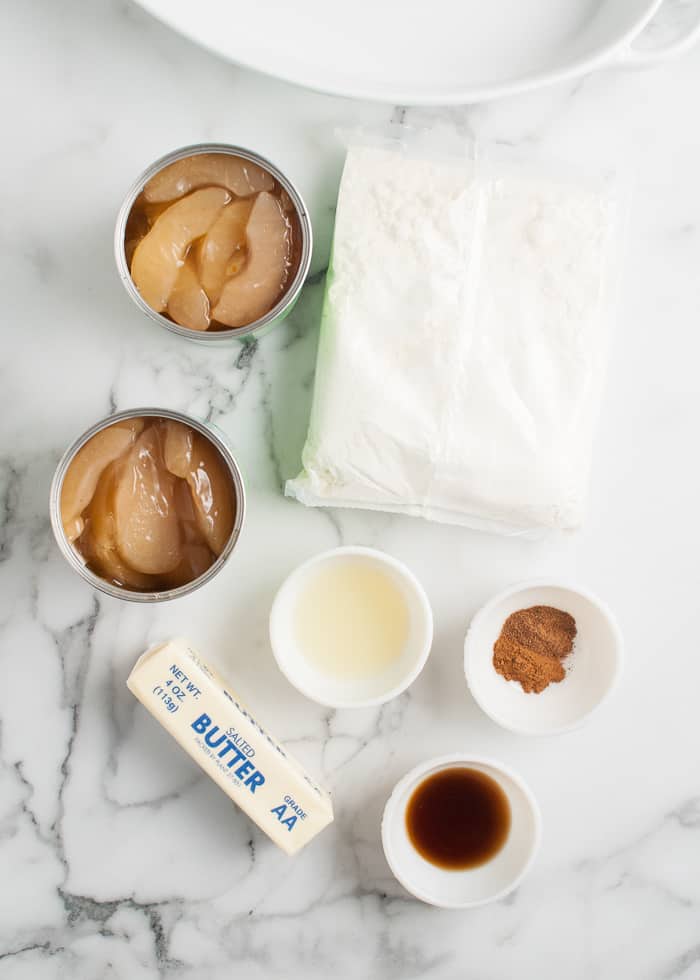 How to Make Easy Apple Cobbler
Combine all ingredients besides the butter and cake mix into a casserole dish. Mix well and spread into an even layer.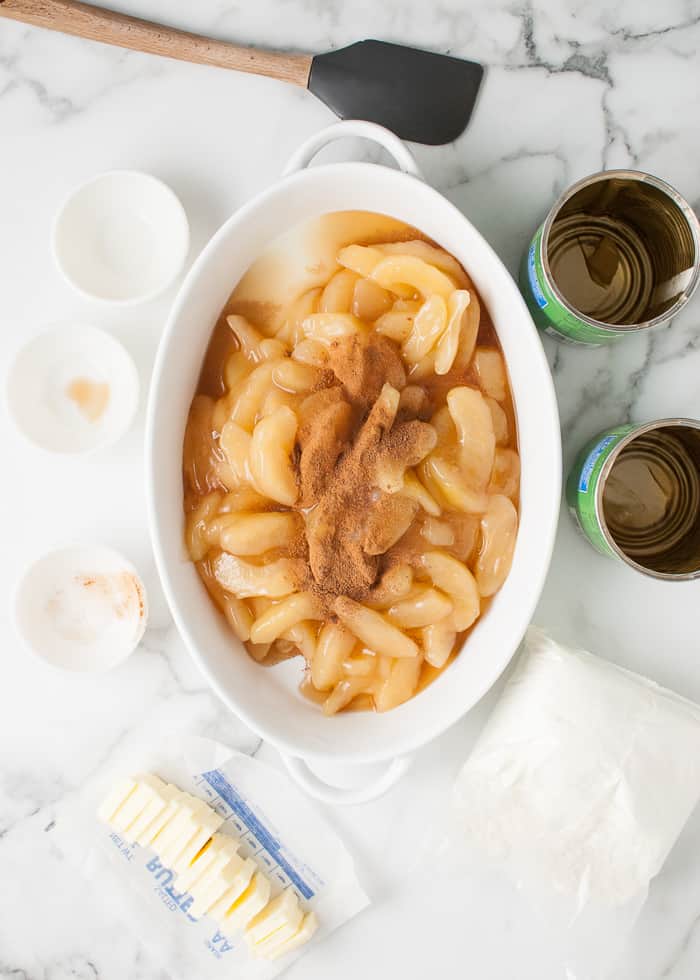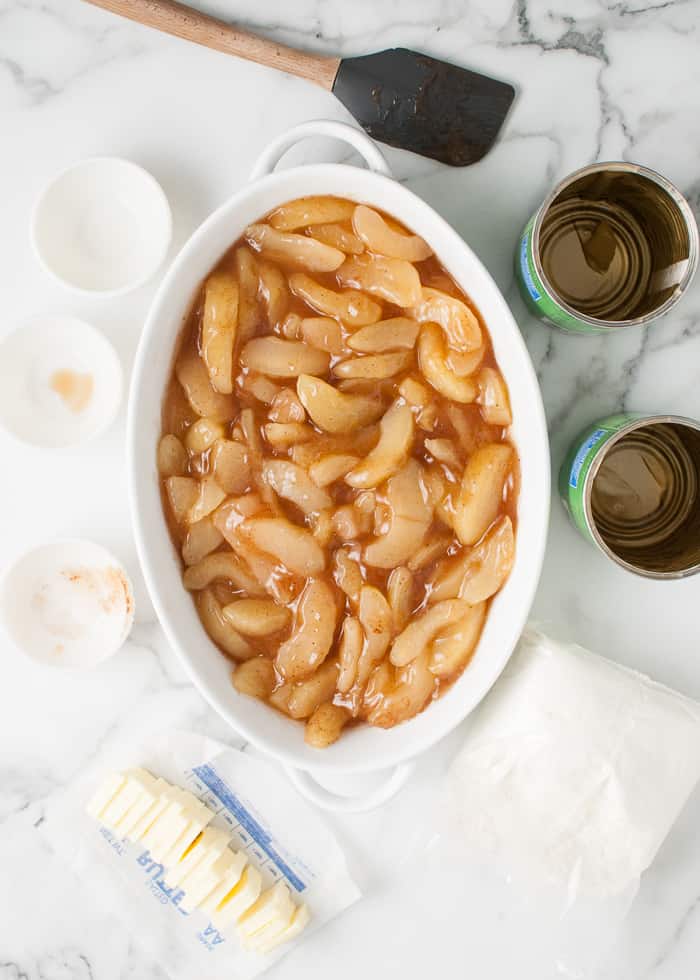 Pour your cake mix over the top in an even layer.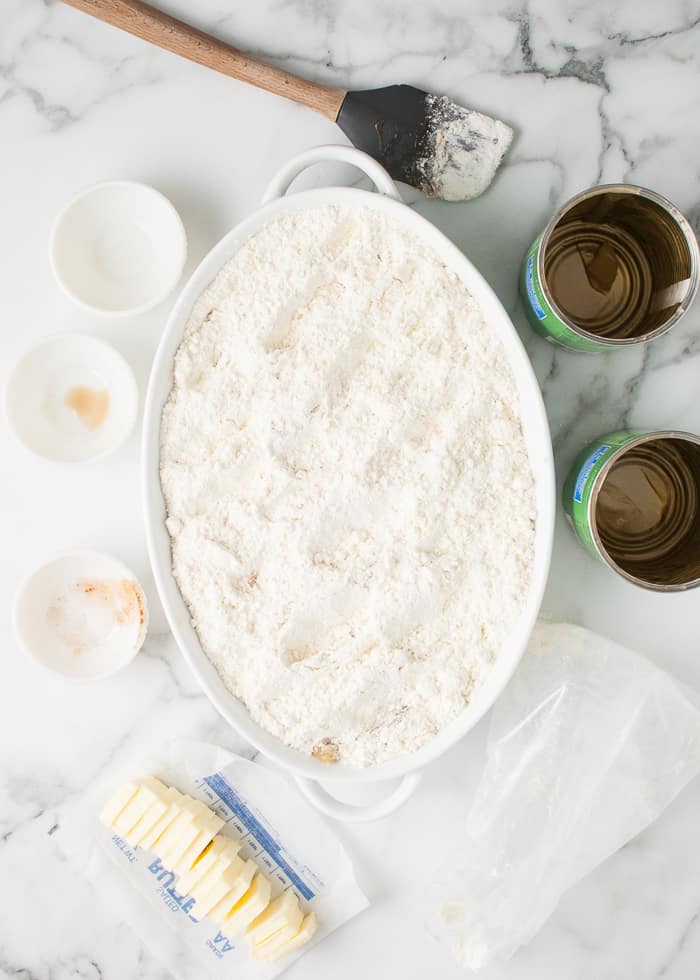 Use a fork to push some of the cake mixes down into the apple pie filling but don't push all of the cake mix down. This top layer will form the golden-brown crust.
Slice the butter into 16 pieces and evenly distribute it over the top of your cake mix.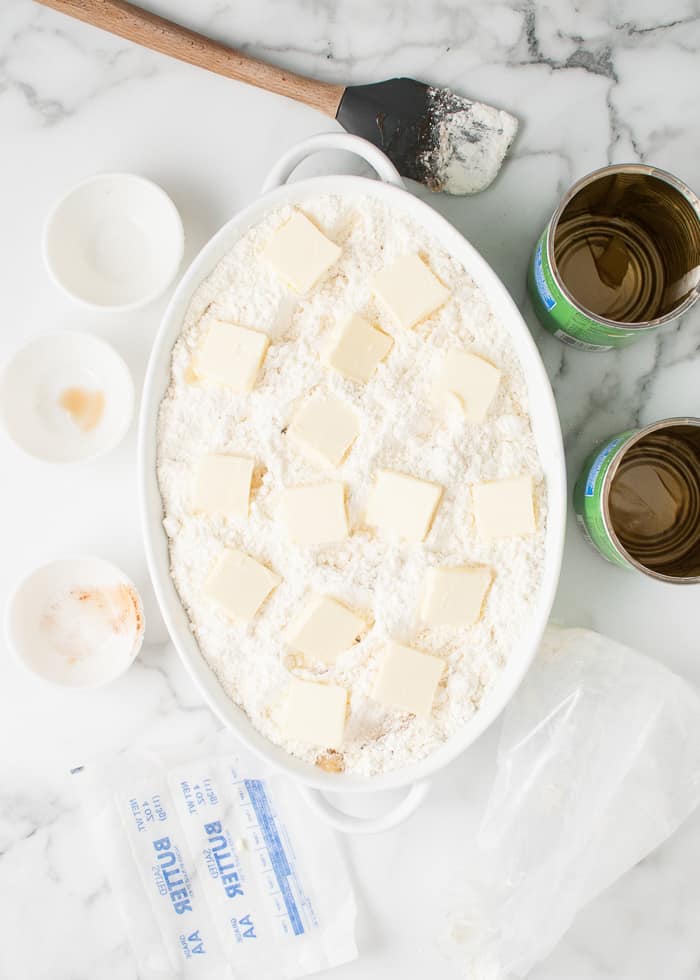 Put it into the oven and check it halfway through to ensure the top layer is not drying out.
Remove when golden brown and serve with whipped cream or ice cream.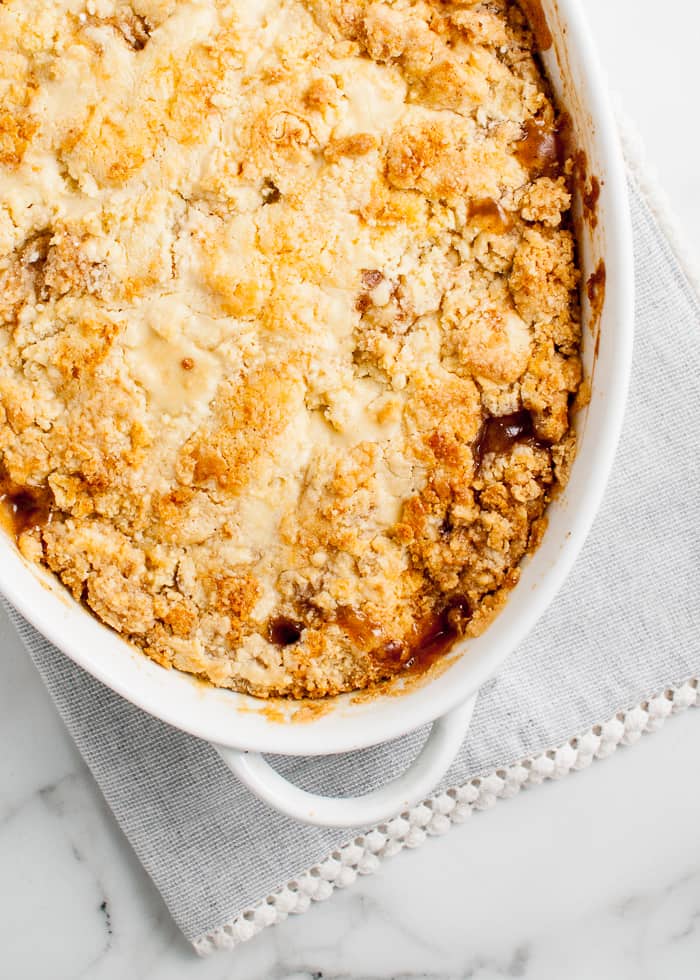 Homemade Apple Cobbler
Didn't I tell you how simple this recipe was? Look at the final product! It's a beautiful presentation with an outstanding flavor that will have people begging for your recipe. This Easy Apple Cobbler recipe tastes homemade without taking homemade recipe effort.
Should Apple Cobbler be Refrigerated?
You can store fruit pies for up to 2 days at room temperature. To extend the life of your apple cobbler you should refrigerate it. Apple cobbler can be refrigerated for up to 10 days, and frozen for up to 2 months. Make sure to cover your apple cobbler with saran wrap or place it in an airtight container.
What is the Difference between Apple Crisp and Apple Cobbler?
The difference between apple crisp and apple cobbler is the topping. Apple crisp has a streusel crumb topping made of oats mixed with sugar and butter and apple cobbler has a biscuit dough topping.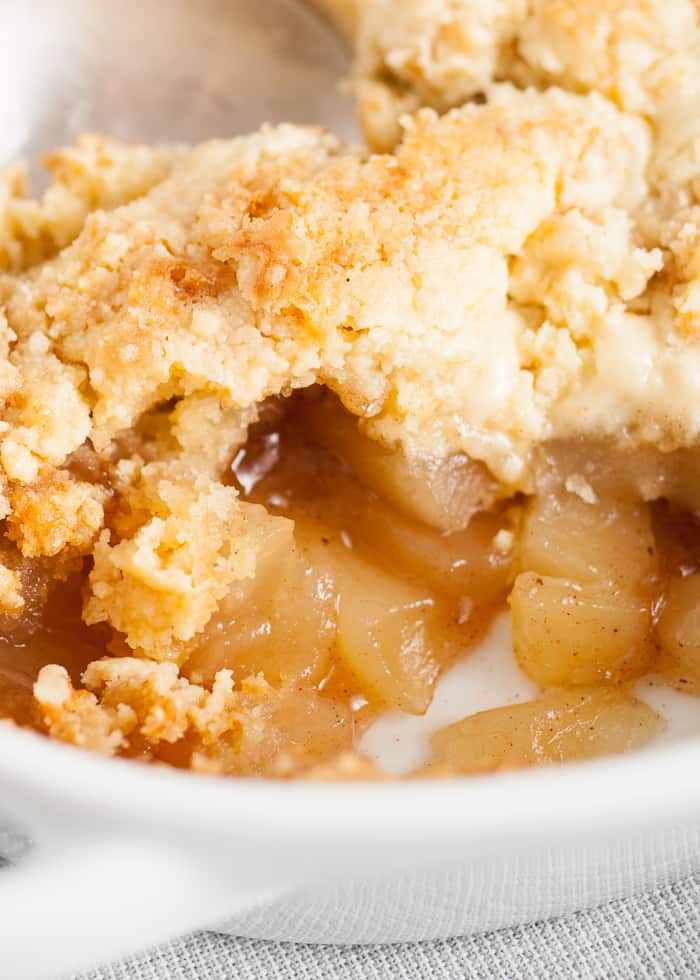 More Simple Recipes
If you need other simple recipes, make sure to check out Making a Cheese Board for Easy Entertaining, Easy Asparagus Tart, or Instant Pot Cherry Cheesecake.
Where would you serve this Easy Apple Cobbler recipe? Let me know in the comment section below. If you share across social media, make sure to tag #aclassictwist, so I can see your beautiful creation come to life.
Happy (easy) baking!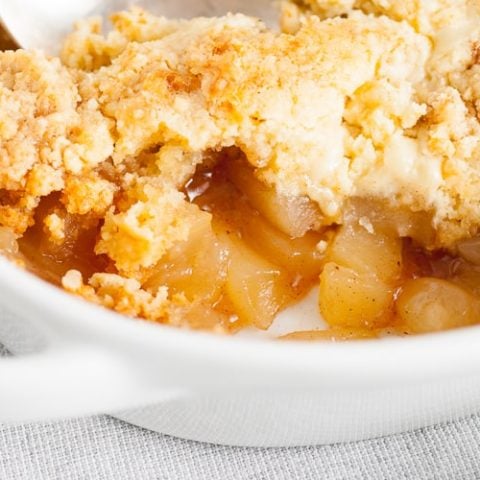 Yield: 6-8 servings
Easy Apple Cobbler Recipe
Ingredients
2 - 21oz cans of apple pie filling
1 ½ tablespoons lemon juice
1 tablespoon pure vanilla extract
3/4 teaspoon ground cinnamon
½ teaspoon ground nutmeg
a pinch of ginger
1 butter cake mix (any would work, I used Duncan Hines)
1/2 cup of unsalted butter, cut into cubes
Instructions
Preheat the oven to 350 degrees.
Pour the 2 cans of pie filling, lemon juice, vanilla, cinnamon, nutmeg, and ginger into the bottom of a 9x13 baking dish. Mix until combined, then spread out to an even layer across the bottom of the baking dish.
Pour the cake mix all over the top of the filling evenly.
Use a fork or a spatula to lightly push the cake mix around, poking it down into the pie filling, but not fully mixing it into the pie filling.
Arrange the sliced butter cubes all over the top of the cake mix.
Bake in the preheated oven for approximately 35-45 minutes. About halfway through, check on the cobbler; if the top is looking too dry, take it out of the oven and use a fork to press the dry bits down into the filling a little bit, then place it back into the oven.
Remove from the oven when the top is golden brown.
Serve while warm and gooey with whipped cream, ice cream, or as-is! Store in an airtight container for 2-3 days.
Notes
I used Duncan Hines Butter Cake Mix (it was insanely good!) The mix was 15.25oz however, this recipe is very flexible; as long as it is close-ish to that size, any cake mix will work, yellow, white, butter, vanilla, etc. 
Use any pie filling you like! Mix it up with peach, blueberry, or cherry!
It is OK to substitute Margarine for the Butter.