Making a Cheese Board for Easy Entertaining
Thank you Cabot Cheese for gifting me with the cheeses I used in making a cheese board for my family and friends!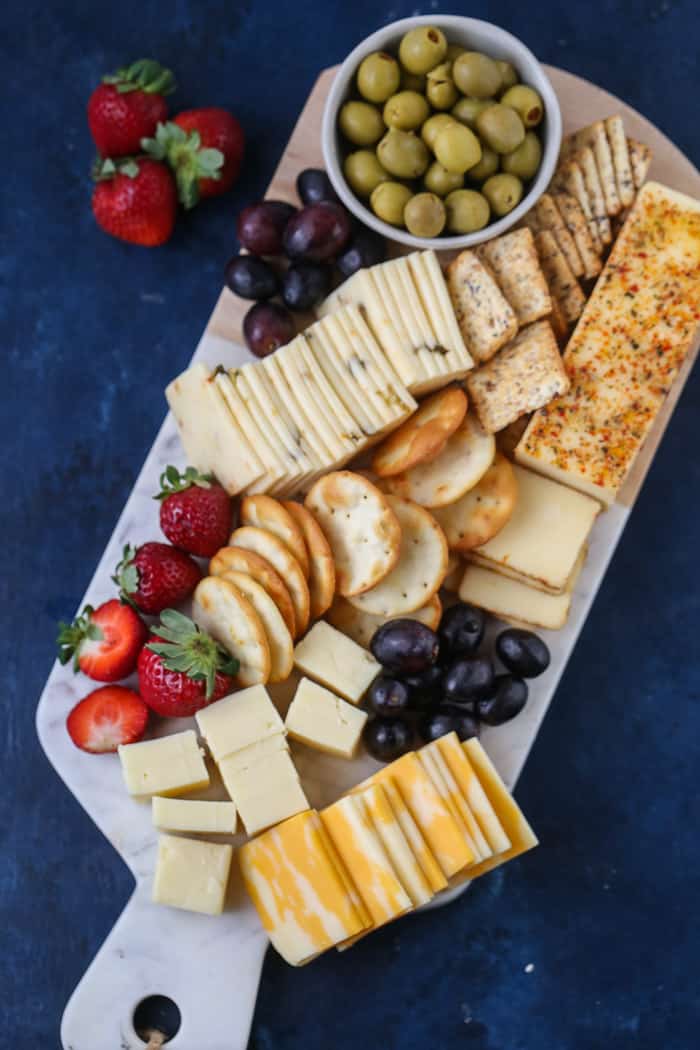 Hello friends! I hope this finds you well and you are enjoying the holiday season. I hope you are prepared and looking forward to spending time with your loved ones. With all the holiday gatherings and family in town, there is a greater need for easy entertaining ideas and making a cheese board is perfect for that.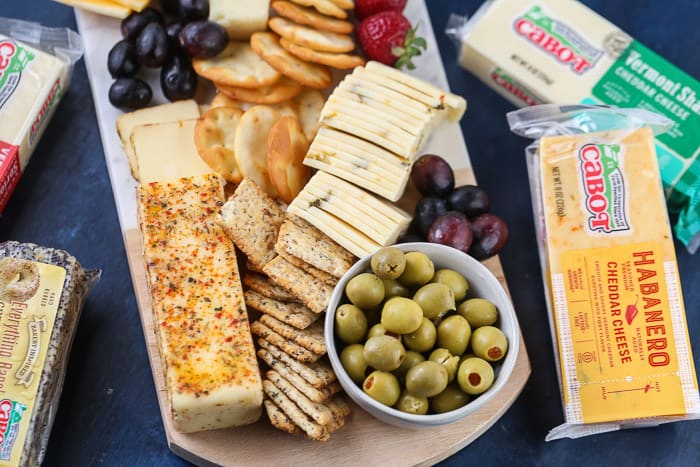 Recently, I got a variety of cheeses from one of my favorite cheese brands, Cabot Cheese, and I decided to put together a cheese board to show you how easy making a cheeseboard is.
Like every trend out there, I am always late to jump on board. I started exploring with cheeseboards just this year and they have been an easy entertaining tool. A friend stopping by in the mid-afternoon with kids? Sure! Let me throw together some crackers, cheese, and fruit on a board for them. A dinner party with friends? Sure! A cheeseboard will hold everyone over as I finish cooking and setting the table. Impromptu visit of my African relatives (this is a constant thing!)? Sure, cheeseboard to the rescue. You get the idea 🙂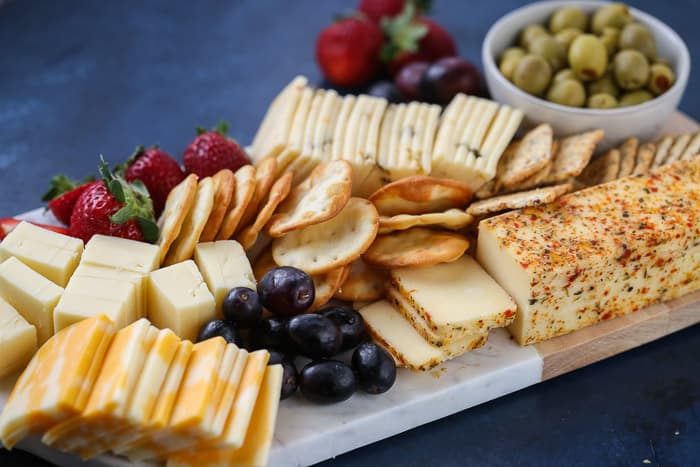 How do you make a cheese board? Easy peasy and there is so much room for customization and creativity.
First, you need a board or flat surface 🙂 There are plenty out there (World Market, Food52, HomeGoods etc.) and I am sure most of you have one in your kitchen. I used a marble cutting board I bought from Home Goods years ago. You can also use any cutting board, baking sheet or even a pizza stone. Regardless of the type of flat surface you use, just make sure it is big enough for what you want to assemble.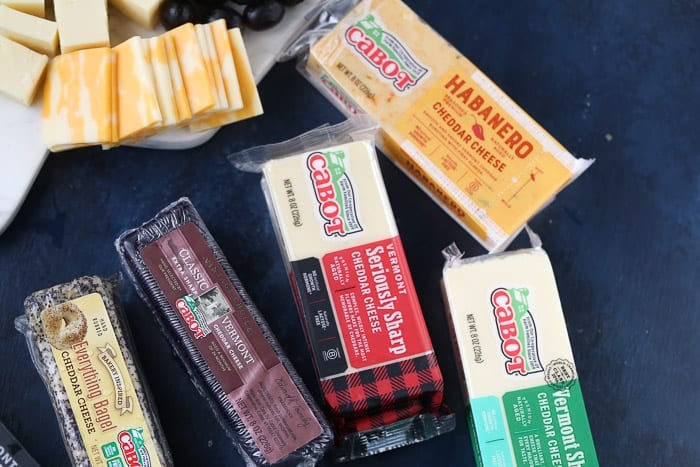 Second, select your cheeses. A variety of cheeses is a good idea but not a deal-breaker. Ideally, hard cheeses, aged cheese, and soft cheeses add variety to the texture and look of the board. For the one pictured here, I actually stuck to all hard cheeses as I wanted to showcase the selection of Cabot cheeses in my fridge as well as it's easier for toddlers to grab and go hard cheeses (I made this board for a play date for my 4yo!). But a selection of cheeses adds different flavors and textures to the board so strive for this.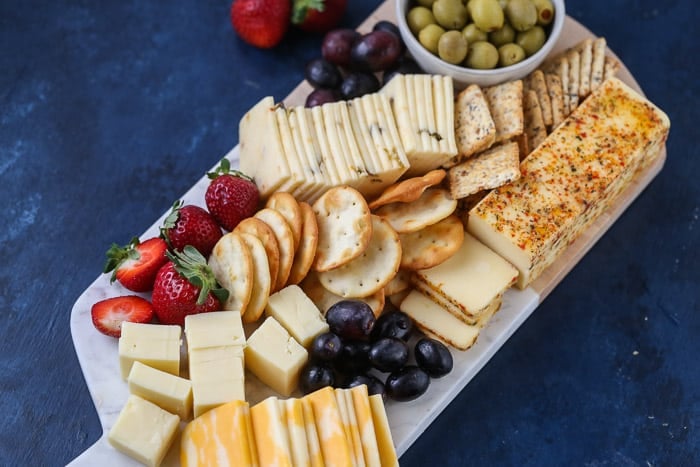 Select your meat (optional). A cheese board is sometimes called a charcuterie board because of the presence of cured meat (think prosciutto, salami, etc.). While this adds protein and new flavors to the boards, it is optional if your audience is vegetarian. I tend to make non-meat boards as I don't eat pork and I find that most cured meat at pork-based. If you do choose to add meat, select your favorite cured meats and roll them up in style. I always love the color meat bring to boards.
Next up, we need to add some savory and sweet options to the board. I love adding fresh fruits for the sweet aspect. Anything in season or in your fridge works. It helps balances the different types of cheeses. I also love adding preserves, chutney, and spreads. This is where endless creativity comes in. For the savory options, I love adding pickled onions, olives, and even pickles. Nuts and fresh-cut veggies are also a great idea alongside spreads and dips such as hummus. Depending on how big your board is, you can serve these savory options in small bowls placed around the board.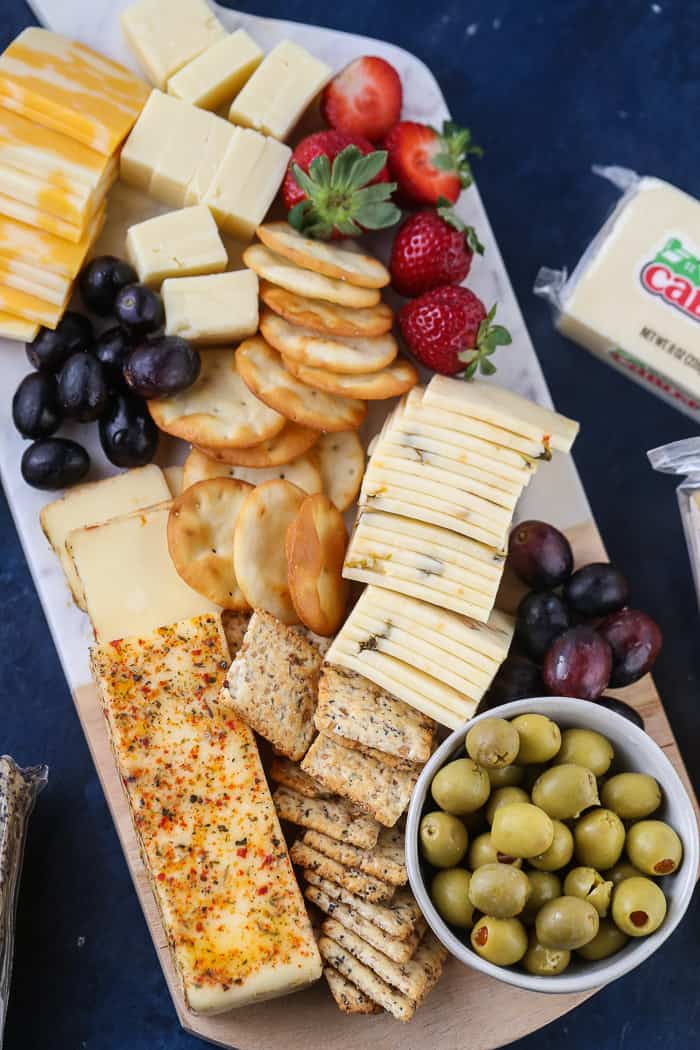 Perhaps my most favorite part of the cheeseboard outside of the cheese is the addition of carbs, aka crackers, and bread. Add a variety of sweet and savory crackers with different shapes and textures as well as different slices of bread for the cheese and dips. Trader Joe's is my favorite when it comes to crackers and chips for boards.
And there you go, my friends! Making a cheese board is as easy as it gets. Go make yourself some cheeseboards to make all your entertaining this holiday season easy. Pair with some wine or prosecco (or sparkling cider!) to usher in the New Year.
Until next time, I wish you a happy holiday season. Merry Christmas! Happy Hannukah! and Happy New Year.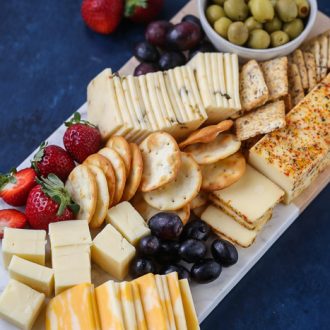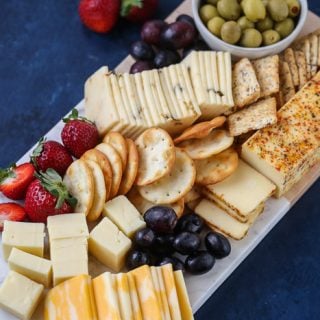 Yield: 1 cheeseboard
Making a Cheese Board
Making a Cheese Board for Easy Entertaining
Ingredients
1 wedge Cabot Creamery Vermont Sharp Cheddar Cheese
1 wedge goat cheese
1 wedge Cabot Habenero Cheddar Cheese
1 wedge Brie Cheese
1 wedge gouda cheese
1/2 cup fresh strawberries
1/4 cup fresh Grapes
1/4 cup pickles
1/4 cup stuffed olives
1/2 cup dip of your choice (spinach artichoke, french onion, etc)
Assorted Crackers
Slices of Baguette
Instructions
Arrange the slices of cheese, fruits, and crackers on a large cheese board. Place dip, pickles, and olives in dishes and place on board.