Pina Colada Ice Cream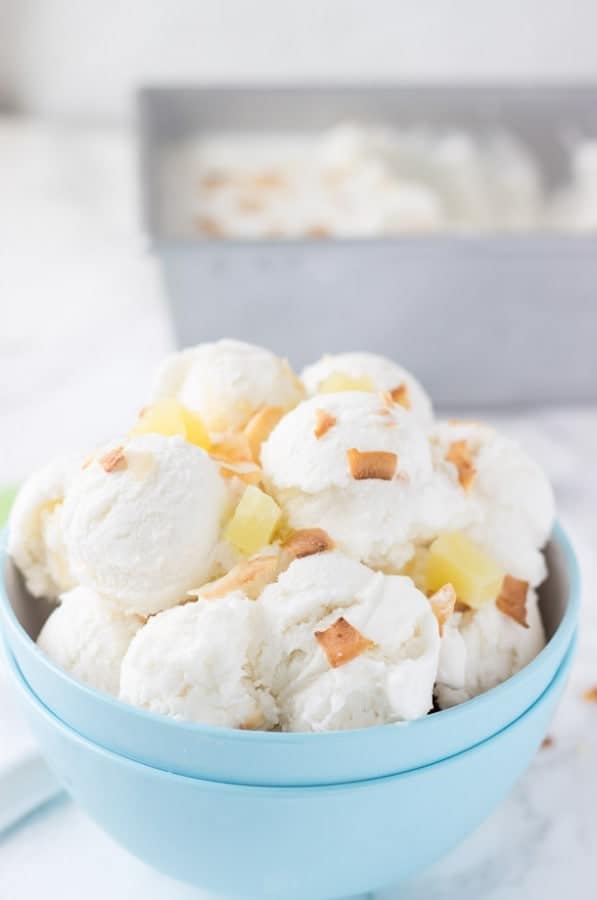 It's ICE CREAM season people! ICE CREAM season!!
Yes, I am screaming. Only because it is the best season EVER. Especially when it combines with berry season but we will get to blending the two soon. We are starting ice cream season with this Pina Colada ice cream!! It's just fitting right?? And when I say we are starting, I mean expect a LOT more homemade ice cream from this lady, thanks to this recently acquired KitchenAid ice cream bowl.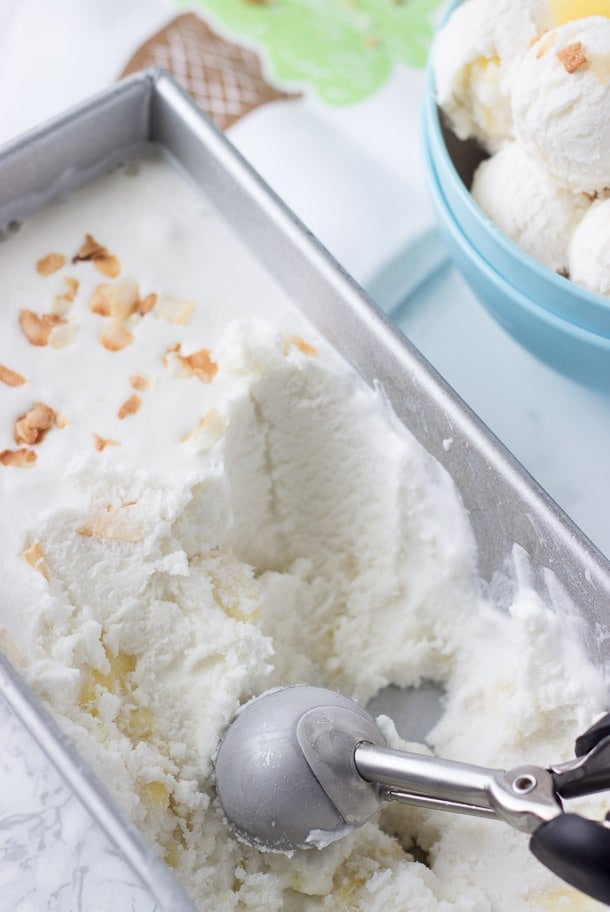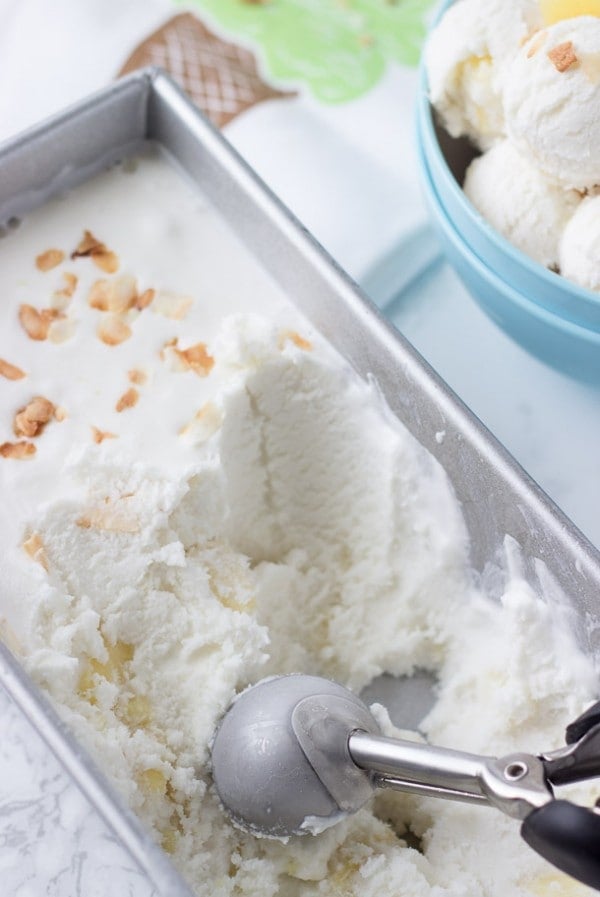 Creamy coconut ice cream with fresh pineapple puree (or chunks) and some more toasted coconut flakes makes this dairy-free ice cream any coconut lover's dream. Like these are the things that my dreams are made of 🙂
And I have some really strange dreams these days. I think raging pregnancy hormones do this to people and it's ridiculously funny when you wake up and realize it was all a dream and no haunted forests exist in the real world or snakes climbing up your legs. But on the bright side, you get to eat a scoop of pina colada ice cream at 4am (insomnia is real) and pat the bump thinking "oh baby boy, how I love what you are doing to me!"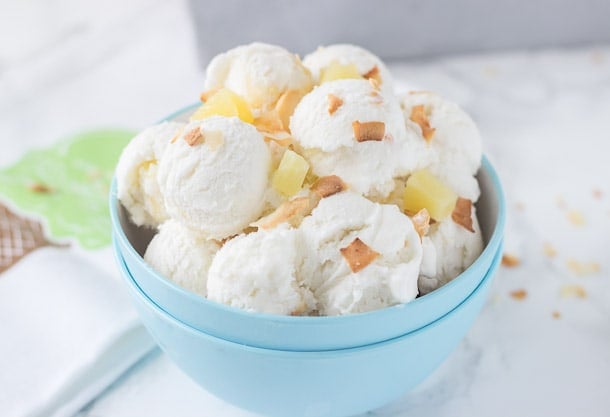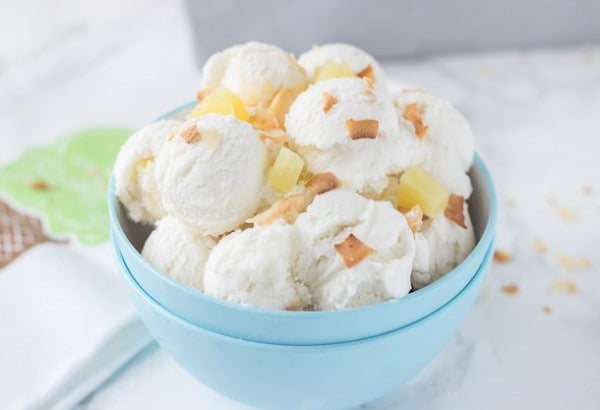 The only thing this ice cream is missing is rum but I couldn't put it in mine. I beg you to please add some good rum to your pina colada ice cream. You will have all the fun I am missing out on.
Happy Friday!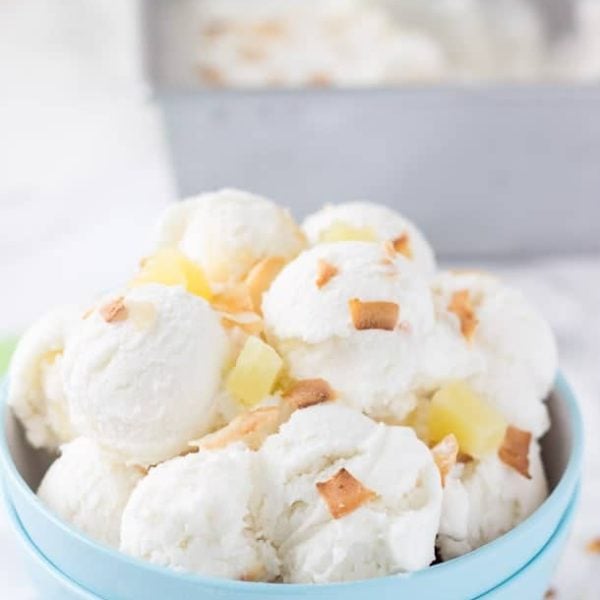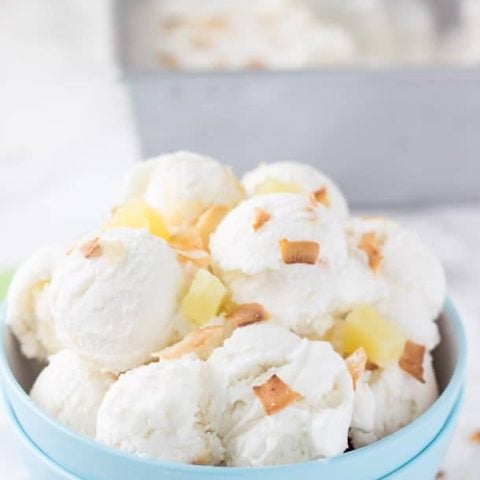 Yield: ~ 2 cups
Pina Colada Ice Cream
Ingredients
1 can coconut milk (13.5 ounces)
1/3 – ½ cup granulated sugar (more to taste)
¼ cup pineapple juice
2 teaspoons vanilla extract or vanilla bean paste
½ cup diced pineapples, pureed
1/4 cup rum (optional)
toasted coconut flakes, to serve
Instructions
Whisk together the coconut milk, cream, and sugar in a large bowl. Whisk for 2-3 minutes on low speed until sugar is dissolved. Stir in the pineapple juice, vanilla extract, and pureed pineapples.
Chill mixture for at least 2- 2 1/2 hours (or overnight).
Turn on your ice cream machine. Pour chilled mixture into the freezer bowl and let mix until thickened about 25-30 minutes. If using rum, add in now and let churn for 2-3 more minutes.
Transfer soft ice cream to a freezer-safe bowl and freeze for an additional 2 hours to ripen.
Serve with toasted coconut flakes.
Notes
You can use Cream of Coconut as well. https://amzn.to/3h1WFiO
Recommended Products
As an Amazon Associate and member of other affiliate programs, I earn from qualifying purchases.
More homemade Ice Cream from Around the Web
:
Horchata Ice Cream – Love and Olive Oil
Homemade Strawberry Ice Cream – Grandbaby Cakes
Fresh Lemon Ice Cream – The Kitchen McCabe