Red, White and Blue Flag Cake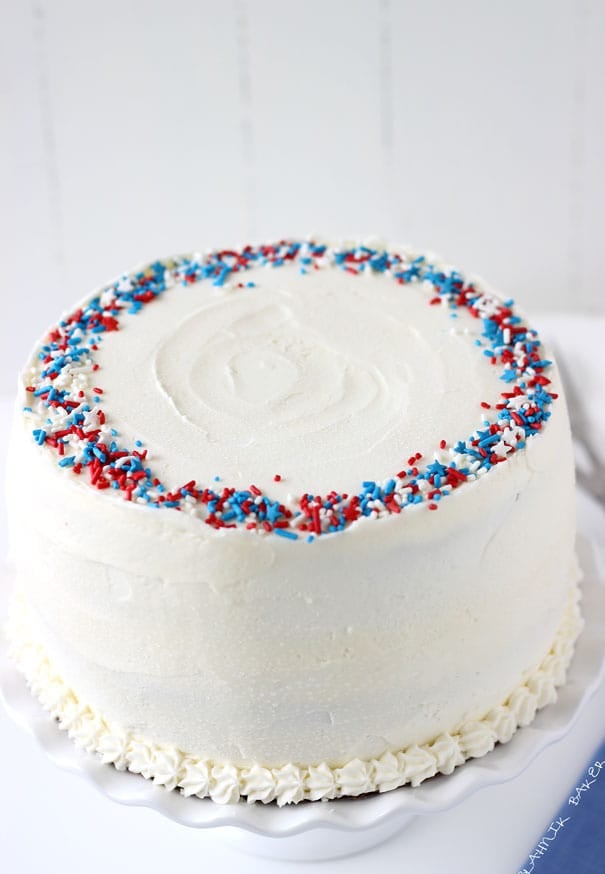 Hey there, and welcome back, friends.
You are in for a July 4th treat!
Red, White, and Blue Flag Cake
A classic Red, White, and Blue layered flag cake with a fluffy vanilla cake base and whipped vanilla buttercream.
I have a classic Red, White and Blue dessert for you today!! I wanted to give you plenty of time to add this patriotic cake to your July 4th menu. This red white and blue flag cake will be a stunner at your party, making you the STAR!
Want to know a secret? It's extremely easy to put together. Don't be fooled by the beautiful layers, any baker can pull this off in no time. It just takes some planning ahead and ideally should be made the day before your party.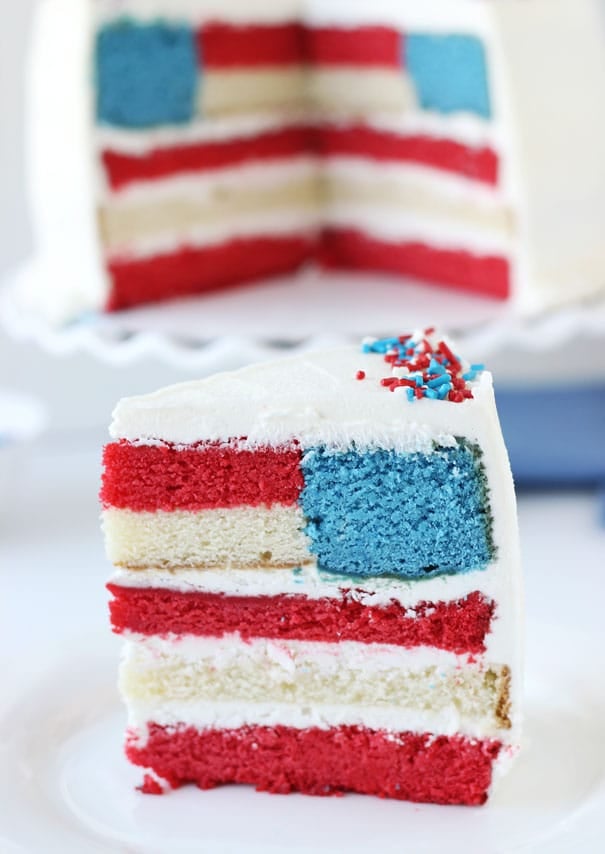 I've been meaning to make this classic Red, White, and Blue layered cake for a few years now but each year I put it off thinking it will be too much work and a total disaster. But I was so WRONG!! It is the easiest cake I ever made and definitely one of the prettiest.
As I was planning for this flag cake, I turned to the trusted Amanda of I am Baker for guidance. Her new book, Surprise-Inside Cakes
, (<—affiliate link) is one of my favorite cookbooks and I've read it cover to cover.
I knew her techniques and tips will come in handy so I looked at her red, white, and blue cakes for guidelines which I loosely followed to make this cake.
Red, White, and Blue Flag Cake Ingredients
You can make the fruit puree using fresh or frozen fruit blended in a food blender or processor.
unsalted butter
all-purpose flour
baking powder
salt
sugar
a few large eggs
pure vanilla extract
milk
strawberry puree & blueberry puree
a few drops of red and blue gel food coloring
confectioners' sugar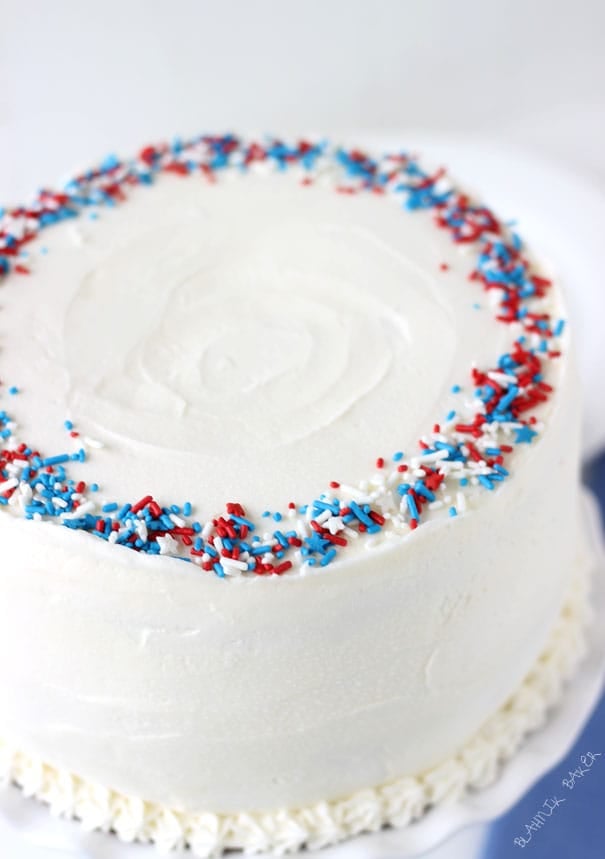 How to Make a Red, White, and Blue Flag Cake
So how do you make this flag cake? You start with your favorite yellow cake recipe and bake it in 4 8-inch pans.
However, you need to color two portions red, 1 blue, and the last portion left as white.
The recipe below is my favorite yellow cake from scratch. But feel free to use your favorite box mix here. Once you have your cakes colored and baked, you will slice the red and white cakes in half horizontally and cut out 4-inch circles from some of the layers.
That's it. The rest is just assembling the cakes in the right order and frosting as desired. Be sure to read the instructions completely before starting so you have an idea of what the process entails.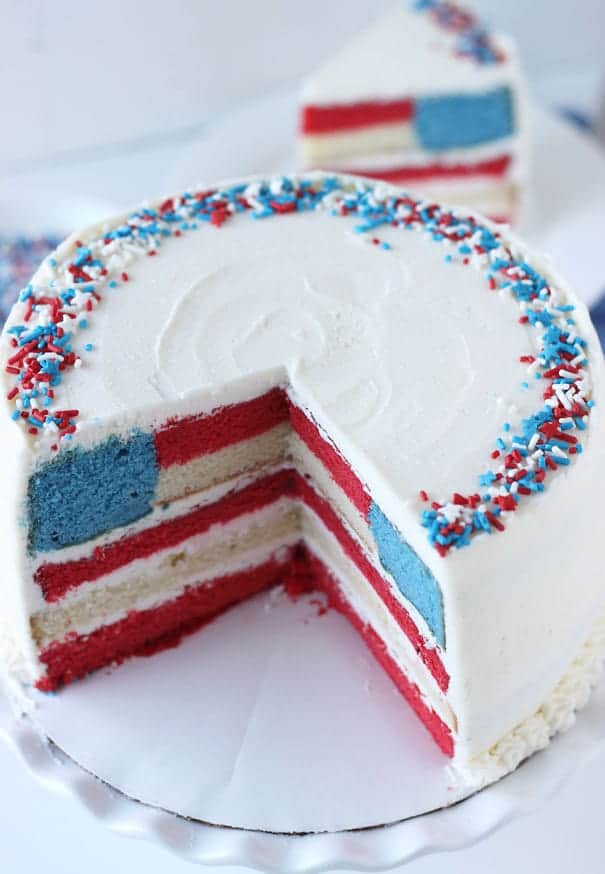 More Red, White, and Blue Desserts you will LOVE
Here are all of my July 4th recipes.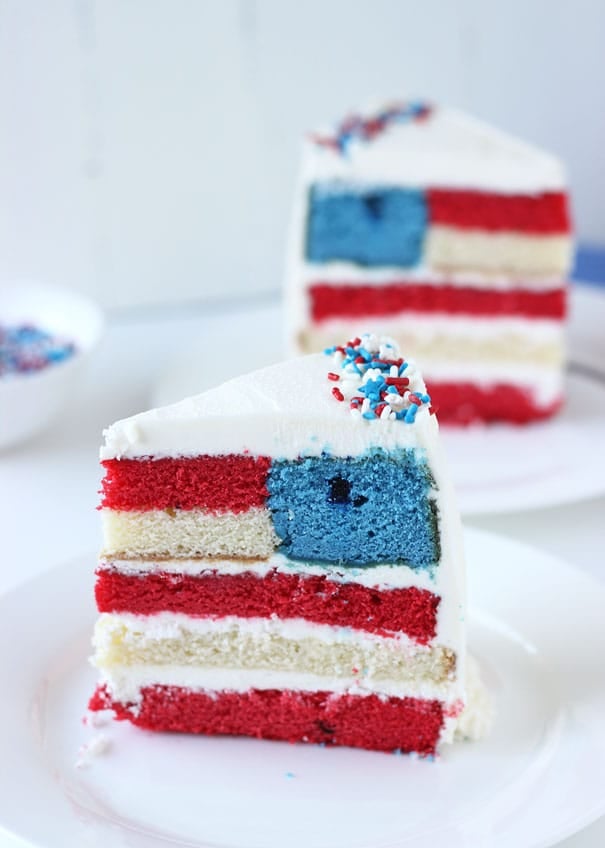 This 4th of July consider making this beautiful patriotic flag cake for your BBQs, picnics, and celebrations. It will definitely be a stunner and a crowd-pleaser.
What do you think of this amazing July 4th cake recipe? What would you serve with a slice of this cake? Let me know in the comment section below.
If you share across social media, make sure to tag #aclassictwist, so I can see your beautiful creation come to life!
Happy baking, friends!
Red, White, and Blue Flag Cake Recipe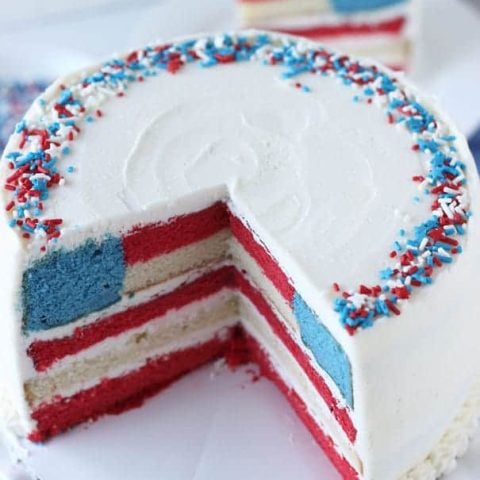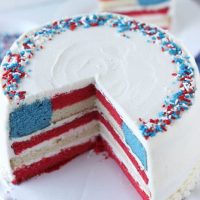 Yield: 1 8-inch layered cake
Red, White and Blue Flag Cake
A classic Red, White, and Blue flag cake with a fluffy vanilla cake base and whipped vanilla buttercream.
Ingredients
1 ½ cups unsalted butter (3 sticks), room temperature
4 cups all-purpose flour
1 tablespoon baking powder
¼ teaspoon salt
3 cups sugar
6 large eggs, room temperature
1 tablespoon pure vanilla extract
1½ cups milk
2-3 tablespoons strawberry puree
2-3 tablespoons blueberry puree
A few drops of red and blue gel food coloring.
3 ½ sticks unsalted butter, softened
3 cups sifted confectioners' sugar
3 tablespoons milk
1 tablespoon vanilla extract
1 teaspoon pure vanilla extract
Pinch of salt
Instructions
For Cakes
Preheat oven to 350 degrees. Butter 4 8-inch cake pans, line with parchment and butter parchment. Whisk together flour, baking powder and salt in a medium bowl.
In the bowl of an electric mixer, beat the butter and sugar on medium speed until pale and fluffy, about 5 minutes. Add eggs, 1 at a time, beating well after each addition and scraping down side of bowl as necessary. Beat in vanilla extract.
With mixer on low speed, add flour mixture in 3 batches, alternating with 2 batches of milk and beginning and ending with flour. Mix until just combined.
Divide batter into 4 equal parts.
For Red Cake:
Color two of the four portions with strawberry puree and a few drops of red gel food coloring. Pour into two of the prepared pans. For Blue Cake: Color a third equal part with the blueberry puree and a few drops of blue gel food coloring. Pour into the third prepared pan. For White Cake: just pour batter into remaining pan smoothing the top with an offset spatula.
Bake cakes until golden brown and a cake tester comes out clean. About 30-35 minutes.
Transfer pans to wire racks to cool for 10 minutes. Turn out cakes onto racks to cool completely.
Red Cake Layers:
Level cakes by trimming off any round tops. Slice cakes in half horizontally to make 4 thin layers. Using a 4-inch biscuit cutter or a 4-inch round cookie cutter, cut out the center of 1 thin layer. Save the layer that was cut out of for a later use.
White Cake Layers: Cut cake in half horizontally to have two thin white layers. In one layer, cut out a round center using a 4-inch round biscuit cutter. Save the layer that was cut out of for a later use.
Blue Cake Layer: Do not cut in half. Level cake to remove any rounded top. Cut 4-inch round out of center using a biscuit cutter. Save the round cut out for another use.
For the Whipped Vanilla Frosting:
Whip butter for 8 minutes on medium speed using the paddle attachment of an electric mixer. The butter will become pale and creamy. Add the rest of the ingredients and mix on low speed for 1minute. Then increase speed to medium and mix for 6 minutes until the frosting is very light, creamy and fluffy. Best used right away.
Assembly
On a cake stand, place a red layer down. Spread about ½ cup of the frosting on top using an offset spatula. Top with 1 white cake layer, spread another ½ cup frosting and top with a second red layer. Top with frosting and spread evenly. Gently top with the blue layer. Carefully spread thin layer of frosting inside of blue cake layer. Place the white 4-inch cake round into the center of blue cake. Top with frosting and then the red 4-inch cake round. press gently to fit. Frost the top and sides of cake. Decorate as desired.
Nutrition Information:
Yield:
8
Serving Size:
1
Amount Per Serving:
Calories:

1439
Total Fat:

80g
Saturated Fat:

48g
Trans Fat:

0g
Unsaturated Fat:

27g
Cholesterol:

341mg
Sodium:

356mg
Carbohydrates:

170g
Fiber:

2g
Sugar:

121g
Protein:

14g