Angel Food Cake with Coconut Whipped Cream and Berries
Classic angel food cake, filled with homemade coconut whipped cream and studded with berries for a pretty patriotic look!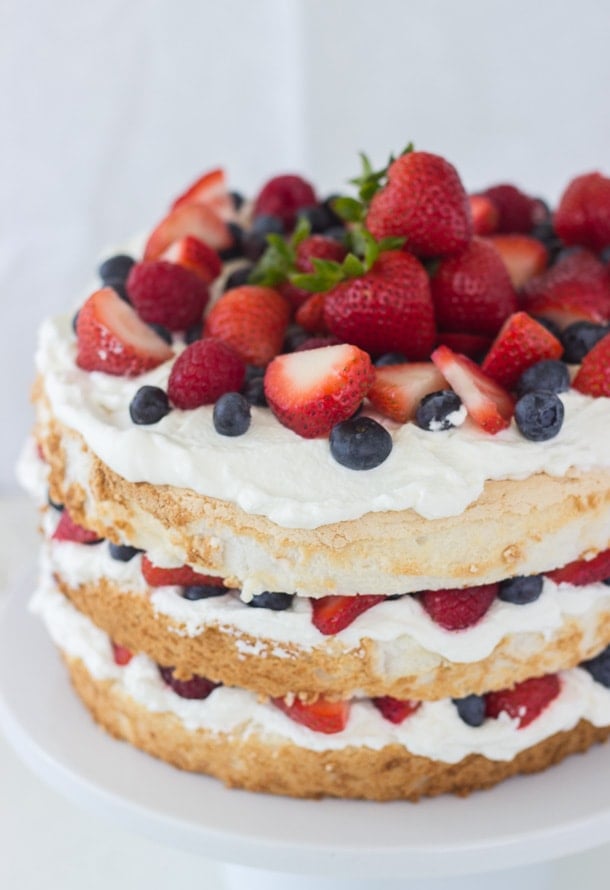 When I think of the perfect summer dessert, I can't help but think of angel food cake and berries. A light and airy angel food cake with that distinct sugar crust, served with fresh whipped cream and an assortment of summer's juicy berries do not only scream SUMMER evening dessert but it also says American classic!! It's a 4th of July perfect combination. And that is exactly what this cake is. It's everything that we love about angel food cake plus a dairy free-coconut whipped cream (made from coconut cream) and berries that represent everything red, white and blue. Patriotic much? Yeah, this cake is!!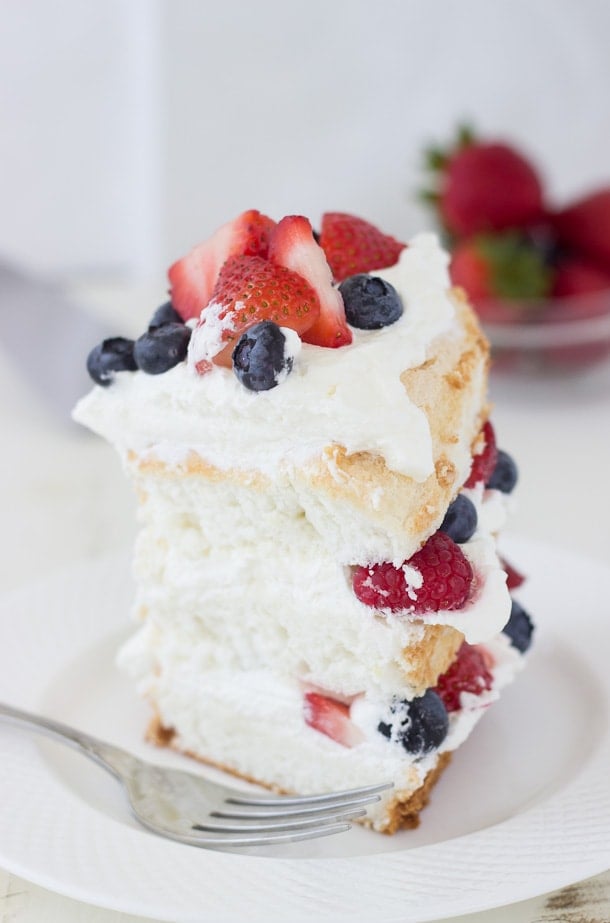 I've made angel food cake exactly one other time. It's always been one of those desserts I leave to the experts until I found this solid and easy recipe from my Better Homes and Garden cookbook. I made a version of it last year in this honey coconut angel food cake and it was a huge hit with my family. This year, I decided to keep the cake a classic, skip on the honey or coconut in the actual cake and just make a good ole angel food cake. But of course, once the cake was cooling I realized life is always so much better with some coconut so I made some coconut whipped cream.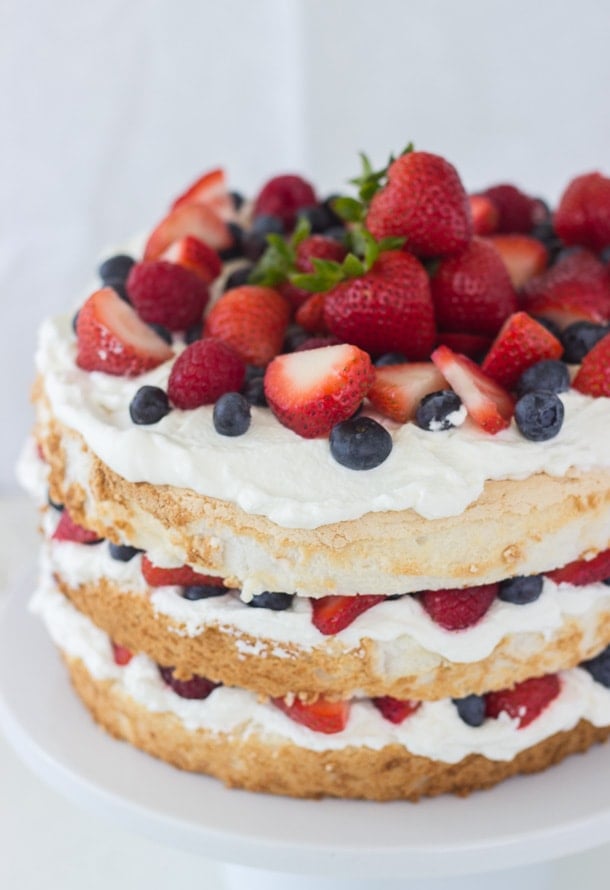 Using chilled coconut cream is an easy way to whip up a delicious dairy-free whipped cream at home. You do not have to rely on the fat on top of coconut milk. Just use chilled coconut cream and a whisk to get whipped cream. Use the coconut whipped cream to fill the cake and decorate with your favorite summer berries.  I used strawberries, raspberries, and blueberries for a red, white and blue look. But you can use any of your favorite summer berries or even juicy peaches of the season. That's one of the reasons I love this recipe, it is so versatile.
Wouldn't this angel food cake be perfect for any 4th of July party?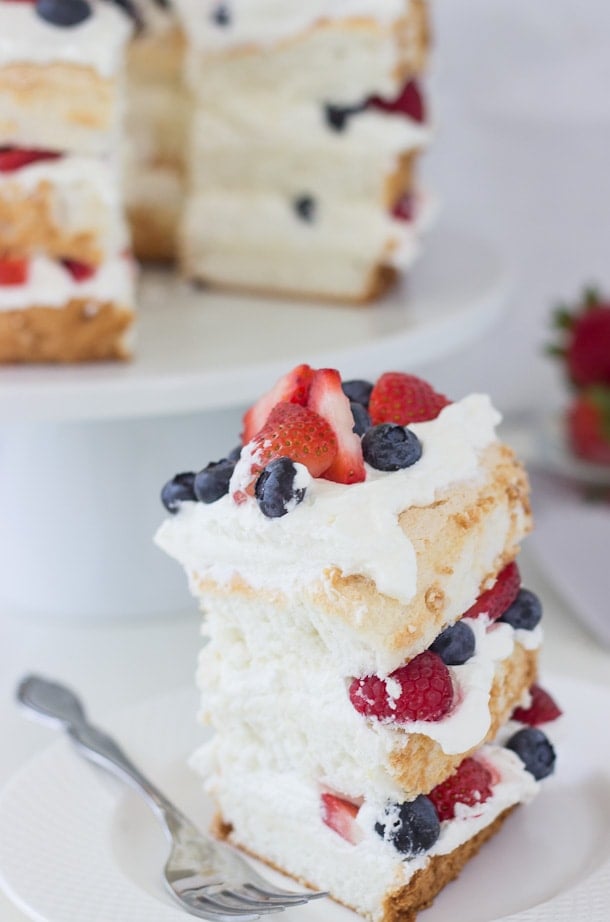 Here are real-life comments from bakers who have tried and LOVED this recipe: https://www.pinterest.com/pin/225883737537330957/activity/tried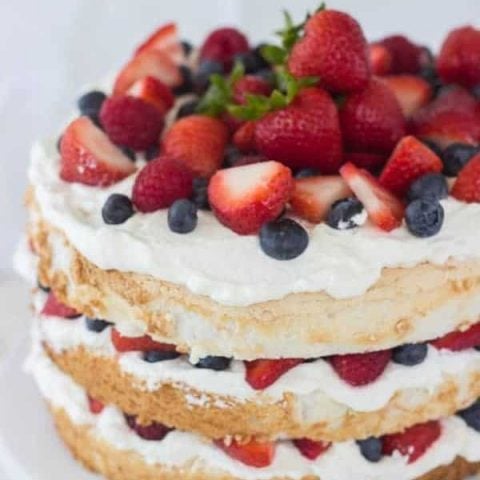 Yield: 1 10-inch layer cake
Angel Food Cake with Coconut Whipped Cream and Berries
Classic angel food cake, filled with homemade coconut whipped cream and studded with berries for a pretty patriotic look!
Prep Time 40 minutes
Cook Time 45 minutes
Inactive Time 40 minutes
Total Time 2 hours 5 minutes
Ingredients
1 1/2 cups sifted powdered sugar
1 cup sifted cake flour or sifted all-purpose flour
1 1/2 cups egg whites (10 to 12 large), at room temperature
1 1/2 teaspoons cream of tartar
1 teaspoon vanilla extract
1 cup granulated sugar
Toppings:
2-3 cups mixed berries (strawberries, blueberries, raspberries)
¼ cup granulated sugar
1 can coconut cream (13.5 oz), chilled in the refrigerator overnight and liquid drained
1 teaspoon pure vanilla extract
Instructions
Adjust the oven rack to the lowest position in the oven. Preheat oven to 350 degrees F.
In a large bowl, sift together the powdered sugar and cake flour three times. This aerates the flour and allows the cake to be light and airy. Do not skip this step.
In the bowl of the stand mixer, combine the egg whites, cream of tartar and extracts. Whip the egg whites on medium speed until soft peaks form. With the mixer on, gradually add the granulated sugar about 2 tablespoons at a time, beating until stiff peaks form.
Sift about a fourth of the flour mixture over the beaten egg whites. Fold flour into the egg whites using a rubber spatula. Repeat sifting of flour mixture and folding gently until all the flour is incorporated into the egg whites.
Pour the mixture into an ungreased 10-inch tube pan. Use your spatula to gently cut through the batter to remove any large air pockets
Bake cake on the lowest rack for 40-45 minutes or until the cake top springs back when lightly touched. Remove immediately from oven and invert cake still in the pan. Let cool completely in the inverted pan. When cooled, loosen the sides of the cake from the pan and remove cake. Using a serrated knife, slice the cake gently into three equal layers. Transfer to a serving plate.
When ready to serve, combine the berries and sugar in a large bowl. Let sit for 15-20 minutes until the juices develop. Meanwhile, make the whipped cream. Chill the bowl and whisk attachment of a stand mixer in the freezer for 10 minutes. Beat the coconut cream with vanilla extract until soft peaks form. Alternately, you can use homemade whipped cream or cool whip.
Assembly:
Fill each layer with the whipped cream and berries.
Serve immediately.
Notes
cake layer adapted from better homes and garden cookbook
Recommended Products
As an Amazon Associate and member of other affiliate programs, I earn from qualifying purchases.
Nutrition Information:
Amount Per Serving:
Calories: 0
Cholesterol: 0mg
Sodium: 0mg
Carbohydrates: 0g
Fiber: 0g
Sugar: 0g
Protein: 0g
More Red, White and Blue Desserts:
Red, White and Blue Macarons – Eats Well With Others
Red, White and Blue Layered Flag Cake
Red Velvet Blondie Cheesecake – Life, Love, and Sugar