Honey Coconut Angel Food Cake
A classic angel food cake is sweetened with honey and given a tropical twist in this elegant summer dessert!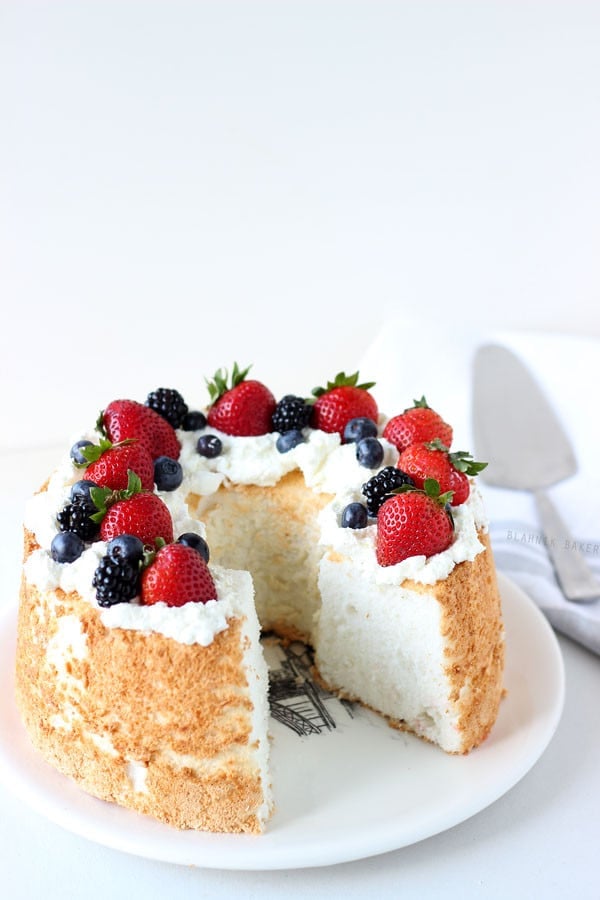 Do you have one cookbook that you use over and over again? It has watermarks, sugar stains and it's pretty much spineless? I know you all have a well-used cookbook like that. Mine is a Better Homes and Garden Cookbook
(Bridal Edition) my friend Afeke gave me at my bridal shower a few years ago. It seriously never leaves the kitchen unless I need to type up recipes for you that were inspired by it. It is my go-to source for classic tried-and-true recipes. You have seen a few on the blog already. Recently, these mango kiwi mousse cups, apricot rose pound cake, chocolate coconut pound cake, the list goes on.
Angel food cake was one of those classic recipes on my baking bucket list that I've always been intimidated to tackle. I figured I needed to cross it off eventually and I am so glad that I finally attempted it. Like so many things, their reputation does not do them justice. Seriously, who said making angel food cake was difficult? So not!! As long as you start with a no-fail recipe.
This honey coconut angel food cake takes the classic cake to a whole new level! The soft and airy cake with the crusty exterior is delicious and especially when topped with coconut whipped cream and fresh berries.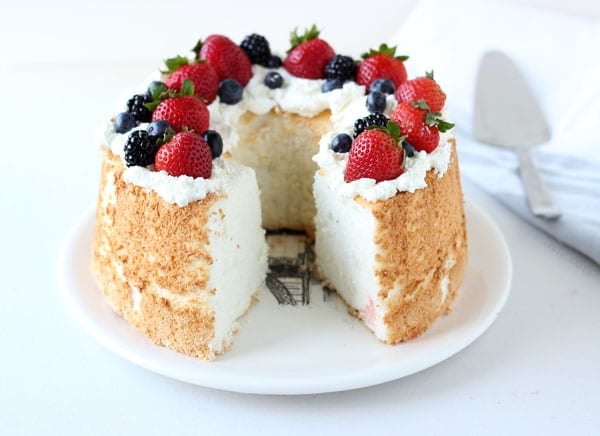 I used the classic Angel Food Cake recipe in my BHG cookbook as the base for my own creation. That's the beauty of a good angel food cake recipe; you can make simple changes to make it seasonally appropriate. Here are the changes I made:
First I used half of the sugar recommended and added in ½ cup natural honey. I love the earthy flavor it brings to cakes which are perfect in this cake.
Then I added a teaspoon of coconut extract for a tropical twist to the egg whites before whipping.
To decorate, I topped the cake with homemade coconut whipped cream. As you all know, I am a coconut lover and I stop at nothing in bringing that sweet tropical flavor into my bakes.
Top cake with whipped cream and serve with fresh berries.
It's truly a wonderful combination and one that is always a favorite with my family.
Let me know what you think of making angel food cakes there. Have you made one from scratch before?
(FYI: An affiliate link is included above)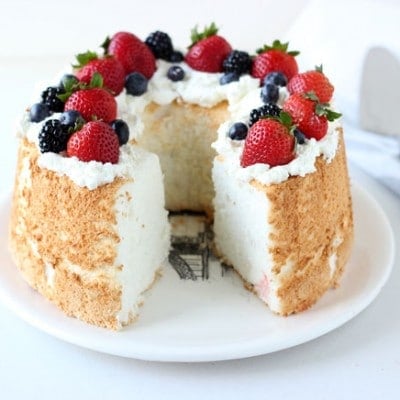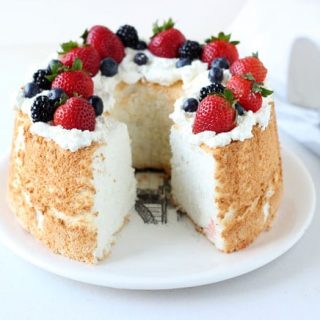 Yield: 1 large angel food cake
Honey Coconut Angel Food Cake
Additional Time
30 minutes
Total Time
1 hour
55 minutes
Ingredients
1 ½ cups sifted powdered sugar
1 cup sifted cake flour or sifted all-purpose flour
1 ½ cups egg whites (10 to 12 large)
1 ½ teaspoons cream of tartar
1 teaspoon vanilla extract
1 teaspoon coconut extract
½ cup honey
½ cup granulated sugar
FOR COCONUT WHIPPED CREAM FROSTING
1 can cream of coconut (13.5 ounces), chilled in the refrigerator overnight and liquid drained
Topping: toasted shredded coconut, fresh berries
Instructions
Adjust the oven rack to the lowest position in the oven.
Preheat oven to 350 degrees F.
In a large bowl, sift together the powdered sugar and cake flour three times. This aerates the flour and allows the cake to be light and airy. Do not skip this step.
In the bowl of the stand mixer, combine the egg whites, cream of tartar, and extracts. Whip the egg whites on medium speed until soft peaks form. With the mixer on, gradually add the honey and then granulated sugar about 2 tablespoons at a time, beating until stiff peaks form.
Sift about a fourth of the flour mixture over the beaten egg
whites. Fold flour into the egg whites using a rubber spatula. Repeat sifting of the flour mixture and folding gently until all the flour is incorporated into the egg whites.
Pour the mixture into an ungreased 10-inch tube pan. Use your spatula to gently cut through the batter to remove any large air pockets
Bake cake on the lowest rack for 40-45 minutes or until the cake top springs back when lightly touched. Remove immediately from oven and invert cake still in the pan. Let cool completely in the inverted pan.
When cooled, loosen the sides of the cake from the pan and remove the cake. Using a serrated knife, slice the cake gently into three equal layers. Transfer to a serving plate.
Meanwhile, make the whipped cream. Chill the bowl and whisk attachment of a stand mixer in the freezer for 10 minutes. Beat the cream of coconut with vanilla extract until soft peaks form. Alternately, you can use homemade whipped cream or cool whip.
Recommended Products
As an Amazon Associate and member of other affiliate programs, I earn from qualifying purchases.