Chocolate Coconut Pound Cake
A tender chocolate pound cake is enriched with subtle coconut flavors in this chocolate coconut pound cake.  It's an easy, delicious and beautiful dessert perfect for your next get-together.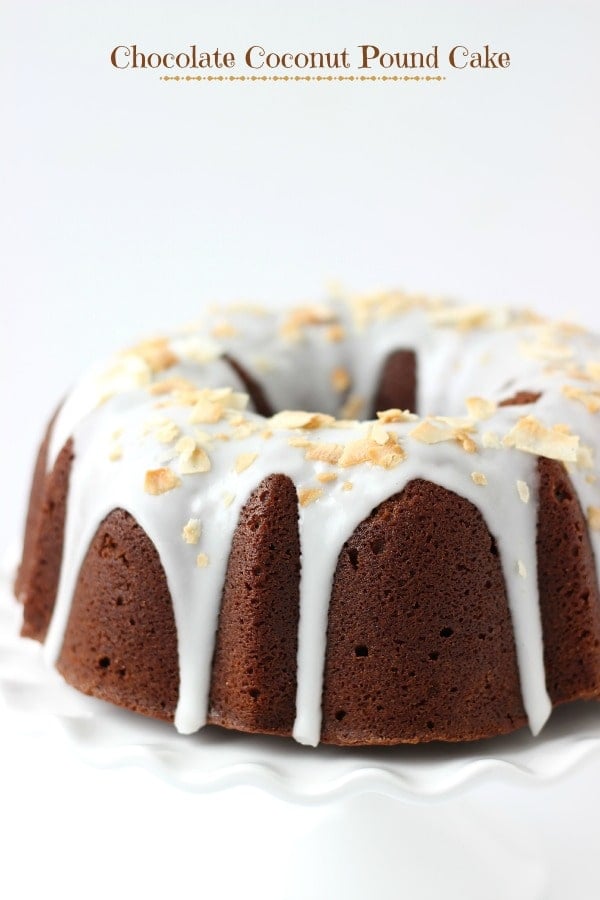 Have you ever met someone who you had an instant connection with? No, not the romance novel stuff where boy meets girl and your heart skips a bit yada yada. I mean a person who you just instantly click with and you both understand each other. That is my friend Allie from Baking a Moment! We met almost a year ago online and have been besties since. She commented on my blog, I commented back, she came again to visit and the rest is history. Now, I can't imagine a day or two without talking to her or sharing my day with her. Besides being a great friend, she is an incredible baker and a lovely momma who shares her love for cakes, delicate sweets and desserts over on her blog. If you have not met her yet, please go meet her! You will LOVE her.
And guess what? She is celebrating her first blog anniversary!! And being as nice as she is, she is giving away a KitchenAid mixer to one of YOU!! But more on that later (or skip to the end of the post!).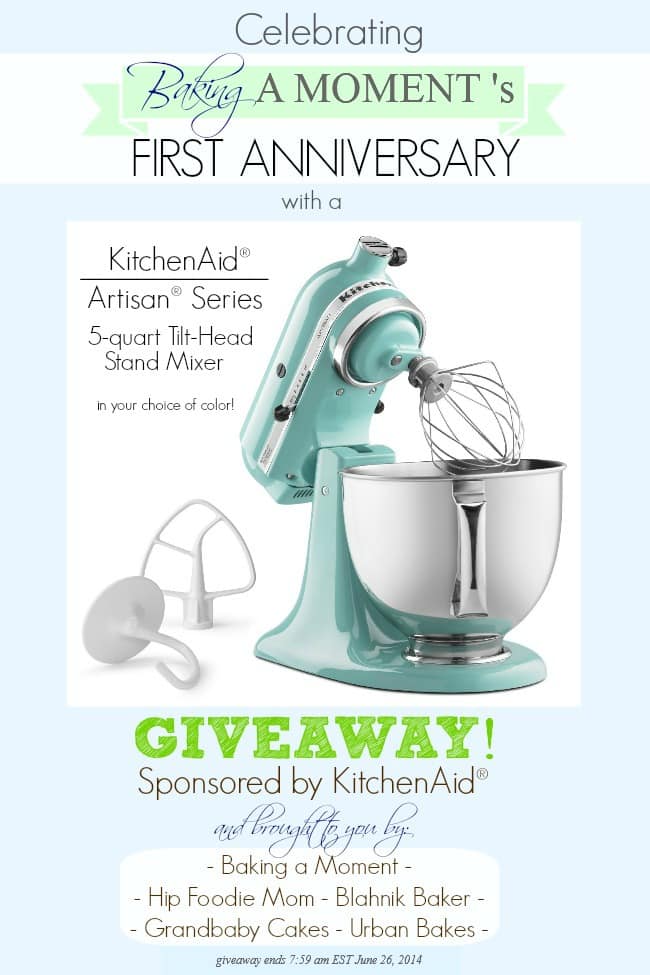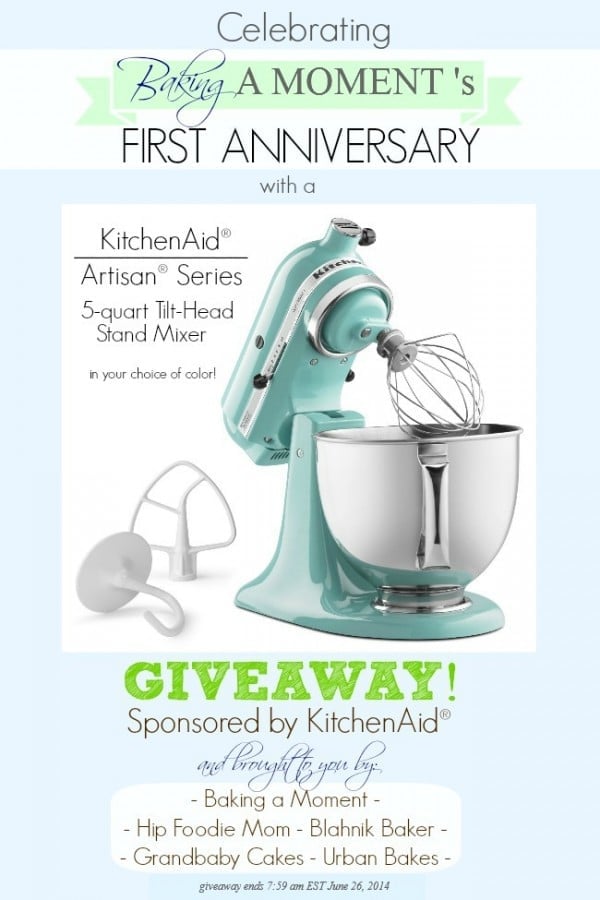 We all know coconut is one of my favorite flavors (Exhibit A). Yes sometimes I border on obsession but I just can't help it. When I found out Allie did not like coconut a few months ago, I was totally shocked!! I mean how could you not?? Apparently it's a texture thing but I just couldn't get it. Thankfully, she came to her senses (phewww, wasn't sure how our friendship would have survived lol)!! She is now coconut crazy and can't seem to get enough (making up for lost time). These Almond Joy Brownie Bars ignited the fire.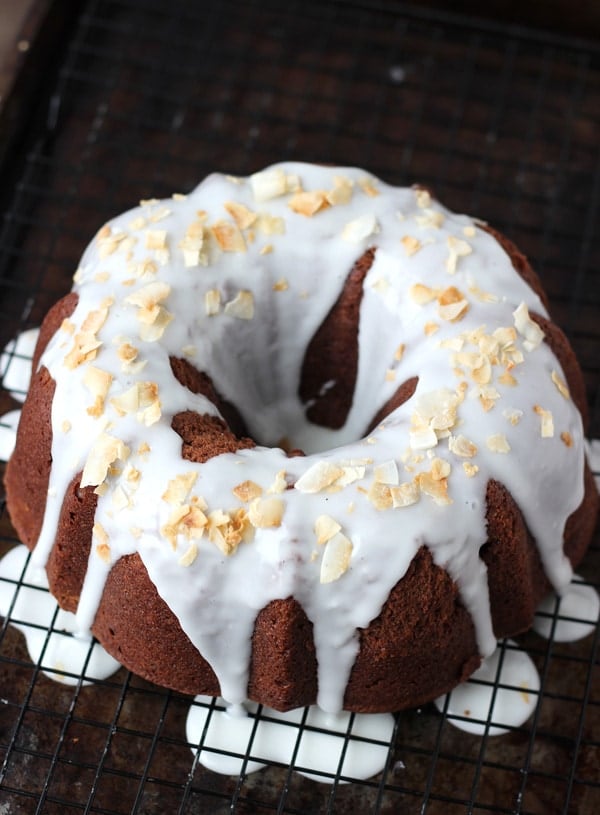 In honor of her new-found love and her blog anniversary, I am sharing this chocolate coconut pound cake. Chocolate and coconut is one of my favorite combinations and this pound cake really highlights the wonderful combination of creamy coconut with the decadence of chocolate.
This was my first time making a pound cake and I have no idea why it took me so long. The cake is the perfect texture; slightly dense but moist and fluffy. And of course quite chocolate-y making it a decadent treat and the subtle coconut flavor gives room for the chocolate to be the main star. Don't worry coconut lovers, the sweet coconut glaze on top is the perfect finish. This cake is bound to be a hit with chocolate-lovers, coconut-lovers and cake-lovers in your family and next get-together.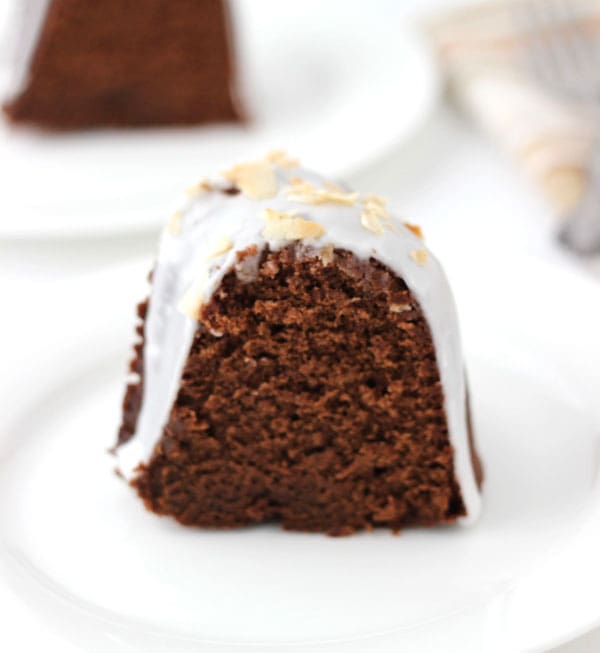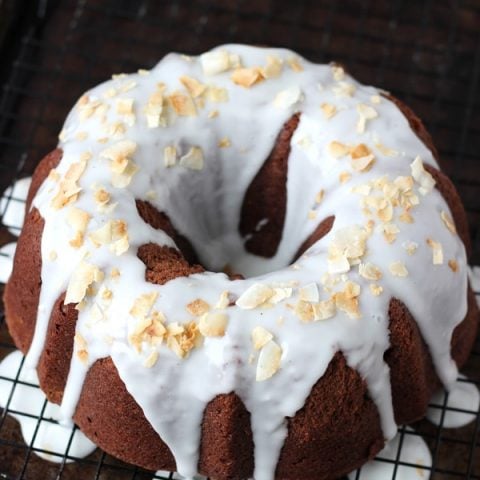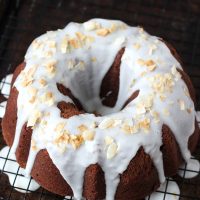 Yield: 1 cake
Chocolate Coconut Pound Cake
A tender chocolate pound cake is enriched with subtle coconut flavors in this chocolate coconut pound cake.  It's an easy, delicious and beautiful dessert perfect for your next get-together.
Total Time
1 hour
20 minutes
Ingredients
1 ½ cups all-purpose flour
½ cup unsweetened cocoa powder
1 teaspoon salt
¾ teaspoon baking powder
½ cup coconut oil, room temperature
¼ cup unsalted butter
1 ½ cups plus 1 tablespoon sugar
3 large eggs, room temperature
1 teaspoon vanilla extract
⅔ cup buttermilk
¼ cup unsweetened coconut flakes
1 cup confectioner's sugar
2-3 tablespoon heavy cream
½ teaspoon coconut extract
Toasted coconut flakes (for topping, optional)
Instructions
Preheat oven to 325 degrees F. Grease an 8 x 4" loaf pan or a 6-cup bundt pan.
In a medium bowl, whisk together the flour, cocoa powder, salt and baking powder.
In the bowl of an electric mixer, beat the coconut oil, butter and 1 cup sugar on medium-high speed until pale and fluffy, about 5-7 minutes. Beat in the eggs, one at a time, mixing in between additions until combined. Continue beating the mixture until light and doubled in volume, about 5-8 minutes. Beat in vanilla extract.
Reduce speed to low and add in the dry ingredients, in 3 additions. Mix until just combined. Do not over-mix. Scrape batter into prepared pan. Sprinkle with coconut flakes and 1 tablespoon sugar.
Bake cake until a tester inserted in the center comes out clean, 60-70 minutes. Transfer pan to a wire rack and let cool for 20 minutes. Turn out cake and cool completely.
To make glaze: Whisk together all the ingredients for the glaze until thick but spreadable. Pour glaze onto cooled cake. Top with toasted coconut flakes.
OK now the giveaway friends!! To celebrate the anniversary of Baking A Moment, a few of Allie's blogging friend are hosting a giveaway sponsored by KitchenAid. One lucky reader will win a KitchenAid Artisan Series 5-Quart Tilt Head Stand Mixer in the winner's color of choice. I have one of these mixers and all the magic you see here on the blog is from my red mixer. Love love love it! And I cannot do without Stella. (Yup, I named her!)
To enter for a chance to win one of these beautiful babies, use the widget below (please be patient, it takes a moment to load sometimes).
Good Luck!
This giveaway is brought to you by these lovely ladies: Baking A Moment, Hip Foodie Mom, Grandbaby Cakes and URBAN BAKES.