Peach Paloma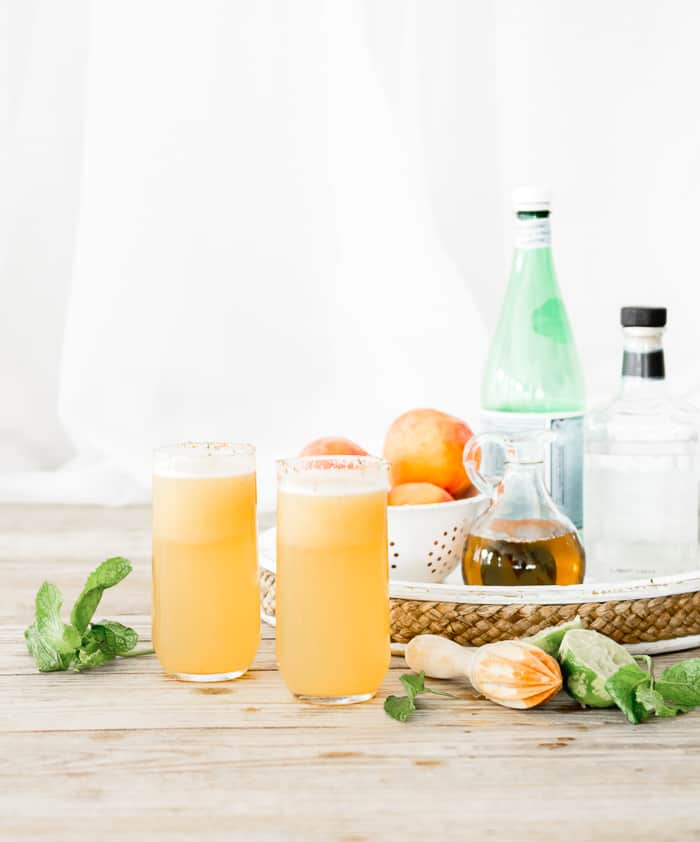 Hi friends!! I have another refreshing summer drink for you. After this passionfruit paloma, you all made it very clear that you are a fan of refreshing summer drinks. Well, this peach paloma fits that club! It is sweet, fruity, and refreshing!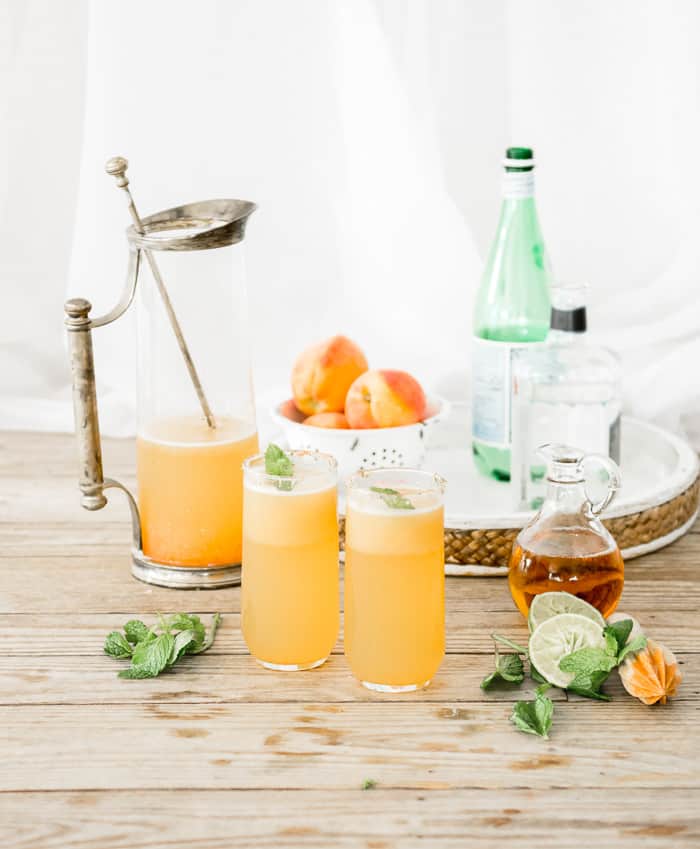 First, what is a paloma? well, it is basically a refreshing tequila-based cocktail. Usually made with tequila, lime juice, and flavored soda. of course with most things, you can customize this combination to your liking. For the passionfruit version, I used fresh passionfruit pulp for a tropical twist and tart/sweet combo. When using a fruit flavor, I prefer to use sparkling water instead of flavored soda.
Peach season is so short and I try to maximize my time with them. From eating loads of fresh peaches to making peach blueberry galette to peach cupcakes to peach palomas! We have to eat all the peaches when we can.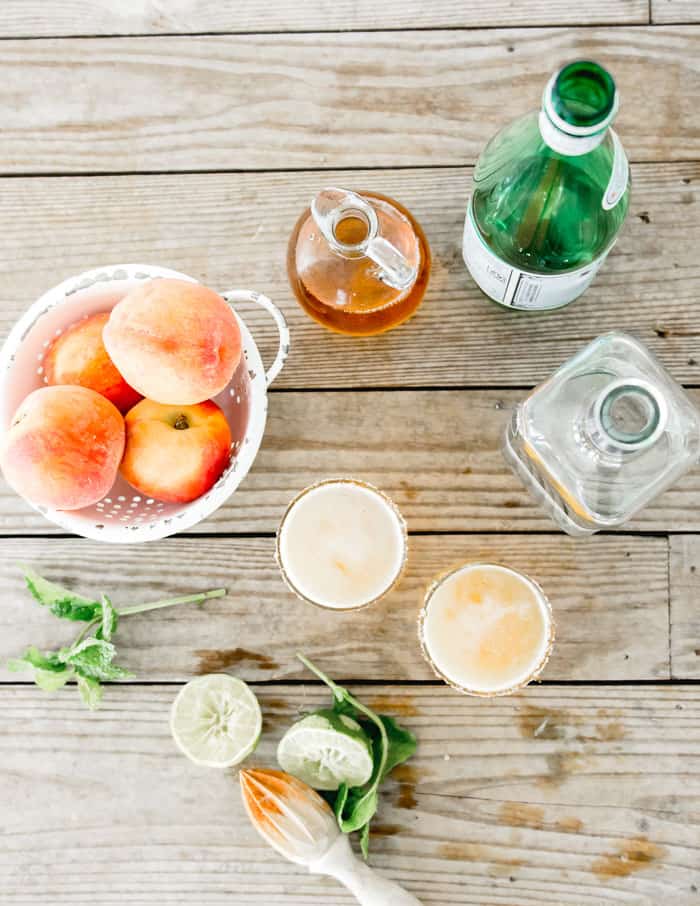 Okay, let's see what's in this refreshing peach paloma. First up, fresh peach puree. You take your farmers market peaches, remove the pit, and blend. This fresh puree is so good and is the start of our cocktail. In a large pitcher, add the puree, tequila of your choice, lime juice, and some agave for some sweetness. You can skip the agave if you don't want some sweet in the cocktail.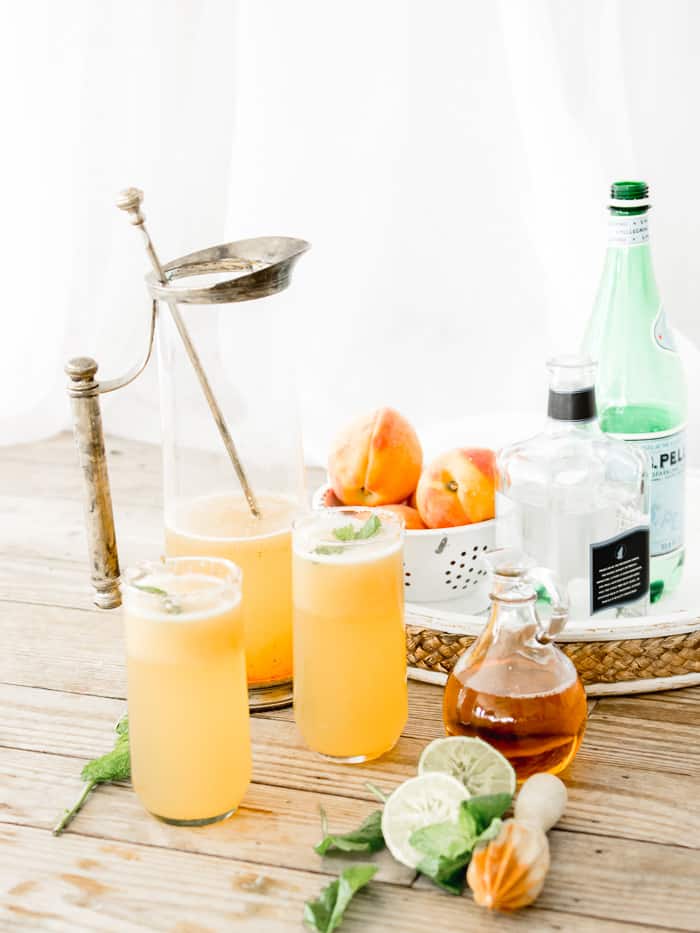 When ready to serve, add ice and sparkling water to the pitcher and mix well. That's it! Serve the peach paloma over ice and enjoy!!
This cocktail is perfect for crowds but can also be made for a few people. It is easy to customize and easy to whip up. Pretty much the perfect summer cocktail. I hope you give it a try. Do let me know if you do!
If you need more summer drinks, try my Tequila Sunrise.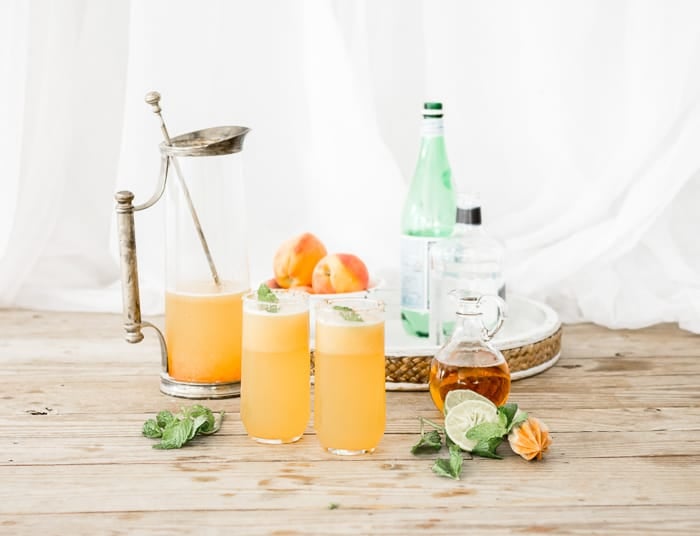 Photos by Jen Tilley Photography.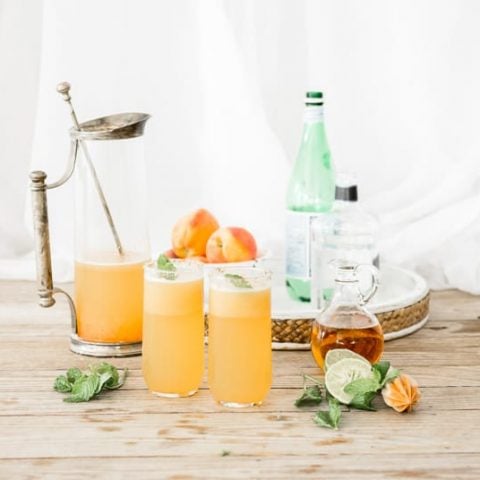 Yield: 4 drinks
Peach Paloma
A refreshing summer cocktail with fresh peach puree, tequila, and sparkling water. This peach Paloma is perfect for a crowd!
Ingredients
1 cup tequila of your choice
1 ⅓ cups peach puree (2-3 medium peaches, blended)
¼ cup lime juice
⅓ cup agave syrup (adjust to taste)
3 cups ice
1 cup sparkling water
Lime wedge
Sea salt, sugar or chili-lime salt for rimming
Mint leaves and fresh peach slices as a garnish
Instructions
In a large pitcher combine tequila, peach puree, lime juice, and agave syrup. Stir until everything is well incorporated.
Once you are ready to serve add the ice and the sparkling water. Stir with a wooden spoon.
Rub a lime wedge around the edge of the glasses and dip them onto a plate filled with sea salt or granulated sugar or a mixture of chili powder and salt.
Pour the paloma into the glasses and garnish with fresh basil leaves.
Enjoy!
Notes
You can use fresh or frozen peaches to make the puree.
You can also use lime-flavored sparkling water if you want to give it a zestier kick.
You can make it in advance up to the step of adding the ice and sparkling water. It lasts covered and refrigerated for up to 2 days.