Grilled BBQ Chicken Pizza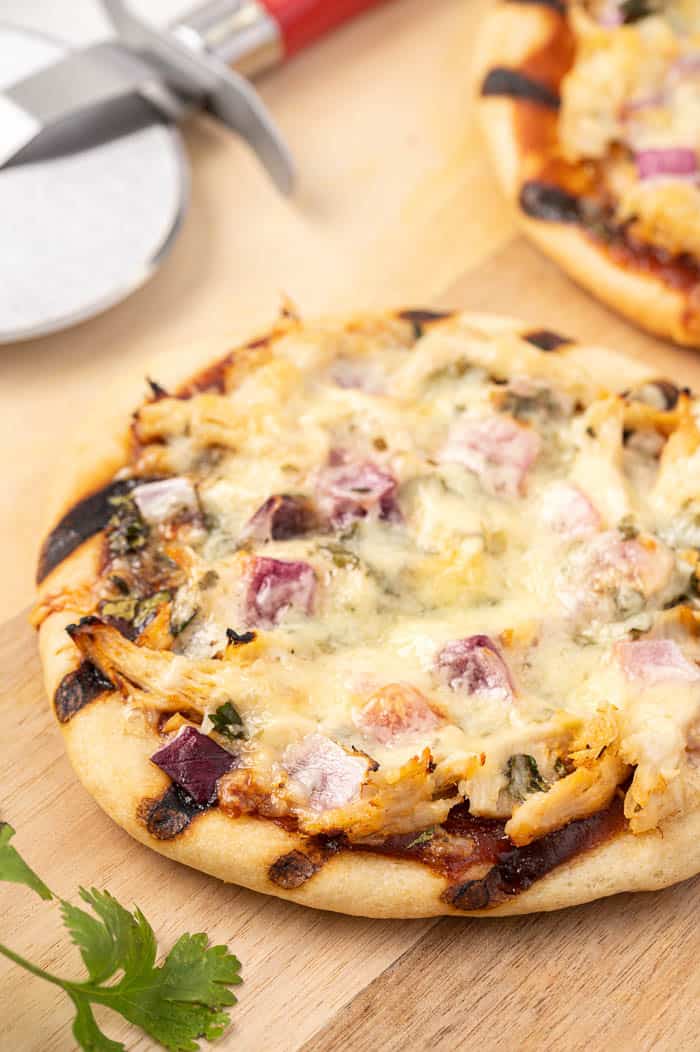 This grilled BBQ chicken pizza will be your new favorite homemade pizza recipe in no time! This recipe is sponsored by Cabot Cheese, but my opinions are 100% my own.
Hi friends!. We are taking a break from baking recipes today and trying something savory; Grilled BBQ Chicken Pizza. A new but not new pizza recipe to share with you.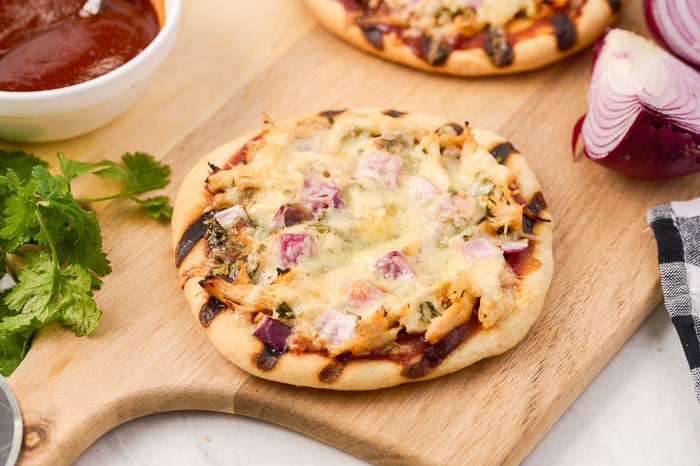 Like many, Friday night is pizza night in our home. Regardless of where we are or what our schedule is, we try to keep this tradition. And frankly, my 6-year-old won't let us forget. Every Friday morning at school drop-offs, he reminds us it's Friday night. One of our favorites is BBQ chicken pizza and I am surprised I've never shared this recipe on the blog as I've been making it for years. Apparently, just my summer Grilled Heirloom Tomato and Goat Cheese Pizza and this Breakfast Pizza are in the pizza archives. Well, we change that today! Once you try this grilled BBQ chicken pizza, I am sure you will be rotating it in your weekly pizza nights.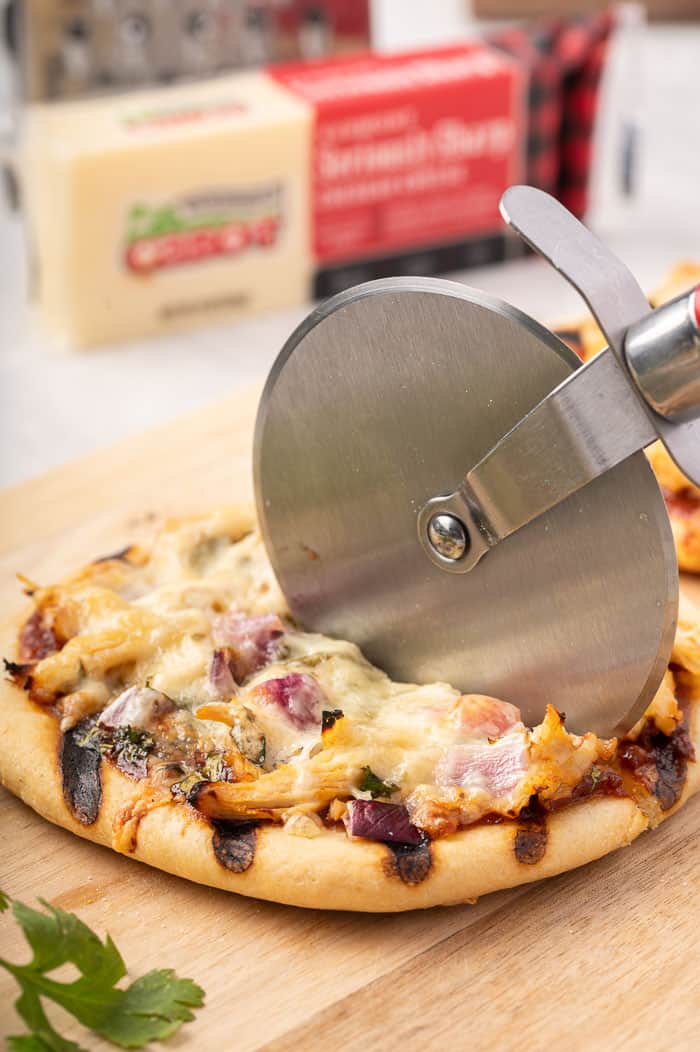 What are the highlights of this pizza? Or why is it one of our favorites?
To start, why grilled? Well, it is summer and we basically make use of the grill every day. And there's nothing like a char-grilled fresh pizza. The crust is perfect and light.
Second, there is cheese. What is pizza without cheese right? All great pizzas start and end with good cheese. I used my favorite Cabot Cheese for this recipe of course.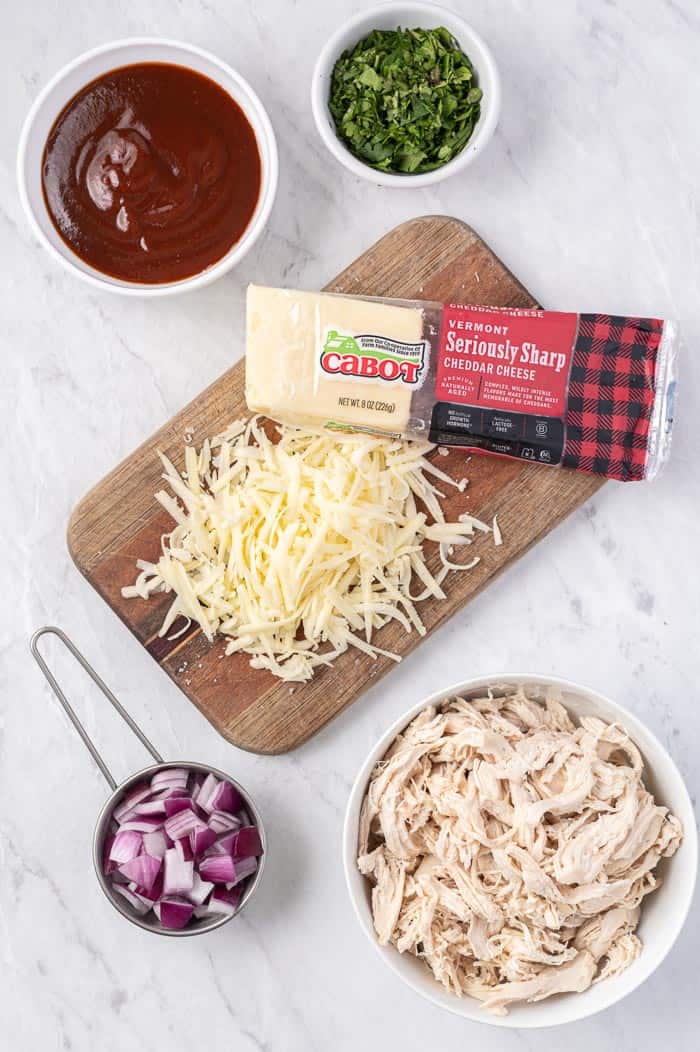 If you are new here, please check out this chili oil cheddar pull-apart bread or savory cheddar bread to hear my love for Cabot Cheese. We go way back even before I started blogging and it is a staple in our home. What's even more incredible (in my opinion!) is that Cabot is a co-operative of dairy farm families — and a B Corp — creating award-winning cheese and dairy products. Grab a Cabot product next time you are out grocery shopping. You will thank me later!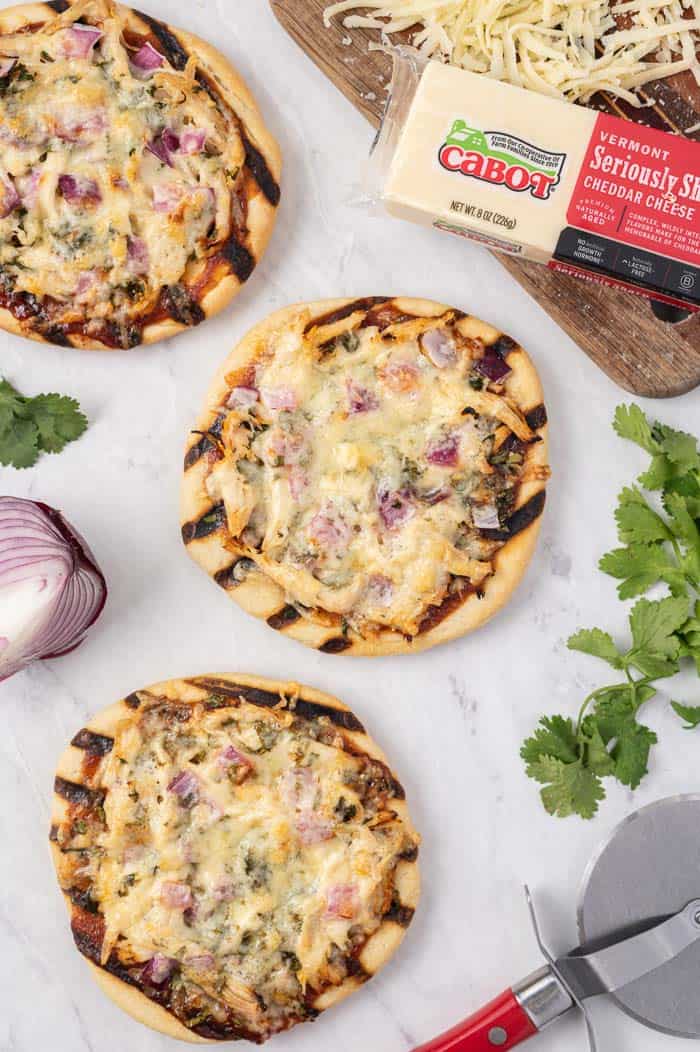 Back to the recipe! This pizza recipe will create 8 personal-sized pizzas. This is always my go-to since everyone seems to like them cooked or topped a little differently. And my kids don't have to fight over something.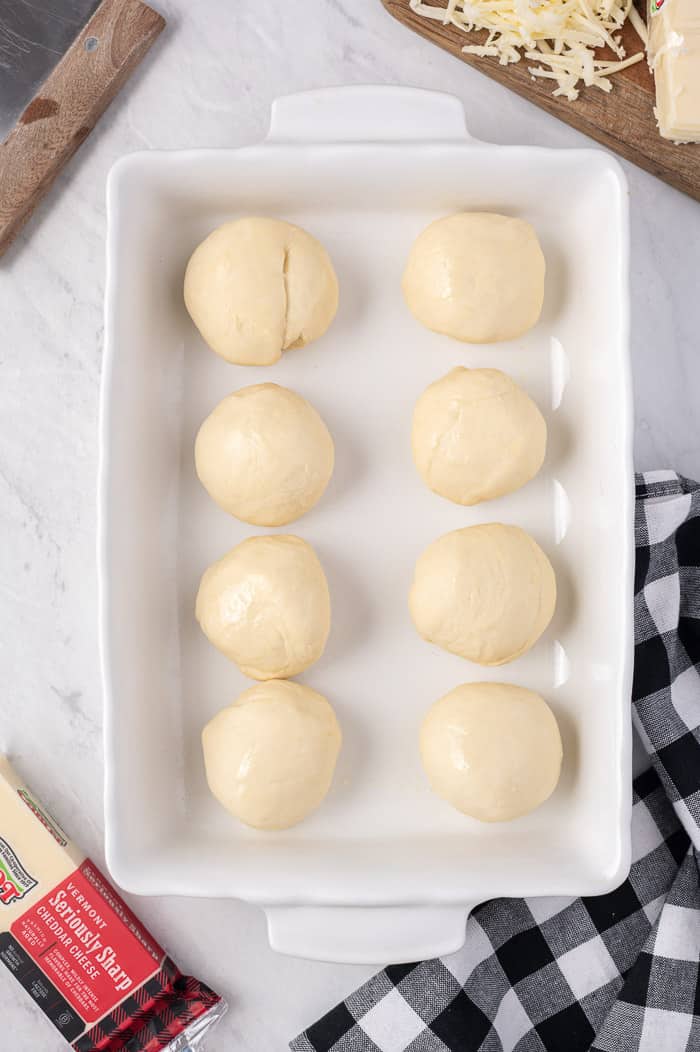 If you however would prefer one large pizza, please do so. The recipe works the same.
One thing to note in the recipe is that I gave you some options. If you will be making the pizza dough the same day then make sure to use two teaspoons of yeast so your dough is just as fluffy as if it was premade. If you decide to make the dough ahead of time then you can use 1 teaspoon of yeast to allow it to rise in the fridge overnight. The yeast is crucial to ensuring that your pizza dough holds up to all the amazing ingredients we will be topping it with.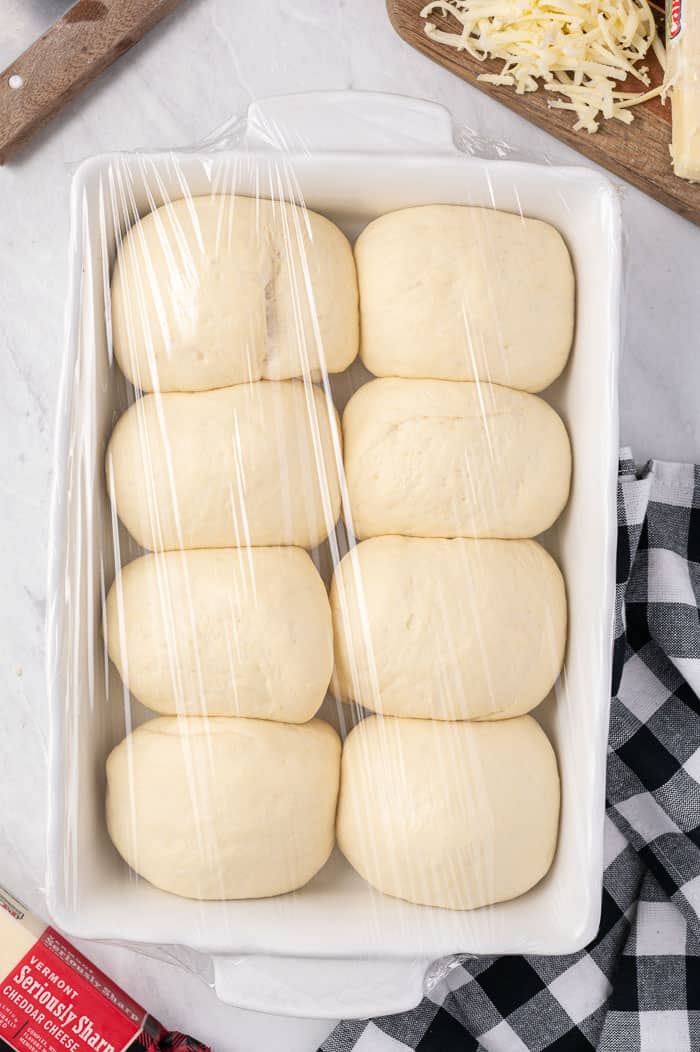 Another note is that you will be adding the dough directly onto the grill and then slathering it with your favorite tangy BBQ sauce. My personal favorite is a sweet BBQ sauce but this is where you can get creative with your personal preference. I've also tried smokey and spicy sauces as well and the end result was just as delicious. Anyone else collects BBQ sauce when they travel? No, just me?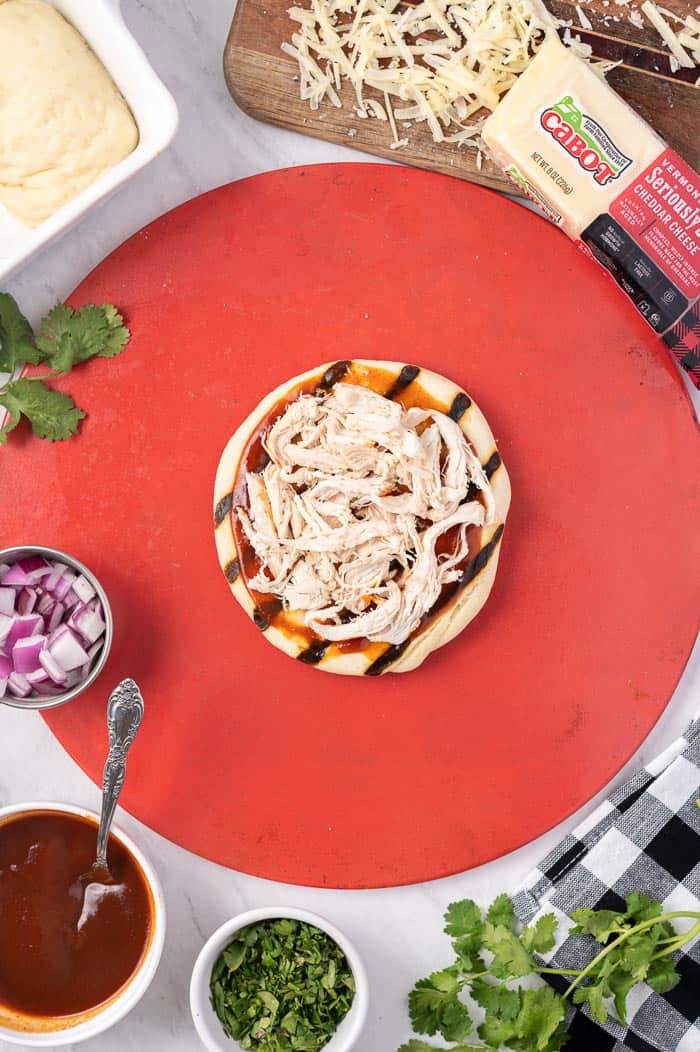 The chicken you will cook ahead of time so either pre-cooked chicken from the grocery store if you are short on time or grill some prior to making the pizza. You can even slow cook a breast or two for that easy pull-apart chicken. Again options!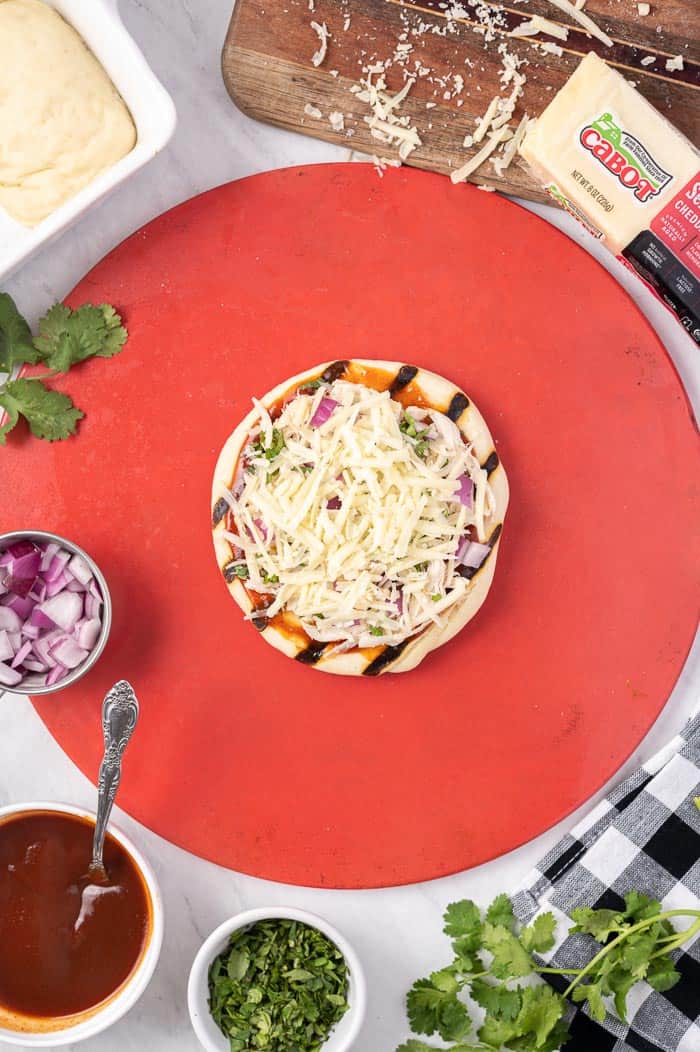 Finally, the pizza is topped with lots of cheese. I like mixing Cabot Seriously Sharp Cheddar with their shredded mozzarella as well. The combination you use is up to you. Just be generous with the cheese topping.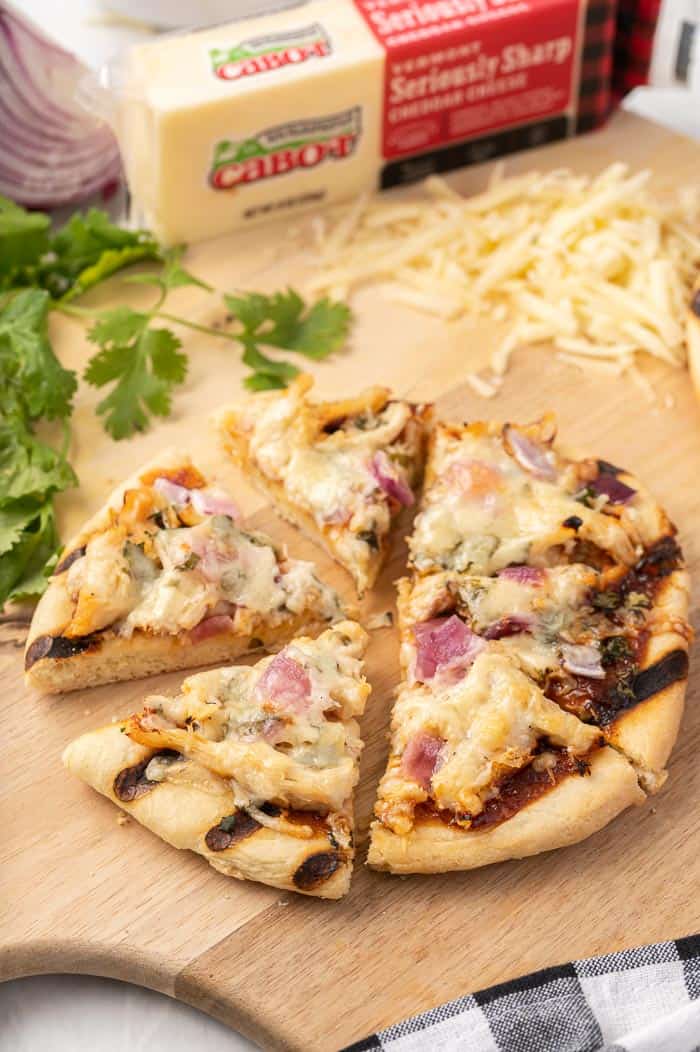 This Grilled BBQ Chicken Pizza is super easy and you won't hear "no" from your toughest critics. Let me know in the comment section below what you add to make yours unique. As always, if you share across social media make sure to tag #aclassictwist so I can see your beautiful creation. Have a wonderful day.
For more recipes using Cabot Cheese, be sure to check out their website and follow them on Instagram, Pinterest, and Facebook.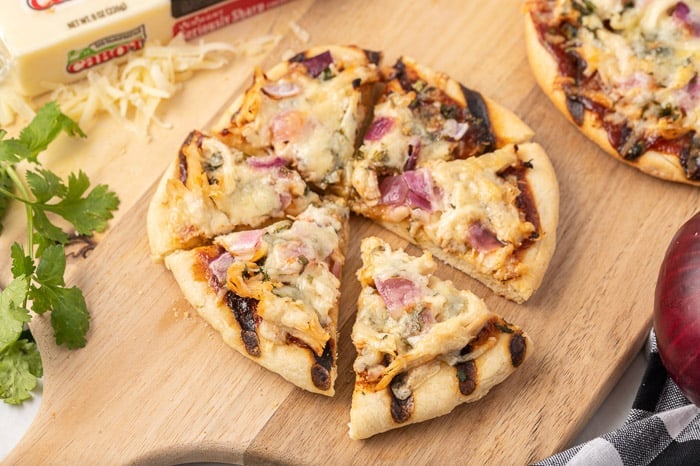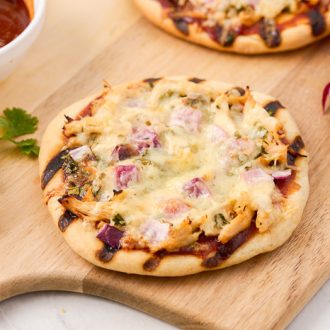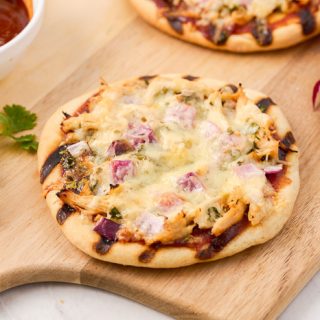 Yield: 8 individual pizzas
Grilled Barbecue Chicken Pizza
Ingredients
FOR PIZZA DOUGH:
1 2/3 cups water
1 to 2 teaspoons active dry or instant yeast (see directions)
¼ cup olive oil
5 cups all-purpose flour
2 teaspoons salt
FOR TOPPINGS:
1 cup spicy barbecue sauce (or your favorite), warmed up
2 cups shredded cooked chicken
½ cup chopped red onion
1/3 cup chopped fresh cilantro
2 cups shredded Cabot Seriously Sharp Cheddar Cheese (use any of their shredded cheese you can find or the block)
Instructions
TO MAKE PIZZA DOUGH:
Note: If making pizza the same day, use 2 teaspoons of yeast. If letting the dough rise overnight in the refrigerator, use 1 teaspoon yeast.
In the bowl of a stand mixer, combine the water and yeast together. Let sit for 2-3 minutes until yeast dissolves. Stir the oil into the yeast mixture and then add in the flour and salt. Using a spatula mix until the dough starts to form.
Knead the dough on low speed with the dough hook for 5-7 minutes or knead by hand on a lightly floured counter for 6 to 8 minutes. The dough should be smooth.
Divide dough into 8 balls. Place dough balls onto a lightly greased baking pan and turn them over so they are lightly coated with oil. Cover the baking pan with plastic wrap or a damp kitchen towel.
For same-day use, let the dough rise for about an hour to an hour and a half, or until doubled in size.
To use the dough the next day, place the baking pan directly in the refrigerator and let rise slowly overnight or up to 24 hours. Before making the pizza, remove the dough from the fridge and let sit at room temperature for at least an hour.
TO GRILL PIZZA:
Preheat your gas grill with all burners for 15 minutes. Once heated, the lower half of the burners create an area of indirect and direct heat.
While the grill heats up, prepare the toppings.
Working with one dough ball at a time, pull and stretch a dough ball into a round. Use your hands or fists to continue stretching into a thin round. Alternatively, roll out dough on a lightly greased surface into a thin round.
Place the shaped dough onto the grill over the direct heat area. Cover and let cook for 2-3 minutes or until the bottom is just cooked. Flip the pizza over and transfer to the indirect heat section of the grill.
Spread the pizza with barbecue sauce and top with some chicken, red onion, and cilantro. Top with a healthy sprinkle of cheese.
Close the grill and cook until the toppings are warmed through and the cheese starts to melt, another 2-3 minutes depending on your grill.
Remove finished pizza from heat and cut it into slices.
Repeat with the remaining balls of dough. You will make 8 small pizzas.
Enjoy!