Chili Oil Cheddar Pull Apart Bread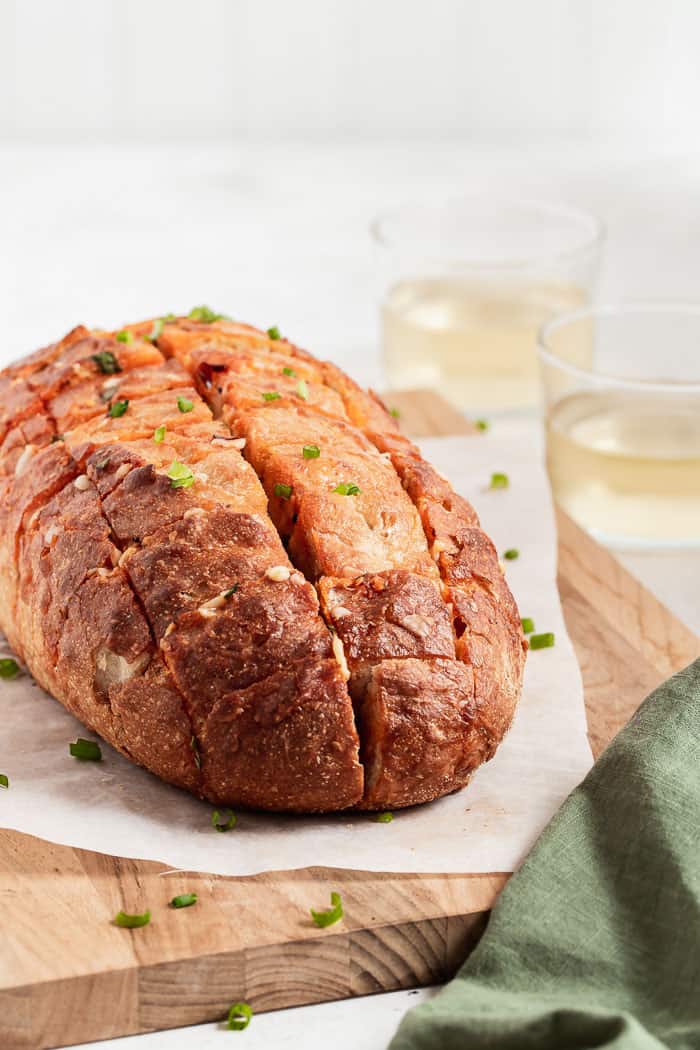 This recipe is sponsored by Cabot Cheese. All opinions are 100% my own.
Hi friends! I have a lot of exciting summer recipes coming up starting with this easy Chili Oil Cheddar Pull-Apart Bread that is going to be a staple on your entertaining table this season.
Think warm bread, cheese, garlic, and spicy chili oil. Yup, it is as amazing as it sounds.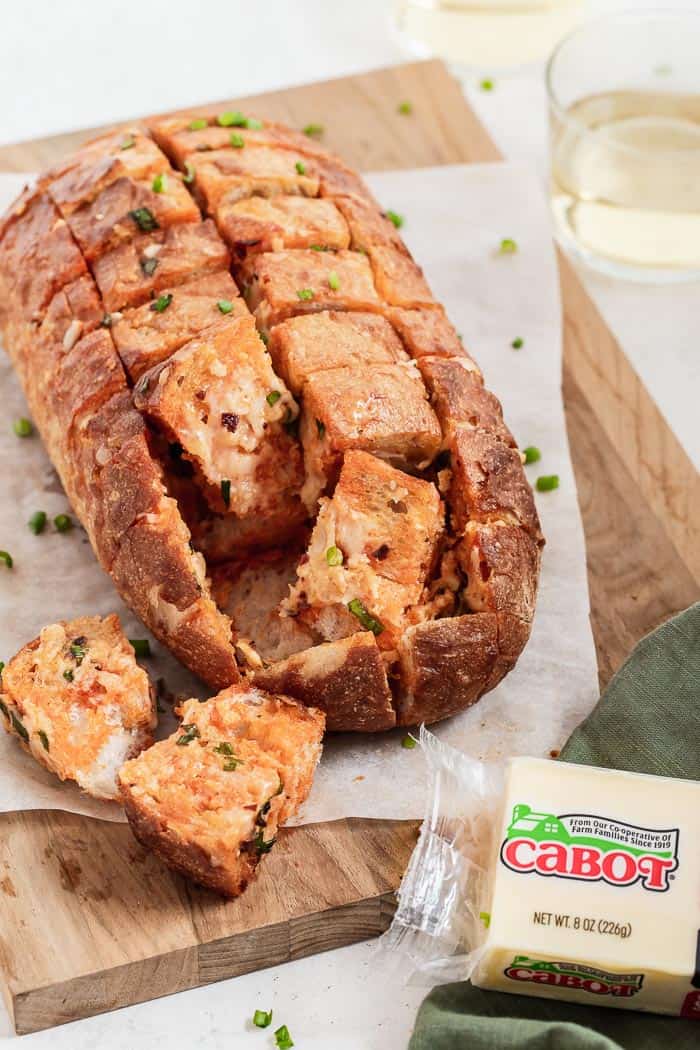 I had a lot of trial and error with this recipe including using homemade bread or diced versus sliced. This recipe works for either homemade bread or store-bought. It also works if you cube up the bread or if you slice it. The best decision though of the trial was adding the Chili Oil. I started off first with garlic and cheddar cheese and it was a great combo. But the bread was missing something. A kick or zing. That's where the chili oil came in. The West African in me loves SPICY so it was a no-brainer once I tried the experiment.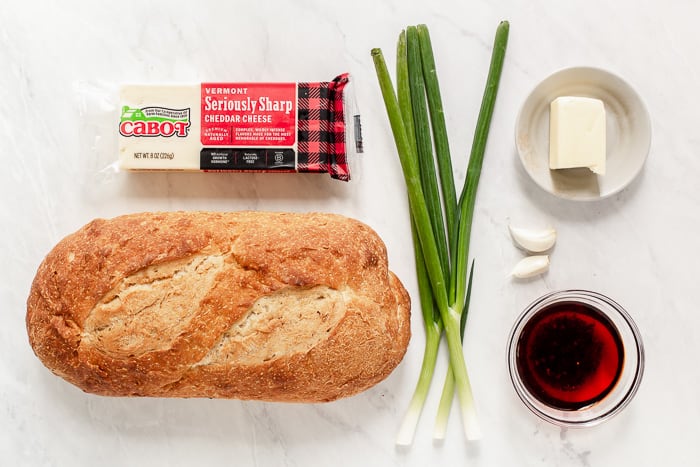 Chili oil is basically a flavorful vegetable oil that has been infused with different types of chili peppers. You can either create your own Chili oil at home or buy it premade. I always have some in my fridge because it's one of my favorite things but there are premade brands you could try. Making my own at home also helps me adjust the spicy level.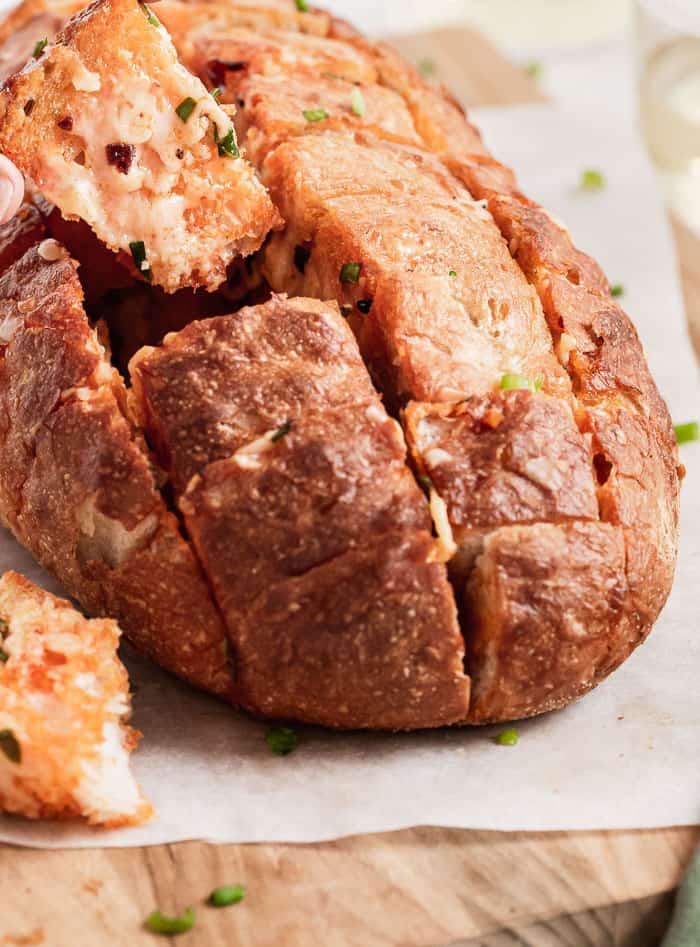 By now, you know that Cabot Cheese is a favorite of mine and their Seriously Sharp Cheddar Cheese is my go-to cheddar cheese and I use it in almost all recipes that call for cheese. (Hello epic cheddar twist bread and cheddar beer bread!!). I like the sharpness of their aged cheddar and how it melts perfectly with any dish. The combination of sharp cheddar cheese with the slight heat from the oil complements each other in a way surprisingly good way in this pull-apart bread. Cheese and bread have been a match made in heaven forever, I just upped the anty with the oil. Adding my Classic Twist :-).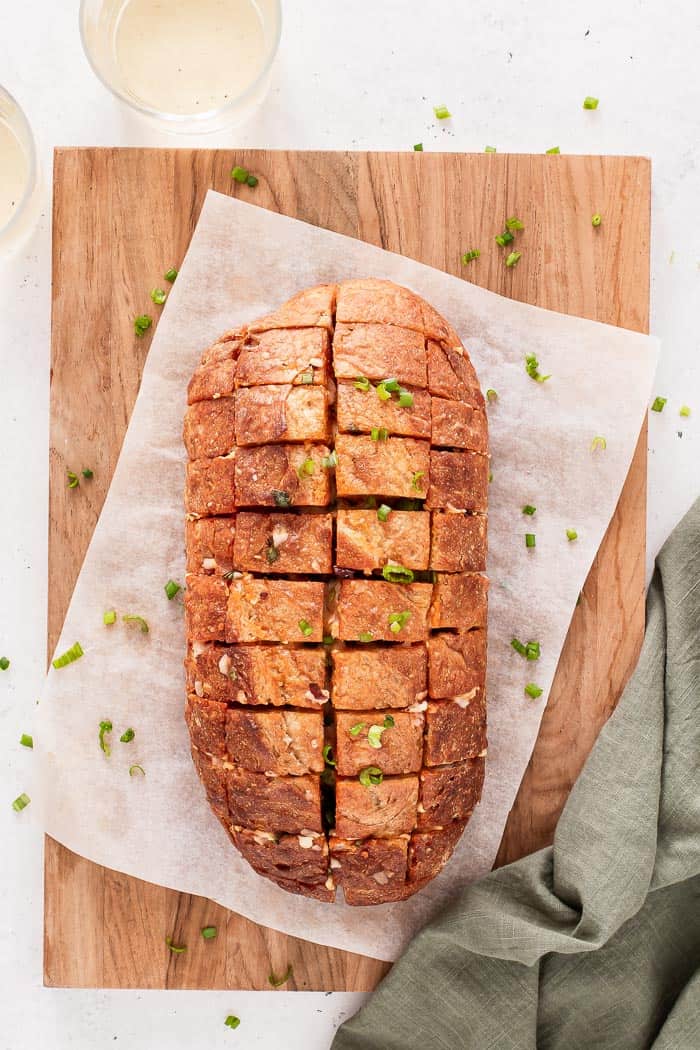 You can serve this Chili Oil Cheddar Pull-Apart Bread with a side salad or pair it with a spicy dinner recipe. A hearty soup or chili on a cold day works perfectly with this recipe as well. Even enjoy alone with a slab of melted butter and an adult beverage you need after a long hard day adulting. We all have those days right or is it just me? Where I need a carb overload and a glass of wine to end a chaotic day of work and being in charge of two little munchkins.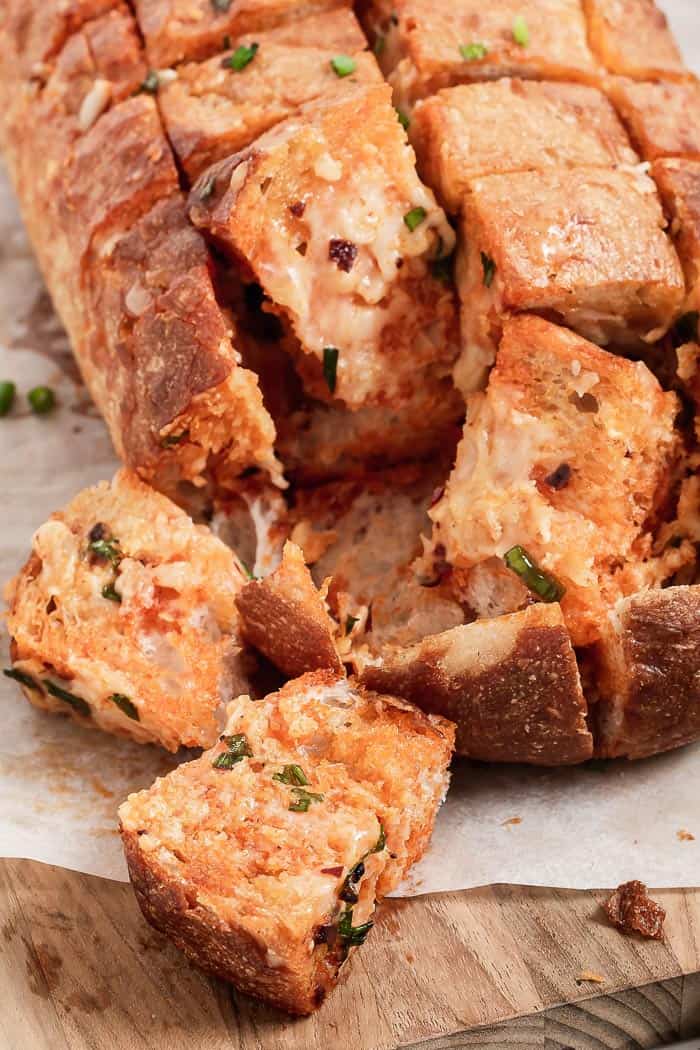 What are you pairing this bread with? I would love to hear about it in the comment section below. Happy Baking!
Cabot is a co-operative owned by farm families throughout New England & New York and 100% of profits go back to the farmers. For more recipes inspired by Cabot cheese, check out their website, Instagram or Facebook.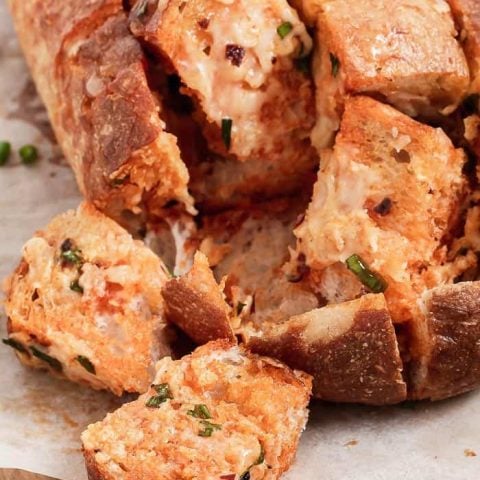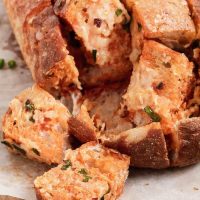 Chili Oil Cheddar Pull Apart Bread
Ingredients
1 large loaf of your choice (sourdough bread)
2 cups shredded Cabot Sharp Cheddar Cheese
2 garlic cloves, minced
2 -3 scallions, minced
¼ cup chili oil (use any of your favorites)
¼ unsalted butter, melted
Instructions
Preheat the oven to 350 degrees F. Line a baking sheet with foil.
Slice your loaf into cubes. I like to do horizontally and vertically. Do not cut the bread all the way through so that the bread cubes are attacked to the intact bottom.
In a small bowl combine the cheese, garlic, scallions, and chili oil. Stuff the mixture into the bread. Get in between all the slices. Be patient, you will reap the benefits once this cheesy goodness melts.
Pour the melted butter over the loaf. Transfer the bread to the prepared pan. Use the foil to wrap the bread tightly in the foil.
Bake the loaf for about 20 minutes. Uncover and bake for an additional 10 minutes so the cheese is melted. I like mine being crusty on top so it is nice and crunchy.
Serve immediately and enjoy!