Coconut Blueberry Layer Cake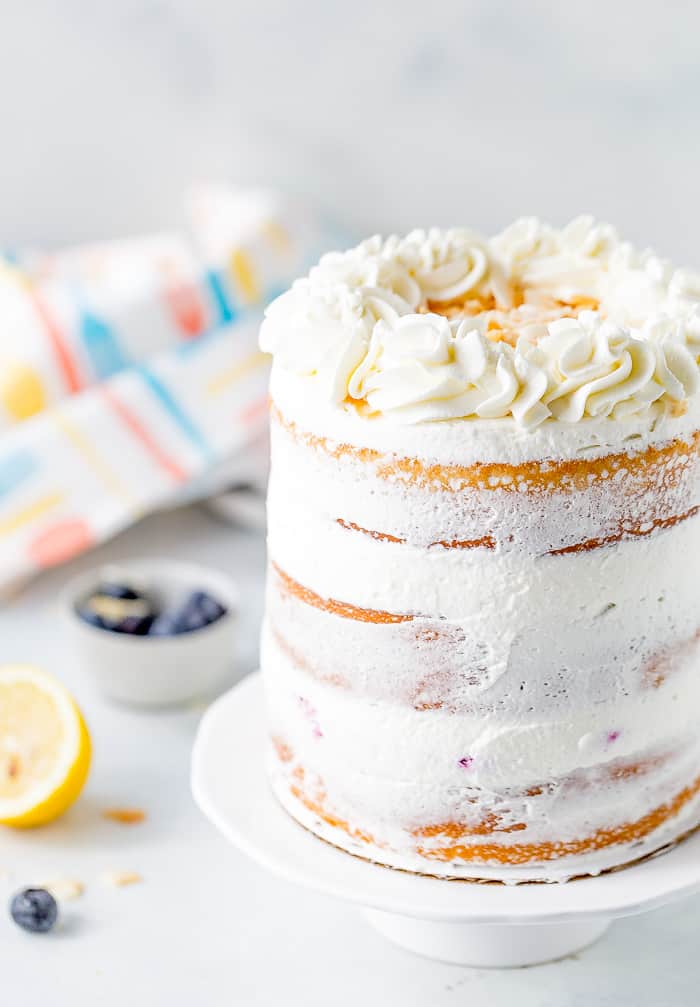 Hi friends! I have a delicious coconut blueberry layer cake perfect for spring or summer entertaining to share with you today.
You all love this lemon blueberry cake from a few years ago and it keeps being one of the top recipes on this site you make. It inspired me to recreate it but this time make it with one of my favorite summer flavors. Coconut. Coconut and blueberry are amazing together and it was about time we had that happen in a cake form. These mini Coconut Blueberry cupcakes prove it! Or this coconut blueberry ice cream pie. But nothing beats a layer cake with bold flavors.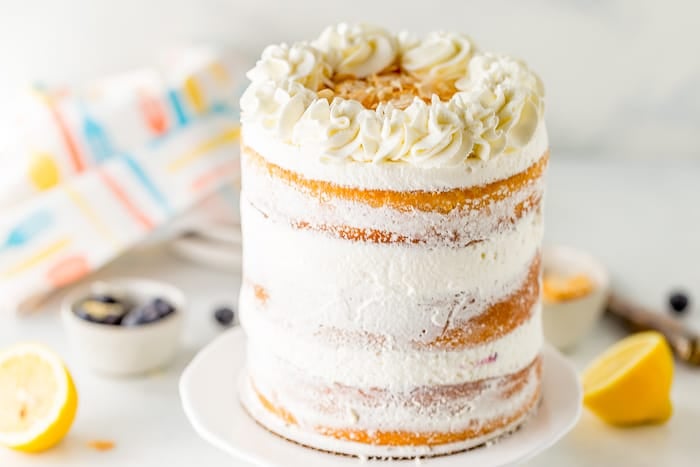 Oh, do layer cakes make me so happy? Have you ever made a cake that is almost too pretty to eat? Well, this is one of those cakes that are not just delicious but so pretty on your table. With Mother's Day right around the corner, it would be perfect to serve for brunch. Or even for breakfast. It's all about treating yourself right? It honestly doesn't need to be a special occasion for cake. As Kate Spade said, "Eat cake for breakfast." I couldn't agree more!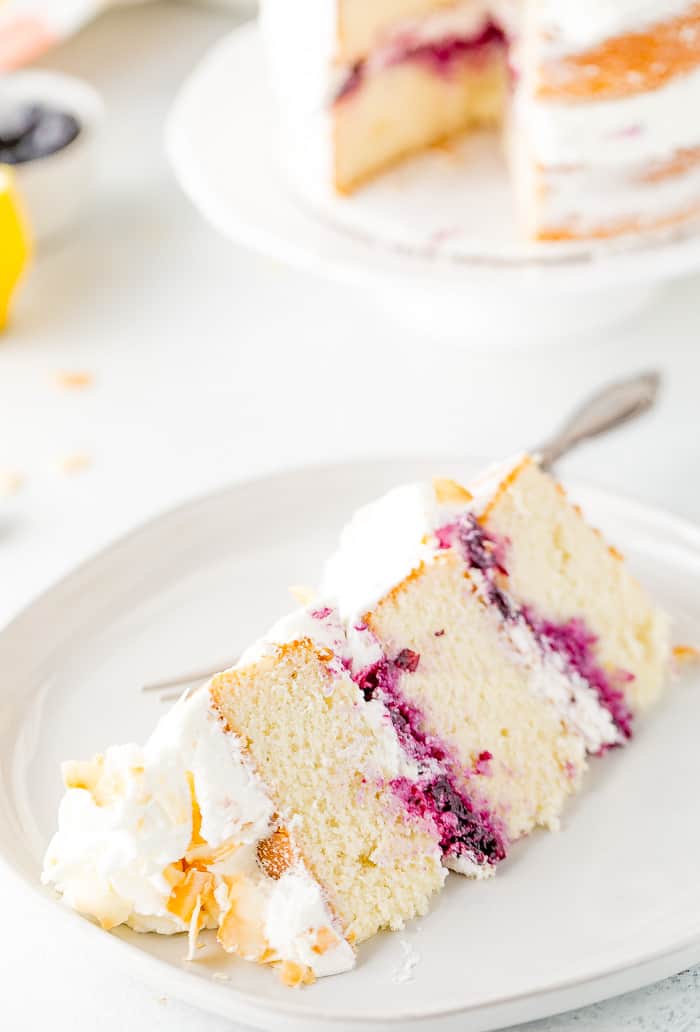 This cake is bursting with fresh spring flavor and is a great way to celebrate the weekend. Layers of light and fluffy, moist, and tender coconut cake swirled with a sweet blueberry compote. Each layer is generously frosted with the most delicious whipped coconut frosting. What's not to love? I'm craving another slice just sharing this recipe with you.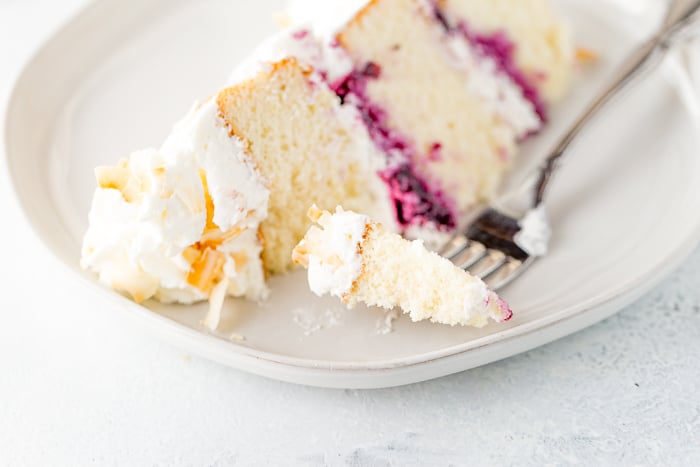 It's the perfect blueberry-filled layer cake for any warm-weather occasion. Even if you don't want to bake on Mother's Day it's perfect for any occasion and is delicious served at brunch or as an after-dinner treat. Best part? It's easier than you think! While it might seem like a lot of steps to bring the decedent layers together, it's so simple. Plus, this Coconut Blueberry Layer Cake is just so pretty. It looks like you picked it up from your local bakery. It is sure to be the star of your next soirée.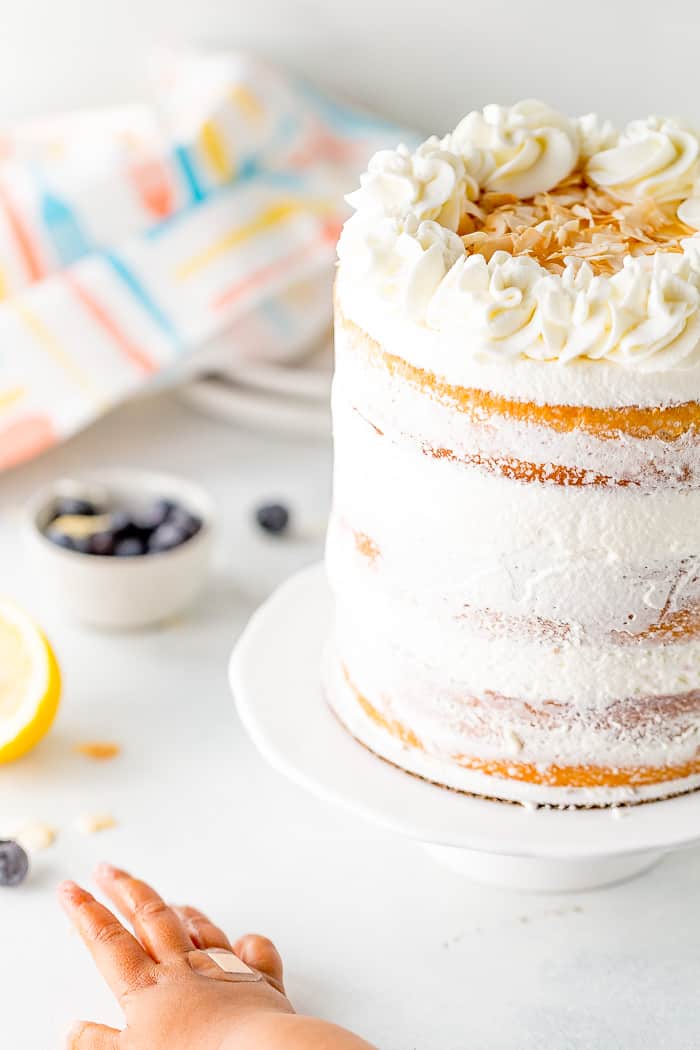 I love naked cakes. They are simple, rustic, and perfect for every baking level. I kept the design simple with just frosting but if you want you can even add on a few edible flowers or even fresh flowers but it's not needed. I was going to top mine with fresh blueberries but tiny toddler hands wanted to eat those so it didn't end up happening 🙂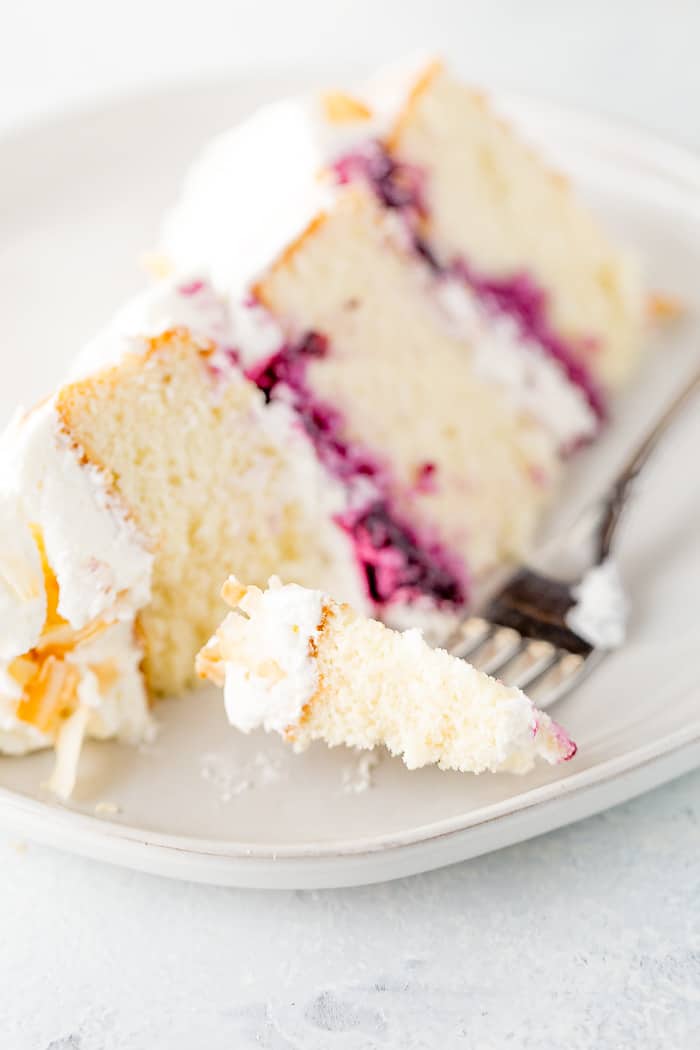 I can't wait for you to try this delicious cake and tell me what you think. It's just so good! Come back and leave me a comment once you've tried it. You won't regret baking it.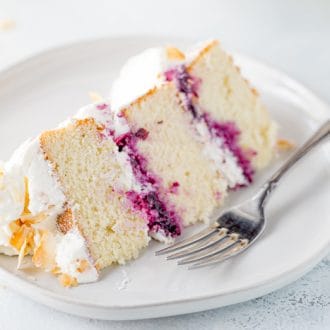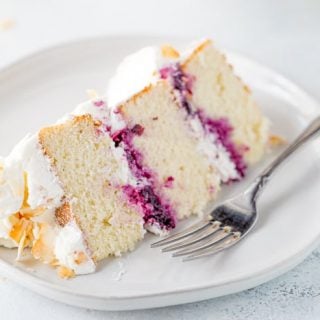 Yield: 1 6-inch layer cake
Coconut Blueberry Layered Cake
This coconut blueberry lemon cake starts with a moist, tender coconut cake filled with a sweet blueberry compote and lightly whipped coconut frosting perfect for spring or summer entertaining. 
Prep Time
1 hour
30 minutes
Total Time
1 hour
55 minutes
Ingredients
For the Cake:
1 cup full-fat coconut milk, room temperature
1 whole egg, room temperature
4 large egg whites, room temperature
2 teaspoons pure vanilla extract
2 ½ cups cake flour, sifted
1 ½ cups granulated sugar
1 ¼ tablespoons baking powder
¾ teaspoon kosher salt
zest of 1 lemon
1 ½ sticks unsalted butter, at room temperature and cut into cubes
For Blueberry Compote:
1 cup fresh blueberries
1 tablespoon lemon juice
1/4 cup granulated sugar
For the Frosting:
1 cup heavy whipping cream, cold
1/2 cup confectioner's sugar
Instructions
For Cakes:
Preheat oven to 350 degrees F. Line three 6-inch cake pans with parchment paper. Grease parchment paper. (You can alternatively use two 8-inch round cake pans)
Whisk together a third cup of coconut milk, egg, egg whites, and vanilla extracts.
Sift the cake flour in the bowl of an electric mixer fitted with the paddle attachment (Or a medium bowl if using a hand mixer). Add in the sugar, baking powder, salt, and lemon zest to the sifted flour. Stir together at low speed for 1 minute, until combined.
Add the butter one piece at a time and blend at low speed for 1-2 minutes or until the flour mixture resembles wet sand. Then add the remaining coconut milk, and mix at low speed until moistened. Increase speed to medium and mix for 1½ minutes. Be careful not to over mix. Scrape the sides of the bowl as needed.
Add the egg/coconut milk/extract mixture in 3 separate batches mixing on medium speed after each addition until combined.
Divide the batter evenly into the prepared cake pans and bake in the center of the oven for 20-25 minutes or until a cake tester comes out clean when inserted in the center of a cake
Let cakes cool completely before frosting.
Blueberry Compote
Combine all the ingredients for the compote in a medium saucepan set over medium-low heat.
Cook until berries break down and juices start to thicken up. About 10-15 minutes, stirring occasionally.
Remove from heat and transfer berry mixture to a heat-safe bowl and let cool completely.
Whipped Coconut Frosting
Combine all the frosting ingredients and mix at low speed for 1 minute. Then increase speed to medium and whisk until soft peaks form. The frosting will be light and fluffy. Do not over-mix.
Assembly:
Place one layer of cake on a cake plate. Evenly spread about 1 cup of the frosting over the cake surface. Top with half of the blueberry compote. spread evenly.
Repeat with the other cake layers. Finally, place the last layer on top and frost the cake with the remaining frosting.
I topped mine with unsweetened coconut flakes. You can decorate as desired.
Recommended Products
As an Amazon Associate and member of other affiliate programs, I earn from qualifying purchases.