Lemon Blueberry Cake with Whipped Cream Cheese Frosting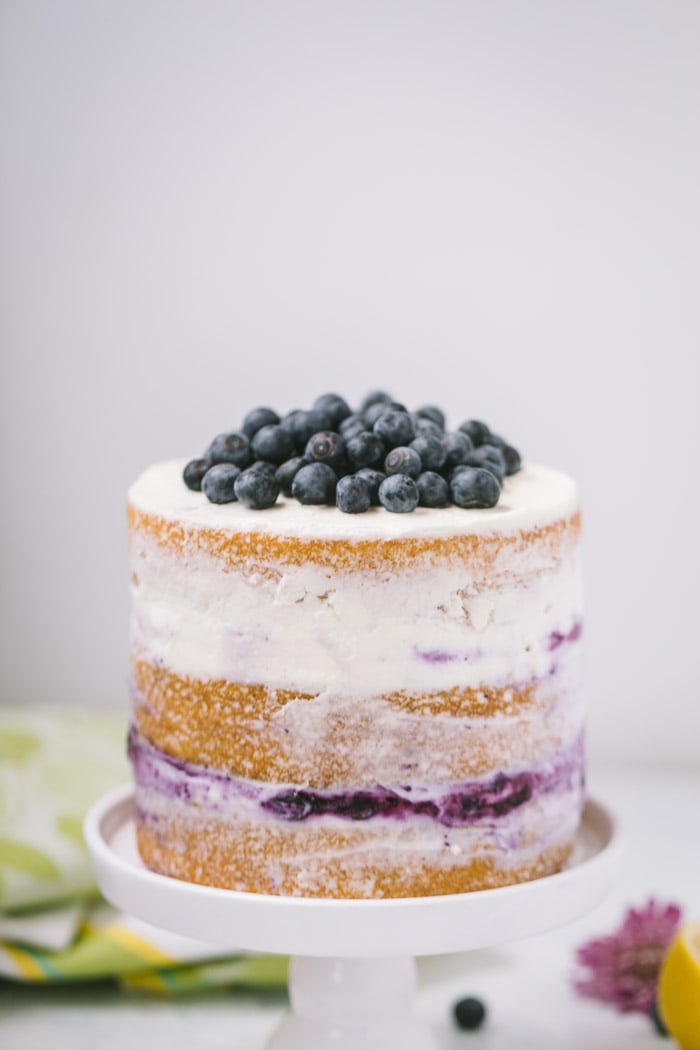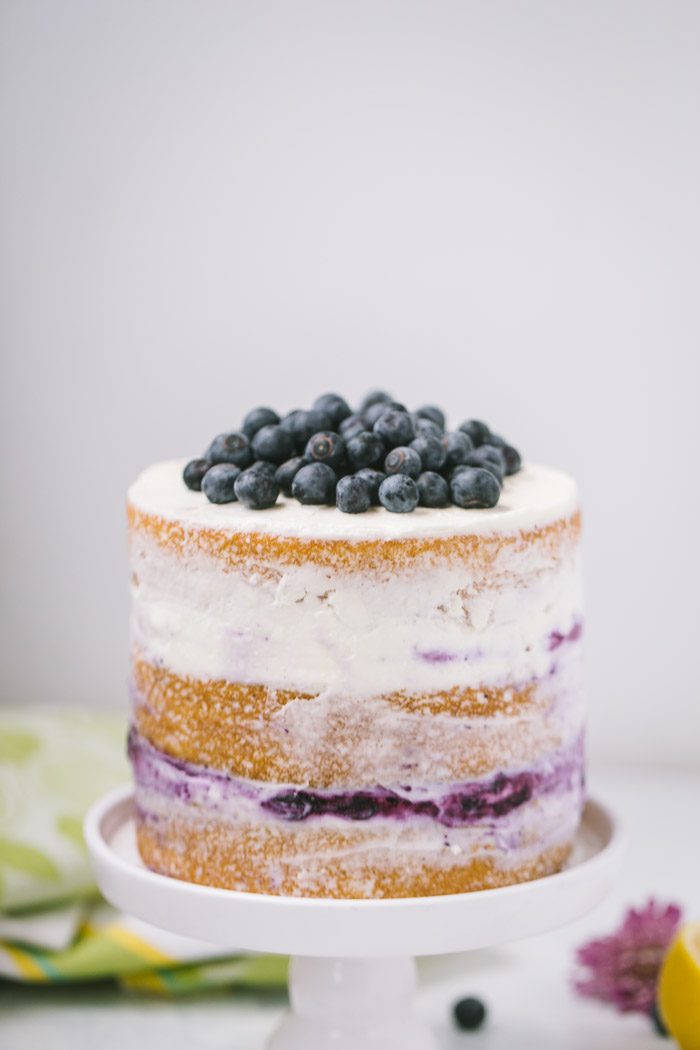 Now that it's the (un)official start of summer, I am celebrating with a layer cake filled with juicy berries. This lemon blueberry cake is filled with sweet blueberry filling and a whipped cream cheese frosting for an easy summer backyard dessert.
I am not going to lie, I love baking regardless of the season and heat. I bake pies, cheesecakes, and cakes all year round. Don't get me wrong, I love me some no-bake desserts but nothing beats a soft, moist and crumbly cake.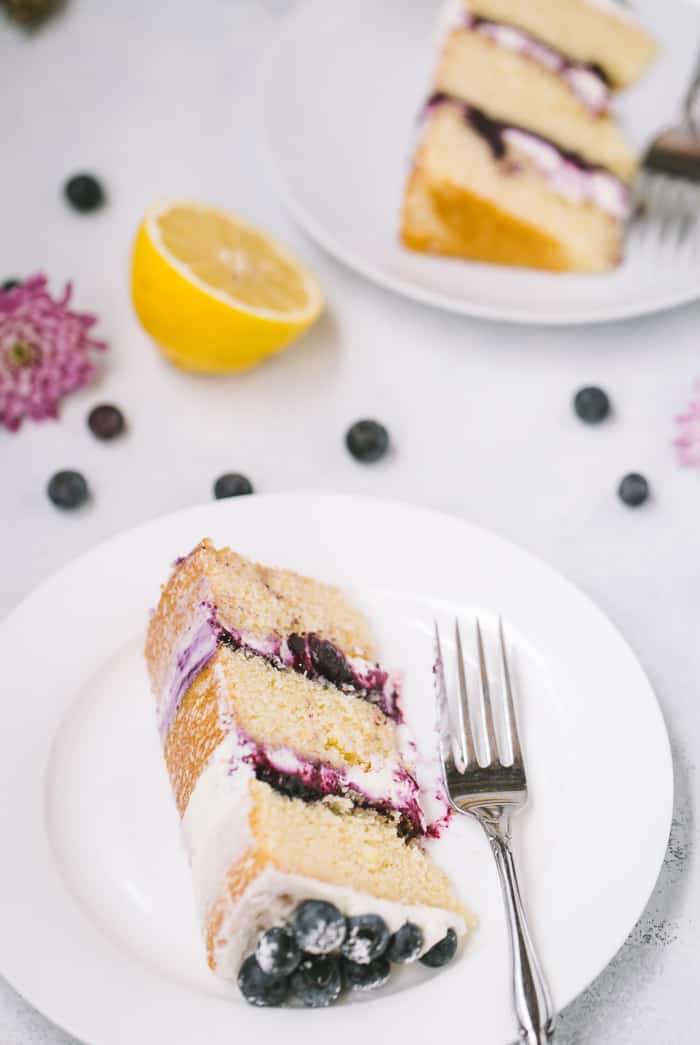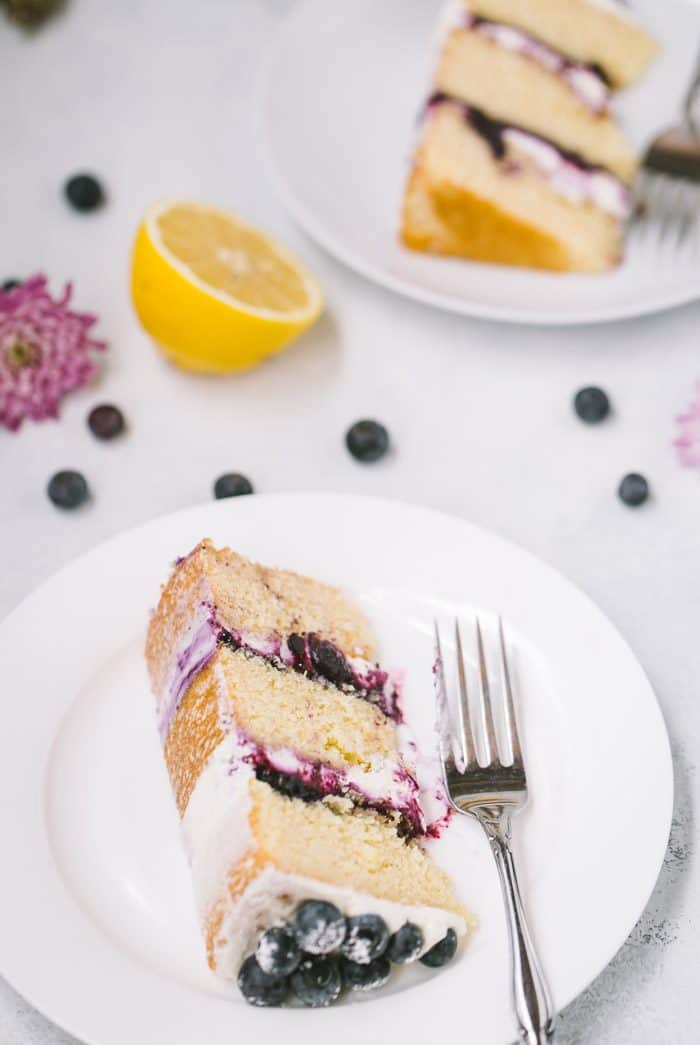 Since I was a lemon binge most of the spring (hello lemon creme brulee!), I decided to ease into summer with a sweet berry inspired cake and nothing goes well with berries than lemons. Lemons always bring out the flavors in juicy berries which makes them very compatible.
For this lemon blueberry cake, I started with my favorite lemon cake recipe which I filled with homemade blueberry lemon compote. I decided to frost the cake with cream cheese frosting as the tangy flavor would be a great addition to an already sweet and tart flavor combination. All the flavors blend together great in this cake.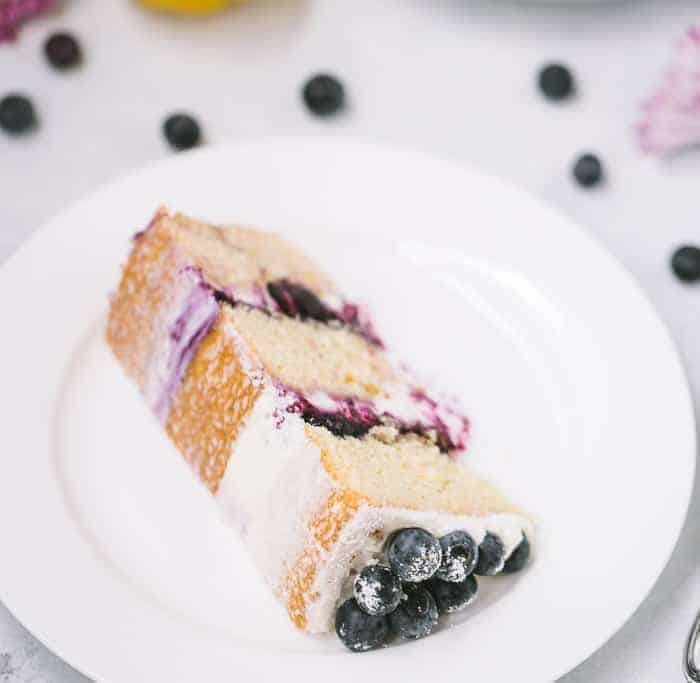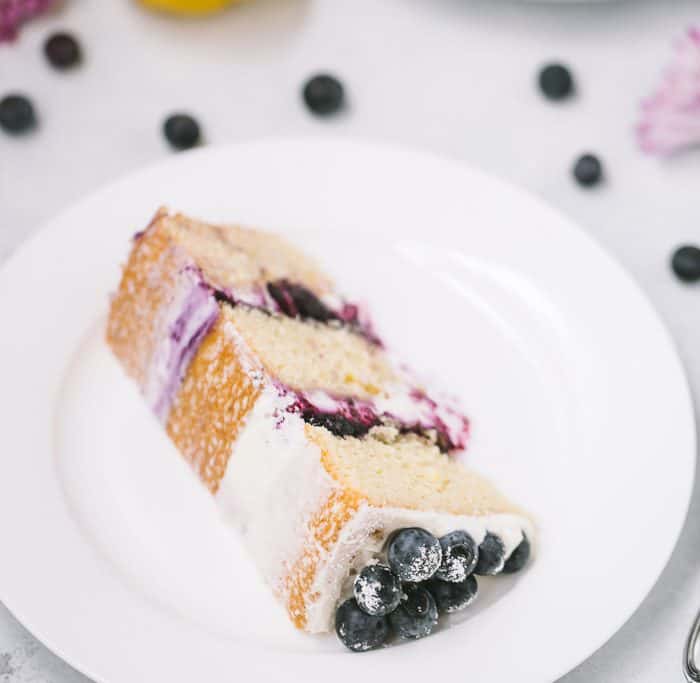 Feel free to decorate this summer cake any way you choose. I went with a naked cake topped with fresh blueberries and powdered sugar. You could top this with fresh flowers for a backyard barbecue or frost completely and pipe decorations for a more formal event. Either way, the cake will taste the same; an amazing soft lemon cake with sweet blueberries and tangy cream cheese in every bite.
I hope you are getting started with your summer!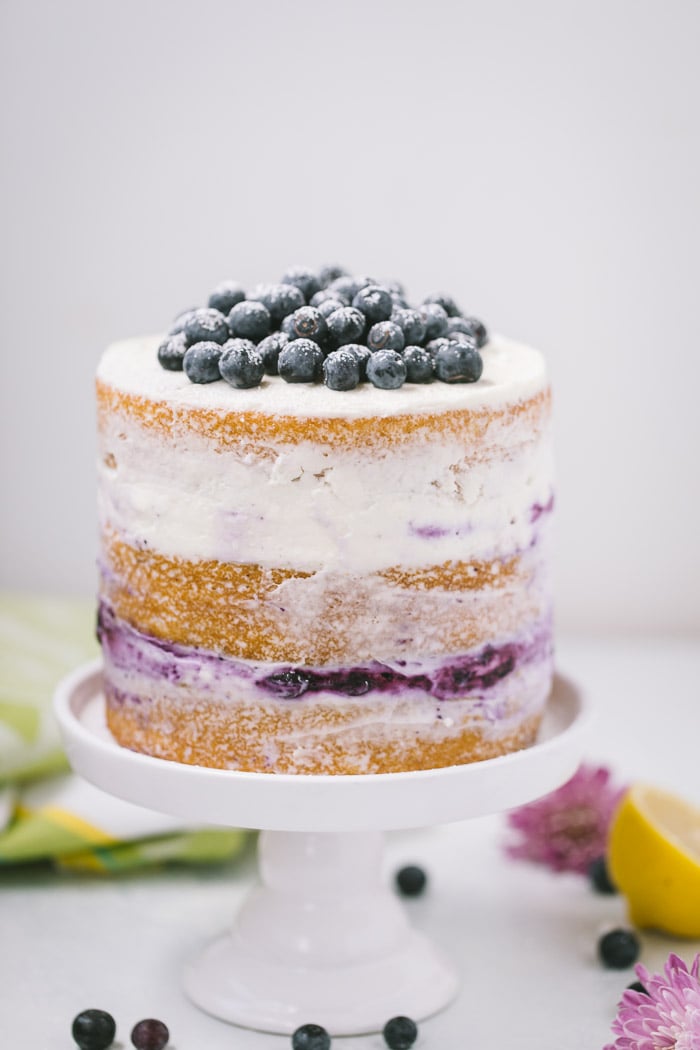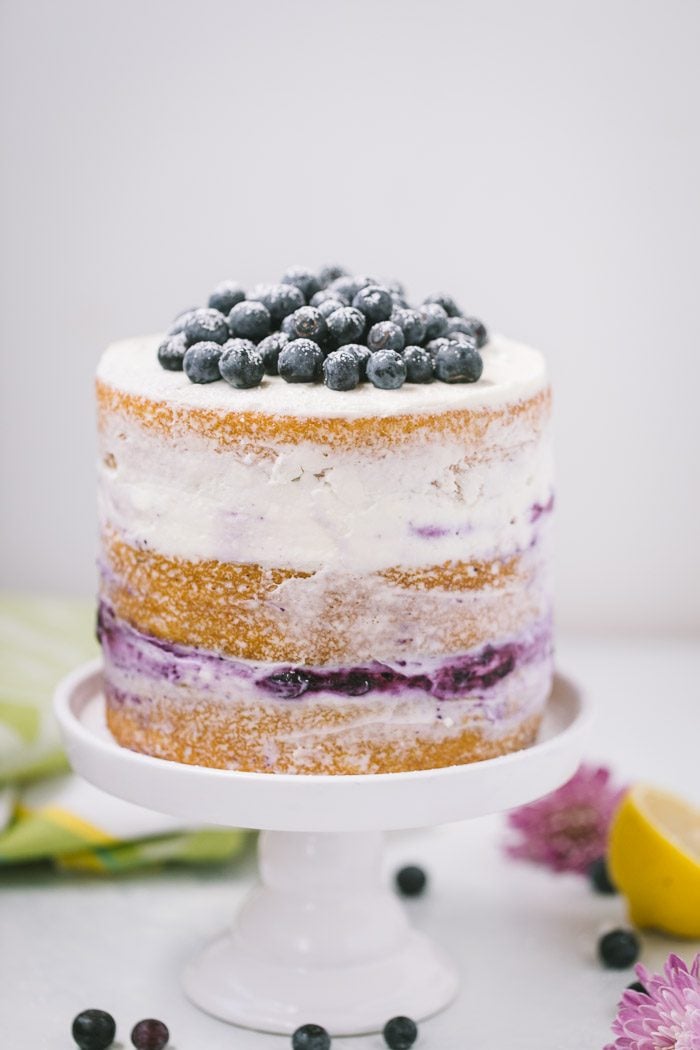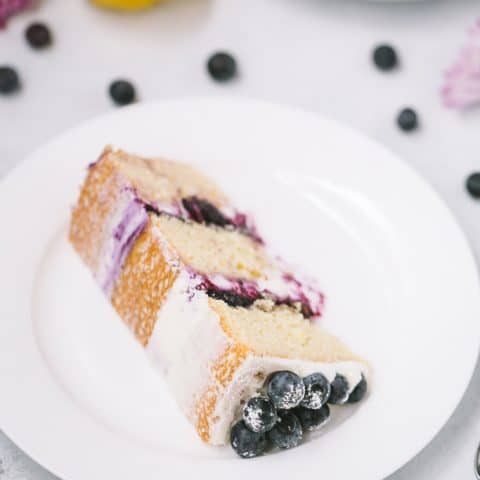 Yield: 1 6-inch layer cake
Lemon Blueberry Cake
This blueberry lemon cake starts with a moist, tender lemon cake filled with lemon zest and fresh lemon juices. The cake is then filled a sweet blueberry compote and lightly whipped cream cheese frosting perfect for spring or summer entertaining. 
Prep Time 1 hour 30 minutes
Cook Time 25 minutes
Total Time 1 hour 55 minutes
Ingredients
For the Cake:
1 cup whole milk, room temperature
1 whole egg, room temperature
4 large egg whites, room temperature
2 teaspoons pure vanilla extract
1 teaspoon lemon extract
2 ½ cups cake flour, sifted
1 ½ cups granulated sugar
1 ¼ tablespoons baking powder
¾ teaspoon kosher salt
zest of 1 lemon
1 ½ sticks unsalted butter, at room temperature and cut into cubes
For Blueberry Compote:
1 cup fresh blueberries
1 tablespoon lemon juice
1/4 cup granulated sugar
For the Frosting:
4 ounces cream cheese, softened at room temperature
2 cups heavy whipping cream, cold
1/2 cup confectioner's sugar
1 teaspoon lemon extract
Zest of one lemon
Instructions
For Cakes:
Preheat oven to 350 degrees F. Line three 6-inch cake pans with parchment paper. Grease parchment paper. (You can alternatively use two 8-inch round cake pans)
Whisk together a third cup of the milk, egg, egg whites, lemon, and vanilla extracts.
Sift the cake flour in the bowl of an electric mixer fitted with the paddle attachment (Or a medium bowl if using a hand mixer). Add in the sugar, baking powder, salt, and lemon zest to the sifted flour. Stir together at low speed for 1 minute, until combined.
Add the butter one piece at a time and blend at low speed for 1-2 minutes or until the flour mixture resembles wet sand. Then add the remaining milk, and mix on low speed until moistened. Increase speed to medium and mix for 1½ minute. Be careful not to over mix. Scrape the sides of the bowl as needed.
Add the egg/milk/extract mixture in 3 separate batches mixing on medium speed after each addition until combined.
Divide the batter evenly into the prepared cake pans and bake in the center of the oven for 20-25 minutes or until a cake tester comes out clean when inserted in the center of a cupcake.
Let cakes cool completely before frosting.
Blueberry Compote
Combine all the ingredients for the compote in a medium saucepan set over medium-low heat.
Cook until berries break down and juices start to thicken up. About 10-15 minutes, stirring occasionally.
Remove from heat and transfer berry mixture to a heat-safe bowl and let cool completely.
Lemon Whipped Cream Cheese Frosting
Whip cream cheese for 2-3 minutes on medium speed using the whisk attachment of an electric mixer until creamy.
Add the rest of the ingredients and mix on low speed for 1 minute. Then increase speed to medium and whisk until soft peaks form. The frosting will be light and fluffy. Do not over-mix.
Assembly:
Place one layer of cake on a cake plate. Evenly spread about 1 cup of the frosting over the cake surface. Top with half of the blueberry compote. spread evenly.
Repeat with the other cake layers. Finally place the last layer on top and frost the cake with the remaining frosting. You can decorate as desired.
Recommended Products
As an Amazon Associate and member of other affiliate programs, I earn from qualifying purchases.