Lemon Creme Brulee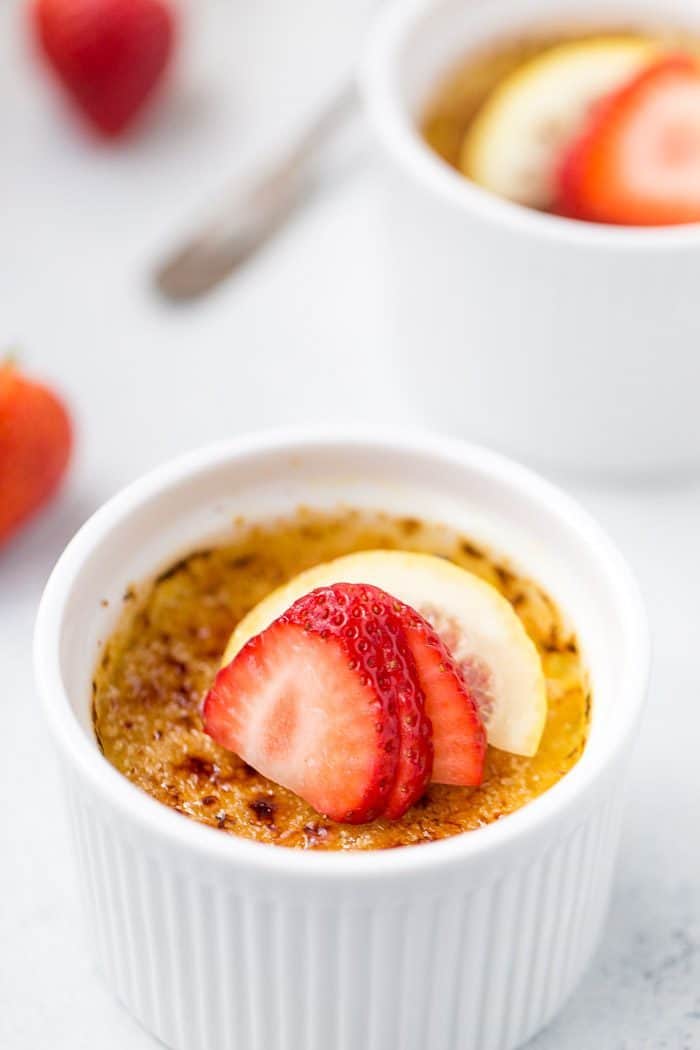 Hi friends!! I have another lemon recipe for you. I know I know, we've been on a lemon roll here the past few weeks starting with this lemon pudding cake and last week's blackberry lemon roll cake. But I can't help it! It's all so good and 'Tis the season for spring and lemon desserts. Today's is a special recipe that is perfect for your Mother's Day celebrations. This lemon creme brulee is begging for you to add it to your baking list. It's a sweet, silky and tart custard under a crunchy sugar topping.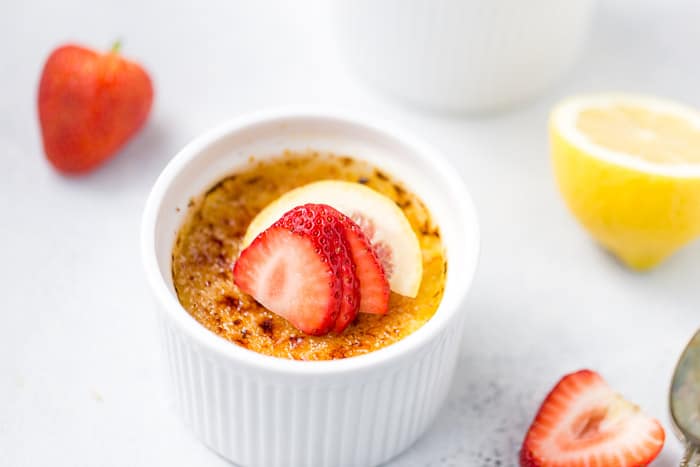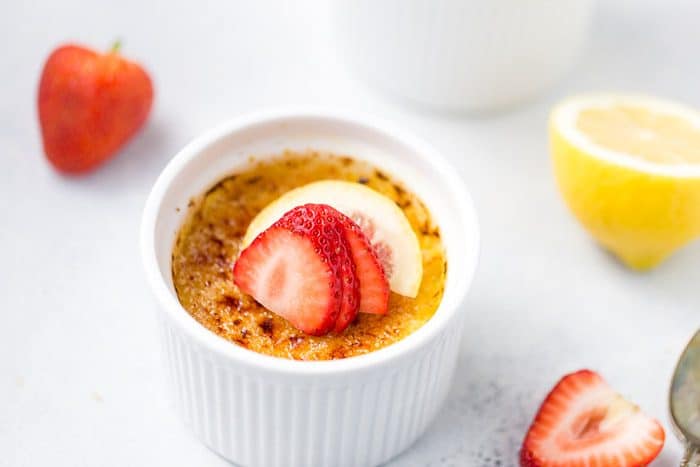 You do plan on spoiling the mother's in your life a little extra on Mother's Day right? They deserve it and would appreciate any expression of gratitude for all they do for you daily. Maybe a brunch for mom? I love these strawberry mascarpone crepes for a lazy brunch. I'd also add this lemon creme brulee to that menu because it is refreshing and sweet.
I love creme brulee and almost always order it when I see it on a dinner menu. My go-to recipe for homemade is this vanilla bean creme brulee I shared a few years ago with you. I use it as a base or starting point time and again because it is so reliable. And of course, it is reliable because it was passed down to me from my OBGYN's mother. A funny story you should read over here.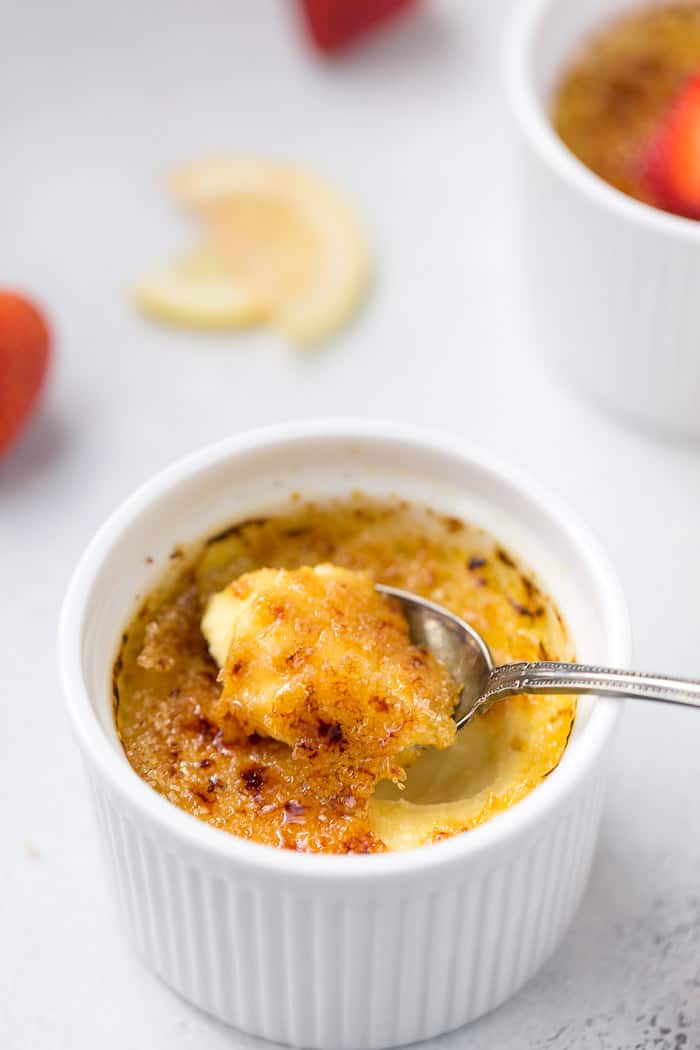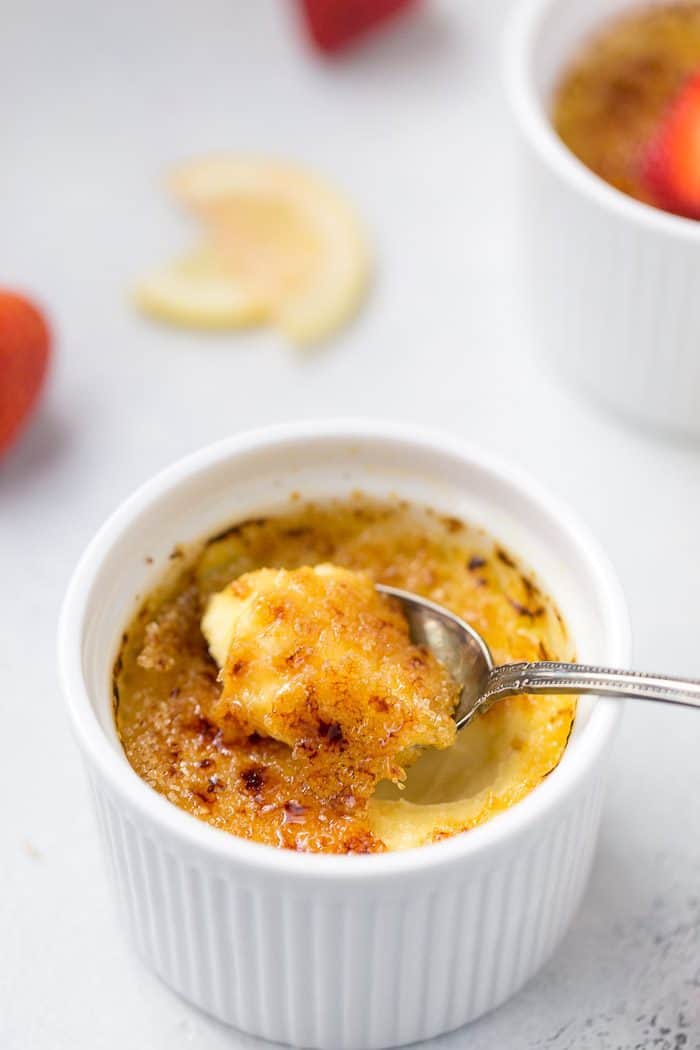 This lemon creme brulee starts with a silky vanilla bean custard that is infused with fresh lemon zest and lemon extract. It's bursting with that lip puckering lemon flavor we all love. This creme brulee is taken to the next level with a crunchy layer of caramelized lemon sugar over the top for the quintessential creme brulee creamy and crunchy finish. It's oh so good that I think you just need to try it yourself.
To all my mommy readers, I wish you a very Happy Mother's Day! I hope you are being spoiled by those you love today.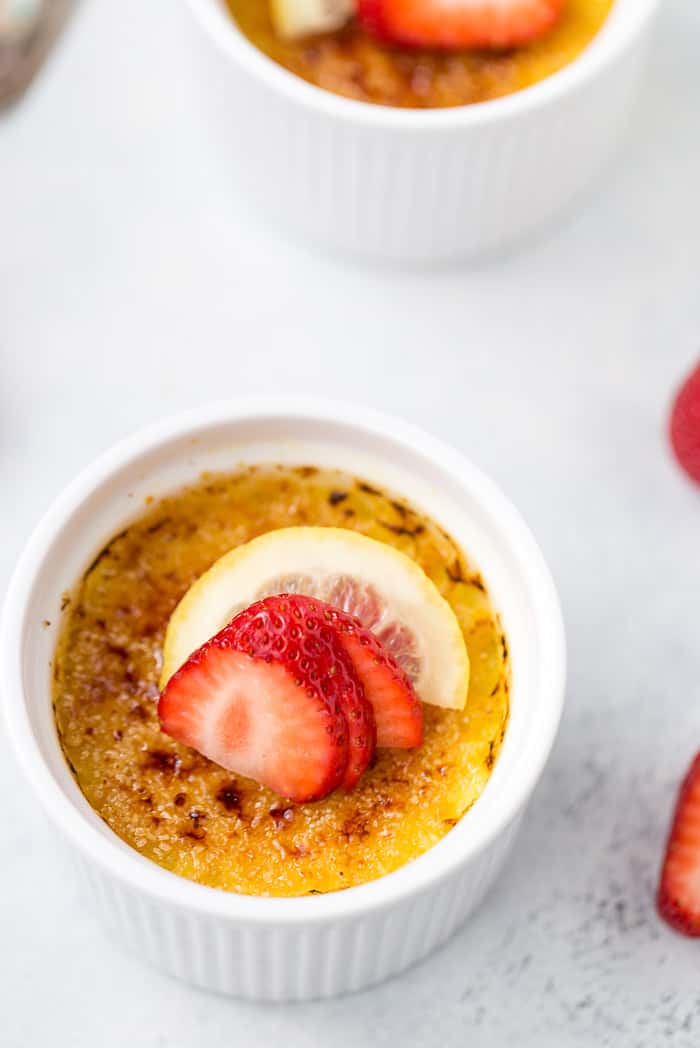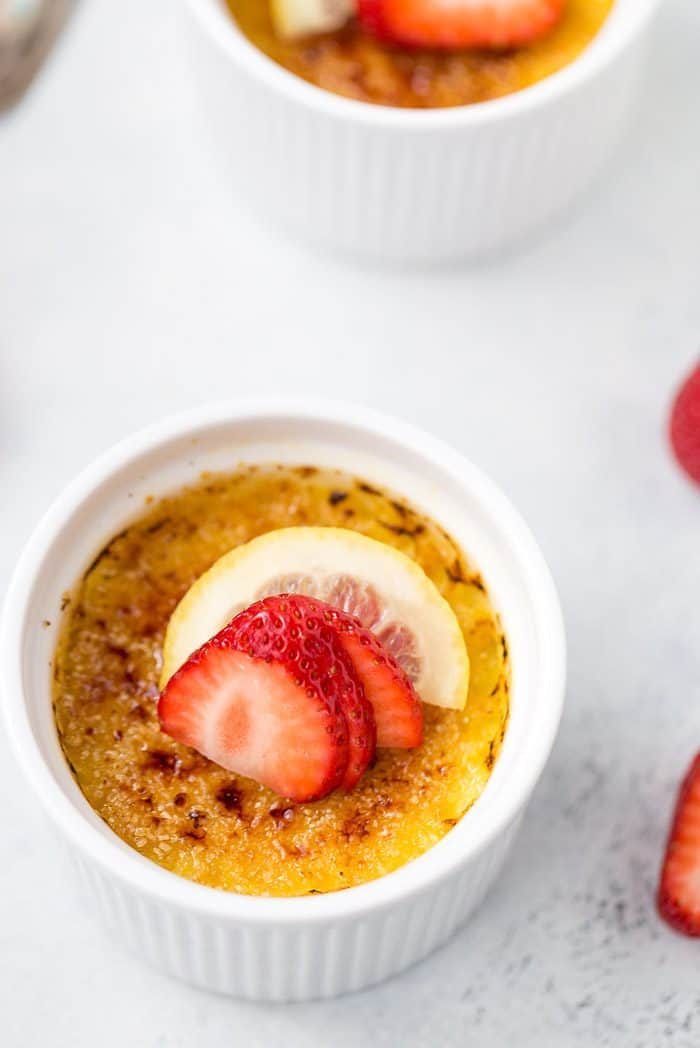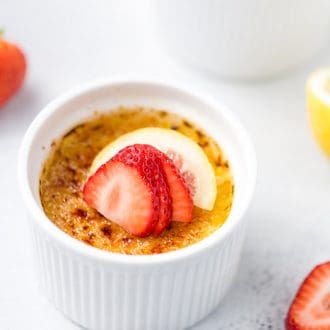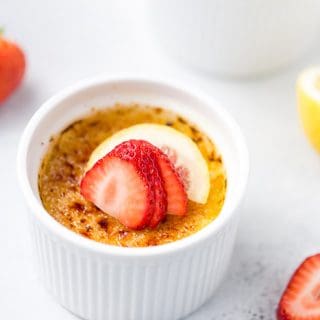 Yield: 2 servings of 6-ounce ramekins
Lemon Creme Brulee
This lemon creme brulee is bursting with the sweet, tart flavor of lemons in a silky smooth and delicious vanilla custard. 
Total Time
5 hours
10 minutes
Ingredients
1 1/4 cups heavy cream
1 teaspoon lemon extract
8 large egg yolks
½ cup granulated sugar
1 tablespoon lemon zest
Topping:
3 tablespoons superfine sugar
1 teaspoon lemon zest
Fresh strawberries.
Instructions
Preheat oven to 300 degrees F.
To medium saucepan set over medium heat, add the cream and heat until cream starts foaming around the edges. Do not boil.
Remove the cream from heat and whisk in the lemon extract. Let cool slightly and as you prepare eggs.
In a large bowl, whip the egg yolks, sugar and lemon zest until pale yellow in color and slightly thicken. While stirring constantly, gradually add the hot cream mixture into the eggs mixture. Add the cream slowly to avoid cooking the eggs. Mix until combined.
Pour equal amounts into 2 ramekins (6 ounces each). Transfer ramekins to a baking pan (9-inch or bigger) and fill baking pans with hot water about halfway up the sides of ramekins.
Bake custards until set but still jiggly in the center, about 35-40 minutes. Remove from oven and let cool on cooling rack. Cover with plastic wrap and refrigerate for at least 4 hours or overnight.
When ready to serve, combine superfine sugar and lemon zest in a small bowl. Rub the zest into the sugar until fragrant. Sprinkle about 1 tablespoon sugar mixture over each ramekin.
Using a torch, melt the sugar until golden brown. Or using an oven set to broil, broil for 30 seconds to a minute to melt the sugar. Be careful not to burn the sugar (like I did).
Let cool until the sugar hardens. Serve with fresh strawberries.