Vanilla Bean Crème Brûlée
This classic vanilla bean crème brûlée is silky smooth, rich and delicious with a Chambord twist.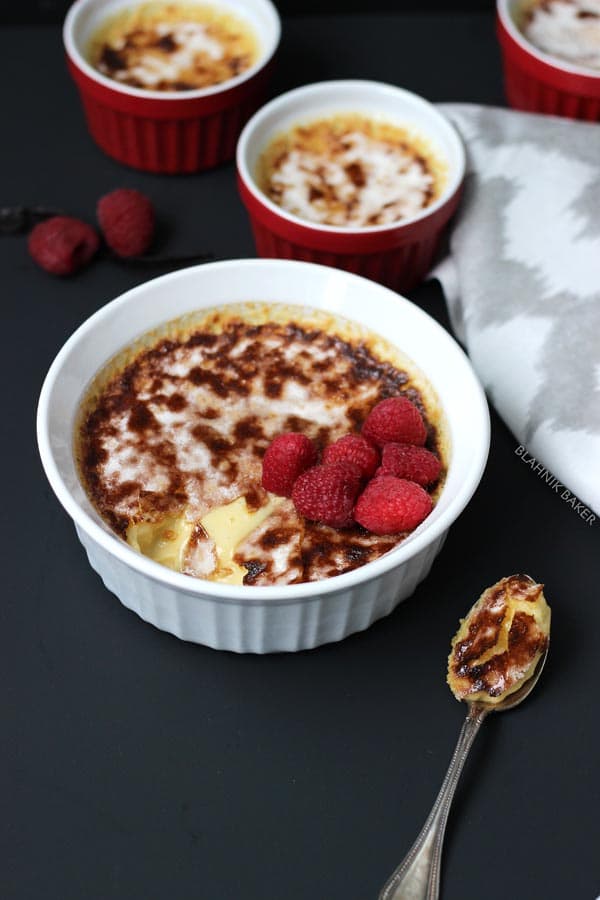 One of the main reasons why I started blogging was to document my progress as I taught myself how to bake from scratch. And I mean from scratch as a 28-year-old woman. Before then, I had never baked before and my enjoyment of baked goods was limited to other kitchens, bakeries, and restaurants. However as I am now getting comfortable with my mixer, I forget sometimes that there are still a lot of things that remain daunting to me. Despite being able to whip up a mean chocolate peanut butter cake in no time or create a pretty pink velvet cupcake, I have yet to attempt things like soufflés, crème brûlée, bread making, éclairs or puff pastries. These are all residents of my incredibly daunting list.
This conversation came up at my last gynecologist appointment and my doctor was telling me how easy crème brûlée was to make. She was trying to convince me it has no place on that list during my entire exam (yeah weird I know!). So I left with her mother's recipe that she has used for years scribbled on the back of my prescription. I posted it here on Instagram. And she was RIGHT. Making crème brûlée is so easy. This vanilla bean crème brûlée is a testament to that.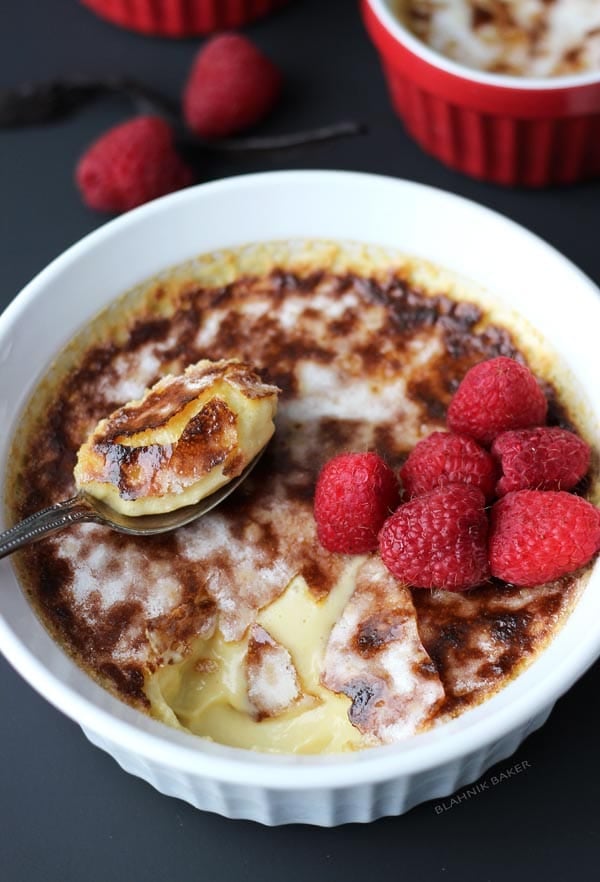 Crème brûlée indeed is not daunting at all despite the fancy way it presents itself in restaurants. It's just some egg yolk whipping with sugar and adding hot cream to that mixture to create a custard base. A rich custard base that is then slowly baked chilled and made fancy with melted sugar on top. That's it. If you are a novice, like me, thinking that crème brûlée you just ordered at dinner is impossible to make, it's not.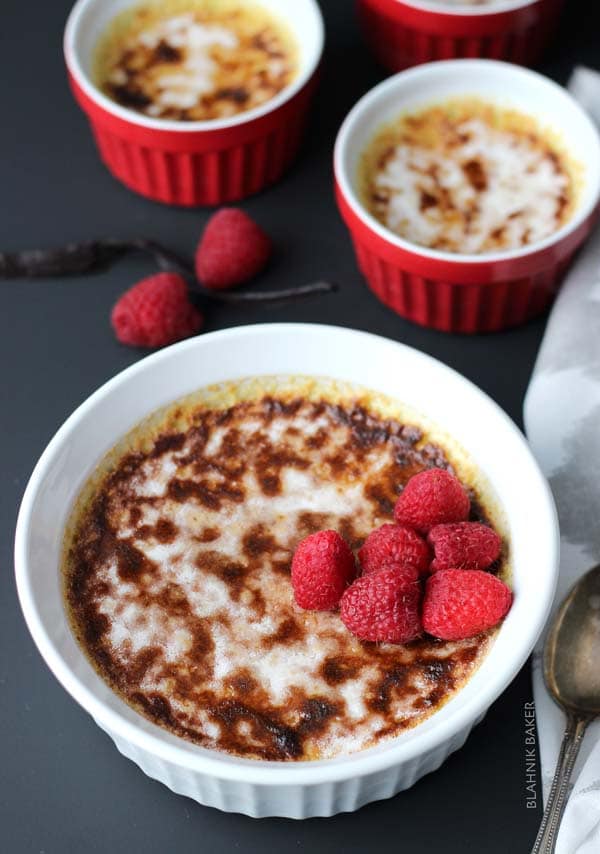 Using a quality vanilla bean is key for this recipe and I turned to my stash of Ugandan vanilla bean from Lagrima Vanilla Extract for this recipe. The intense vanilla aroma from the beans is infused into the custard and enriches the experience. The custard is silky smooth, rich and delicious with hints of raspberry liqueur. Paired with the crusty melted sugar topping. Fabulous!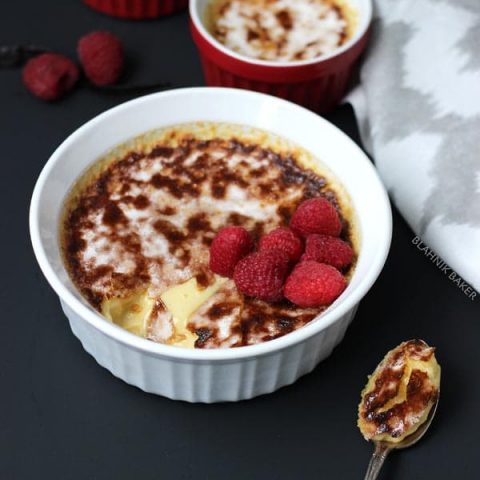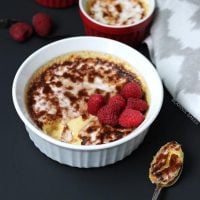 Yield: 6 individual 6-ounce ramekins
Vanilla Bean Crème Brûlée
This classic vanilla bean crème brûlée is silky smooth, rich and delicious with a chambord twist! 
Total Time
5 hours
10 minutes
Ingredients
1 vanilla bean
2½ cups heavy cream
1 tablespoon Chambord, or any raspberry liqueur (optional)
8 large egg yolks
½ cup granulated sugar
Topping: ¼ cup turbinado sugar (or superfine sugar), raspberries
Instructions
Preheat oven to 300 degrees F.
Split the vanilla bean in half and scrape the seeds out with a knife.
Combine the vanilla bean seeds with heavy cream in a medium saucepan. Heat over medium heat until cream starts foaming around the edges. Do not boil.
Remove from heat and mix in the Chambord. Let cool for about 10 minutes. Strain mixture to remove vanilla beans.
In a large bowl, whip the egg yolks and sugar until pale yellow in color and slightly thicken. While stirring constantly, gradually add the hot cream mixture into the eggs mixture. Add the cream slowly to avoid cooking the eggs. Mix until combined.
Pour equal amounts into 6 ramekins (6 ounces each). Transfer ramekins to baking pans (9-inch or bigger) and fill baking pans with hot water about halfway up the sides of ramekins.
Bake custards until set but still jiggly in the center, about 35-40 minutes. Remove from oven and let cool on cooling rack. Cover with plastic wrap and refrigerate for at least 4 hours or overnight.
When ready to serve, sprinkle about 1 tablespoon turbinado sugar over each ramekin.
Using a torch, melt the sugar until golden brown. Or using an oven set to broil, broil for 30 seconds to a minute to melt the sugar. Be careful not to burn the sugar (like I did).
Let cool until the sugar hardens. Serve with fresh raspberries.
Affiliate links included