Chicken and Apple Salad
Looking for a quick and delicious fall salad? This easy and crunchy Chicken and Apple Salad is a great fall side dish. Apples, cranberries, crispy lettuce, and walnuts are tossed with a simple vinaigrette.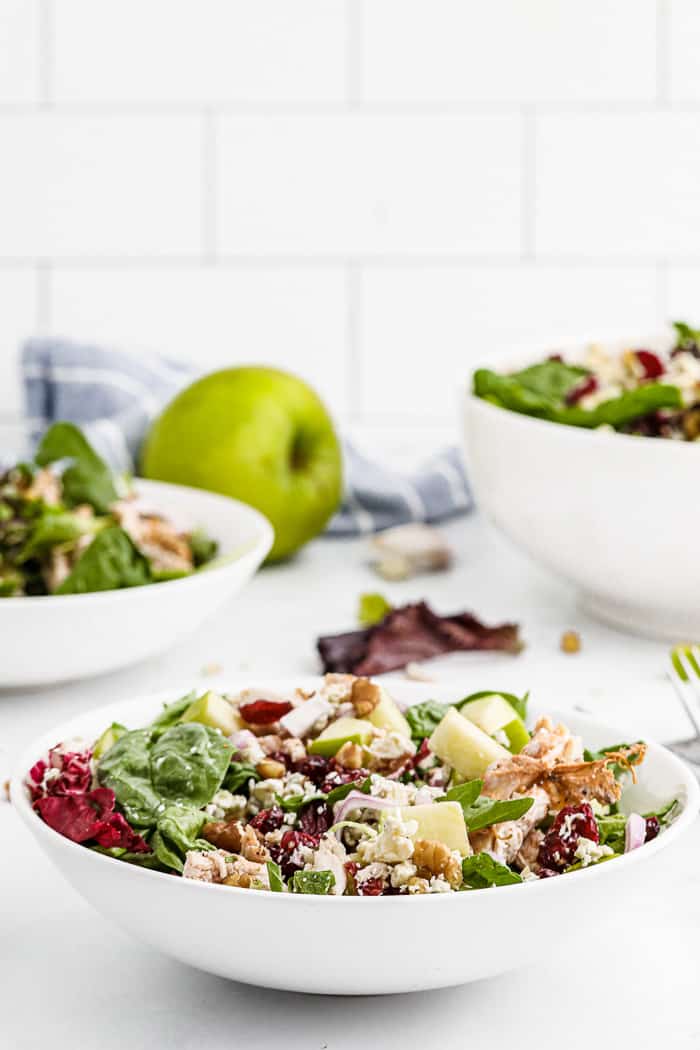 Hey there friends.
As a busy mom of two little ones, it's safe to say my days can be a little hectic sometimes. After working a full day, cooking dinner, and getting them ready for bed, I still need to prep and plan their meals for the next day. My husband and I really try to ensure they eat as healthy as possible in between all the desserts they taste test for me. Since most of my focus is on their dietary habits, mine fall to the waist side.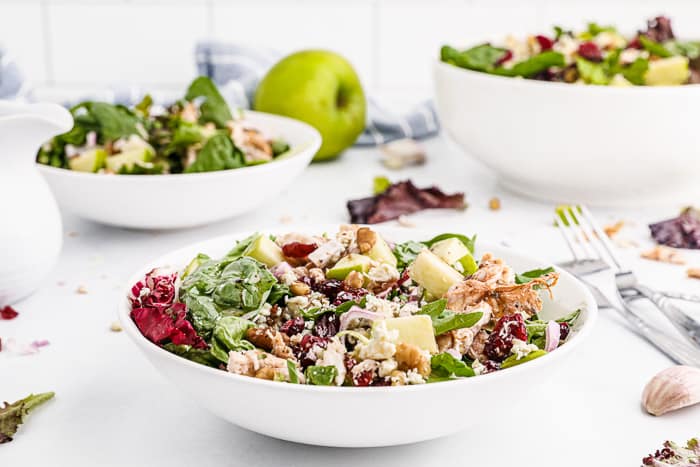 That means grabbing a muffin at a local coffee shop for breakfast or whatever I can reach for lunch. I know most of my fellow moms have had plenty of days like this. Not only can this junk food make you feel drowsy instead of giving you the energy you need to conquer the day, but it can get pretty darn expensive. Especially all the chic little coffee shops in the DC metro area.
Say it with me; you deserve a healthy but delicious lunch too! That's why I am excited to share this quick and easy on-the-go lunch idea with all you busy moms out there; Chicken and Apple Salad.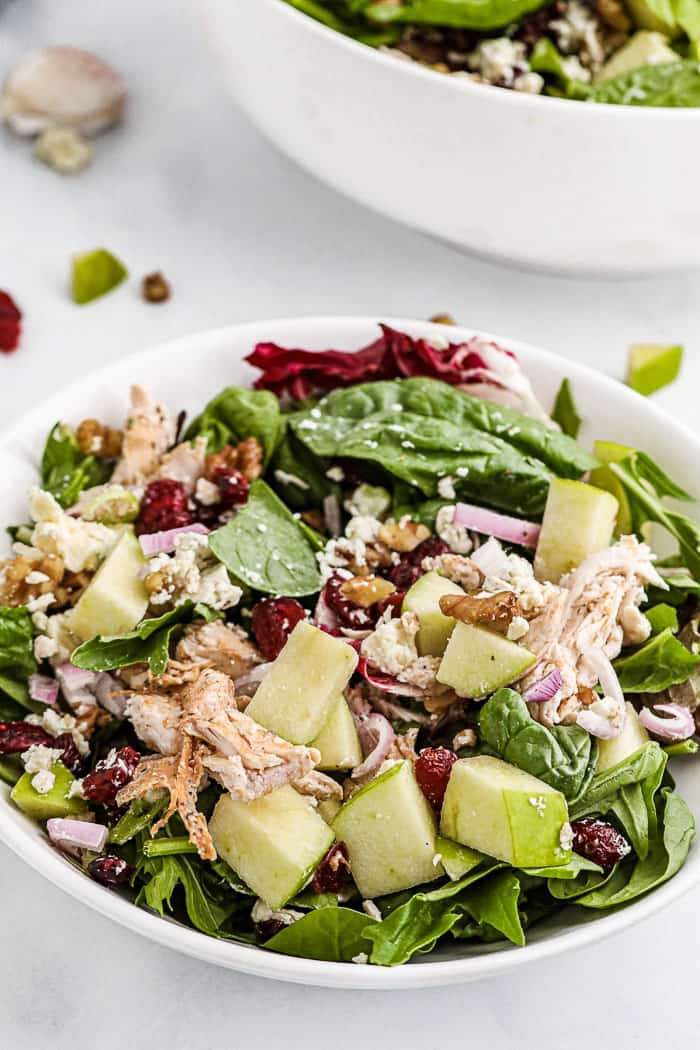 Just think, no wasting your whole break finding something relatively healthy and fresh just to scarf down in the 5 minutes you have left. Instead, open that book or listen to your podcast while enjoying all the crisp flavors of fall in a bowl.
If you like bold flavors, then this Chicken and Apple Salad is right up your alley. Sweet apples and chicken balance bold blue cheese crumbles combined with tart cranberries. You can cook your chicken breast and season how you want or purchase a rotisserie chicken from your local grocery store if you are short on time (my preferred method).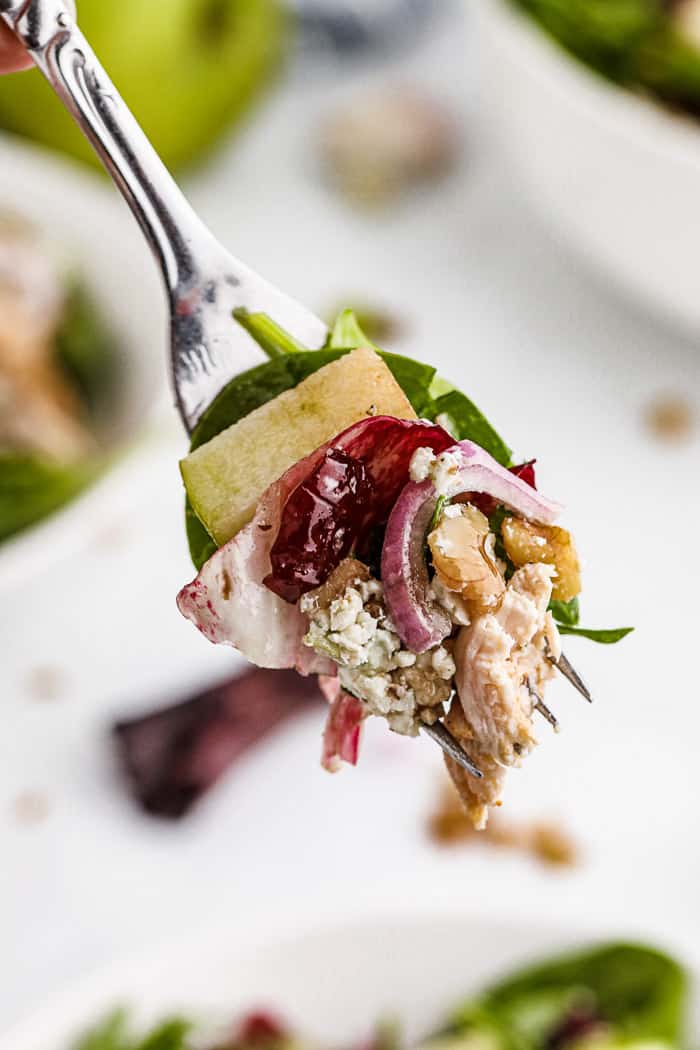 Not only does this salad have levels of flavors but levels of texture that work wonderfully together. Crispy apples, crunchy walnuts are balanced by creamy blue cheese and moist chicken. You can either add everything into the exact container or add the dressing when you are ready to sit down and enjoy peak freshness. I used green apples because they aren't overly sweet which I like but you can always use any type of apple you want or have in your fruit bowl.
This recipe takes 10 minutes to put together with virtually no clean-up! The less mess I have to clean up, the better. You can even meal prep for the week by cooking a few chicken breasts on Sunday and just putting everything together in the morning. How easy is that? The list of ways you can serve this is endless. I love everything about this Chicken and Apple Salad and I hope you enjoy it too.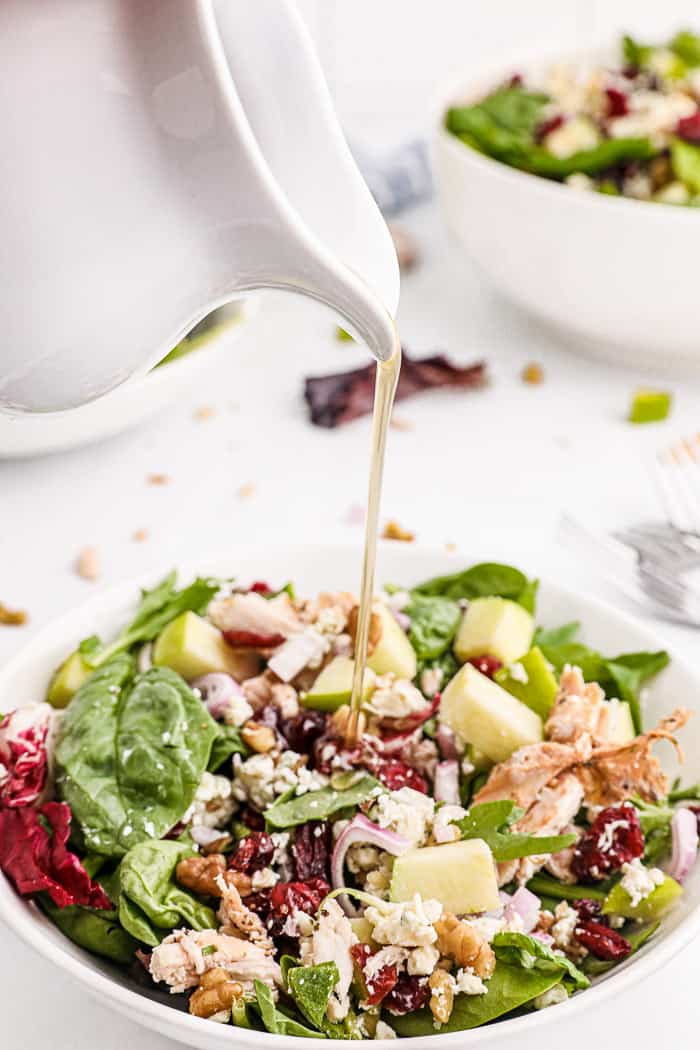 If you give this recipe a try, let me know what you think in the comment section below. In these modern days, we are obsessed with posting our food across social media so if you share this recipe make sure to tag #aclassictwist. Until next time, have a wonderful day :-).
Frequently Asked Questions:
How do I store the Chicken & Apple Salad?
I recommend only making what you intend to consume. The salad mix can get soggy once combined with the vinaigrette. You can make the salad and leave the dressing on the side if you want to have leftovers later.
Can I eat these warm or cold?
This is best served cold, so all of the ingredients stay as fresh as possible.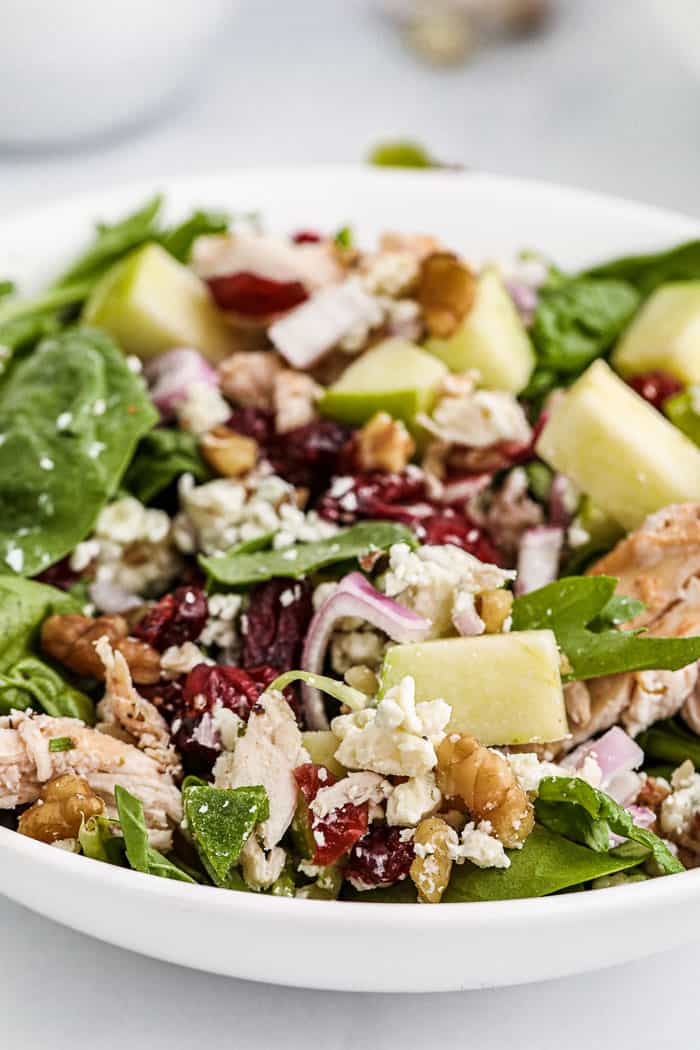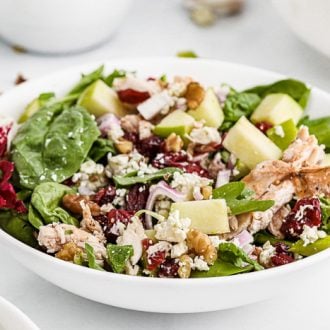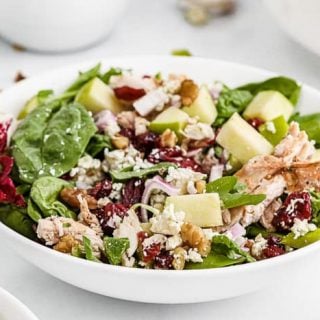 Yield: Serves 2
Chicken and Apple Salad
I love a hearty salad!! Fall flavors, crispy apples, and lots of crunch in this chicken and apple salad.
Ingredients
1 (10-ounce) bag of mixed greens/spinach
1 cup chicken, shredded or cut into bite size pieces
1 green apple, cubed
½ cup dried cranberries
¼ cup walnuts, chopped
1 shallot, diced
½ cup blue cheese crumbles
For the Vinaigrette:
¼ cup olive oil
3 tablespoons balsamic vinaigrette
1 clove of garlic, minced
¼ teaspoon salt
1/8 teaspoon ground black pepper
Instructions
In a large bowl combine the salad, chicken, apples, cranberries, walnuts, shallots, and blue cheese crumbles.
In a separate container, prepare the vinaigrette by combining all of the ingredients. Whisk to mix.
Drizzle the vinaigrette over the salad.
Serve immediately and enjoy!
Notes
This recipe is a great way to use up leftover chicken. I especially love to use rotisserie chicken.
I like to use a mason jar (with a lid) to make the vinaigrette. It's so easy to combine all of the ingredients and just shake to mix.