Cinnamon Pecan Buns
These Cinna-buns are oh so delicious! Made with a brioche-style dough and stuffed with a caramel pecan filling they also have a thick and sticky caramel pecan layer on the bottom. Totally delicious as is or served with a maple pecan icing frosting or traditional icing.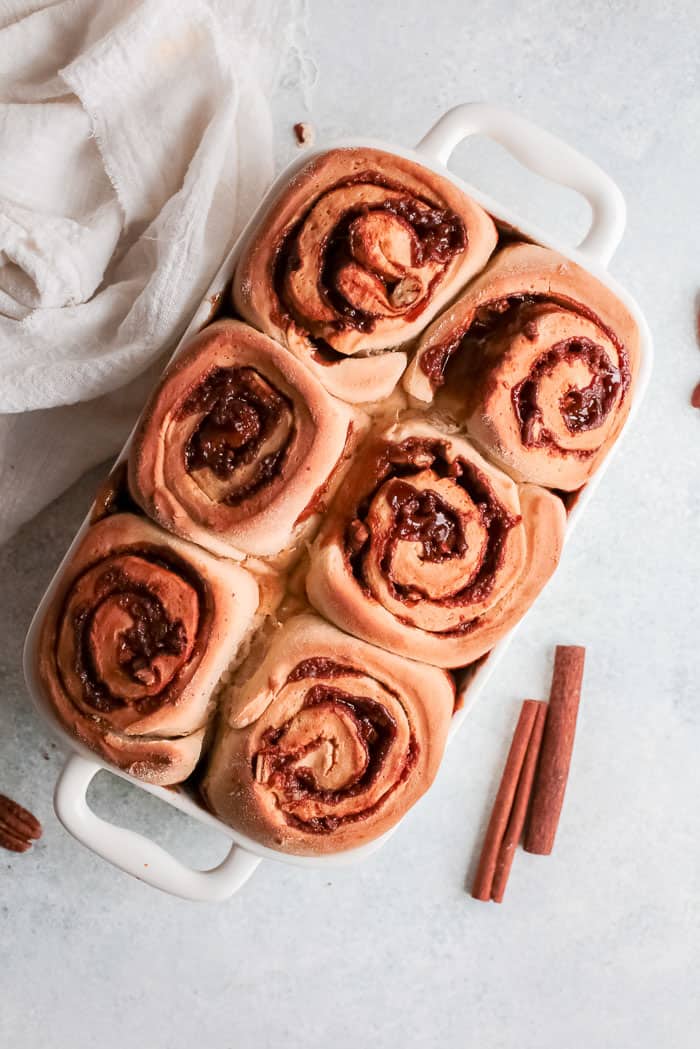 Hey everyone! Welcome back to another wonderfully, delicious breakfast recipe that is perfect for those lazy weekends sleeping in and waking up to the wonderful smell of something baking is all you need. These Cinnamon Pecan Buns are a favorite go-to during fall when your mornings are chilly and you just want something warm in your belly.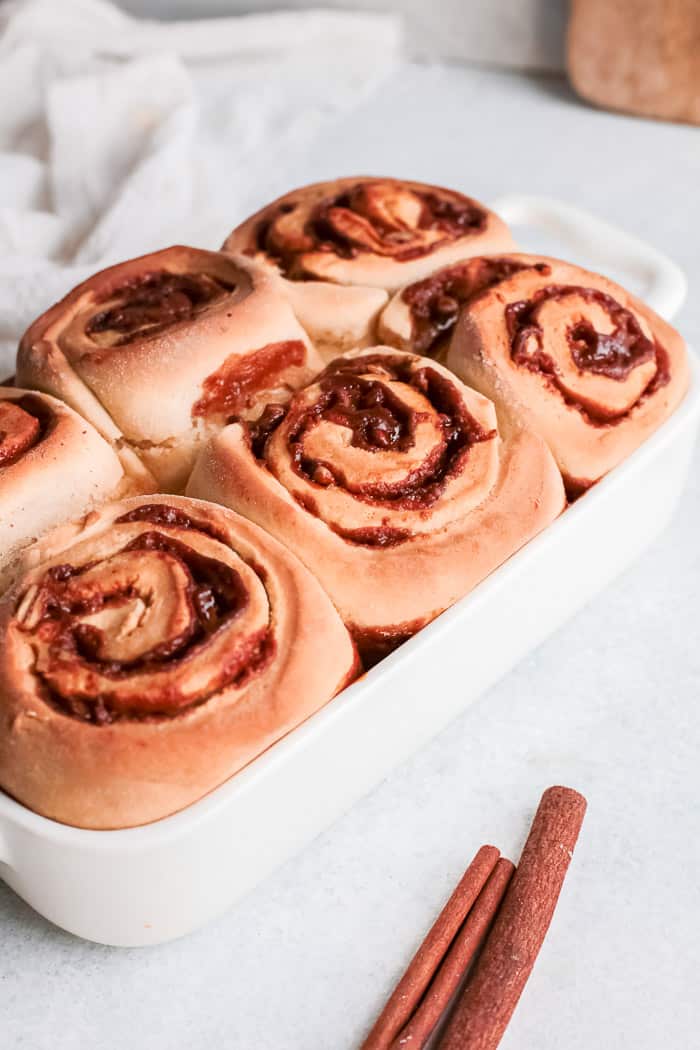 They are made from brioche-style dough which means these cinnamon buns are extra fluffy and rich. Not to mention the delight you get when taking a bite and discovering the caramel pecan filling that is stuffed inside each one.
My family loves when I take it up a notch and top them with maple pecan frosting because we are all pretty obsessed with the flavor. Even if you aren't a big frosting fan, this one is a great one to pair with these buns.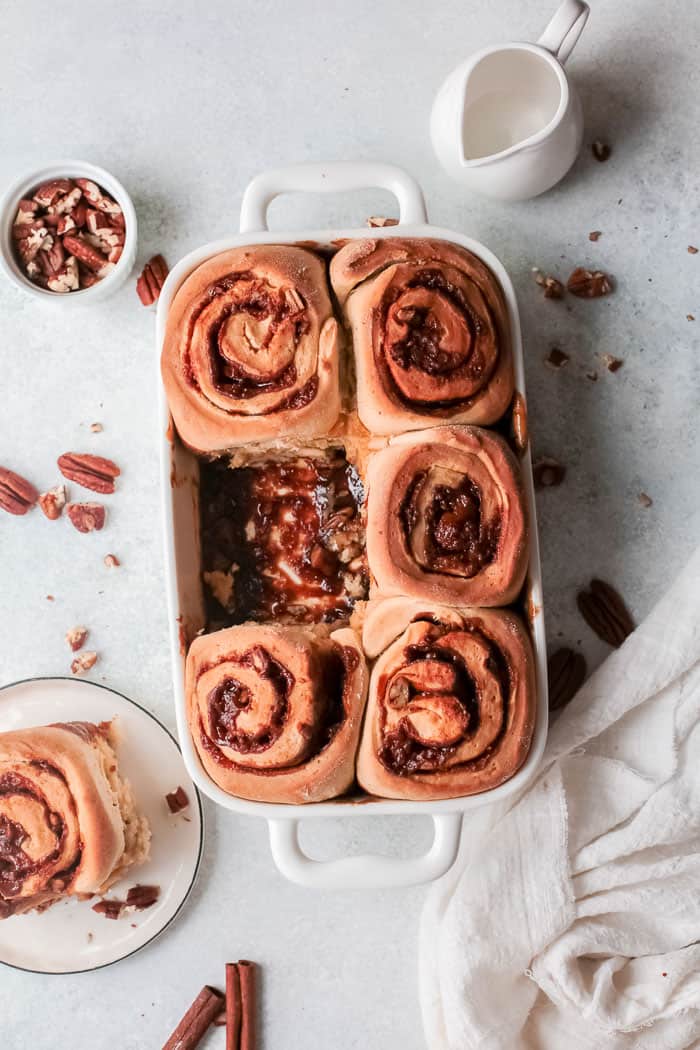 Our favorite way to enjoy them is straight out of the oven. For all us adults they pair perfectly with your morning coffee. What could be better than that?
Now that I have grabbed your attention, let's get into making these Cinnamon Pecan Buns. If you don't want to read the step by step you can scroll to the bottom for the recipe.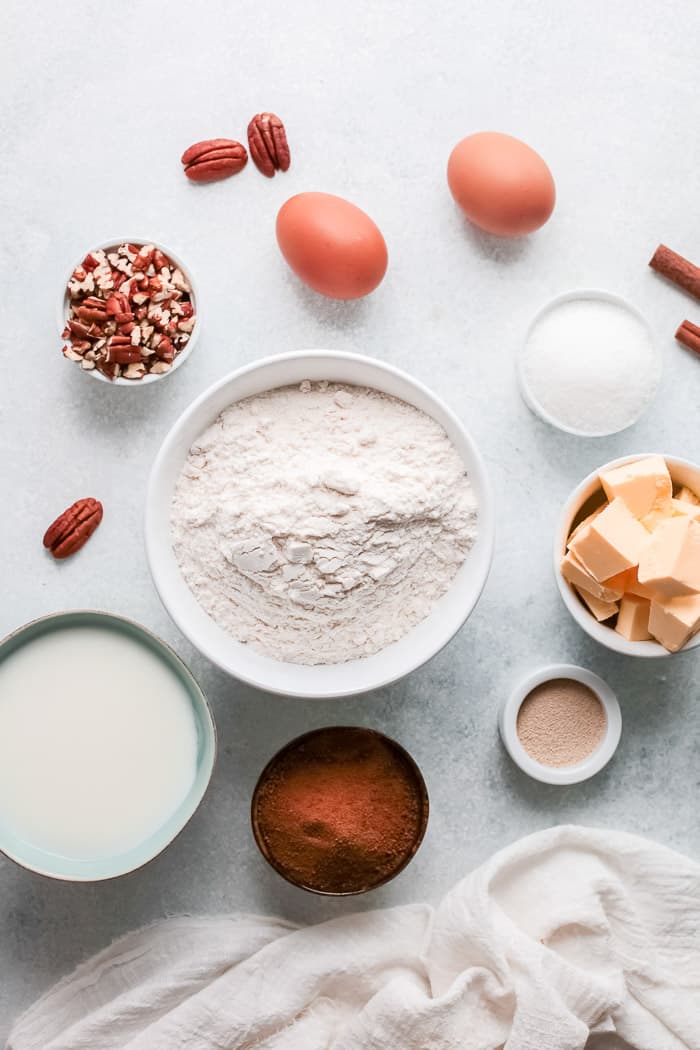 Start by making your brioche-style dough. Make sure to use a wooden spoon and when the dough is complete it should be a rather thick consistency. The better to hold all that filling.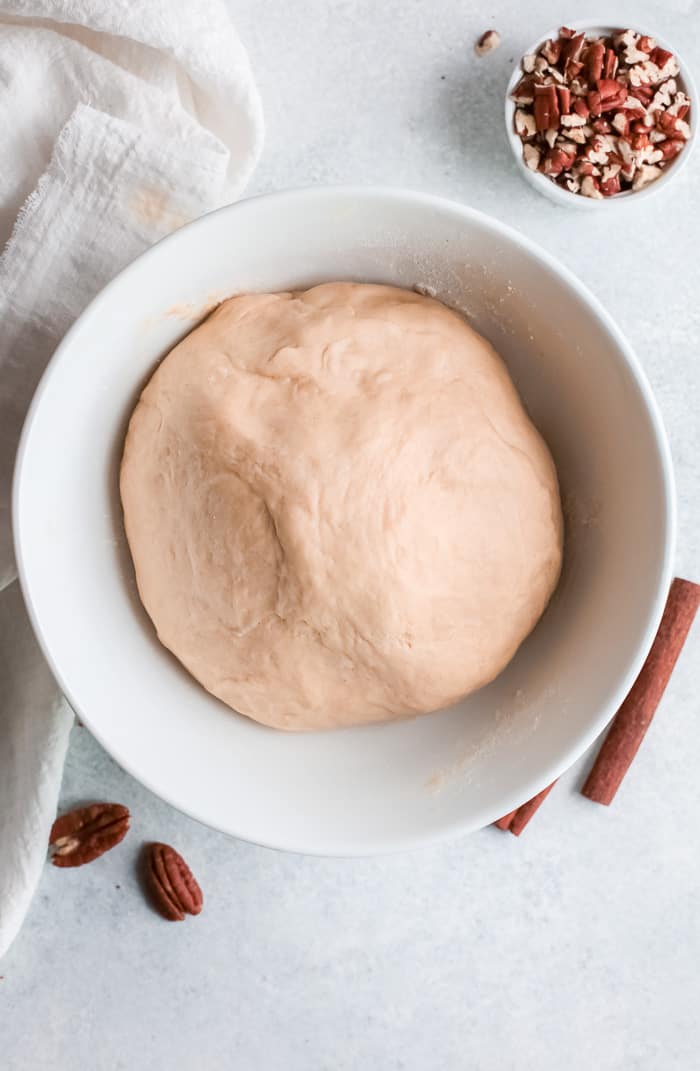 Let your dough sit for at least two hours to proof (rise). You can make this the night before and store it in the fridge so it's ready to go the next morning.
Once you are ready to start baking, roll the dough out on a floured surface into a 16×20 rectangle.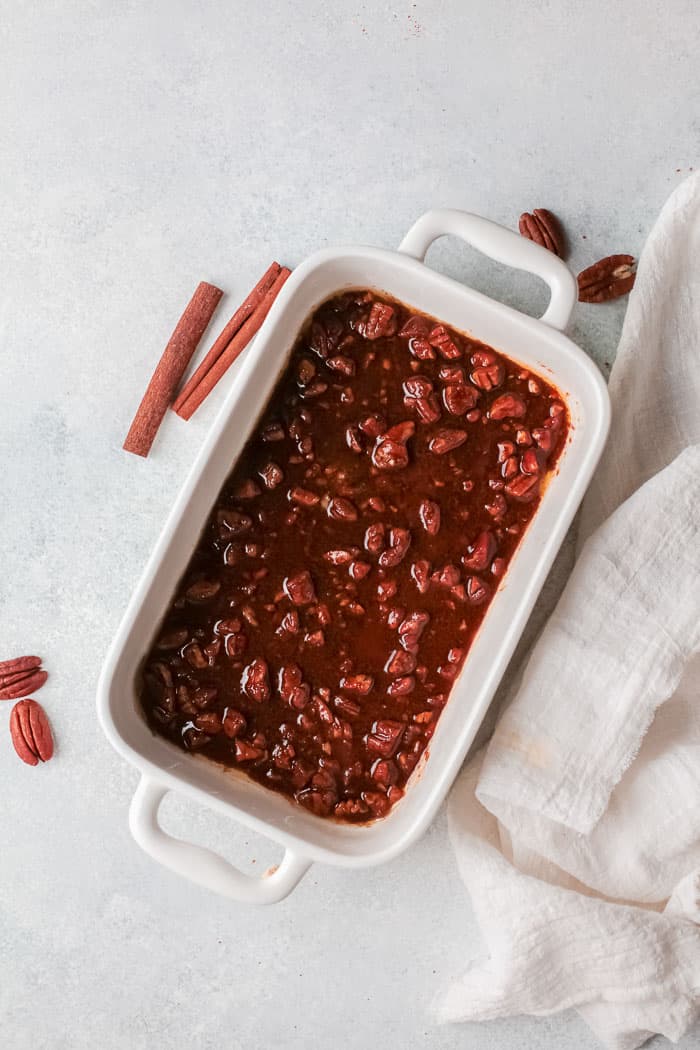 Create your filling with brown sugar, spices, and chopped pecans. The end result will be similar to a caramel consistency and color.
Add ⅓ of the mixture to the bottom of your pan. This will serve as a sticky "upside-down" topping.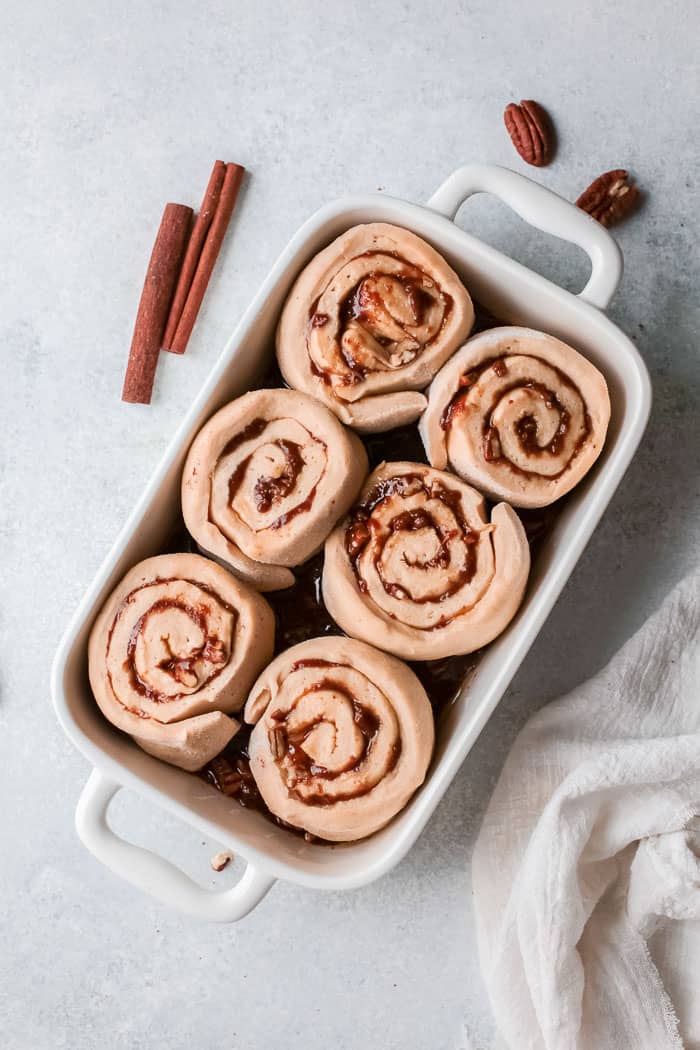 Spread the remaining caramel pecan filling onto your dough and roll into a tight log and cut into rolls.
Add them to your pan and let them rise.
Bake your Cinnamon Pecan Buns until golden brown and serve warm.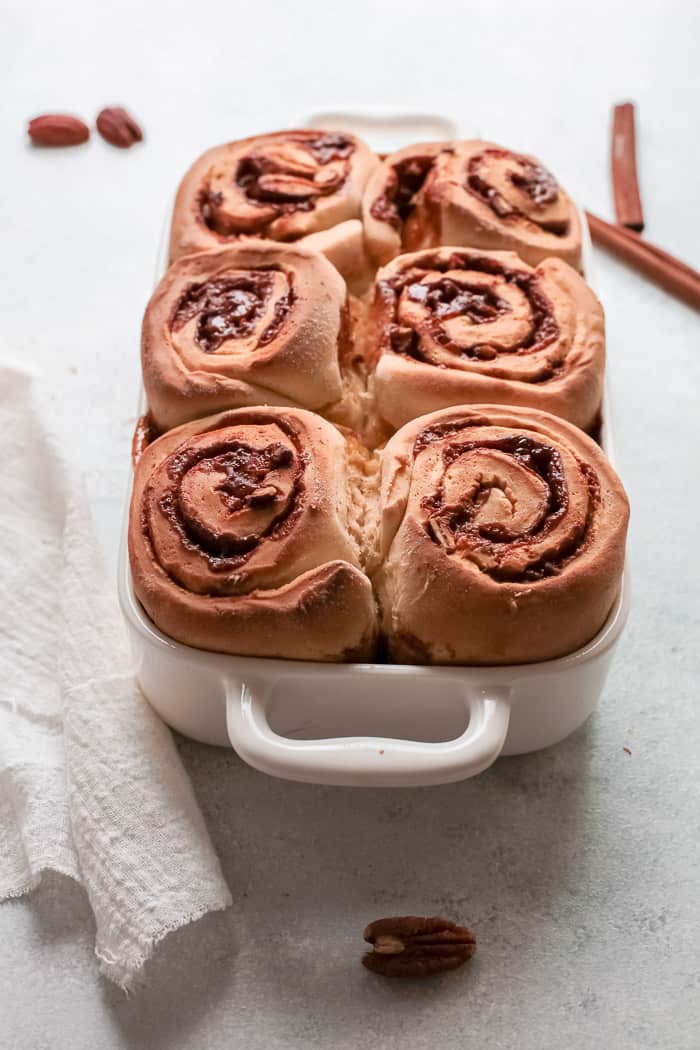 If you are adding the frosting you can do that right when they come out of the oven. Make sure they are still in the pan to avoid any mess.
Viola! You have created the perfect breakfast. If you have any leftovers you can cover and store them in the fridge (after they try one I'm sure the pan will be wiped clean). Our busy lives make it hard for us to enjoy a sit-down meal with family but definitely take the time to enjoy the "yum's" and smiles from everyone in the family.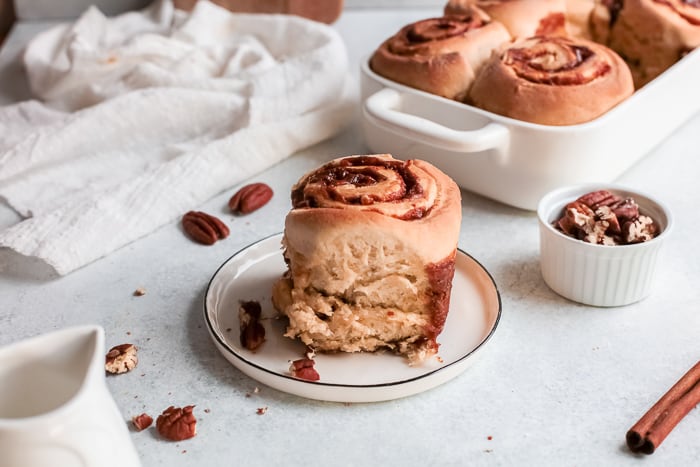 I'd love to hear how you like them so make sure to leave a comment below or if you share across social media tag #aclassictwist. Seeing all your beautiful recipes put a smile on my face. Being able to share these delicious twists is what makes my day. Thank you all and until next time, have a wonderful day.
Check out these similar breakfast buns; Blueberry Lemon Sweet Rolls, and for the winter holiday season these Eggnog Cinnamon Rolls.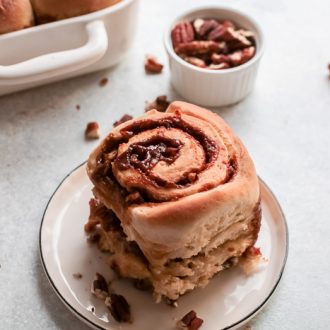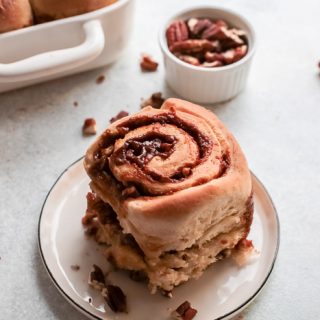 Yield: 6 large rolls
Cinnamon Pecan Buns
What's better than a warm sticky bun?? A sticky caramel pecan cinna bun!
Ingredients
For the rolls
1 cup warm milk
½ cup unsalted butter, softened
½ cup granulated sugar
2 ½ teaspoons instant yeast
2 large eggs
4 ½ cups all-purpose flour + ½ cup more if needed
For the filling
¾ cup unsalted butter, melted (warm)
¾ cup brown sugar
1 cup pecans, finely chopped
1 tablespoon ground cinnamon
½ teaspoon ground nutmeg
Instructions
In a large bowl combine the warm milk with half the butter and sugar. Stir to combine. The butter should melt.
Add the yeast and eggs and whisk together. Add the 4 ½ cups flour and with the help of a wooden spoon, stir to incorporate. The dough should be thick.
Transfer to a floured surface and add the remaining butter 1 tbsp at a time, kneading well after each addition. Knead for 8 minutes or until the dough is elastic and soft. If it's too sticky add the remaining flour 1 tbsp at a time. (Alternatively, you can make the dough with a stand mixer and a dough attachment).
Transfer to an oiled bowl and cover with a cloth or plastic wrap. Let the dough double in size, around 2 hours.
Once the dough has risen, transfer to a floured surface. Roll the dough into a 16" x 20" rectangle.
Prepare the filling. In a bowl combine the melted butter with the brown sugar, spices, and chopped pecans. The mixture should resemble a thick caramel.
Spread ⅓ of the mixture into the bottom of a 9 x 13 baking dish. Set aside.
Spread the remaining filling over the dough. Roll into a log, starting with the short end and pressing tightly. With the help of a knife, cut out big rolls.
Place the rolls in the pan layered with the caramel. Cover with a cloth and let it rest for 40 minutes to 1 hour.
Preheat the oven to 400 degrees. Take the rolls to the oven and bake for 25 to 30 minutes or until golden brown.
Notes
If you serve them side up (like they come out of the oven) they are perfect for frosting. However, if you serve them bottoms side up, the sticky caramel on the bottom acts like icing.
They are delicious as is or served with a homemade maple frosting or a traditional cream cheese icing.