Eggnog Cinnamon Rolls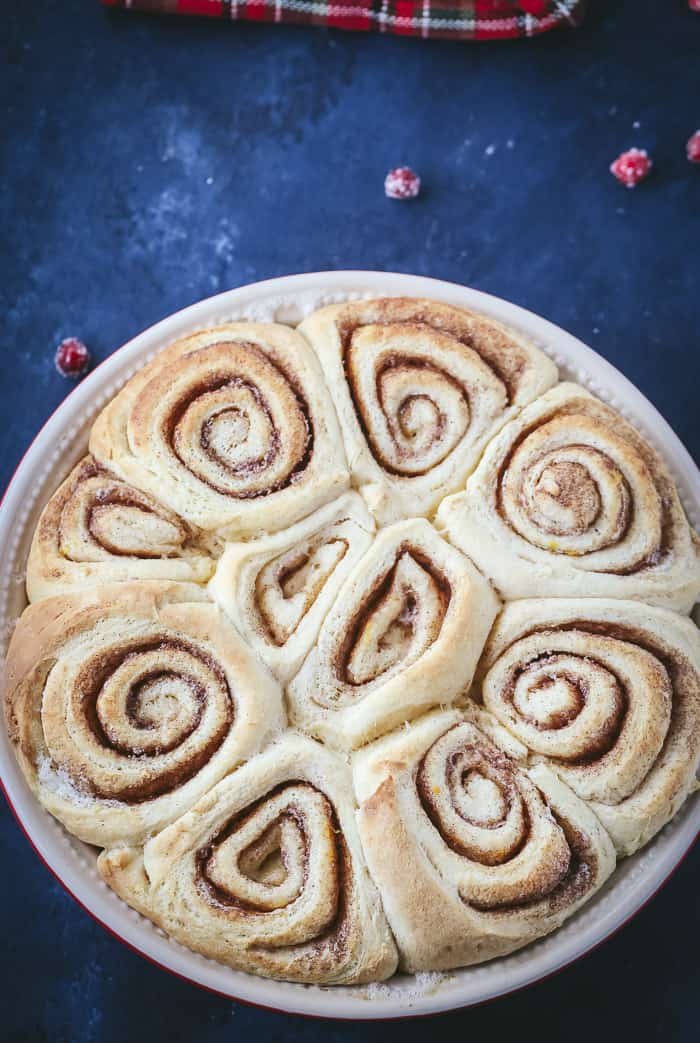 Hi friends! Now that we have covered your cookie trays with Christmas cookies, suggested this gingerbread cake or cranberry orange cheesecake for your cake stands, it is time we talk about your breakfast and Christmas morning options. I am suggesting you add these eggnog cinnamon rolls to your list.
What do you do for Christmas breakfast? In the hustle and bustle of opening presents, enjoying a lazy morning with the kids and family, a no-fuss but filling breakfast is a must in my opinion.
In the past, we have done pancakes, french toast casserole, and cinnamon rolls. My husband is requesting cinnamon rolls this year and I am rolling in with these eggnog cinnamon rolls. Why have boring cinnamon rolls when you can have eggnog sweetened and spiced rolls with a hint of orange?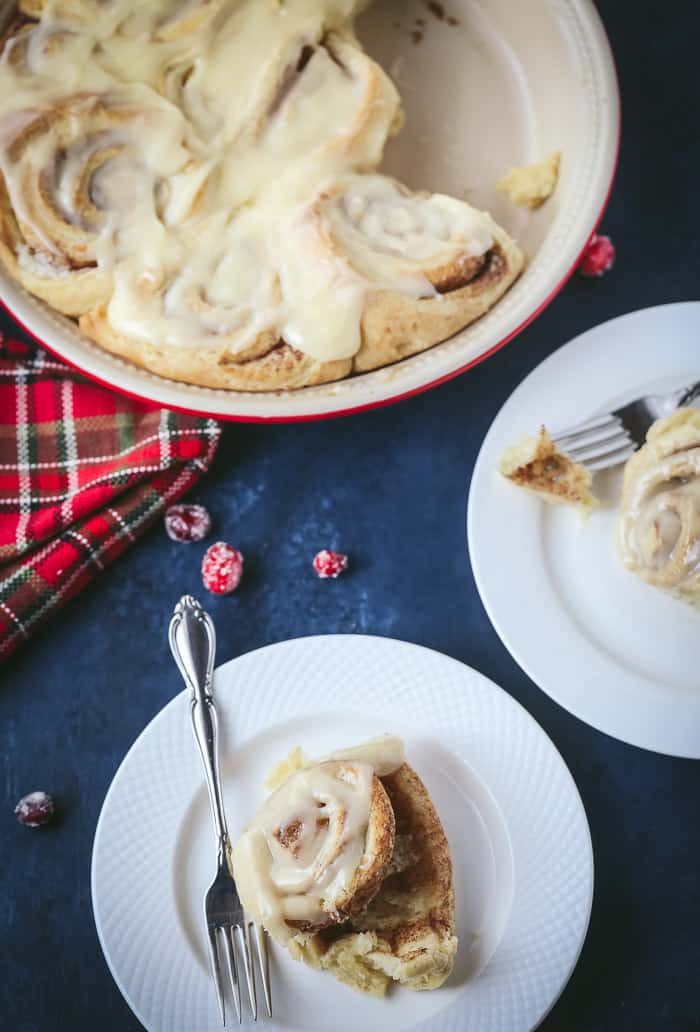 I know what you may be thinking; making cinnamon rolls is not no-fuss. That is a popular misconception and I believe it is one of the most straight forward (and easy!) long recipes. Yes, it is long but that is why it is perfect for a lazy morning when you have the time.
I'm going to walk you through making these rolls and you can truly see how easy and laid back they are. The recipe starts with a simple yeast dough that you make in 10 minutes or less by using the hook attachment of your mixer.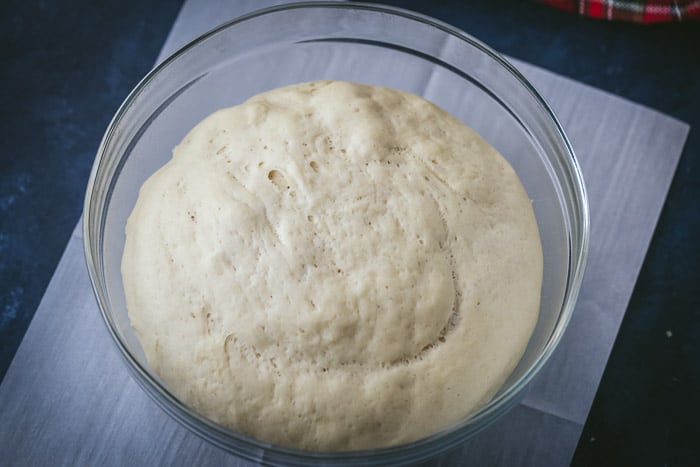 Let the dough rise for about an hour. I usually start this as soon as I wake up. Then I enjoy my coffee and let the opening presents chaos begins.
Once the dough rises, you punch it down to work with it.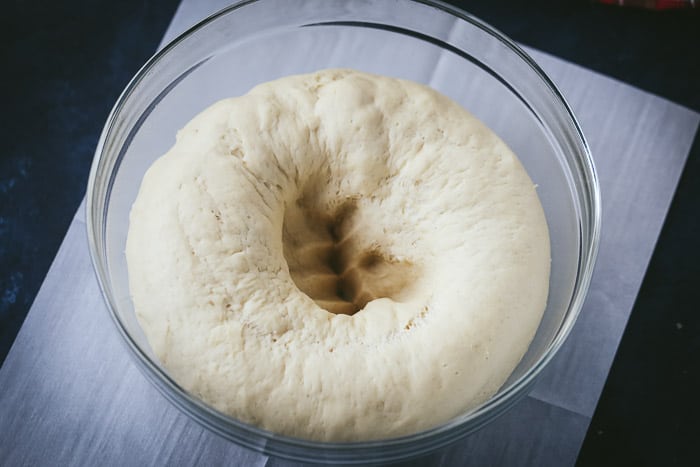 Roll on a lightly floured surface into a rectangle. And butter the dough.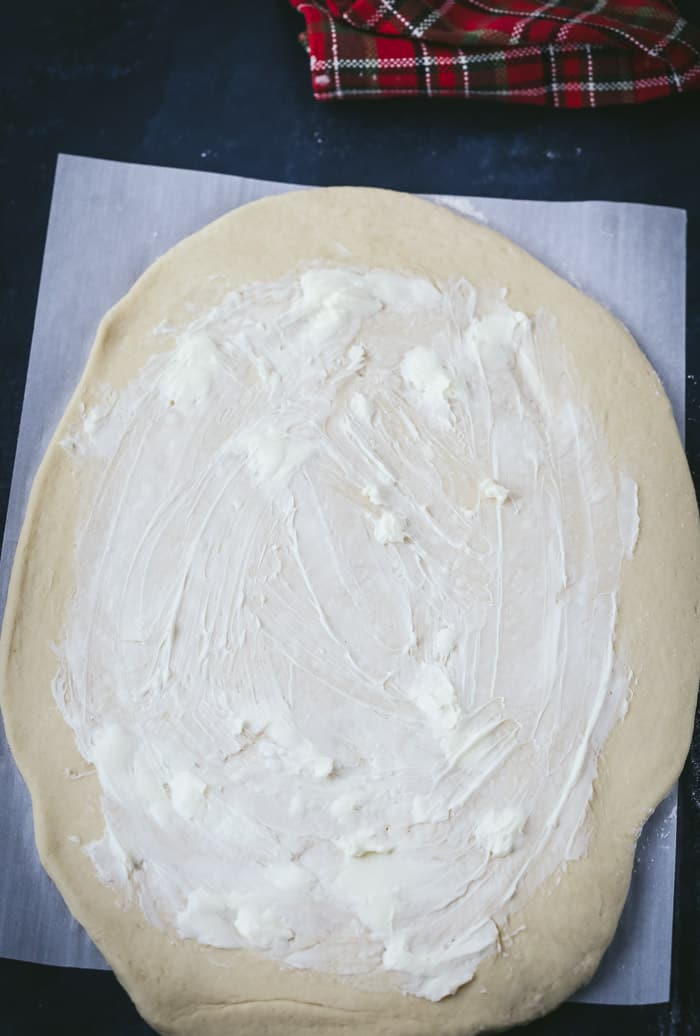 Then sprinkle with a mixture of cinnamon + sugar.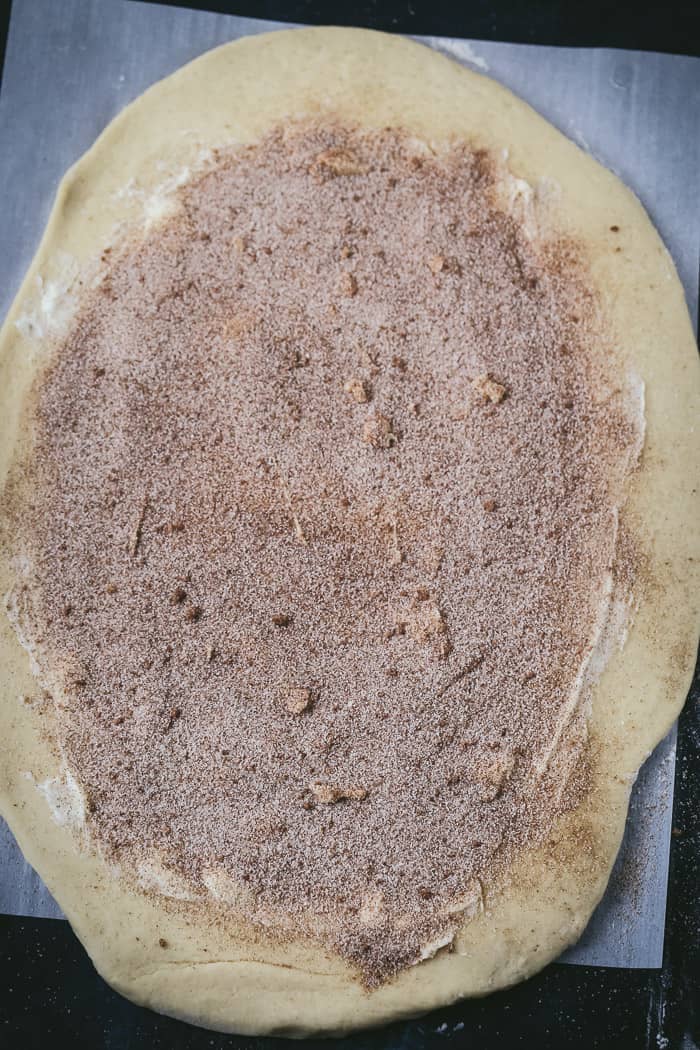 Add in a layer orange zest for a pop of flavor. Because why not?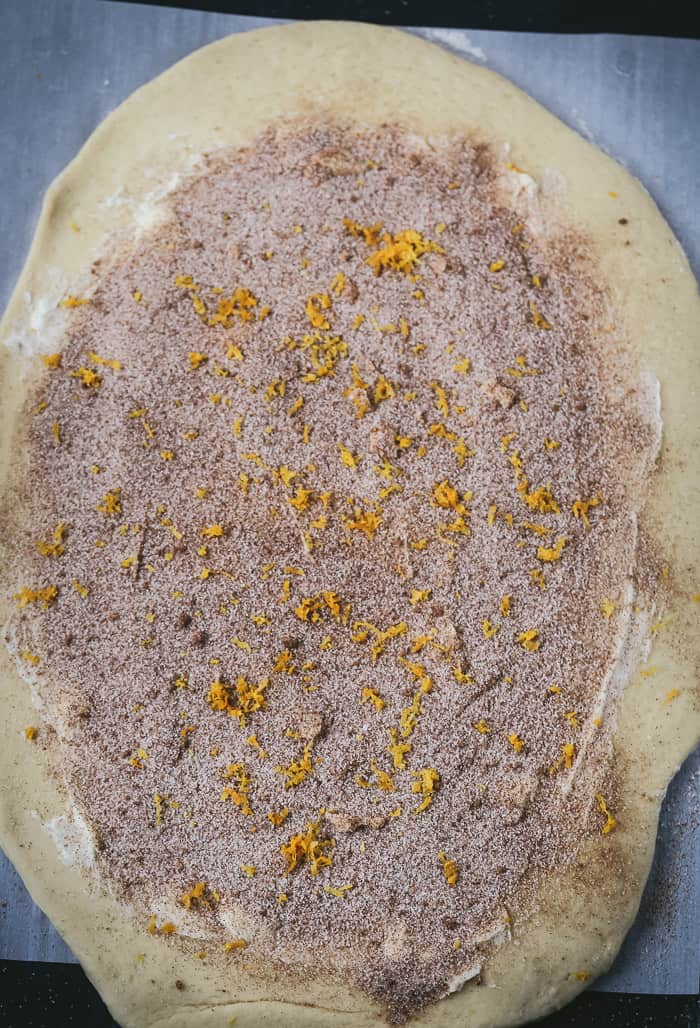 Then tightly roll up your cinnamon roll. I like to cut it up with a string (dental floss or kitchen twine) for precise cutting.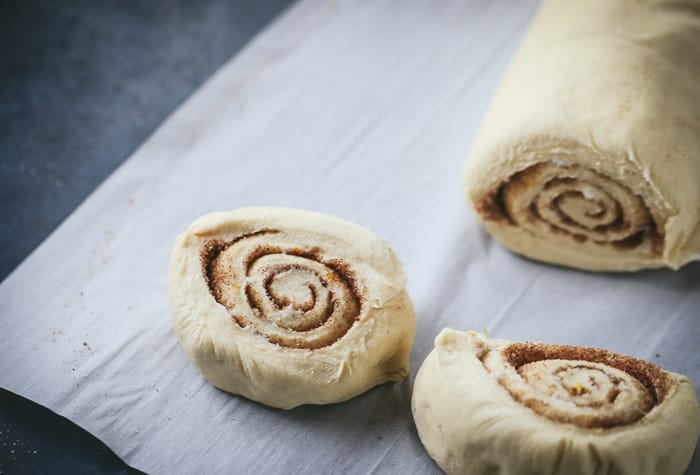 Place into a baking dish. I used a round 9-inch baking dish/ pie dish.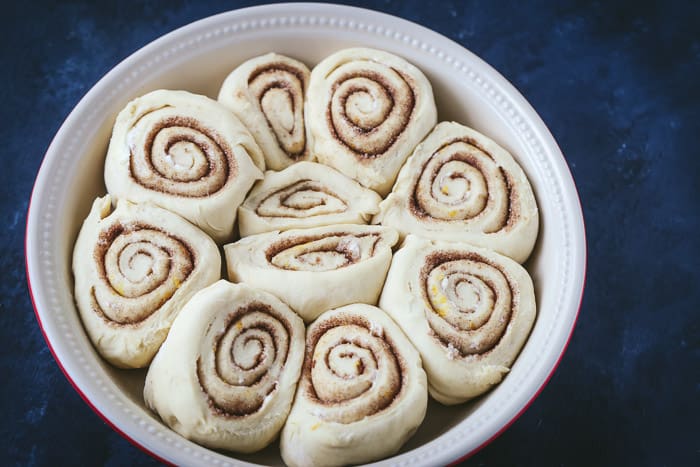 Let the dough sit for about 30 minutes to rise one last time.
Then we butter it up again!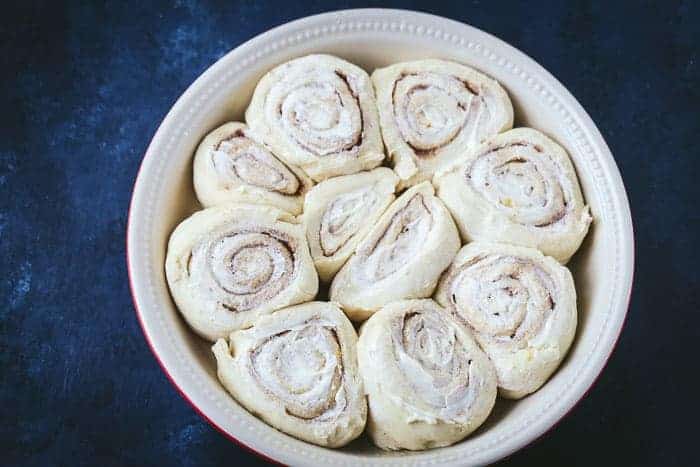 And bake.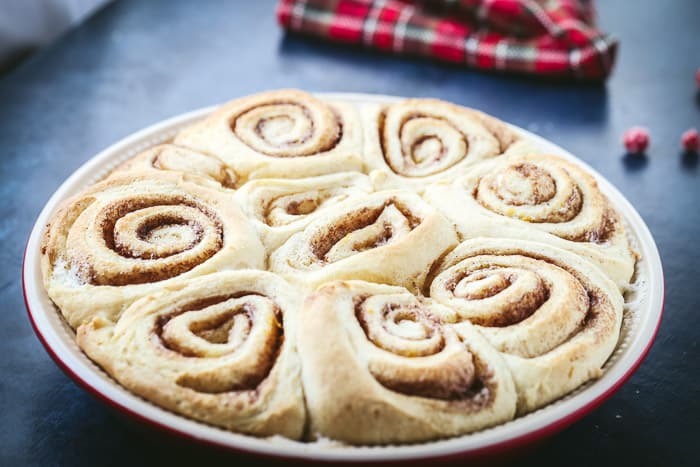 Viola! That is it 🙂
Wait, it wouldn't be cinnamon rolls without a cream cheese frosting. Slather up the buns with some eggnog cream cheese frosting.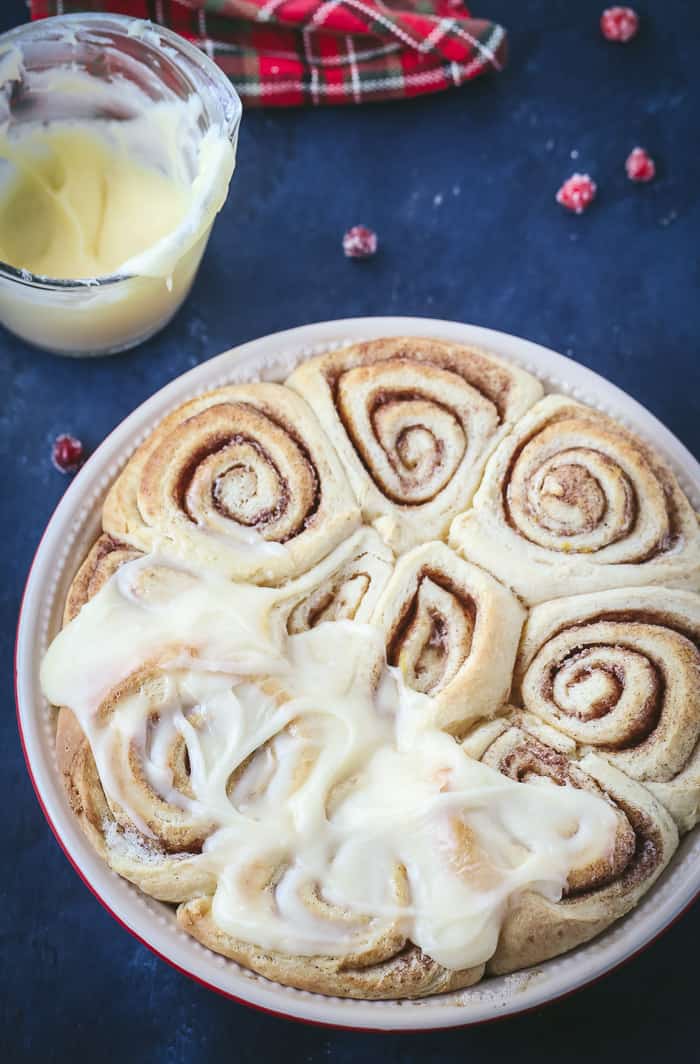 Add some more frosting.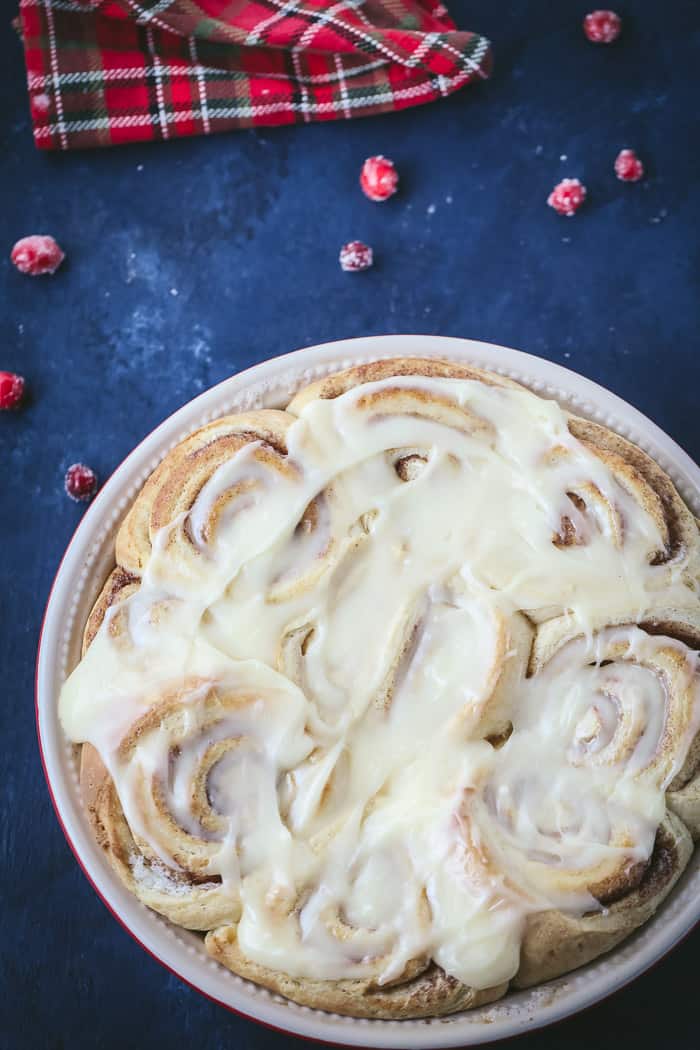 And enjoy!
As we head into the last weekend before Christmas, enjoy these sweet eggnog cinnamon rolls. Let these cinnamon rolls be the MVP of your weekend and help you slow down and enjoy precious moments with loved ones in the kitchen or over your dining table for breakfast or brunch.
If we don't speak again, Merry Christmas to all of you celebrating. I hope you enjoy the holiday with loved ones in whatever shape and manner they come.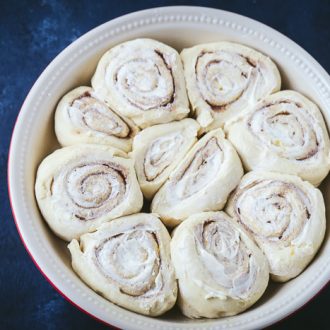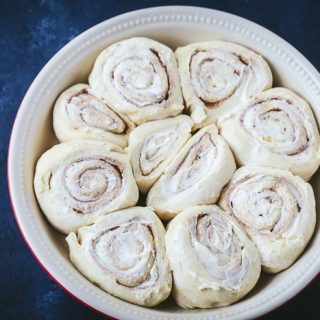 Yield: 1 9-inch pan
Eggnog Cinnamon Rolls
These sweet eggnog cinnamon rolls are perfect for breakfast or brunch this winter.
Additional Time
1 hour
30 minutes
Total Time
2 hours
40 minutes
Ingredients
For the Dough:
2 ¼ teaspoons active dry yeast (1 package)
¼ cup warm water
2 tablespoons granulated sugar
½ cup unsalted butter, melted and browned
1 cup warm eggnog
¼ cup plain yogurt
1 large egg
4 cups all-purpose flour
¼ teaspoon kosher salt
2 teaspoons vanilla extract
For the Filling:
½ cup light brown sugar
2 tablespoons ground cinnamon
½ cup unsalted butter, softened at room temperature to be very soft. Or you can microwave it for 10 seconds
Zest of one orange
For the Frosting:
4 ounces cream cheese, softened at room temperature
2 tablespoons unsalted butter, melted
2 tablespoons eggnog
1 ½ cups confectioners' sugar
1 teaspoon vanilla extract
Instructions
In the bowl of your stand mixer, combine the yeast and
sugar. Add the warm water to the bowl and gently stir. Let stand until yeast blooms (bubbles and foams), about 10 minutes.
Add in the melted butter, warm eggnog, yogurt and eggs to the
yeast mixture. Stir to combine. Add in the flour, salt and vanilla extract. Using the dough hook of your mixer, knead the dough until it is smooth and comes into a ball, about 5 minutes.
Transfer dough to a lightly oiled bowl. Cover with plastic
wrap and allow the dough to rise in a draft-free warm area, about 1 hour or until dough doubles in size.
Meanwhile, prepare the filling by combining the brown sugar
and cinnamon in a small bowl. Make sure the ½ cup butter is softened and is spreadable with a spatula. Generously grease a 9-inch round baking dish or pie dish with some of the butter.
Once the dough is ready, transfer to a lightly floured surface
and roll dough into a rectangle. Spread about 6 tablespoons of softened butter over the rolled dough. Generously sprinkle the cinnamon-sugar mixture over the butter. Lightly press down the sugar into the butter and dough. Sprinkle the orange zest over the sugar.
Starting the with the longest edge towards you, tightly roll the
dough into a log. Pinch the edges together at the end. Transfer the dough to a cutting board. Cut the dough into 1-inch thick rolls using either a serrated knife or dental floss or baking twine.
Transfer the rolls to the prepared pan. Cover the pan with a
kitchen towel and let rolls rise, doubling in size, for about 30 minutes.
Meanwhile, preheat oven to 350 degrees.
When rolls are ready, brush the tops with the remaining 2
tablespoons softened butter.
Bake rolls until golden brown, about 25 minutes.
Meanwhile, make the frosting. In a medium bowl, combine the
cream cheese, melted butter and whisk until creamy and light. Add in the powdered
sugar and mix well. Then add in eggnog and vanilla extract, mixing until smooth
and combined.
Spread the frosting over the warm rolls. Enjoy.
Notes
Adapted from Half Baked Harvest
Recommended Products
As an Amazon Associate and member of other affiliate programs, I earn from qualifying purchases.