Gingerbread Cake with Molasses Buttercream
Gingerbread cake, moist and flavorful, with molasses buttercream and salted caramel drizzle. A holiday dessert that will surely become a new favorite!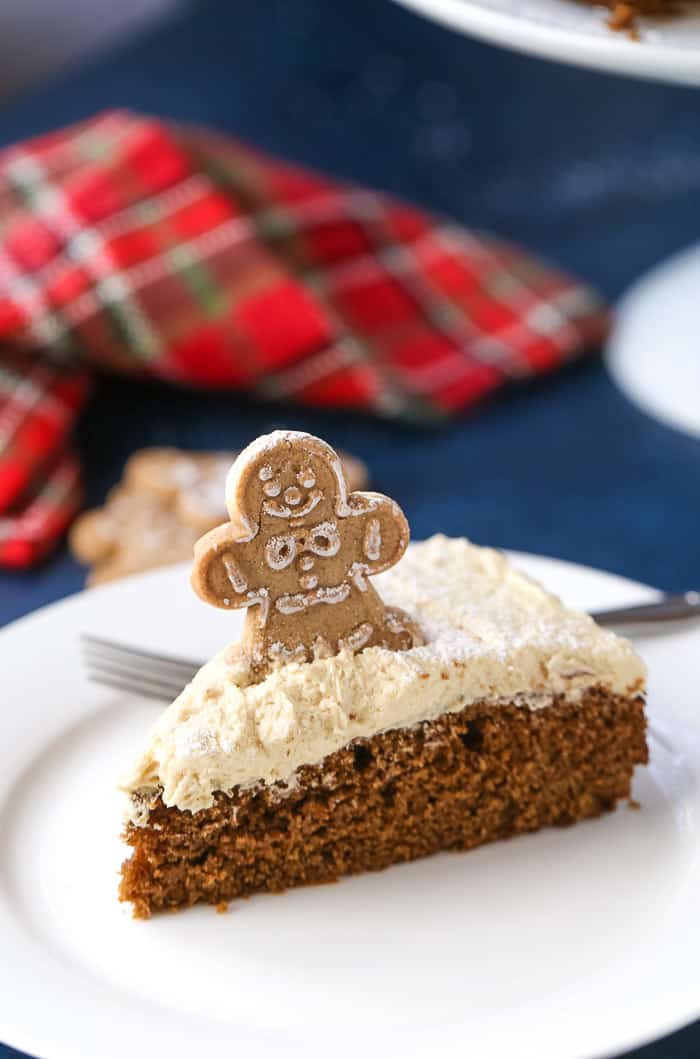 Hi friends! Now that we are done with Thanksgiving and Christmas is just around the corner, I am thinking all things gingerbread, peppermint and Christmas cookies. One of my favorite cakes that I have been making since 2013 is this gingerbread cake topped with a molasses buttercream. It's easy, laid back, not overly sweet and just perfectly spiced. It's my go-to for holiday entertaining and it is always a hit. I've updated the pictures and recipe for more clarity since this post was originally published in Dec 2013. You can still find the original post below.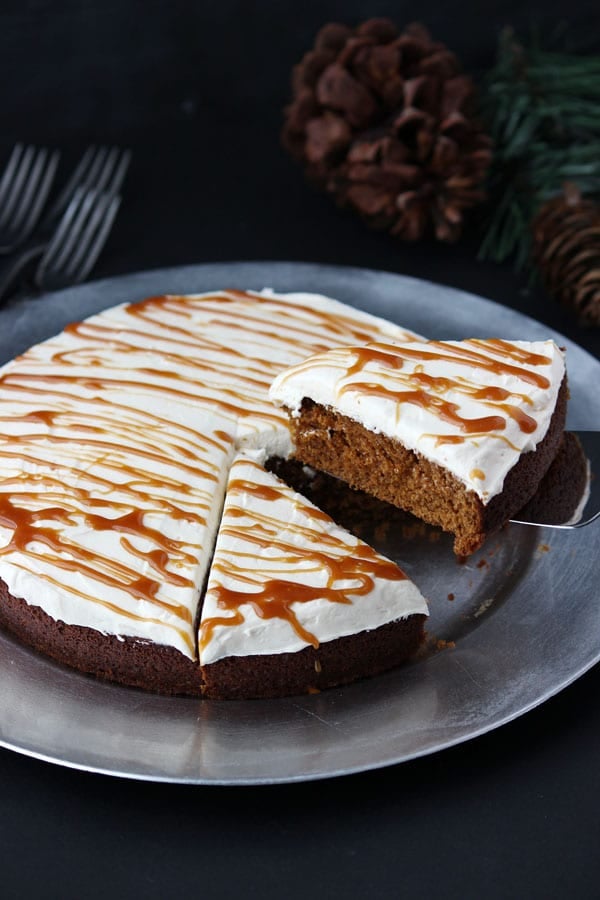 **************************************************************************************************
I'm one of those people who go to their doctors once a year, just because. I see my family physician, a woman doctor, and an eye doctor to get my yearly physical. Those appointments are always in the last two weeks of the year because there is just something about starting the new year with a clean bill of health. Or it could just be that I'm paranoid. Whatever.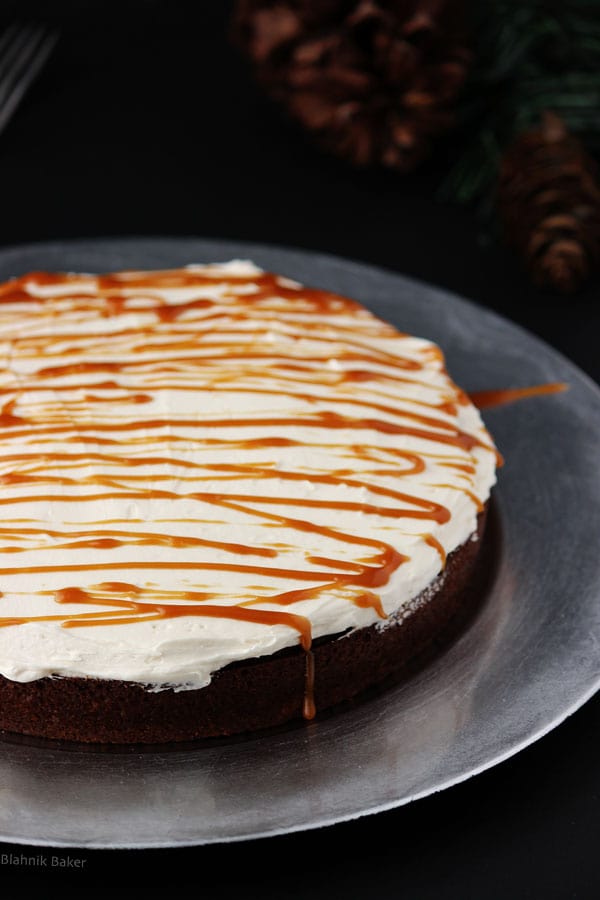 Anyway, I went to my family physician yesterday and he asked me the usual doctor's small talk staples "so what's new with you since I last saw you?" "Have you been exercising?". And I of course went was like "oh nothing, still in school chugging along". But it took a minute before it hit me that something was new since I last saw him. I have a blog and I spend a lot of my free time playing with flour and butter or plugged online. Are these symptoms I should relate to? Lol! He just said, " Make sure you get your eyes looked at because it looks like you spend a lot of time in front of a screen.". So eye doctor here I come!!
But just the act of telling him I have a baking blog and I have met so many amazing people (yes, you!) I connect with daily and that I just went to Minneapolis to bake in the Pillsbury kitchens made me realize my life is definitely different from a year ago. Having this little space online where I share my favorite recipes and talk cake, cupcakes, and macarons with people I can call friends has changed my world in ways I cannot even begin to fathom. But I will save the mushy stuff for the week after next when I celebrate the actual one year of the blog.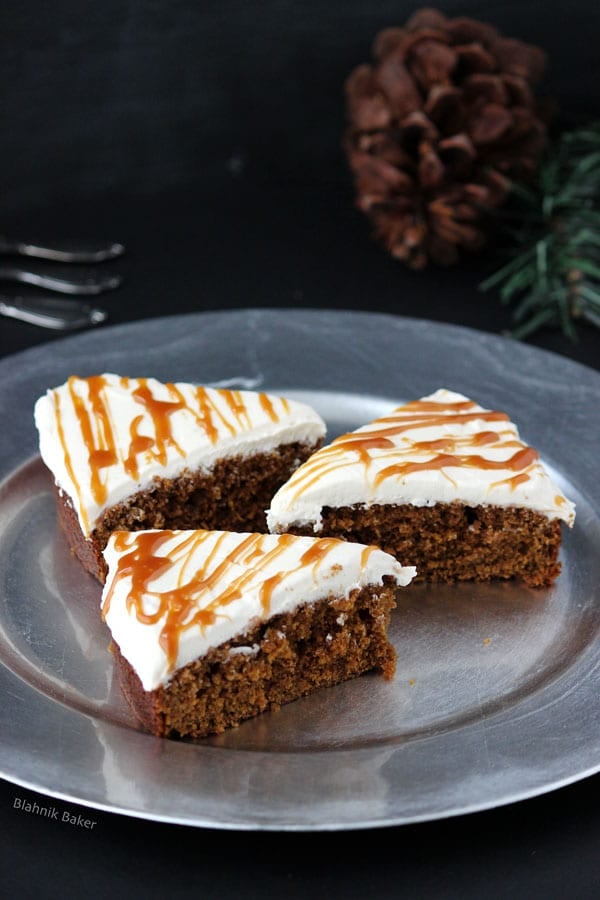 At the end of my doctor's visit, I was sent home with a healthy stamp and a recommendation to take Vitamin D supplements (apparently I'm a hermit) and to exercise more (what's new?).
I took this as a cause to celebrate, so I cuddled up with a cup of tea and a slice of this flavorful gingerbread cake while watching Pride & Prejudice.
There is something about the combination of molasses, brown sugar, cinnamon and Colin Firth that is just so comforting. This holiday classic is easy to whip up in no time. The gingerbread cake is moist and flavorful. Not too sweet and has a great balance of molasses and spices. I topped the cake off with a simple molasses buttercream and drizzled a little salted caramel for decoration. You can leave this off if you like but I loved the added salty flavor up against the sweet molasses.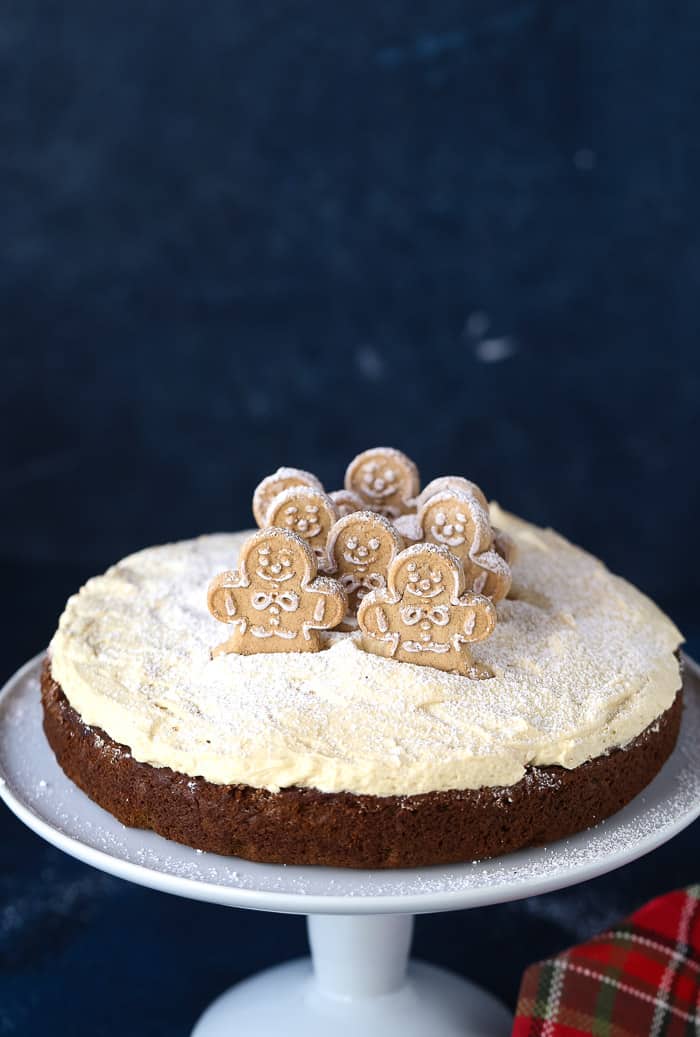 Make this flavorful gingerbread cake this holiday season as your family and loved ones gather. And once you get a minute or two, call your doctors (family physician and woman doctor if you are a girl) to set up your yearly physical appointments. It is important to stay on top of your health 🙂
I hope you have a great last weekend before Christmas! I'll be one of those scrambling to start my shopping.
Enjoy this gingerbread cake recipe!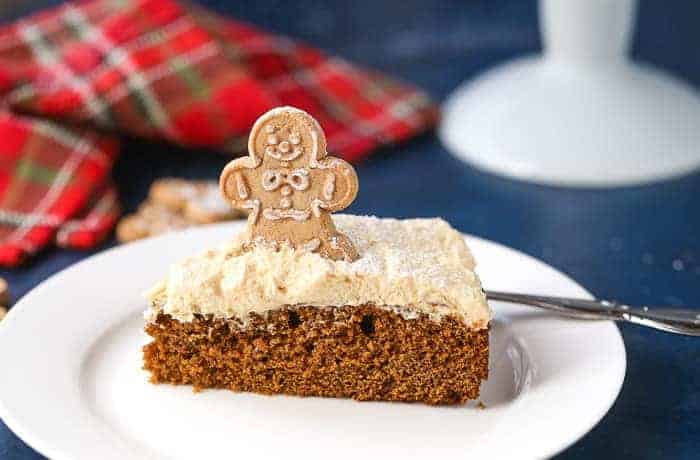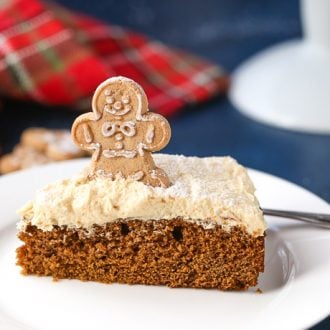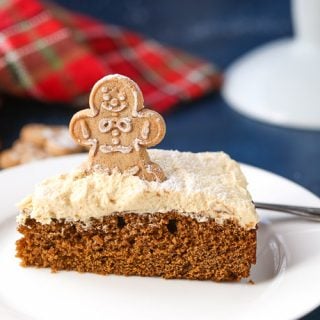 Yield: 1 9-inch cake
Gingerbread Cake with Molasses Buttercream
Gingerbread cake, moist and flavorful, with molasses buttercream and salted caramel drizzle. A holiday dessert that will surely become a new favorite!
Total Time
1 hour
25 minutes
Ingredients
Gingerbread Cake
1 ½ cups all-purpose flour
¾ teaspoon ground cinnamon
¾ teaspoon ground ginger
¼ teaspoon cloves
½ teaspoon baking powder
½ teaspoon baking soda
¼ teaspoon salt
½ cup unsalted butter, softened at room temperature
¼ cup brown sugar, packed
1 large egg, room temperature
½ cup molasses
1 teaspoon pure vanilla extract
½ cup buttermilk, at room temperature
Molasses Buttercream
½ cup (1 stick) unsalted butter, at room temperature
1½ -2 cups confectioner's (powdered) sugar
2-3 tablespoons molasses (more if you want a sweeter frosting)
Pinch of salt
!Topping:
a drizzle of salted caramel (optional)
Instructions
Preheat oven to 350 degrees F. Grease a 9-inch round pan with baking spray (or butter and flour) and line with parchment circles. Grease parchment and set aside.
In a medium bowl, whisk together the flour, cinnamon, ginger, cloves, baking powder, baking soda, and salt.
In the bowl of an electric mixer, cream butter and sugar on medium speed until light and fluffy, about 3-5 minutes. Add egg, molasses and vanilla extract and beat until combined, about 1 minute. Alternately add flour mixture and buttermilk, starting and ending with flour mixture and beating on low speed after each addition until combined.
Pour batter into prepared pan and bake until a toothpick inserted into the center comes out clean, about 30-40 minutes. Let cake cool in the pan for 10 minutes before turning out onto a wire rack. Serve warm.
Frosting:
Whip butter on medium speed for about 2-3 minutes in the bowl of a stand mixer fitted with the paddle attachment until light and creamy. Add the powdered sugar, molasses, and salt and mix on low speed for 1 minute until combined. Increase speed to medium-high and whip for 2-3 minutes.
If frosting is too thick, add 1-2 tablespoons heavy cream and beat on medium speed for an additional minute or two.
Spread frosting on top of the cake and smooth using an offset spatula. Drizzle with some salted caramel if desired.
Notes
Note:
You could make this a gingerbread latte cake by adding 1 tablespoon espresso powder and/or 1 teaspoon coffee extract. Also, I added a few drops of white coloring to make the buttercream lighter in color.
Recommended Products
As an Amazon Associate and member of other affiliate programs, I earn from qualifying purchases.