Edible Cookie Dough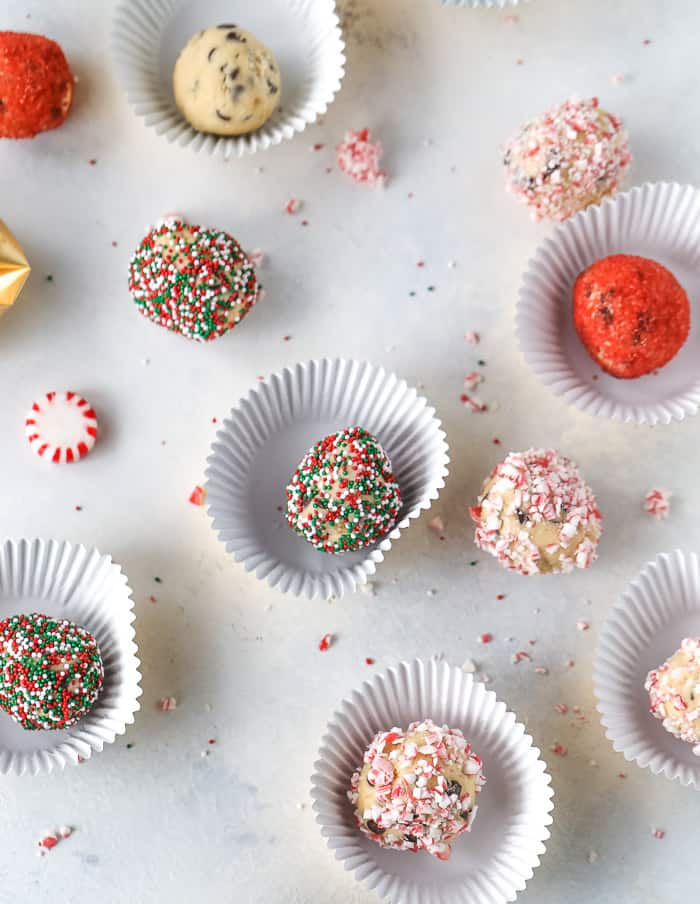 Holiday cookie boxes are one of my favorite gifts for friends and family. In addition to my staple peppermint bark and these homemade peppermint marshmallows, this year I am adding in edible cookie dough. It was actually my friend's idea when I was asking her for new recipes to add to my holiday collection. I am so glad I listened to her (thanks to Lea!) because I am now obsessed with the different flavors and colors I can add to my cookie boxes.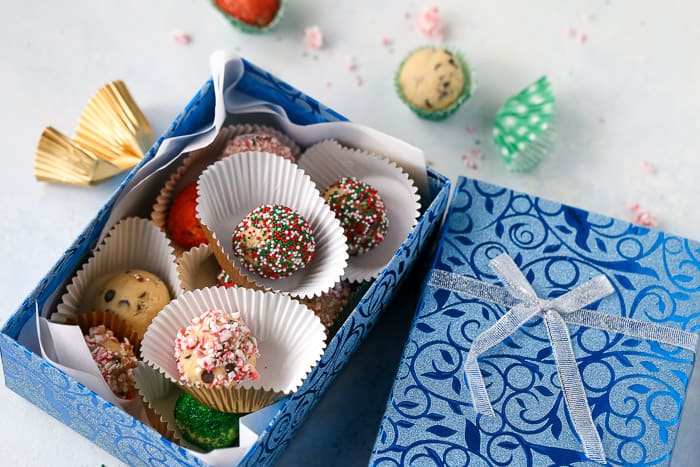 Let's first address the elephant in the room when it comes to talking about edible cookie dough. Is it safe to eat? Yes and Yes. To be absolutely sure your cookie dough is safe to eat, you have to ensure there are no raw eggs in the dough AND the flour is cooked.
Yes, the flour. Flour is actually a bigger risk factor for contamination. This recipe addresses that by baking the flour to ensure the cookie dough is safe to eat raw.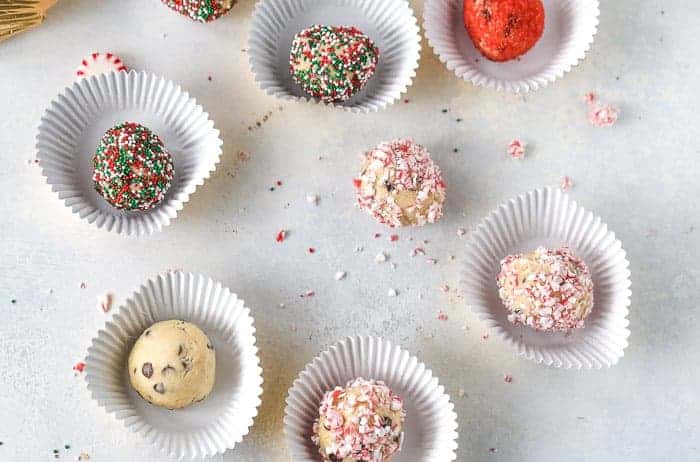 Now onto the recipe. There's something about the combination of butter, sugar, flour and chocolate chip in the quintessential cookie dough recipe. We all love it and can't resist it when whipping up a batch of our favorite chocolate chip cookie recipe. It's almost addictive. So it is a good idea to have a quick go-to edible cookie dough recipe when that craving hits.
This recipe can be used as a go-to as it is basic. It leaves lots of room for adaptations as well as personalizations with your favorite cookie add-ins. The first step of the recipe is the hardest and that is to bake your flour in the oven for a short period of time (5 minutes) to make sure any bacteria contaminates are killed. Once you do that, the rest is easy!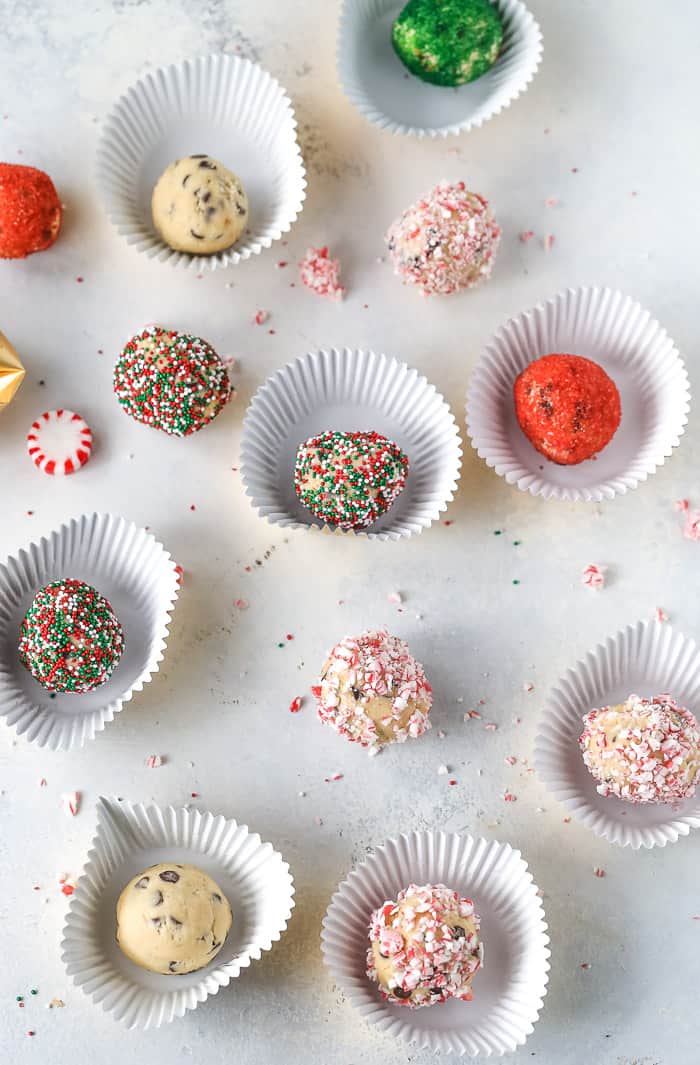 The next step is creaming your sugar and butter together until the mixture is light and fluffy. You add in a few tablespoons of cream cheese in this recipe which adds a great level of creaminess to the cookie dough. I added in a bit of almond extract to this as I love the flavor it brings as well as a pinch of cinnamon as that's one of my secret ingredients in my favorite chocolate chip cookie recipe.
Once all the ingredients are combined, the edible cookie dough is ready to enjoy! I've made this with caramel bits and sea salt added in. For the holiday season, I rolled these in crushed peppermint candy canes, holiday sprinkles, and sparkling sugar.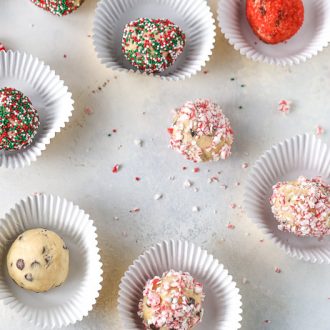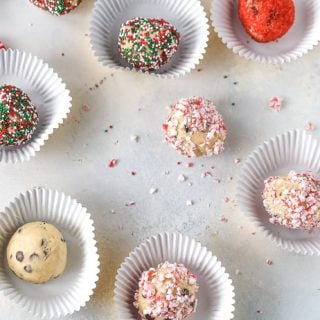 Yield: ~2 dozen
Edible Cookie Dough
This Edible Cookie Dough Recipe is perfect for holiday gifting.
Ingredients
1 cup all-purpose flour
1/2 cup unsalted butter, at room temperature
3/4 cup light brown sugar
2 ounces cream cheese
2 tablespoons milk
1 teaspoon vanilla extract
1/4 teaspoon almond extract
1/4 teaspoon kosher salt
1/4 teaspoon ground cinnamon
3/4 cup mini semi-sweet chocolate chips
Optional add-ins: chopped almonds, caramel bits, white chocolate chips, etc.
For rolling the cookie dough: crushed peppermint candy canes, holiday sprinkles, sparkling sugar
Instructions
Preheat oven to 375 degrees F.
Spread the flour evenly onto a baking sheet.
Bake flour for 5 minutes. Let cool completely.
In a medium bowl, using an electric mixer, cream together the butter, sugar and cream cheese on medium speed until fluffy, about 5 minutes.
Add in the milk, vanilla extract, almond extract, salt, and cinnamon. Mix until combined and for an additional 1 minute.
Using a rubber spatula, fold in the cooled baked flour and chocolate chips and any other add-ins.
Using a cookie scoop, scoop out balls of cookie dough. Roll in crushed peppermint candies or holiday sprinkles or sparkling sugar.
Store leftovers refrigerated.
Recommended Products
As an Amazon Associate and member of other affiliate programs, I earn from qualifying purchases.