Brown Butter Salted Caramel Chocolate Chip Cookies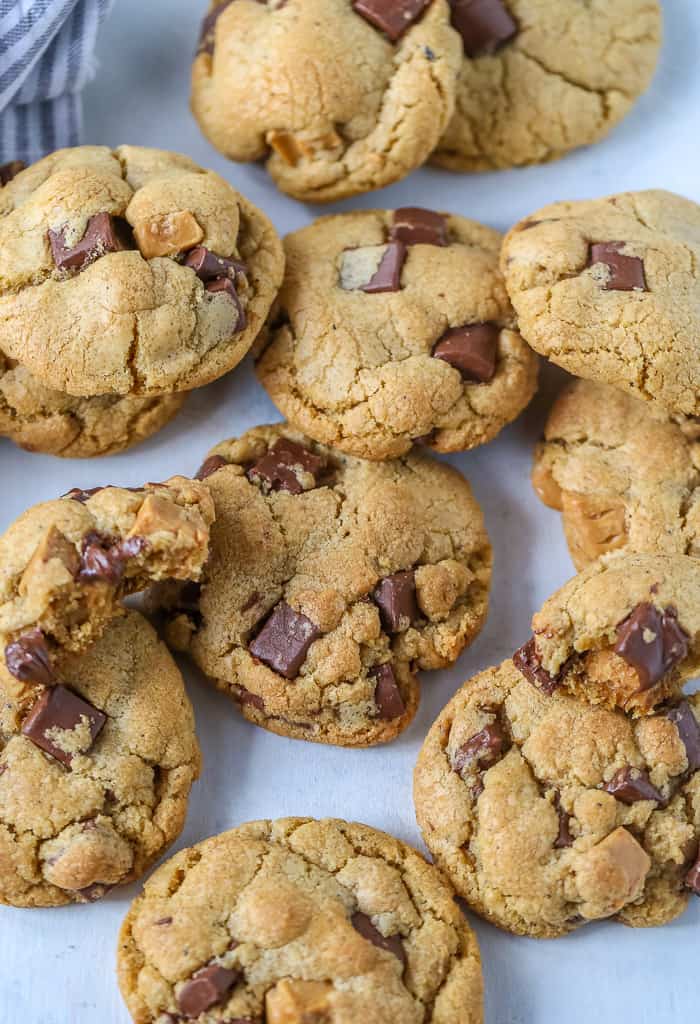 Hello friends! I have some sweet cookies for you today. These salted caramel chocolate chip cookies are a great blend of sweet and salty and the perfect chocolate chip cookies for when you have those cookie cravings.
These cookies actually started my obsession with brown butter that manifested into brown butter week. I was testing a few recipes for salted caramel chocolate chip cookies for June Bakin Friends when I came across these. The first batch was too chewy for my taste so I didn't end up sending them to my baking friend. But I kept working on the recipe and I changed a few things and then browned the butter and the second batch gave me these wonderful cookies.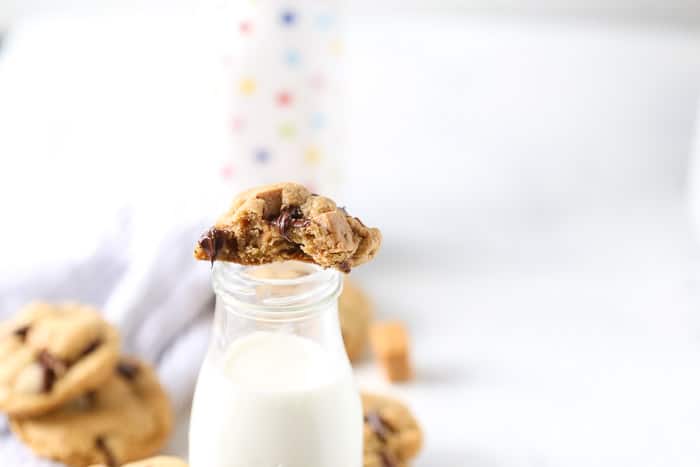 I made them twice to be sure and mailed them to my biggest critique and taste tester in Virginia. She is brutally honest and isn't afraid to hurt my feelings as my husband can sometimes be. She loved them so much that she called me three times in one day, each time with specifics about what she liked. So you know these cookies are solid.
What makes them amazing? Is it the nutty browned butter? The salted caramel in the middle? Or the chewy outside and gooey inside? It is actually all of these.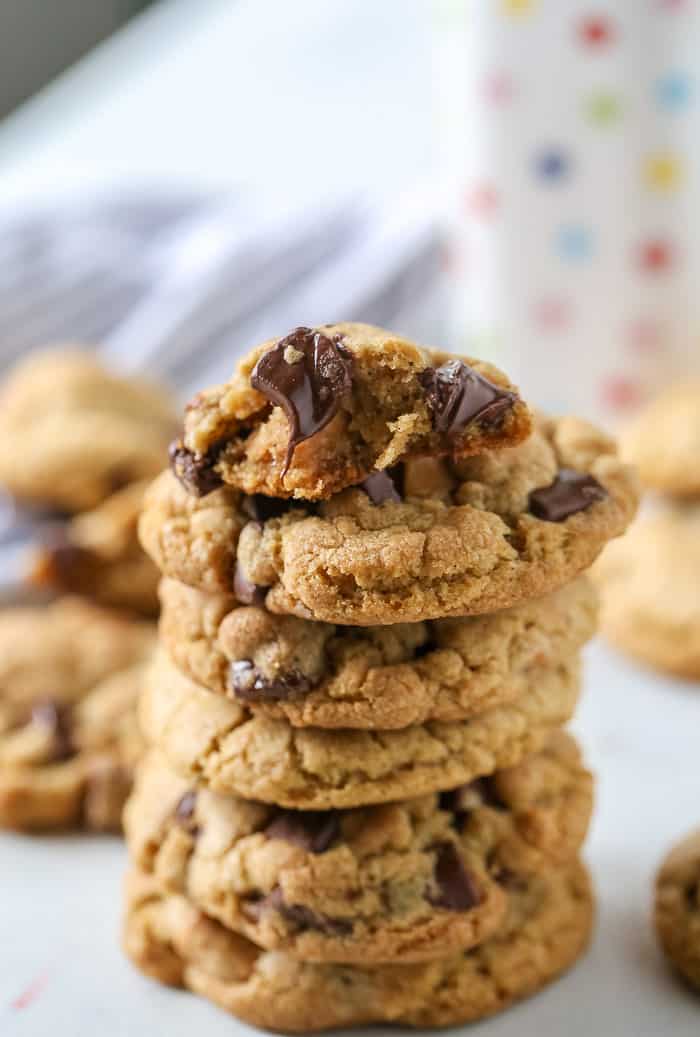 I like soft cookies and that's exactly what these are. They are very soft and gooey on the inside and so crisp on the exterior. You will love them too! There is nothing not to like here. Seriously! Brown butter and salted caramel were made for each other because the flavors compliment each other perfectly. I know you shouldn't pick favorites, but these are my favorite cookies yet!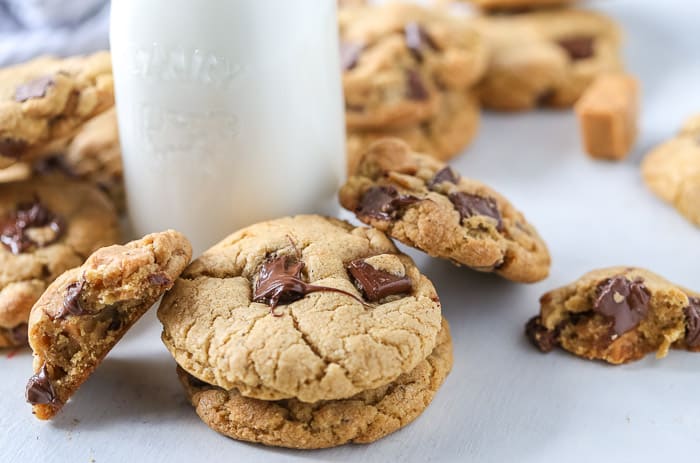 This is a great recipe and a perfect way to end brown butter week!! We've had peanut butter brownies, some fluffy peach cupcakes and now these soft salted caramel chocolate chip cookies all loaded with wonderful browned butter.
Thanks for putting up with me this week as I went on and on about my new found secret ingredient. You are the best! And I hope you will give some of these recipes a try, especially these cookies!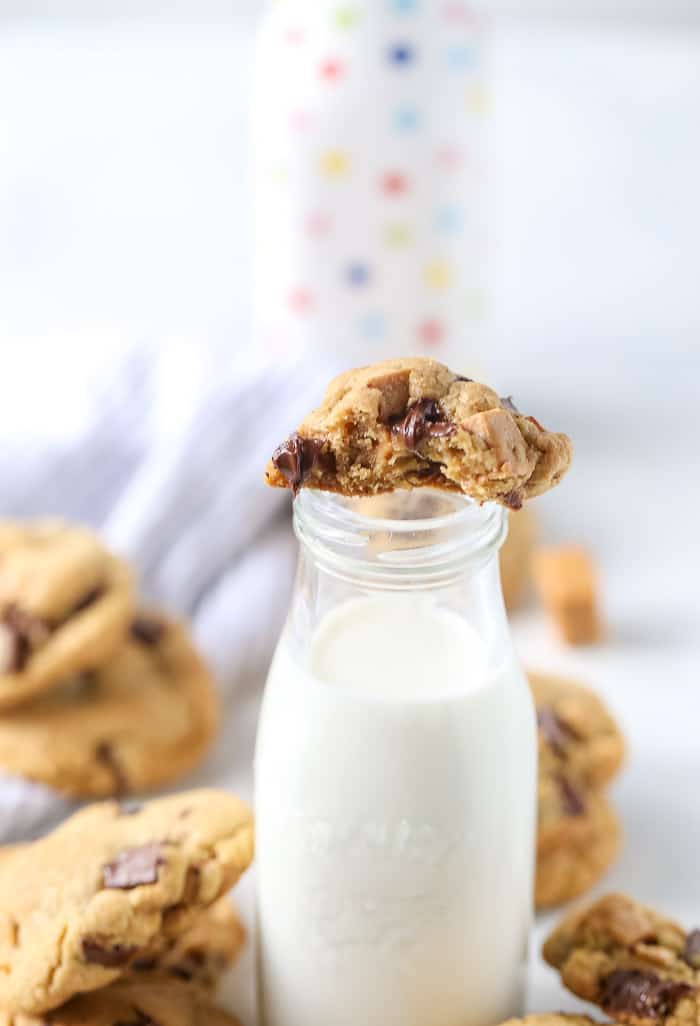 Have a great weekend 🙂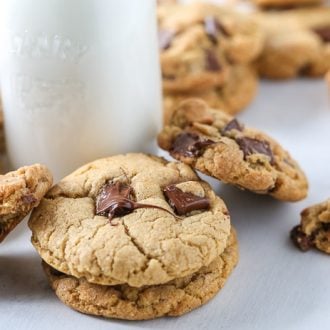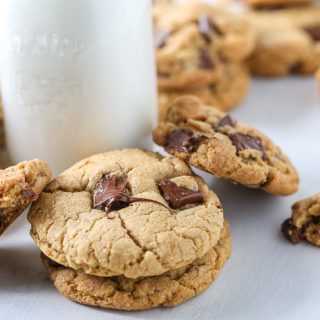 Yield: About 20 cookies
Brown Butter Salted Caramel Chocolate Chip Cookies
Brown butter and salted caramel were made for each other because the flavors compliment each other perfectly in these salted caramel chocolate chip cookies!
Ingredients
1 cup (2 sticks) unsalted butter, browned and cooled to room temperature
1¼ cup packed light brown sugar
¼ cup granulated sugar
1 large egg and 1 egg yolk
2 teaspoons pure vanilla extract
2¼ cups all-purpose flour
1 teaspoon baking soda
½ teaspoon salt
1 ½ cups semi-sweet chocolate chips
Sea salt for sprinkling
Instructions
To brown butter: Cut butter into pieces and melt in a saucepan over medium heat. Start to whisk constantly once the butter begins to foam. When the butter starts turning brown, fragrant and you see brown bits at the bottom of the pan, remove from heat. Transfer to a mixing bowl and allow to cool.
Preheat oven to 350 degrees F. Prepare two cookie sheets lined with wax or parchment paper.
In a medium bowl, whisk together the flour, baking soda and salt.
In the bowl of a stand mixer, beat the cooled butter and sugars on medium speed until well combined, about 3 minutes. Add the egg, egg yolk and vanilla and beat until combined. Add in half of the flour mixture and mix on low speed until just combined. Add the rest of the flour and mix well. Stir in the chocolate chips by hand and stir until combined.
Using a small cookie scoop or tablespoon, scoop one tablespoon of dough, press the center with your thumb and fill with about 1 teaspoon of caramel sauce. Place another scoop of dough on top and press together to seal the caramel sauce inside. Place on cookie sheets.
Bake for 12-15 minutes or until the edges start to turn golden brown. Cool on baking sheet for about two minutes and sprinkle cookies with sea salt. Transfer to cooling rack.