Blueberry Bundt Cake with Lemon Glaze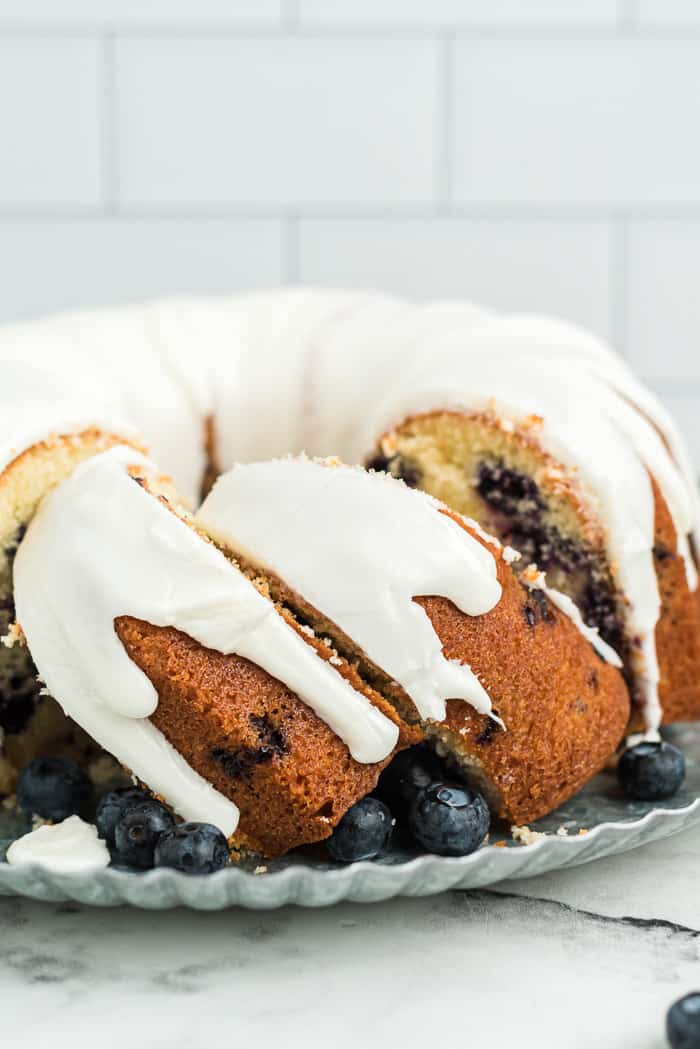 *This recipe was originally published on July 16, 2013. It was long overdue for an update, so I revisited the recipe and took updated pictures in July 2021. I hope you enjoy it as much as we do!**
July is National Blueberry Month and to celebrate of course I had to make a cake! I didn't want to make a traditional cake and after seeing this blueberry bundt cake in the current issue of Food Network Magazine, I knew it was time for me to cross off bundt cake on my baking bucket list. So I bought a bundt pan (shhh: I felt like a big girl!) and grabbed some fresh blueberries and gave it a try this weekend. I am so glad I did!!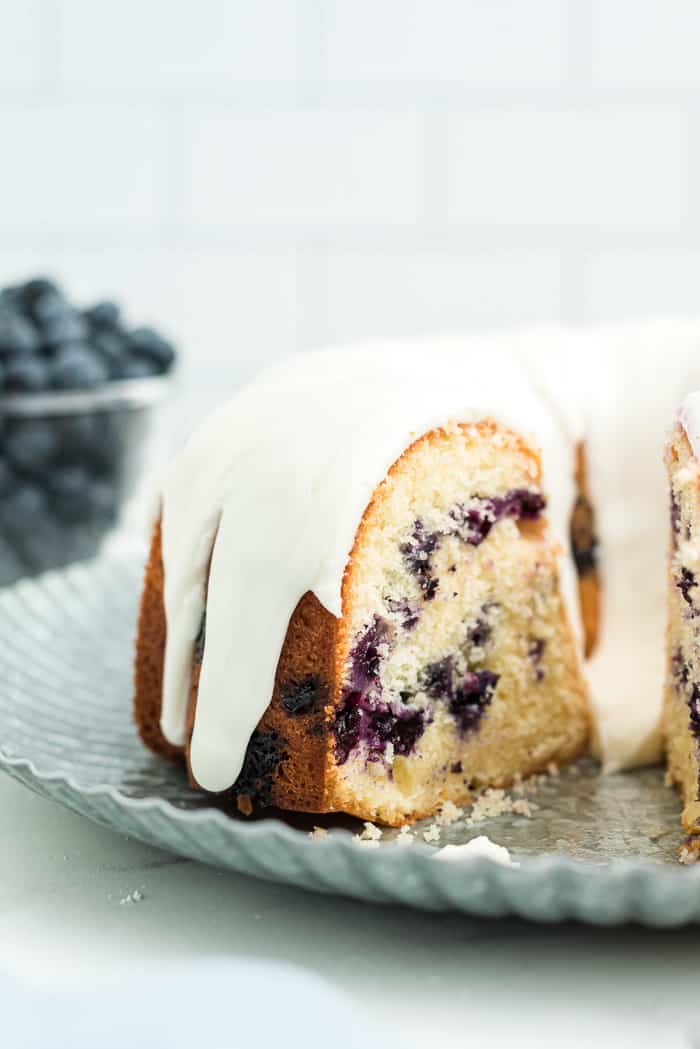 The process of making a bundt cake is much like making a cake, except you have to be super careful not to over-mix the batter. If you are successful, you get a light and airy cake, which is exactly what this blueberry bundt cake is. It is extremely moist and I think the addition of vegetable oil helped with this. I loved the texture of the blueberries in the cake too, they stayed very juicy. I was scared the blueberries might sink to the bottom, but I tossed them in flour before adding them to the batter and they remained floating in the cake as you can see. The cake itself is not too sweet so the lemon glaze is a perfectly sweet way to top it off!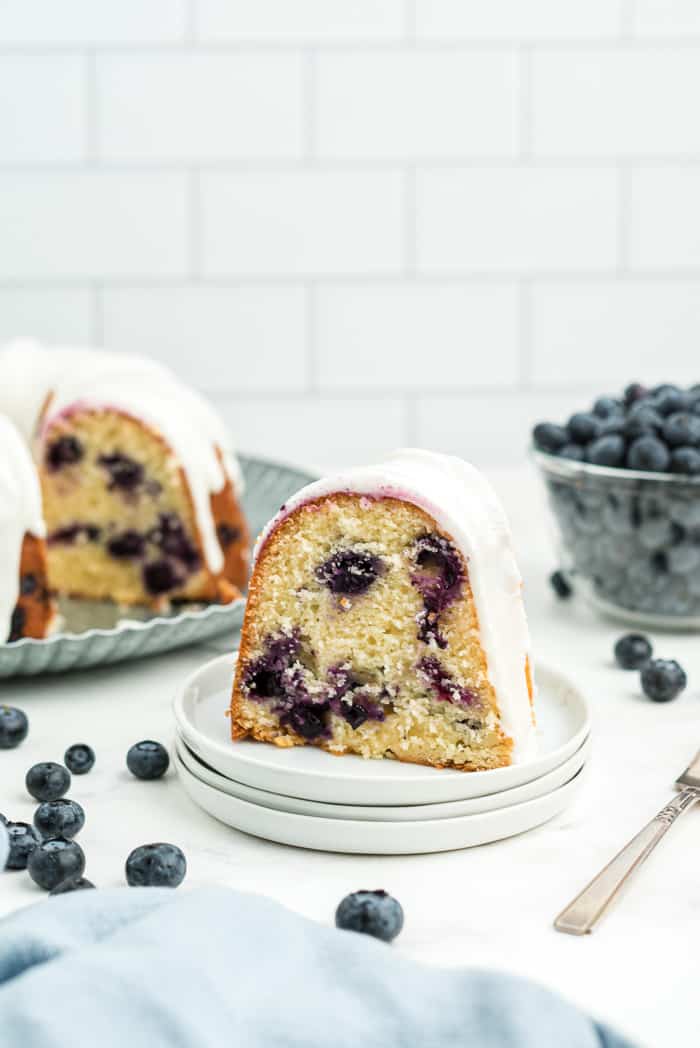 I brought this cake to the lab yesterday and it was quickly devoured by my lab mates. When I asked them what they liked about it, two things stood out: moist cake and delicious glaze! And that's exactly how I would sum up this blueberry bundt cake. I can't wait to make more bundt cakes and thanks to my lab mates, I already have some special requests for more summer flavored bundt cakes.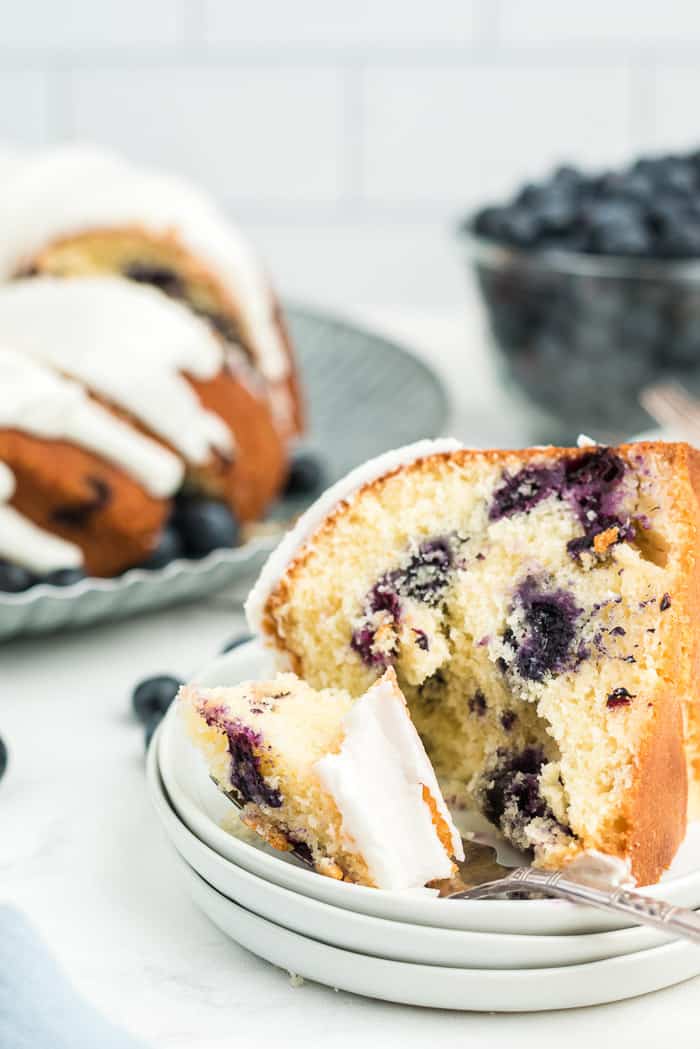 For you blueberry lovers, Tracey at Tracey's Culinary Adventures is having a blueberry week (super awesome right??) starting off with this delicious blueberry-lime cream cheese pound cake (another thing on my baking bucket list: pound cake). Check it out!
On another note, I'm taking part in a great bake sale (
Muffins for Muffin Online Bake Sale
) that is happening tomorrow Wednesday, July 17
th
at 8 am on Kita's blog
Pass the Sushi
. Kita is hosting the bake sale to help raise some awareness about animal abuse and also raise funds for a puppy (Muffin) that was found neglected, abused, and with terrible chemical burns. Miss Muffin has a long road ahead and this bake sale will help with her medical expenses. I'm donating my brown butter salted caramel chocolate chip cookies to the sale. Please head over there and take a look at all the other amazing treats and on Wednesday bid/donate to help Muffin. Click
here
for more details.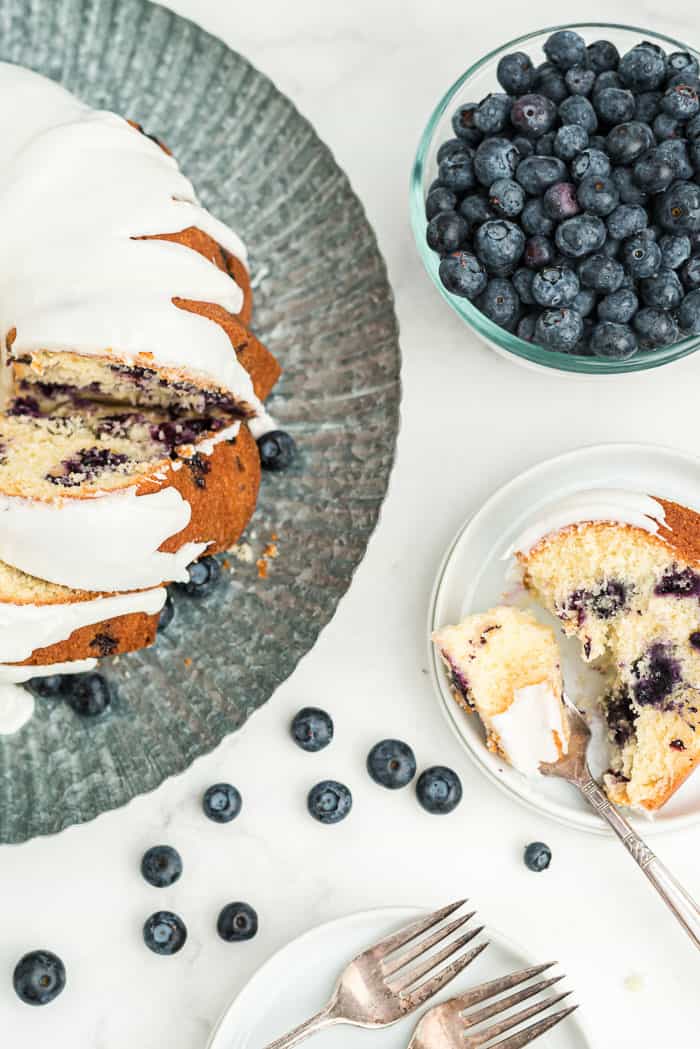 I hope you find time this summer to whip up a bundt cake!! Blueberry season is almost done so be sure to grab some fresh blueberries while you can. Here are some other blueberry recipes you may like: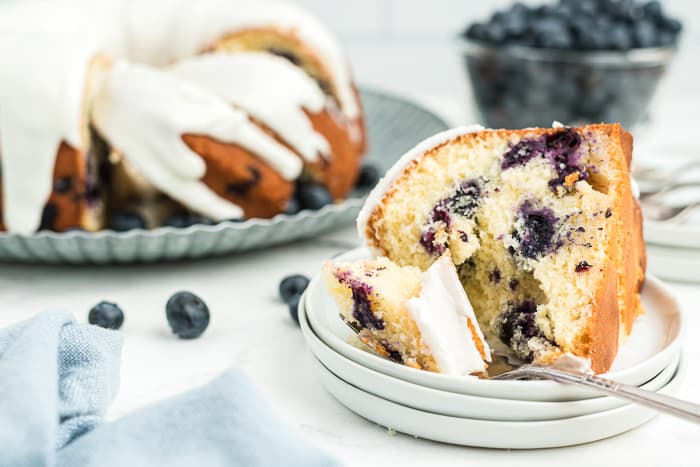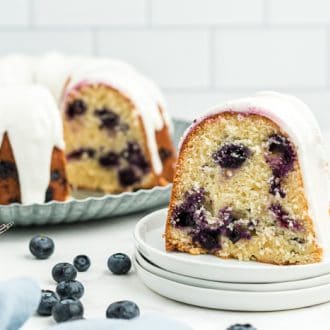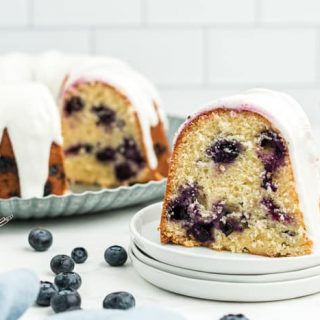 Yield: 1 bundt cake
Blueberry Buttermilk Bundt Cake with Lemon Glaze
This blueberry buttermilk bundt cake is light, airy and full of deliciousness!
Total Time
1 hour
20 minutes
Ingredients
3 cups plus 2 tablespoons all-purpose flour
2½ teaspoons baking powder
1¼ teaspoons salt
1 cup (2 sticks) unsalted butter, room temperature
1¾ cups sugar
¼ cup vegetable oil
4 large eggs, room temperature
1 teaspoon pure vanilla extract
¾ cup buttermilk, room temperature
2 cups blueberries (about 1 pint)
2½ cups confectioners' sugar
1 tablespoon unsalted butter, room temperature
1 tablespoon lemon juice
3 to 4 tablespoons milk
Instructions
Preheat oven to 350 degrees F. Grease a nonstick 12-cup Bundt pan (mine is 10-inch and worked great). In a medium bowl, whisk together 3 cups of flours, baking powder and salt.
In the bowl of an electric mixer, beat together the sugar, oil and butter on medium-high speed until fluffy, about 5 minutes. Scrape down the sides of the bowl as needed. Add in the eggs, one at a time and beating until combined. Beat in vanilla extract.
Add in a third of the flour mixture and half of the buttermilk. Mix until just combined. Then add another third of flour and the rest of the buttermilk. Mix again until just combined. Scrape down the side of the bowl as needed. Add the rest of the flour and mix for 30 seconds. Finish incorporating the flour into the batter by hand with a rubber spatula to avoid over mixing.
In a small bowl, toss the blueberries with the remaining two tablespoons of flour. Pour or spoon a third of the batter into the prepared pan, sprinkle half of the blueberries on top of the batter then top with another third of the batter. Scatter the rest of the blueberries on top of the batter and then top with the last third of the batter. Smooth the top.
Bake until cake is golden brown and a toothpick inserted into the center comes out clean, about 50 minutes to an hour. Transfer to a cooling rack and allow cake to cool in pan for 30 minutes. Using a small sharp knife, run it around the edge of the pan to loosen the cake and then invert the cake onto a cooling rack (lined with parchment paper) to cool completely.
For the glaze
Whisk together all the ingredients in a small bowl. If the glaze is too thick, whisk in a tablespoon of milk, a little at a time.
Just before serving, pour the glaze over the cake and allowing it to drip down the sides. Enjoy!
Recommended Products
As an Amazon Associate and member of other affiliate programs, I earn from qualifying purchases.