Pumpkin Smores Cookies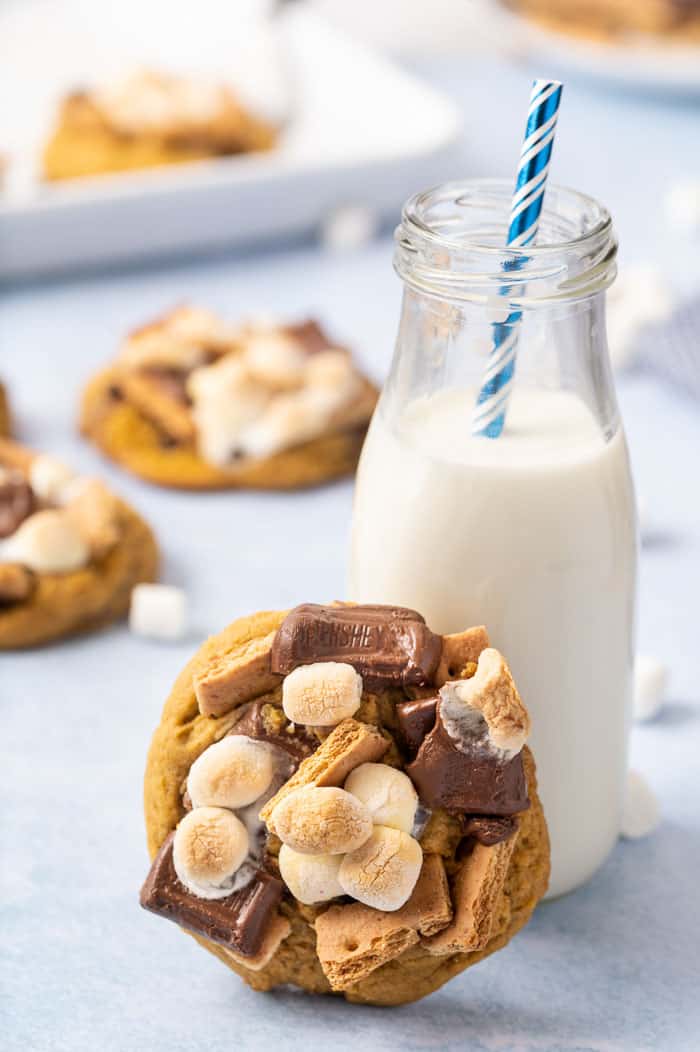 Hey there friends! It's the best time of the year because it's PUMPKIN SEASON. I revel in all the ways I can include this amazing fall ingredient into my cooking, baking, drinks, decorations and so much more! That brings us to our super fun recipe today, Pumpkin S'mores Cookies.
These pumpkin s'mores cookies are soft cookies, flavors bursting with memories of a fall campfire. They've got a crunch from the graham cracker pieces, gooey from the marshmallows, and topped with melted chocolate goodness.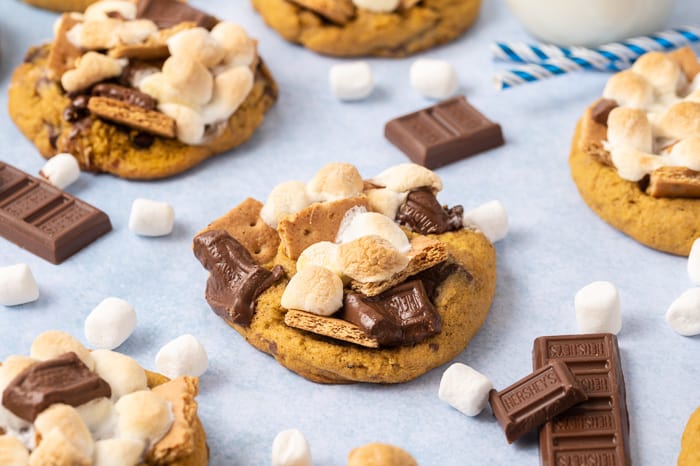 Pumpkin puree makes everything it is added to super creamy and soft. Now add in marshmallow and you might have the softest cookies ever. Better than any of those famous store-bought brands and super fun to make. Not to mention the wonderful aroma that comes with the cookies baking up in the oven.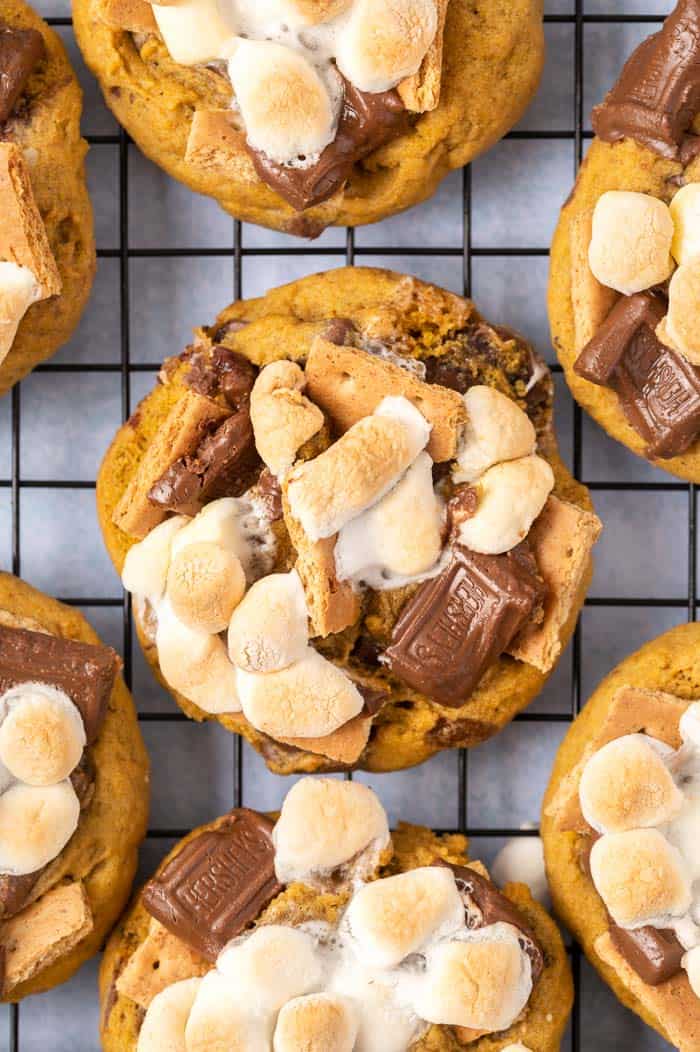 Pumpkin is definitely one of my favorite fall ingredients but my close second has to be anything s'mores related because it is the season for family and friends bonfires that include this historic treat that you make right in front of your very own eyes. A lot of us don't have the area space to have our own bonfire so I love to share these recipes that make it accessible to everyone. Plus, blending pumpkin and smores flavors is just a great way to relish the warm end of summer days and welcoming the crisp fall weather.
Grab a cold glass of milk and serve a few of these to the kids after dinner or share during your wine night with friends alongside your favorite wine or even a pumpkin ale. You can't ever go wrong with what you serve these with or who you serve these to because everyone will go nuts for your Pumpkin S'mores Cookies.
Every Halloween I make new cookies with the kids and it really gets everyone into the holiday spirit. This year we will make these cookies and then carve our porch pumpkins to light up while trick or treating. It is a wonderful experience because we get to put aside our stress and worries to just be present at the moment.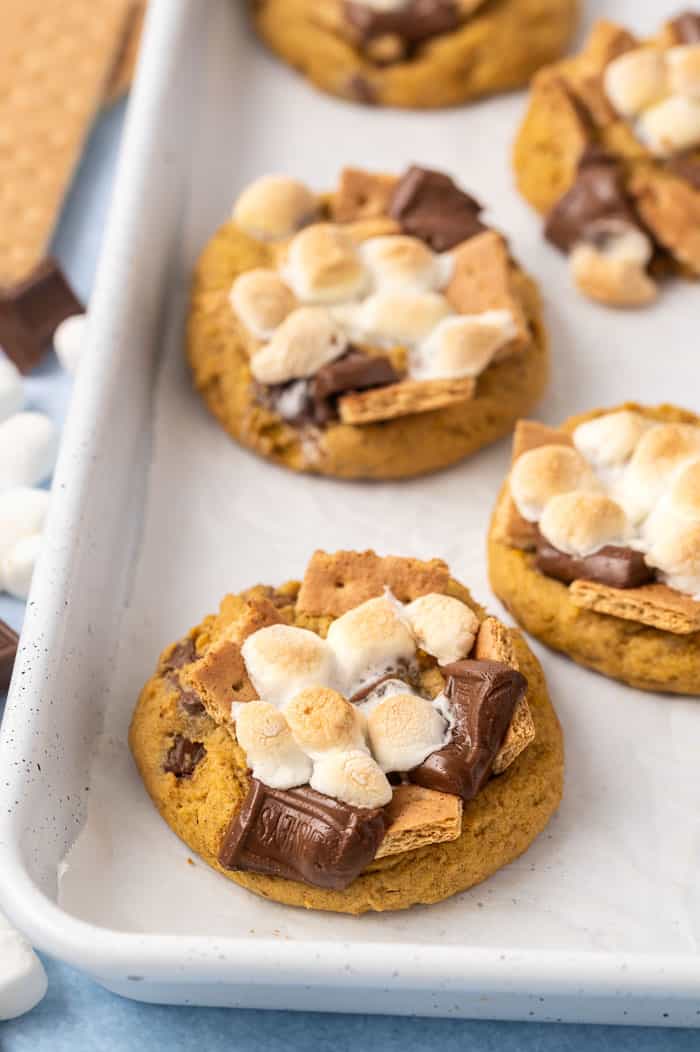 I hope you enjoy these and if you have kids, baking with them will be a wonderful memory you all will cherish for life. Let me know in the comment section below what you think and how you made them. I love hearing all of your stories and seeing these recipes really come to life. When sharing across social media make sure to tag #aclassictwist so I can see your creation. It always puts a smile on my face knowing other people enjoy these recipes as much as I do. Until next time, I hope you all have a great week and happy baking!
FAQs
What ingredients will I need to complete this recipe?
You will need the following ingredients:
All-purpose flour
Baking soda
Baking powder
Pumpkin spice
Salt (table salt)
Unsalted butter
Brown sugar
Pumpkin puree

We always have some Libby's pumpkin puree in our cupboard!

Vanilla extract

We love the Watkins brand

Chocolate chunks

We used the Hershey's brand for a classic s'mores look and taste. It took about 6 1.55 oz Hershey chocolate bars. You can use any kind of chocolate!

Mini marshmallows
Graham crackers

To break the graham crackers to size: break into half, then quarters. You should now have four pieces from one cracker. Break down each one of the quarter rectangles into ¼-½ inch-sized pieces.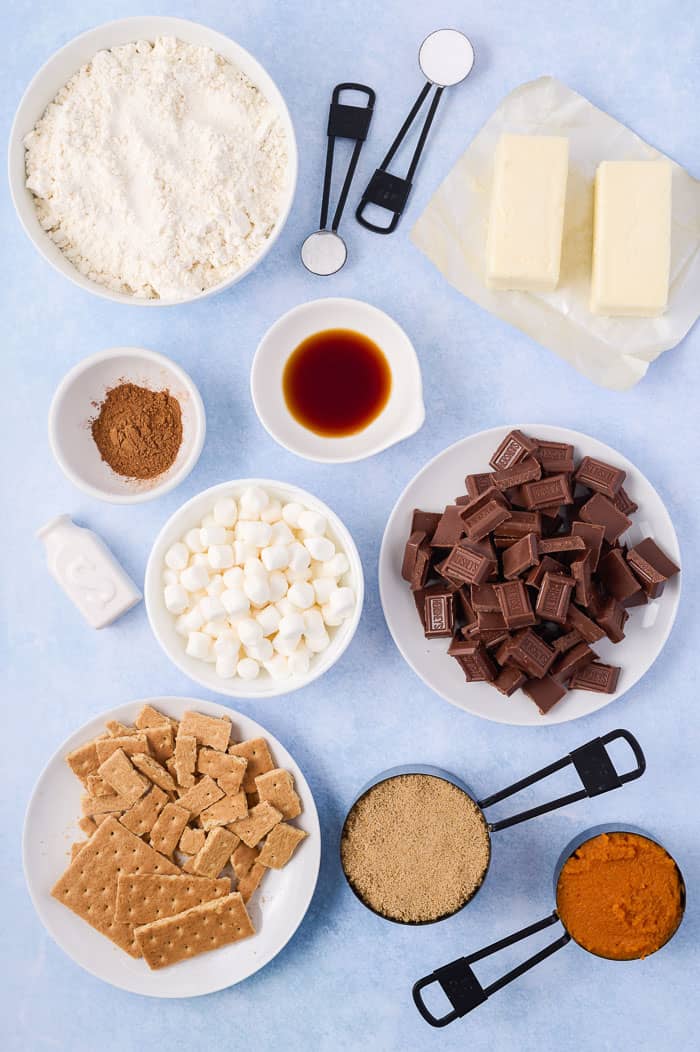 Can I make this without a standing mixer?
Yes. We'd recommend using a handheld electric mixer if you don't have a standing one for the best results when combining the pumpkin, sugar, and butter. You could mix by hand, but it may take a bit of elbow grease and softer than room temp butter to work (be careful! you don't want the butter too warm!)
How should I assemble the top of the cookies?
Create a staggered nest with the graham cracker pieces so that the mini marshmallows are contained by them. Adding a piece or two of the graham cracker in the center will add some extra support and crunch!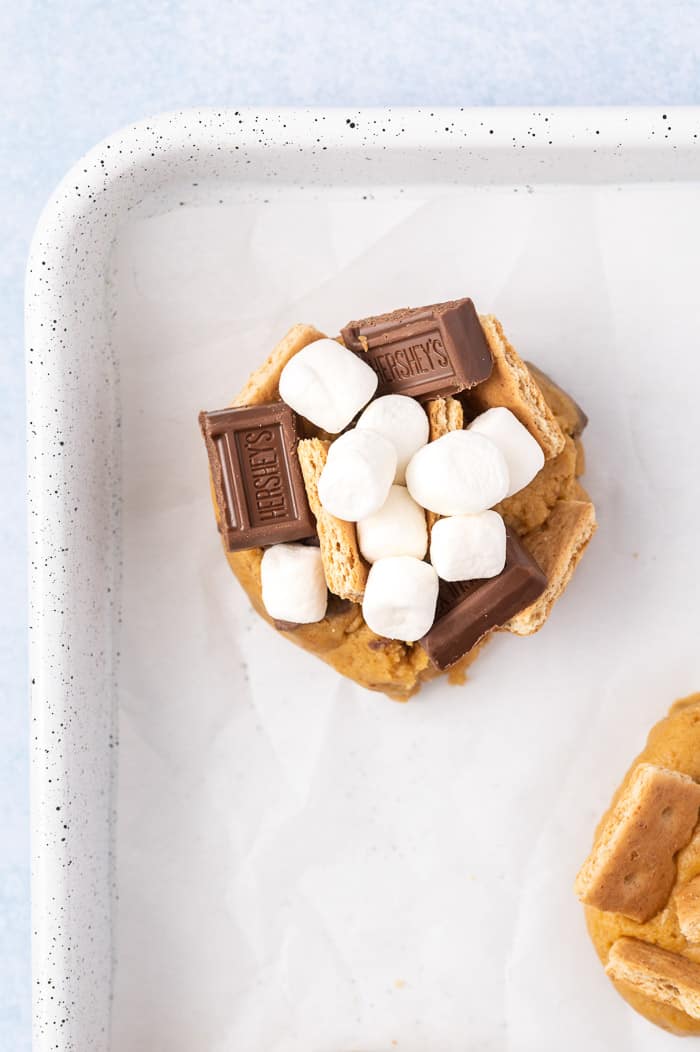 How should I store these cookies?
Store in an airtight container in a single layer in the fridge for 3 – 7 days.
Can I use large marshmallows instead?
Yes! Place one marshmallow in the center of the cookie, surrounded by graham cracker pieces to hold it in place. You can also tear a large marshmallow into a few smaller pieces to spread it out across the cookie top.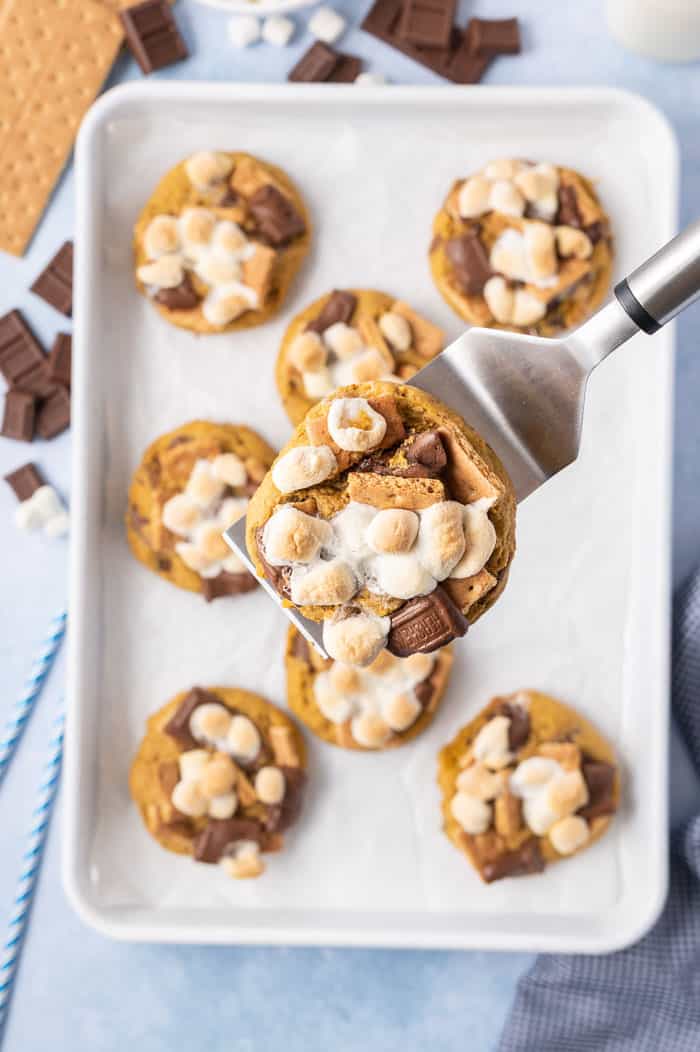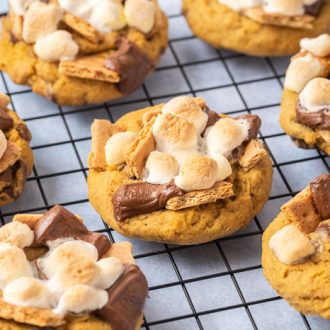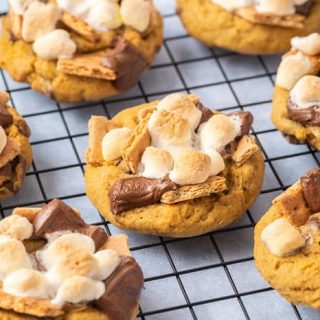 Yield: 15 cookies
Pumpkin Smores Cookies
These pumpkin smores cookies are the perfect way to embrace the end of summer and welcome fall. Gooey, chewy, and delicious.
Additional Time
30 minutes
Total Time
1 hour
4 minutes
Ingredients
2 ½ cups all-purpose flour
1 teaspoon baking soda
½ teaspoon baking powder
2 teaspoons pumpkin spice
1 teaspoon kosher salt
1 cup unsalted butter, softened
1 cup brown sugar, packed
½ cup of pumpkin puree
2 teaspoons pure vanilla extract
2 cups of chocolate chunks, divided (6 1.55 oz chocolate bars)
1 cup mini marshmallows
4-6 graham crackers broken into rectangle chunks about ¼-½ inch
Instructions
Preheat the oven to 350 degrees Fahrenheit and line a baking sheet with parchment paper.
Add the flour, baking soda, baking powder, pumpkin spice, and salt to a small mixing bowl and whisk to combine. Set aside.
Add the butter, brown sugar, pumpkin puree, and vanilla extract to the bowl of a standing mixer and mix with the beater attachment on a medium speed until well combined (about 30 seconds - 1 minute).
Add the dry ingredients to the wet and lower the mixing speed to a medium-low. Mix until they're just combined and there are no more streaks of flour. Scrape down the sides as necessary.
Use a spatula to fold in your chocolate chunks, reserving ½ cup of chocolate chunks.
Using a small cookie scoop, scoop out balls of dough and slightly flatten to a 2 ½ inch wide, ¾ inch thick puck. Create little nests with the graham cracker pieces on top and tuck the marshmallows and reserved chocolate pieces in between them. *
Bake for 14 minutes and let the cookies sit on the baking sheet for an additional 5 minutes before moving to a cooling rack.
Notes
*See the close-up process shots for the best representation of how to nest and fill the graham cracker pieces, chocolate, and marshmallows. The cookies will expand as they bake, so the goal of creating a nest with the graham cracker pieces is to help secure the marshmallows and chocolate in place. They will spread some, but it will stop them from sliding off.
These cookies are super soft and gooey straight out of the oven - which is delicious in our opinion, sneak a bite, we won't tell! - so use a spatula to lift them off the baking sheet and onto the cooling rack, or you may risk them breaking in half. They will firm up during the cooling period.
Recommended Products
As an Amazon Associate and member of other affiliate programs, I earn from qualifying purchases.