Apple Cheddar Twist Bread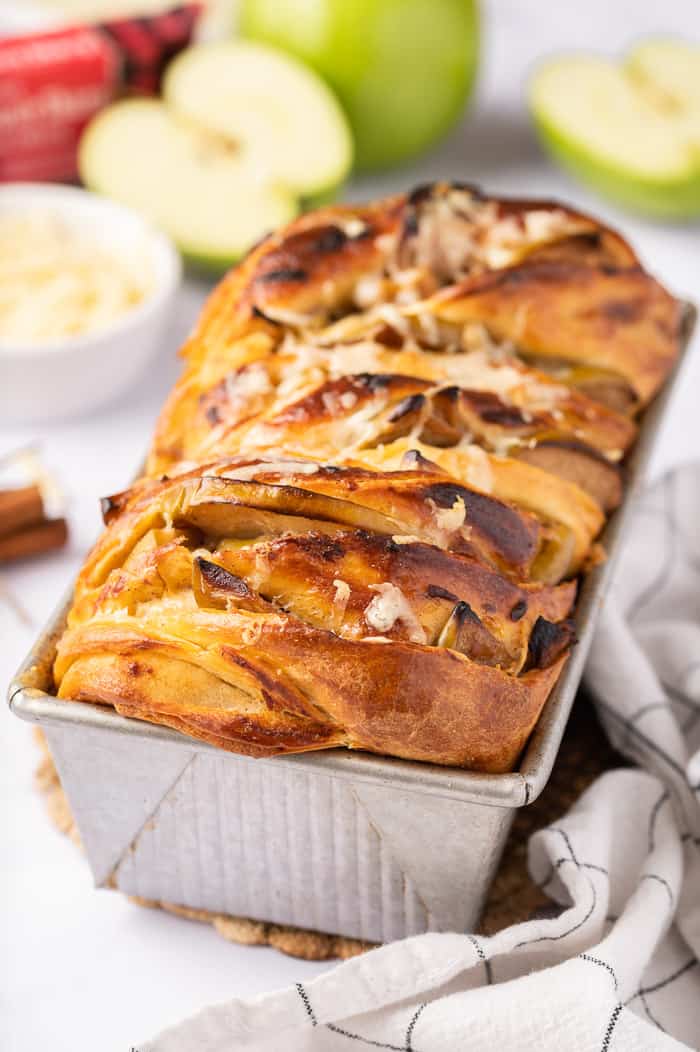 This post is sponsored by Cabot Cheese. All opinions are my own. Thank you for supporting the brands I love and who make it possible for me to keep creating content for you.
Hi friends!! I have an exciting fall recipe for you. This Apple Cheddar Twist Bread needs to be on all your entertaining menus. Flavorful cheese-infused bread dough filled with apple pie filling is twisted before baking to make a delicious sweet and savory cheese bread.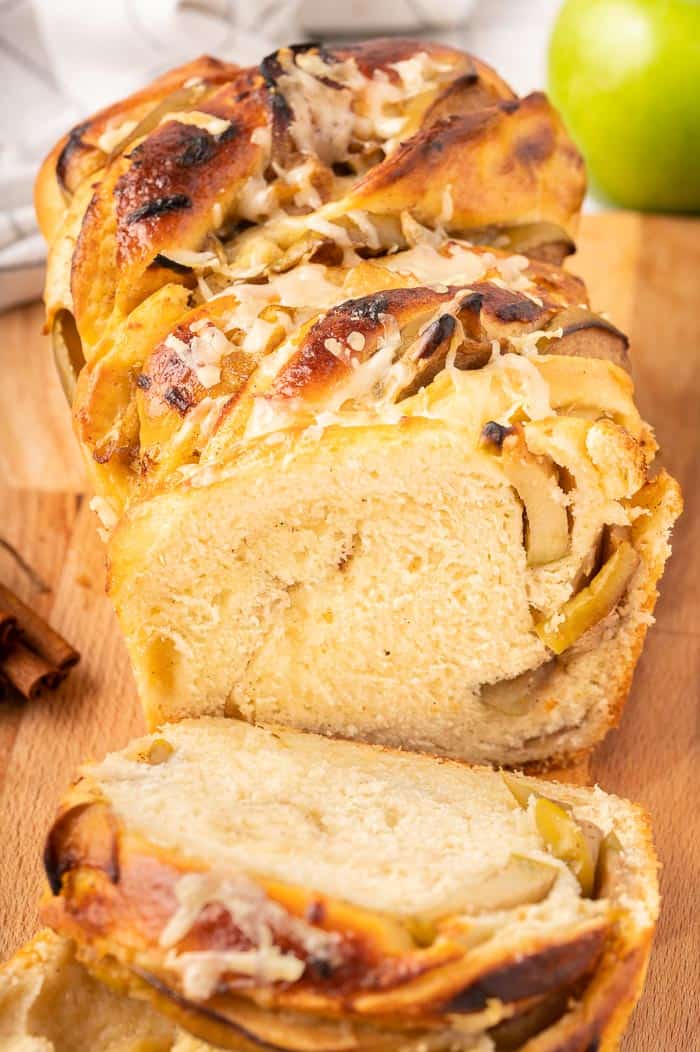 Fall is my absolute favorite season for baking. After a hot and humid summer, you can finally turn your oven on without breaking a sweat and enjoy what you are creating. It's the season for loaves of bread and hearty spice-filled dishes we love for the upcoming holidays.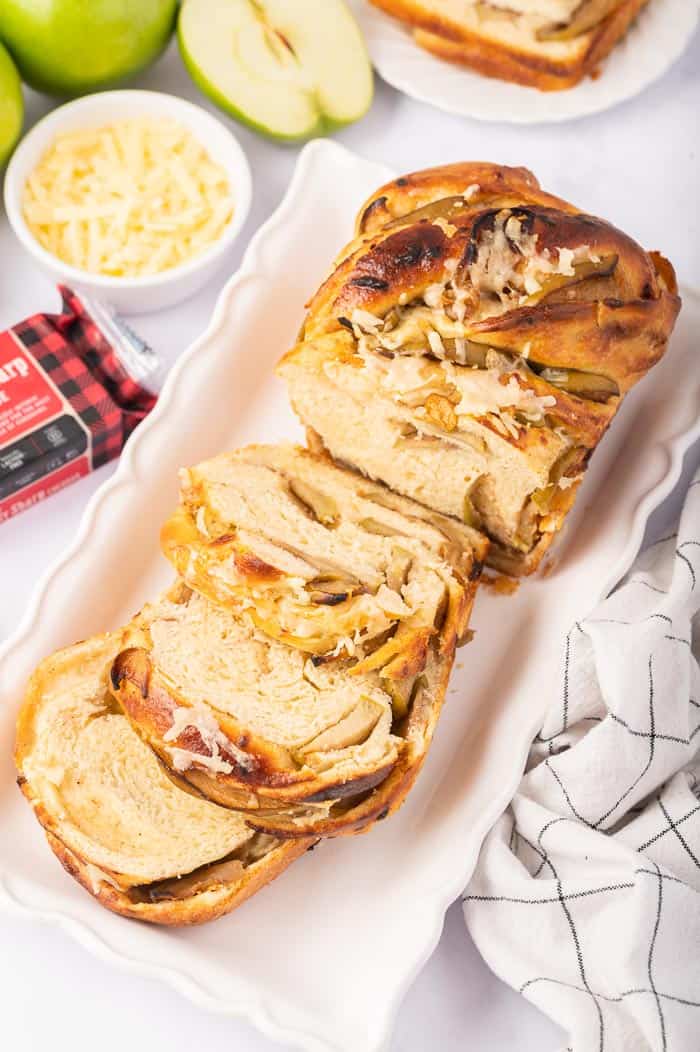 This bread is made with my favorite seriously sharp cheddar cheese from Cabot Cheese. If you've been around here for a while, you already know why they are my favorite cheese and dairy products to use in my house. If you are new, then please allow me to introduce you to Cabot Creamery. Cabot Creamery Co-operative – a B Corp- is owned by farm families who love what they do and they make award-winning cheese and dairy products. Their sharp cheddar is my husband's favorite and he was the one who introduced me to their cheeses a decade ago. I am lucky to have been working with them for the past few years.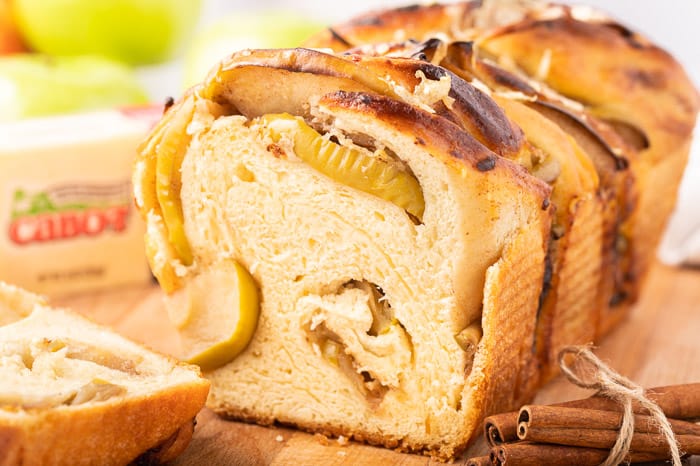 Back to this Apple Cheddar Twist Bread. Ever since my success with this savory cheddar twist bread, I've been dying to make an apple version. See, apples + cheddar is a match made in heaven, A few years ago, I made this apple cheddar pie and it is one of my favorite ways to bring a twist to a fall spiced treat. So naturally, I used my favorite sharp cheddar cheese, made an apple pie filling, and stuffed it in a loaf of soft bread.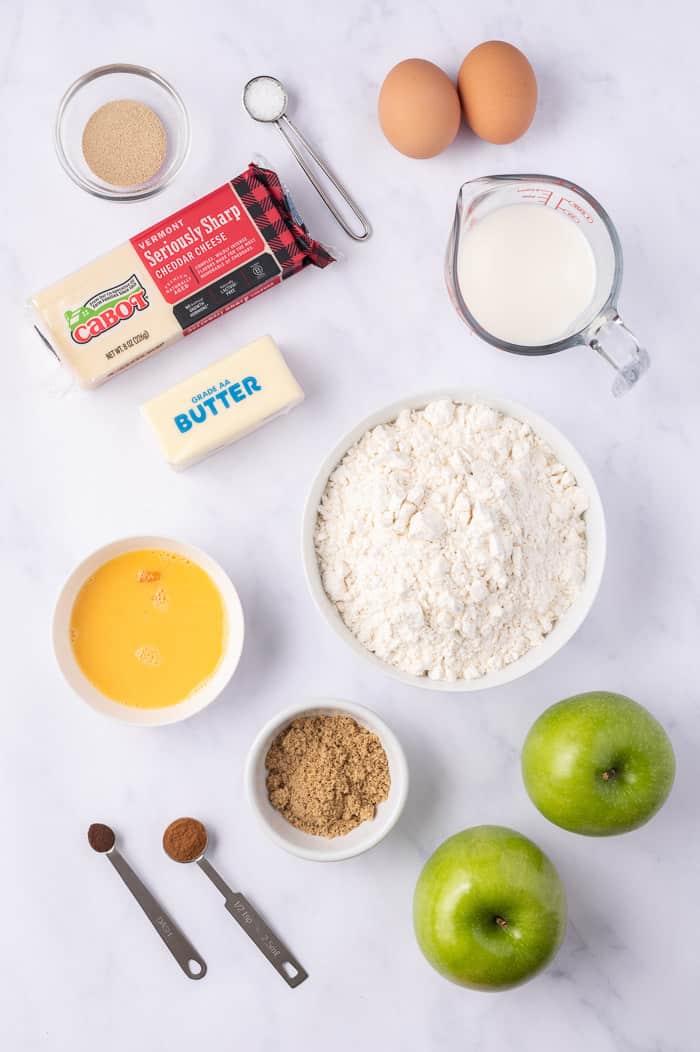 Let me walk you through how to make this twisted bread with some step-by-step pictures. If you are here just for the recipe, feel free to skip to the bottom.
Prepare your dough with grated Cabot's Sharp Cheddar Cheese and let it rise until the dough has doubled in size.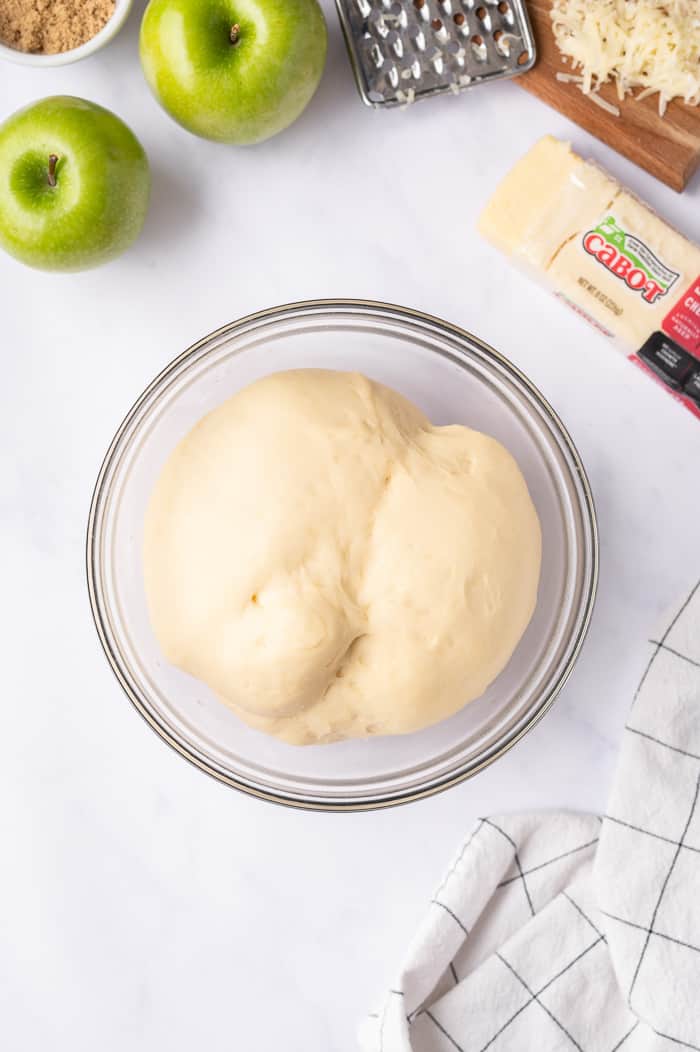 Set to the side and make your filling. Cook your apples until they have caramelized into a beautiful golden brown color. Feel free to use a variety of apples here.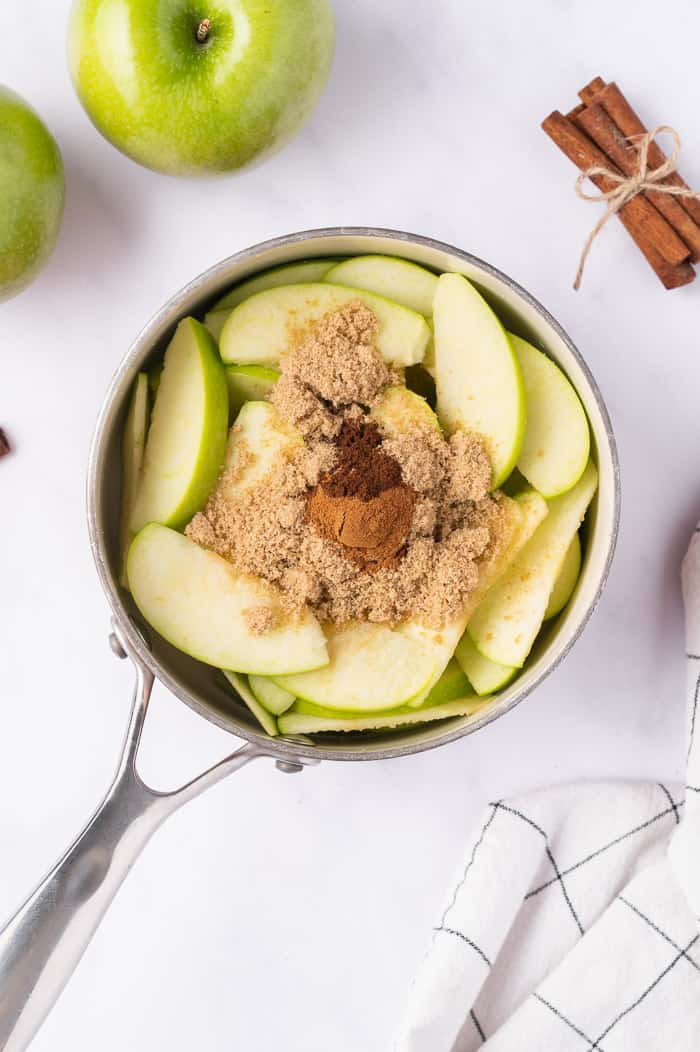 Roll dough into a rectangle and spread melted butter and cheese across, ensuring to leave the edges empty. Spread your apple filling too.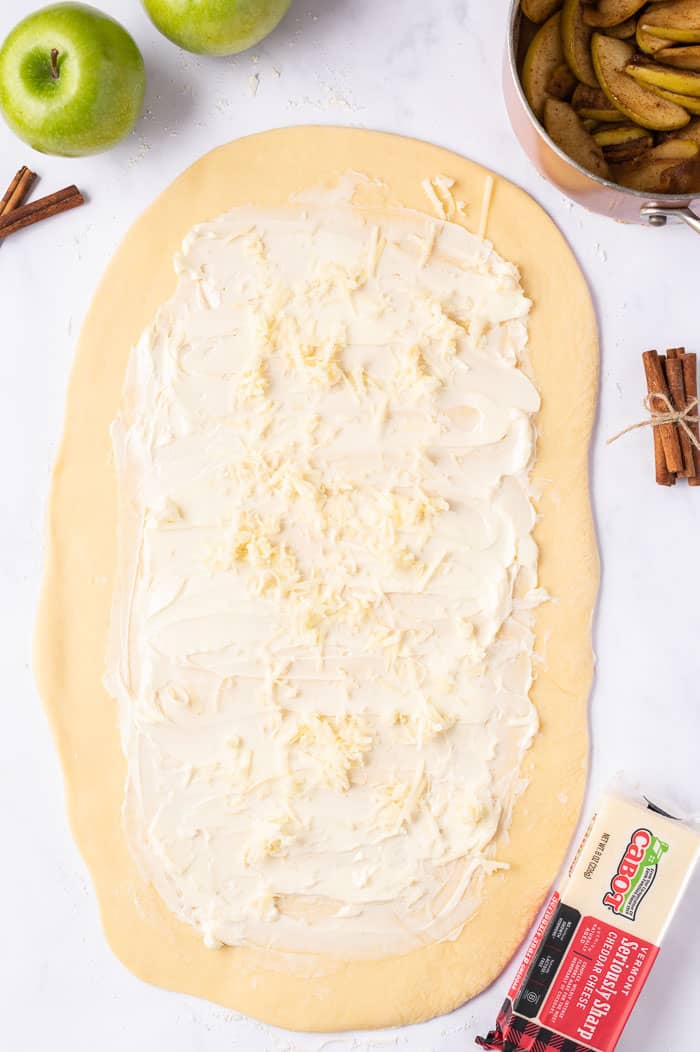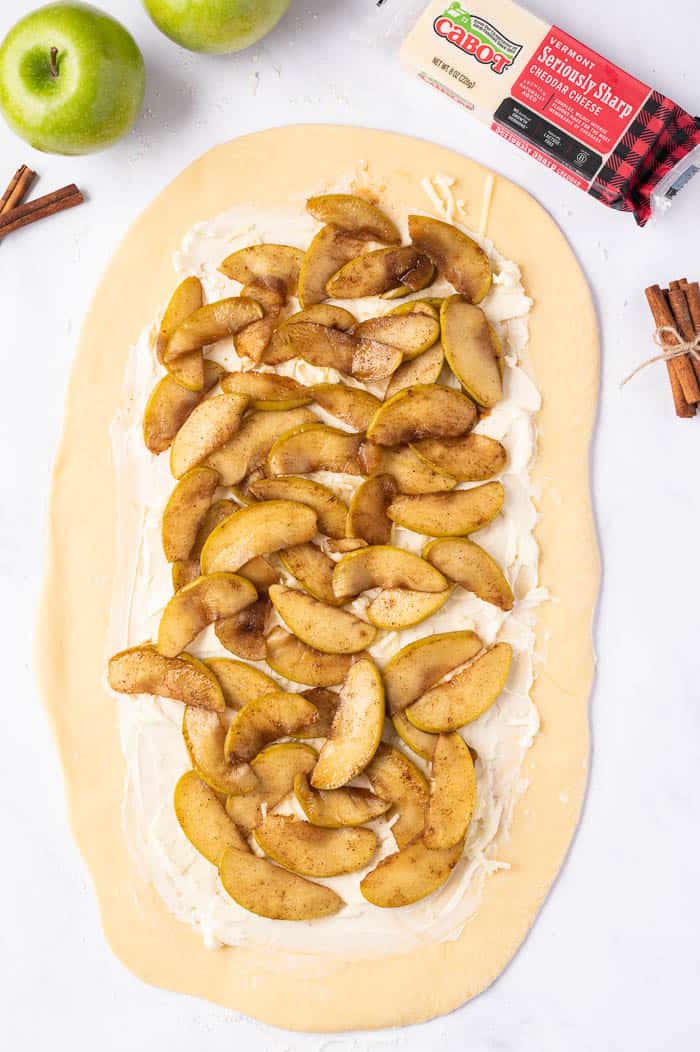 Roll your dough into a log, cut in half lengthwise, and twist it together.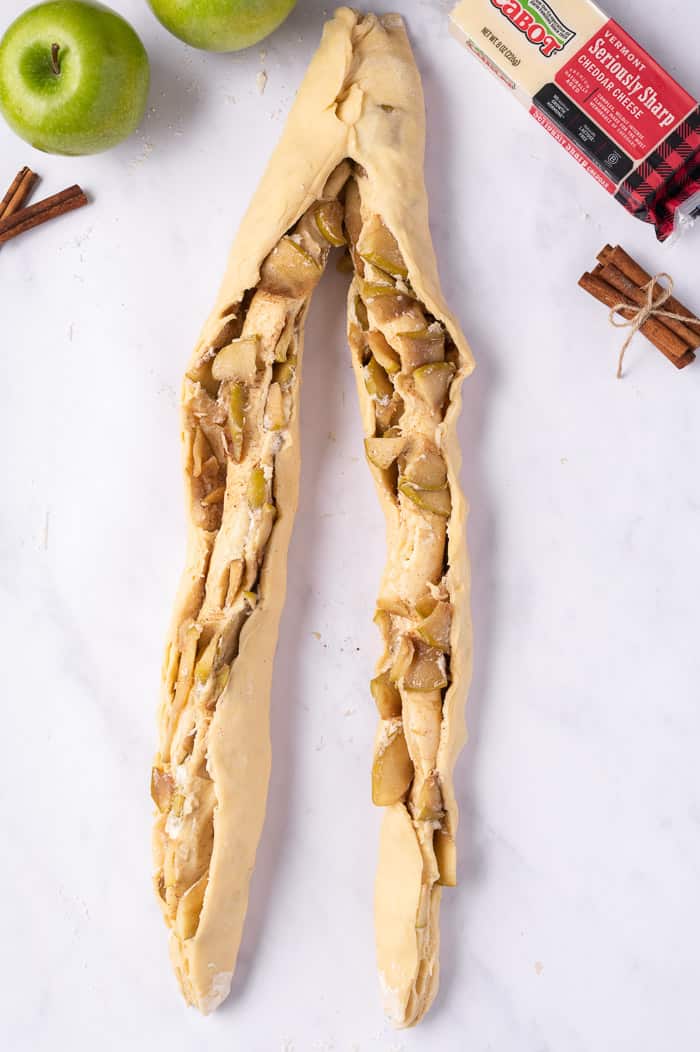 Add your twisted dough to your baking pan and let it rise a little more.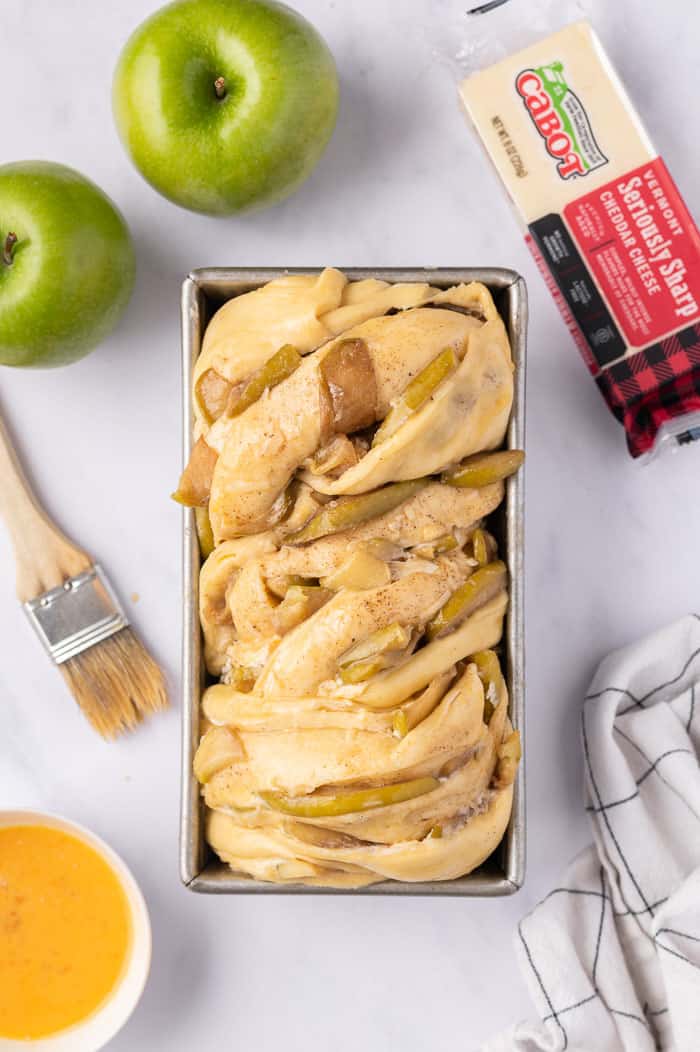 Brush with egg wash and bake until fluffy and golden.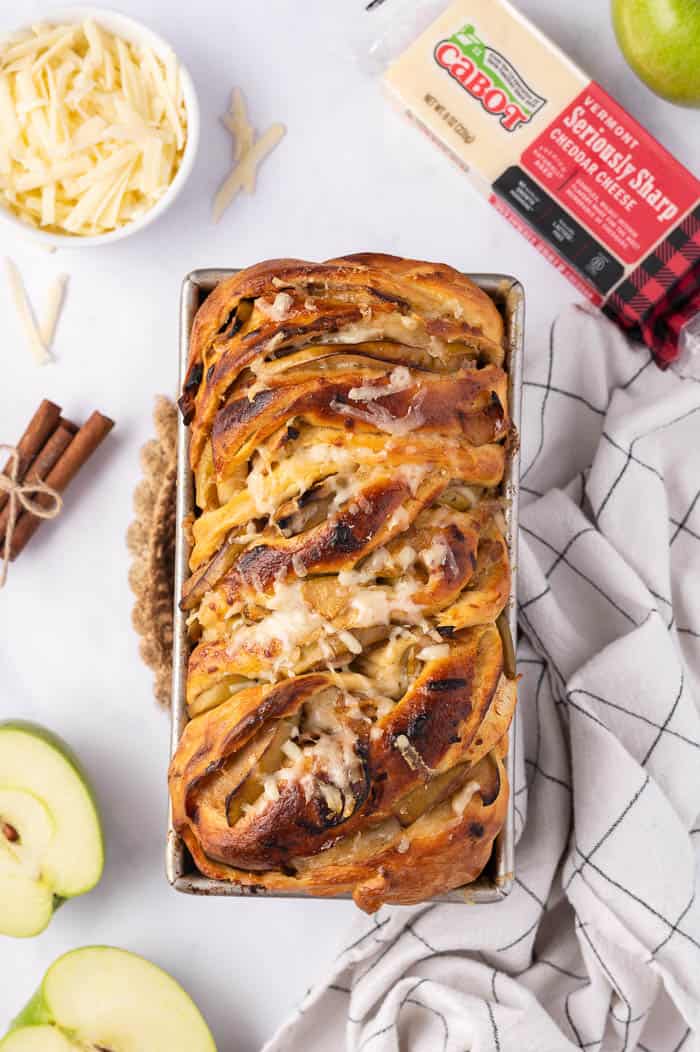 Serve warm and ENJOY!
Make sure to store your leftover's in an air-tight container at room temperature. You can easily double this recipe if you want to share it with friends and family. Let all your fall feels come to life in the comfort of your kitchen with this yummy loaf of apples, brown sugar, cloves, sweet cinnamon, and cheese.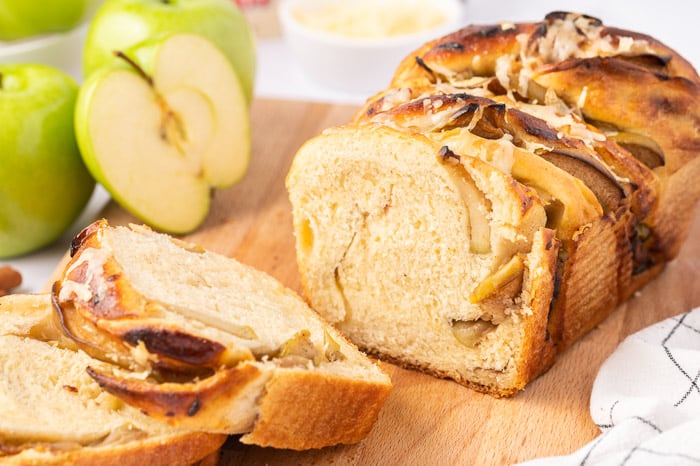 Where would you share this Apple Cheddar Twist Bread? Let me know in the comment section below. If you share across social media, tag #aclassictwist so I can see your beautiful creation. I love nothing more than to see these recipes come to life. Have a wonderful week, everyone!
Cabot is a co-operative owned by farm families throughout New England & New York and 100% of profits go back to the farmers. For more recipes inspired by Cabot cheese, check out their website, Instagram or Facebook.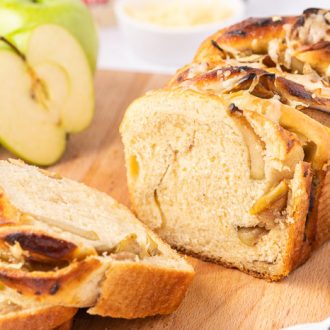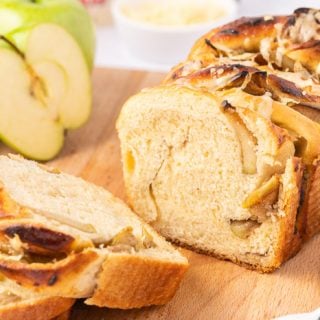 Yield: 1 Loaf
Apple Cheddar Twist Bread
A sweet and apple spiced twist bread
Total Time
4 hours
30 minutes
Ingredients
2 ½ - 3 cups all-purpose flour
1 cup grated Cabot's Sharp Cheddar Cheese, divided
1/2 teaspoon kosher salt
2/3 cup warm whole milk
2 1/4 teaspoons instant yeast
2 large eggs, whisked together
1 stick (8 tablespoons) salted butter, at room temperature
Egg wash (1 egg beaten with 1 tablespoon water), for brushing
For the filling:
2 medium apples, cored and finely chopped
2 tablespoons brown sugar
1/2 teaspoon ground cinnamon
a dash of cloves
Instructions
In the bowl of a stand mixer or a large bowl, whisk together 2 1/2 cups flour, 2/3 cup grated cheese, and salt. Add in warm milk, yeast, and eggs. Stir and knead with the dough attachment (or by hand) until a soft, smooth dough forms, about 5-7 minutes. Add in additional flour as needed.
Transfer the dough to a lightly greased bowl and cover. Let rise until dough is nearly doubled, about an hour to an hour and a half.
Meanwhile, make the filling. In a saucepan set over medium heat, cook all the filling ingredients until the apples soften. Cook until they start caramelizing. Remove from heat and let cool.
On a lightly floured surface, roll the dough out into a rectangle. Spread the softened butter over the dough, leaving an inch border.
Spread the apple filling over the butter. Then, sprinkle the remaining 1/3 cup shredded cheddar cheese over the apple filling.
Starting with the edge closest to you, roll the dough into a long log. Seal the edges.
Using a sharp knife or pizza cutter, cut the log in half lengthwise, leaving the top attached.
Keeping the filling side up, twist, or "braid" the logs together. Pinch the ends together.
Butter a large 9 x 5-inch loaf pan using the baking spray. Transfer the bread carefully to the prepared loaf pan.
Cover the bread in the pan with a kitchen towel and allow it to rise, until puffy but not doubled, about 30 minutes to an hour.
Preheat oven to 400 degrees F. Brush the tops with egg wash. Bake the bread for 20 minutes, until the tops start to brown.
Reduce the oven temperature to 350 degrees F and sprinkle the top with additional cheese, if desired. Continue baking for another 20- 25 minutes, until the bread is lightly browned. If it is browning too easily, tent a foil over the bread until it cooks completely.
Remove from oven and let cool. Serve bread warm and store leftovers in an air-tight container at room temperature.
Notes
This recipe easily doubles if you'd like to bake one to share.
Recommended Products
As an Amazon Associate and member of other affiliate programs, I earn from qualifying purchases.