Mango Panna Cotta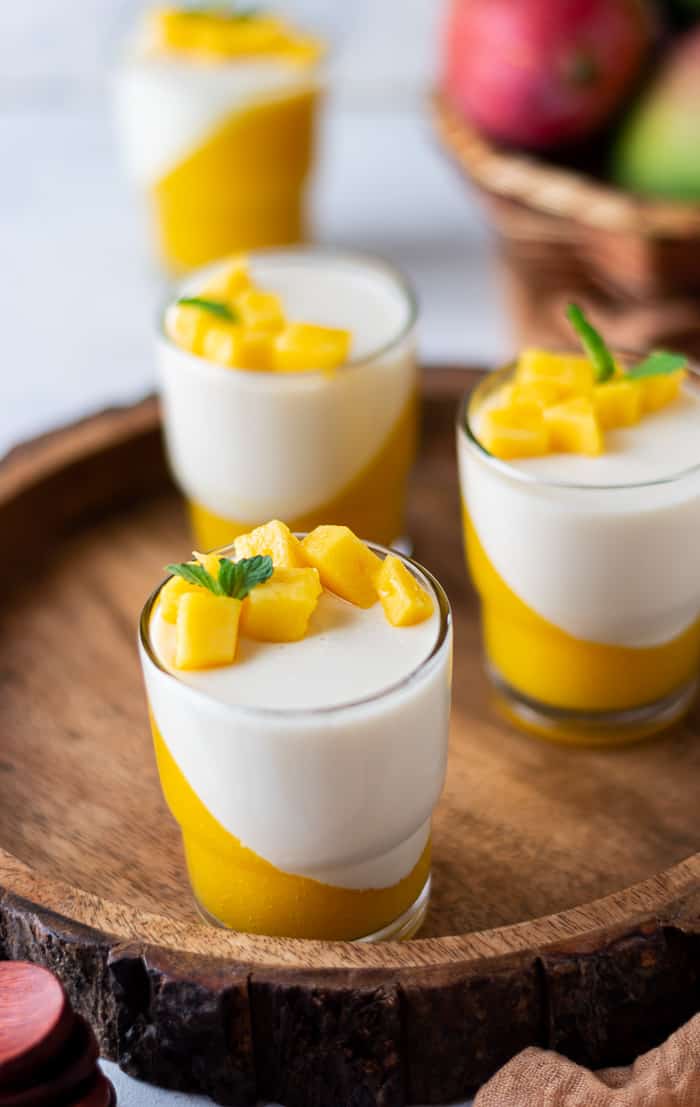 Hey there friends. How are you doing? It feels as if summer is coming in hot this year. We are barely in June and we've had a few 90 degrees days. We are clearly going to need countless no-bake desserts to cool us down during the summer months. Today, I bring you a beautiful combination of creamy and sweet flavors in my Mango Panna Cotta dessert.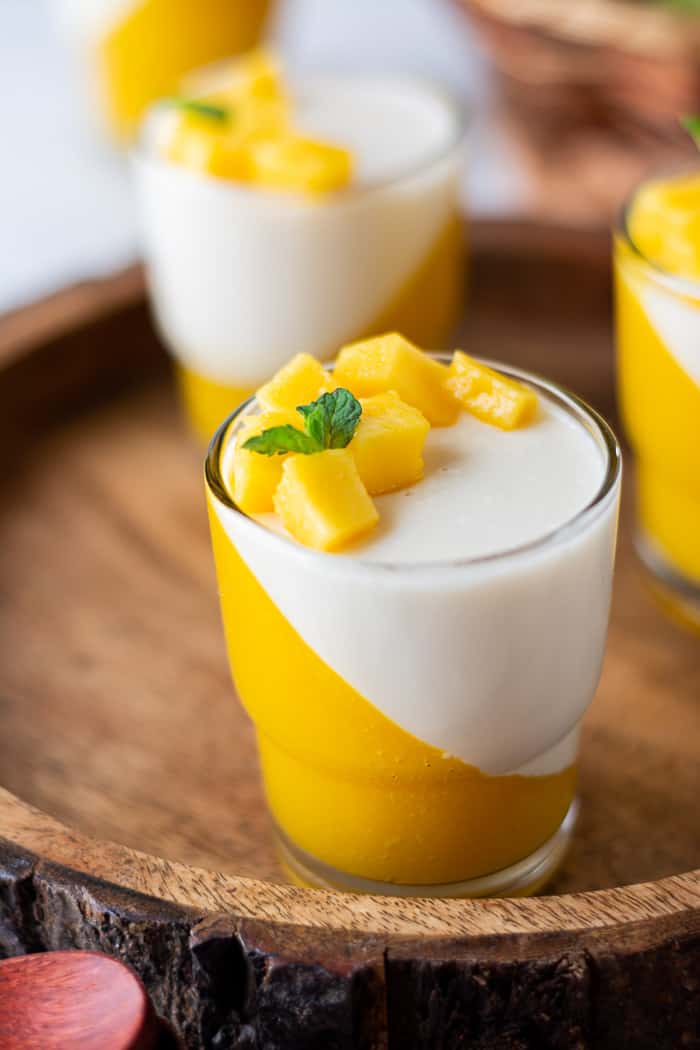 I have a few panna cotta recipes already, but if you are new to my blog and not sure what panna cotta is let me explain what you have been missing. Panna Cotta is a sweet cream dessert that is thickened with some sort of gelatin to hold its shape when serving. A lot of the time people infuse it with coffee flavor or vanilla but you know we are always taking things the tropical way here. So mango it is 🙂
I grew up with mango trees in my backyard growing up in Sierra Leone. They are one of my favorite tropical fruits and love adding them to my baked goods. I actually have another mango coconut panna cotta recipe but since I know not everyone loves coconut like me, I made this one for you.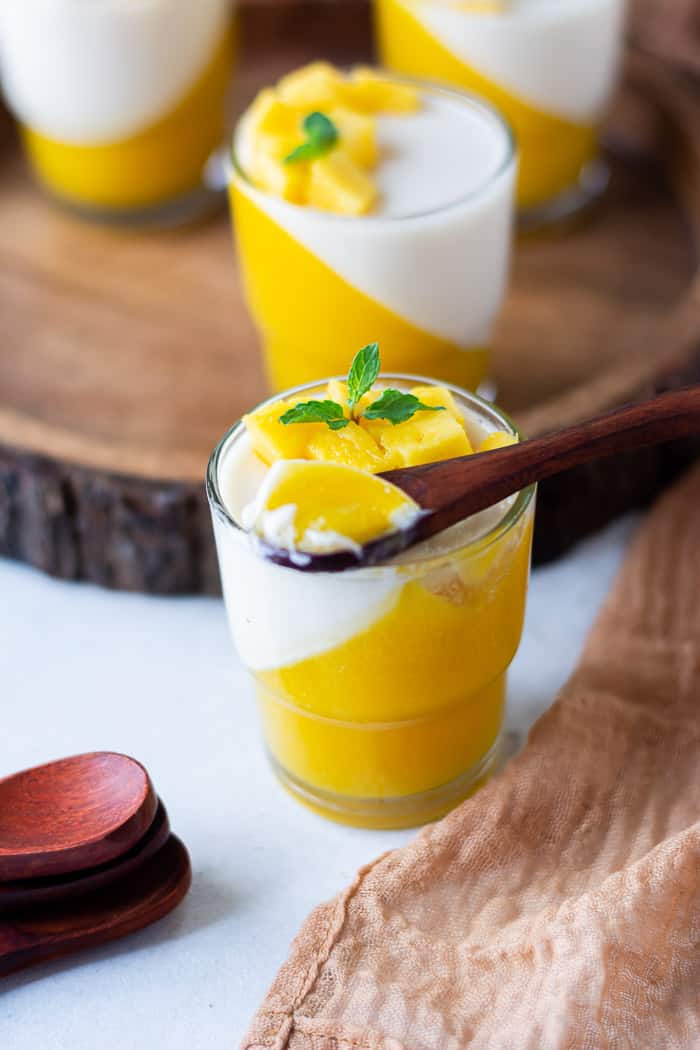 This mango panna cotta is a layer of sweet cream infused with mango puree. You can make the puree by blending fresh mangoes together. This way, you get a rich mango flavor and it carries through it all. If you'd like, you can skip the different layers and just infuse all the cream with mango puree. I like the presentation of the two layers but it is optional.
To quickly walk you through the process in some pictures.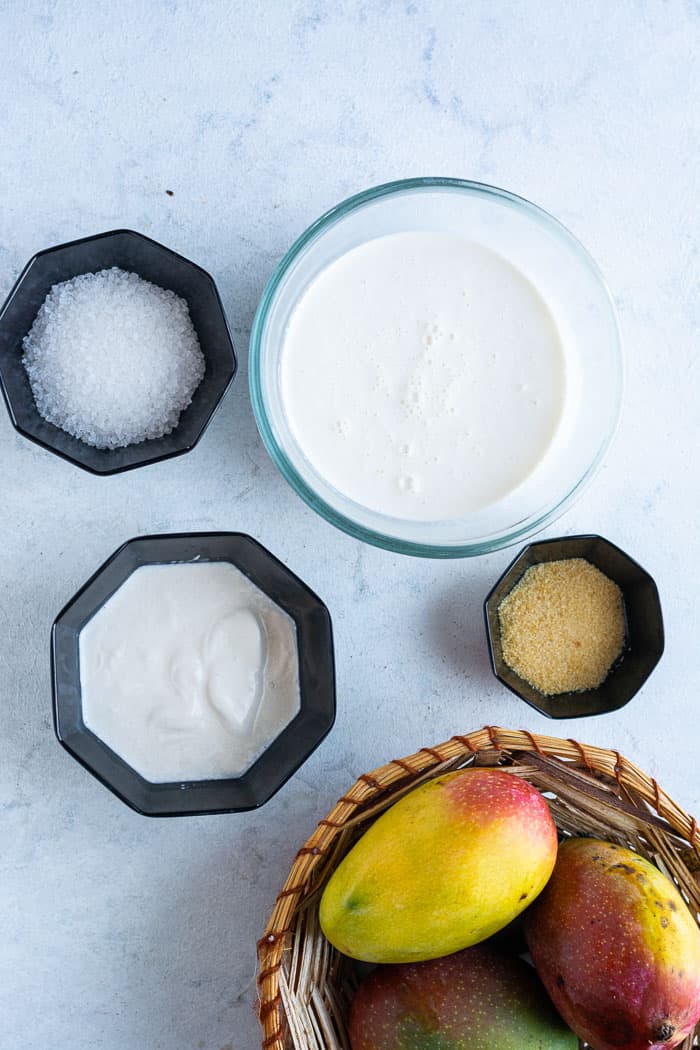 Gather up your ingredients. They are simple and straightforward. We start by combining the mango puree with gelatin.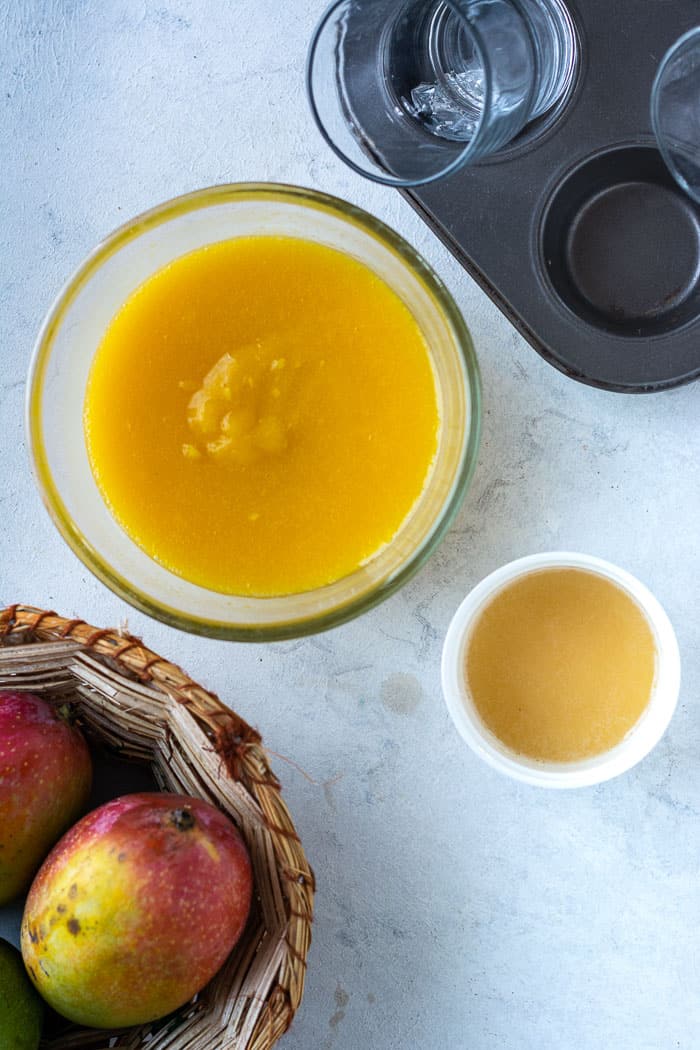 Then we pour that layer into our serving ware. I angled the glasses in a muffin tin for that dramatic line and separation.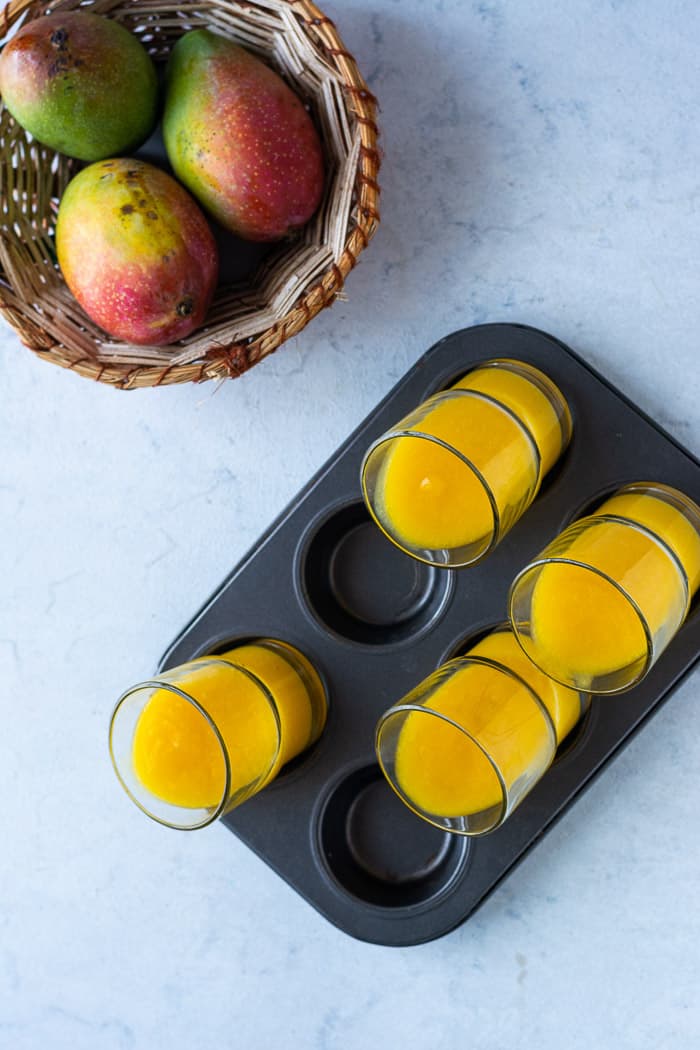 Chill this layer until set, about 4 hours refrigerated.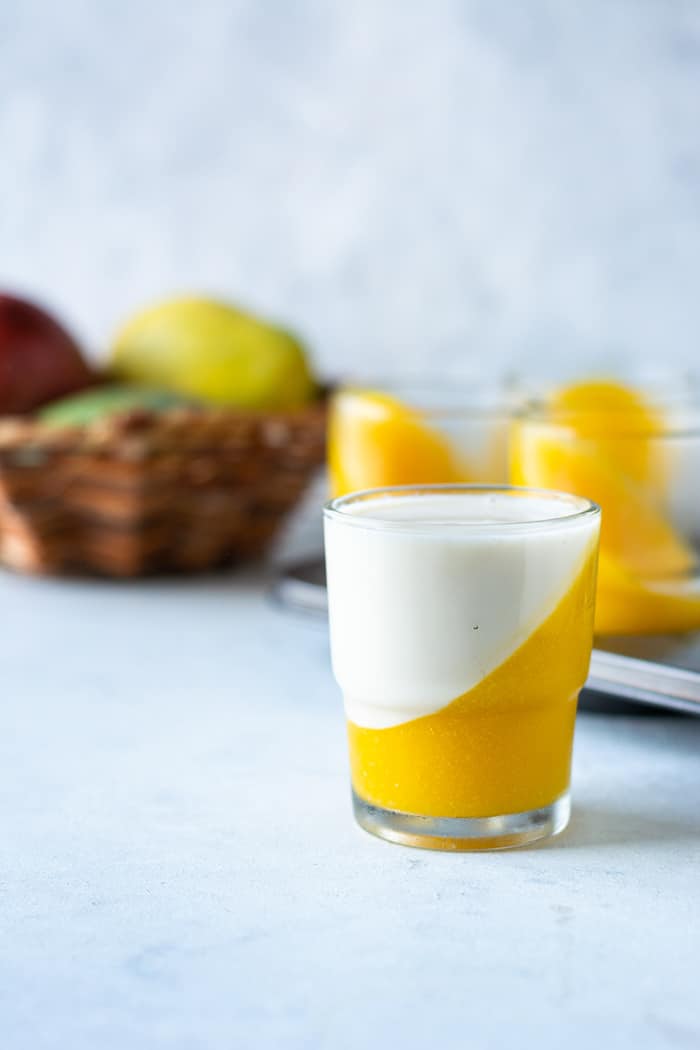 Then repeat the process with the cream layer. It's as simple as that.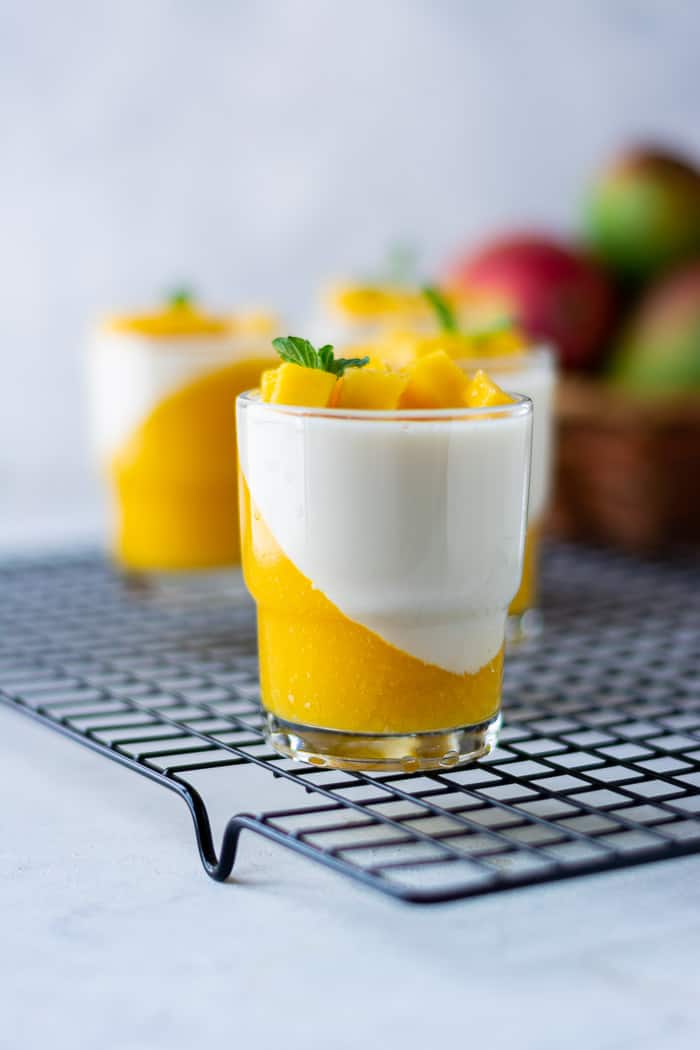 The panna cotta is creamy, rich, and indulgent. A silky smooth treat that is perfect for any hot summer day. I serve mine with some fresh mangoes.
Are you a mango fan? If so, let me know when you recreate this dessert what you think. I love hearing your stories about sharing my recipes with your friends and family.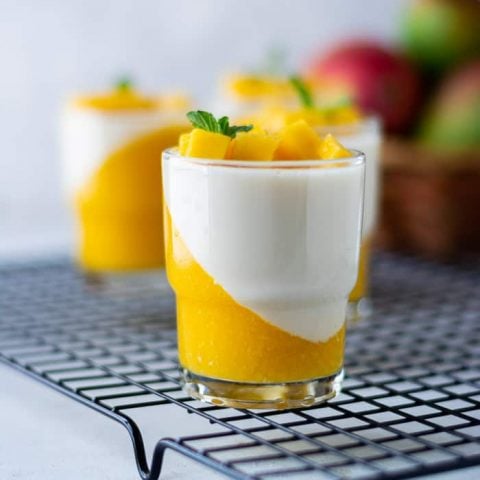 Yield: 4 servings
Mango Panna Cotta
Total Time
8 hours
30 minutes
Ingredients
2 cups mango puree
2.5 teaspoons gelatin, divided
1 cup whole milk
1 cup heavy cream
1/2 cup granulated sugar
Instructions
For mango layer
In a small bowl, add 2 tablespoons of warm water. Sprinkle 1 teaspoon of
gelatin over the water and let it sit for about 10 minutes.
In a small saucepan set over low heat, warm the mango puree and gelatin
that you prepared above. Mix until well combined and gelatin dissolves.
Tilt your glasses to about 45 degrees and then pour in the mango puree
and let it set in the refrigerator for about 4 hours.
For cream layer
In a small bowl, add 2 tablespoons of warm water. Sprinkle the remaining 1.5 teaspoons of gelatin over the water and let it sit for about 10 minutes.
In a small saucepan set over low heat, combine the milk, sugar, and cream. Bring to a gentle simmer till all the sugar dissolves. Do not boil.
Add the prepared gelatin to the milk mixture. Mix well until dissolved. Let the mixture cool for 10-15 minutes.
Before you pour in the milk mixture, make sure that the mango puree has set well.
Pour in the milk mixture and let it set in the refrigerator for at least 4 hours.
Serve with more fresh mangoes on top.

Alternatively (no layers):
Combine all the ingredients in a medium saucepan. Bring to a simmer over low-medium heat, stirring occasionally until the sugar and gelatin dissolve.
remove from heat and let cool for about 10 mins.
Divide mixture into 6-ounce ramekins. Chill the panna cotta in the fridge for at least 4 hours until set.
Serve with fresh mangoes.