No Churn Chocolate Kit Kat Ice Cream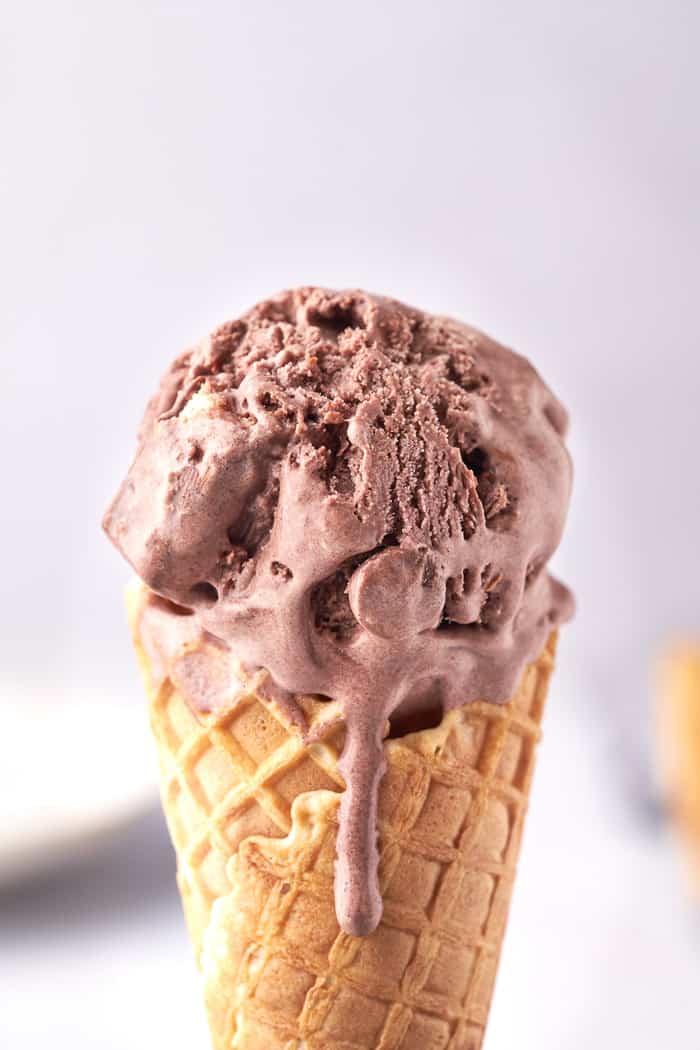 Hello friends. School is out for us, and that means summer is officially here. I don't know about you, but this season crept on me. How is it almost July?!
In the DC area, we have already experienced numerous scorching days with reasonably heavy humidity. If you live in an area that doesn't experience this, I am jealous. Summer around here is best lived near a pool or beach; what goes better with summer than Frozen Treats? Great way to cool down people for all ages while transporting adults back to their childhood.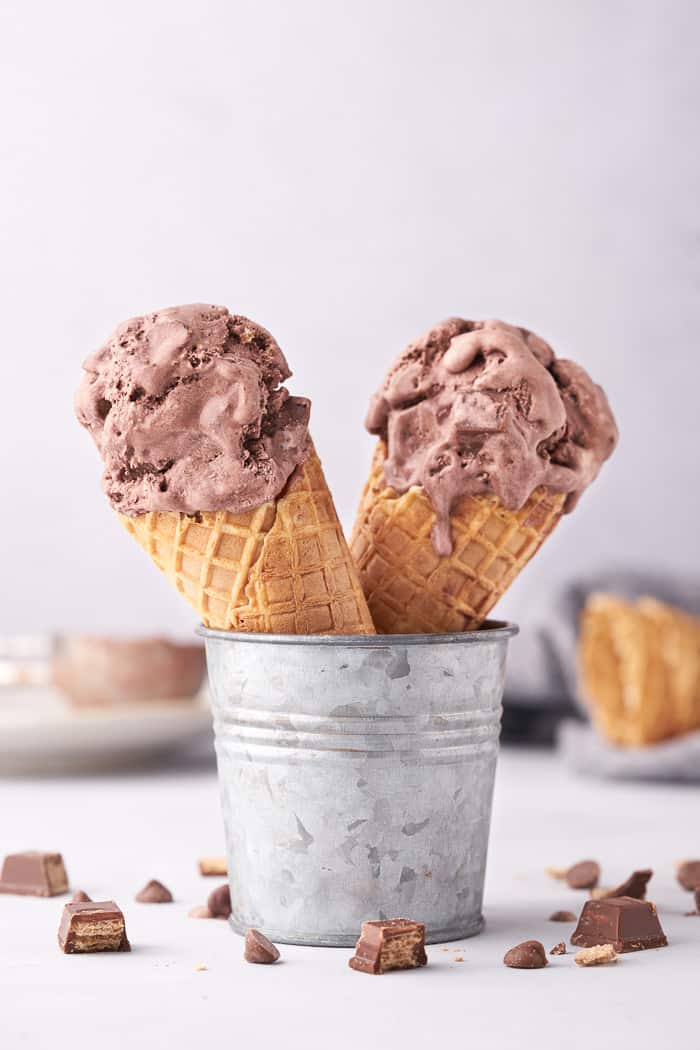 Ice Cream is a staple of every summer. But, what if we add a little twist (get it?) to a classic dessert. A few candies bring up a nostalgic feeling for most of us, and the one we are highlighting today is Kit Kat's.
There are usually two types of Kit Kat people. The one's who savor every bite and the ones who just go for it! But what if we add a third category to such a childhood favorite? Allow me to introduce this No-Churn Chocolate Kit Kat Ice Cream.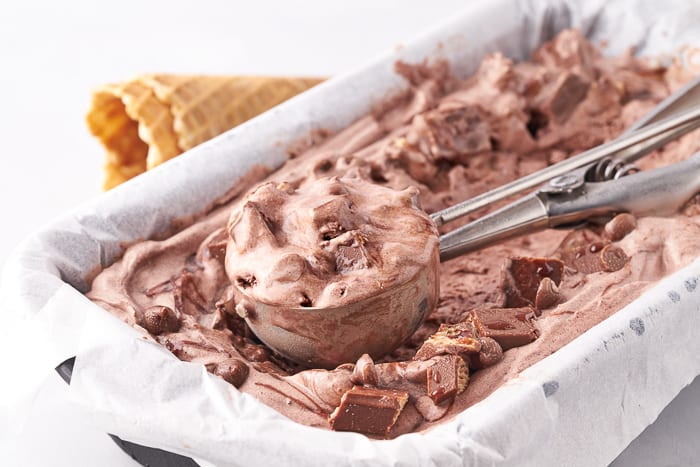 I bet you are trying to combine those two desserts in your head right now to picture how glorious this combination is. Crunchy wafers and smooth milk chocolate melt effortlessly with the heavy whipping cream and condensed milk to create the perfect summer snack.
As stated in the name, no-churn means no ice cream machine needed for this easy recipe. Just simply swirl the ingredients together at the end, freeze, and your refreshing treat is ready to eat. A similar recipe to try if you don't have an ice cream maker is No-Churn Coffee Caramel Ice Cream.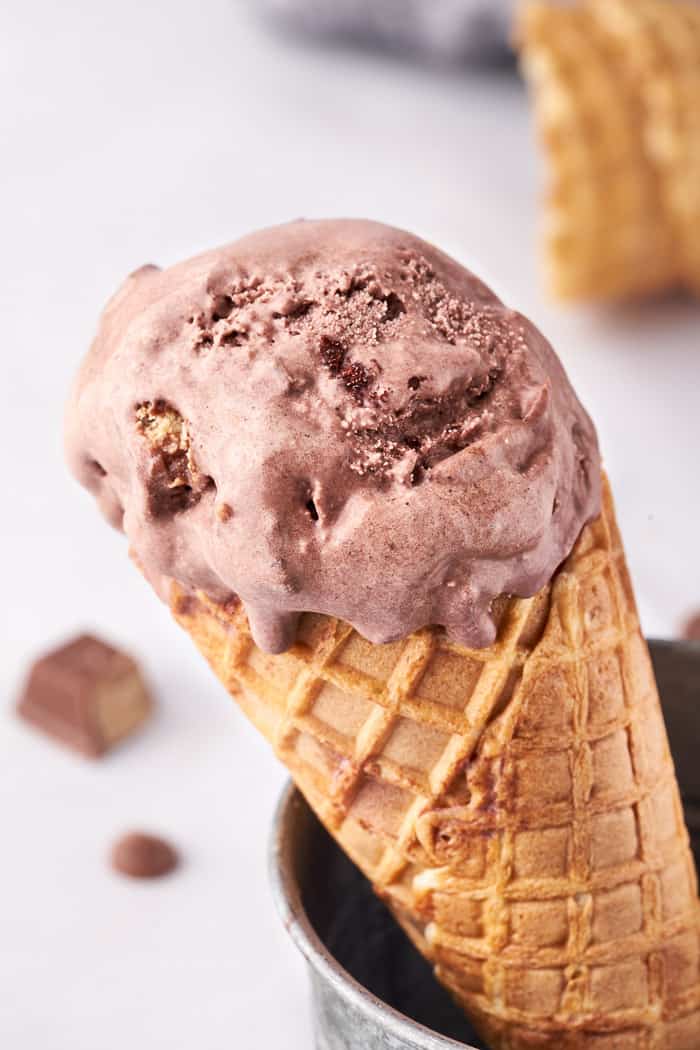 Let's walk through the recipe! If you are not interested in the step-by-step pictures, just scroll to the end for the recipe.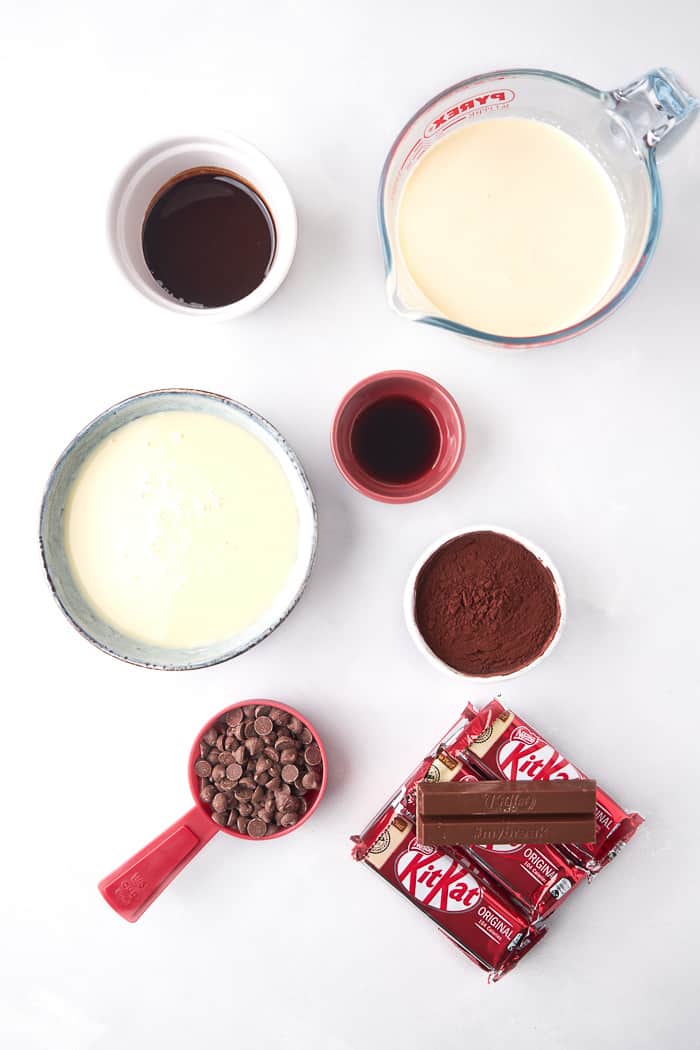 Start by placing your electric beaters and a large bowl in the freezer for approximately 20 minutes. This step is super important to ensure the cream whips up perfectly. Make sure the heavy whipping cream is in the refrigerator until it is time to start mixing.
Grab a loaf pan or a glass bowl and line with parchment paper. The paper will prevent any scratching to the pan or bowl. Set this to the side till we are ready to freeze the No-Churn Chocolate Kit Kat Ice Cream.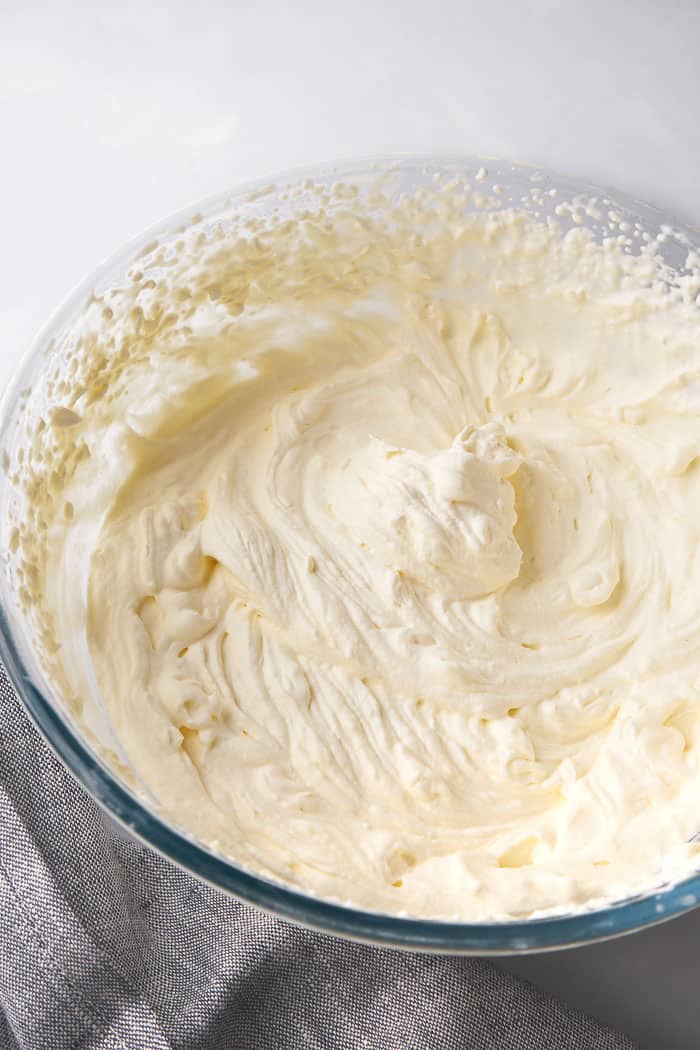 Remove bowl and beaters from the freezer. Pour in your heavy whipping cream and beat on high speed for about 5-10 minutes. You are looking for stiff peaks to form, and once that consistency is reached, stop beating. You do not want to overbeat the cream.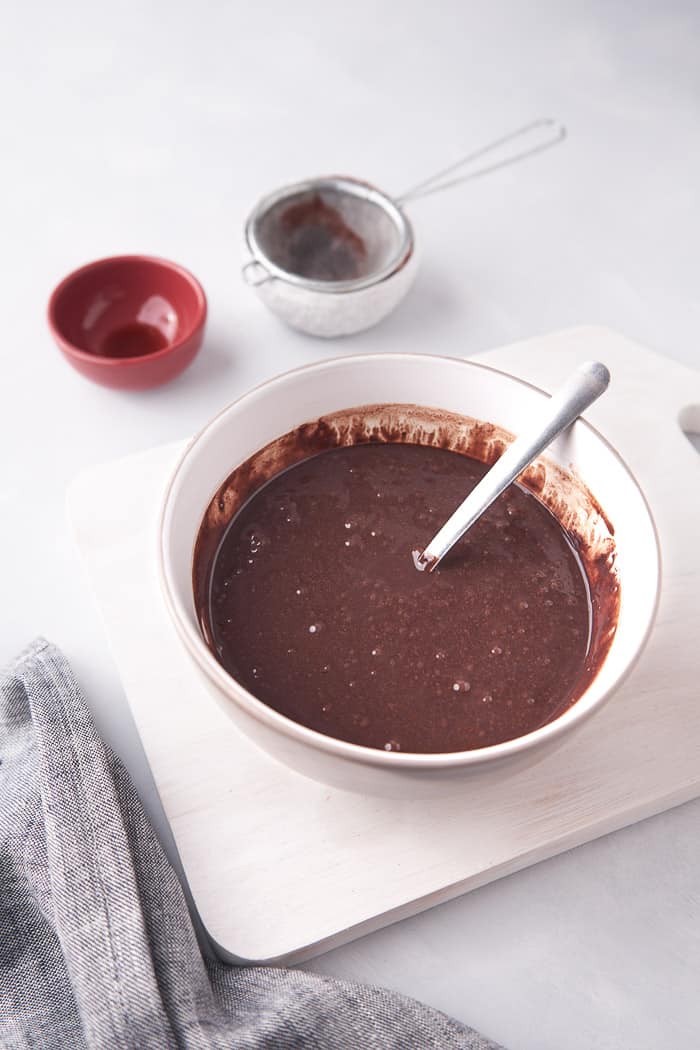 In a separate medium-sized bowl, sift the cocoa powder and pour in sweetened condensed milk and vanilla extract. Stir together until all lumps are gone.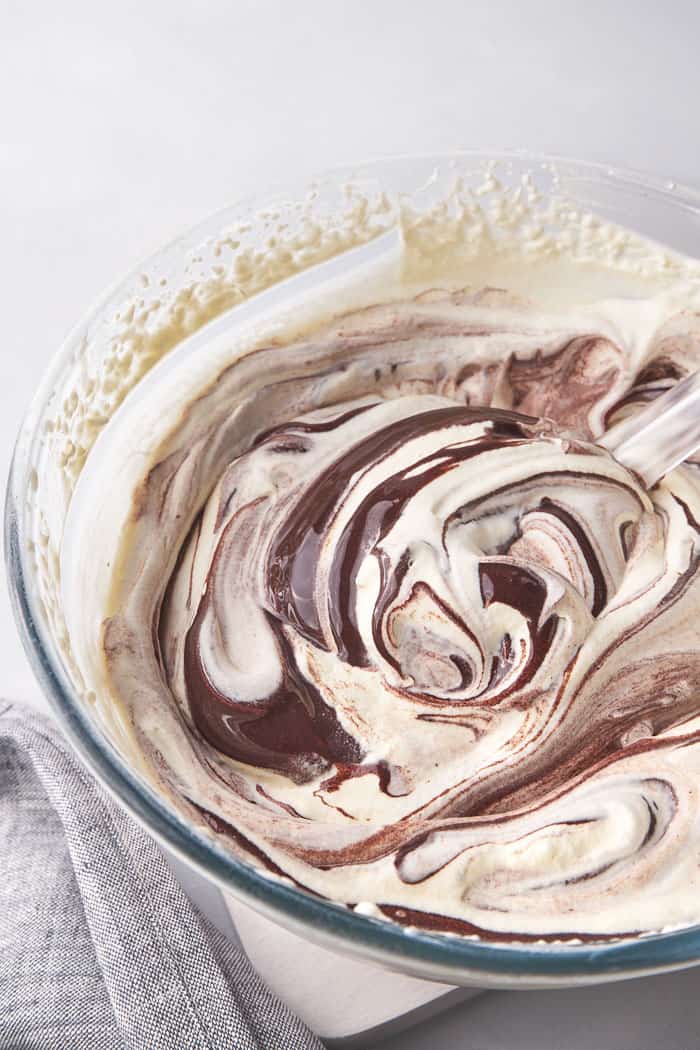 Pour the sweetened condensed milk mixture into the heavy cream. Using a spatula, gently fold ingredients together. Do not overdo it, or the heavy cream peaks will deflate.
Now for the fun part!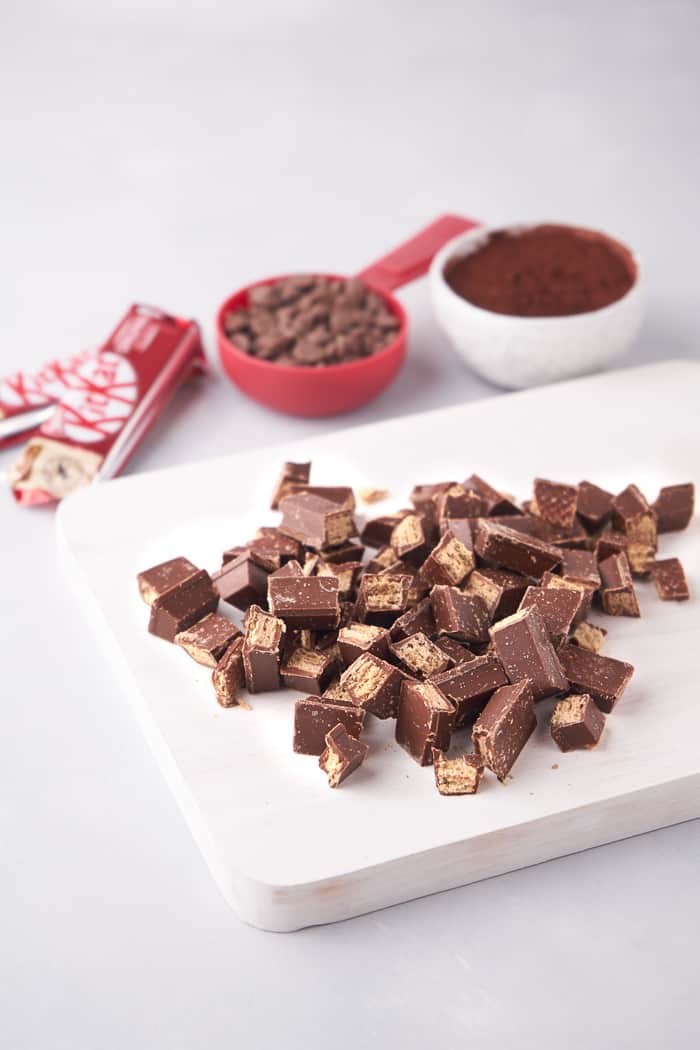 Fold in ⅔ of the Kit Kat bites and ⅔ of the chocolate chips into your cream mixture.
This step is optional. You can add some chocolate sauce to the mixture now, making sure to save some for toppings. Or just keep the sauce to top with at the end.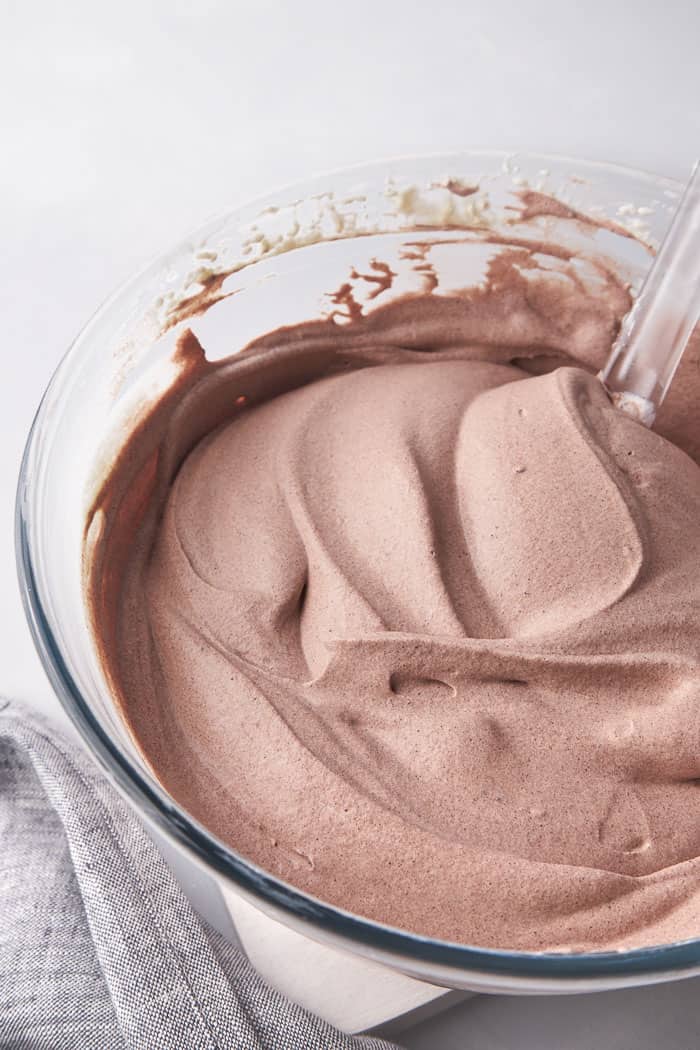 GENTLY SWIRL, do not stir but lightly swirl ingredients together. This step is vital to ensure every bite has an event amount of components.
Grab the prepared loaf pan, slowly pour in the mixture, and make sure it gets spread evenly around.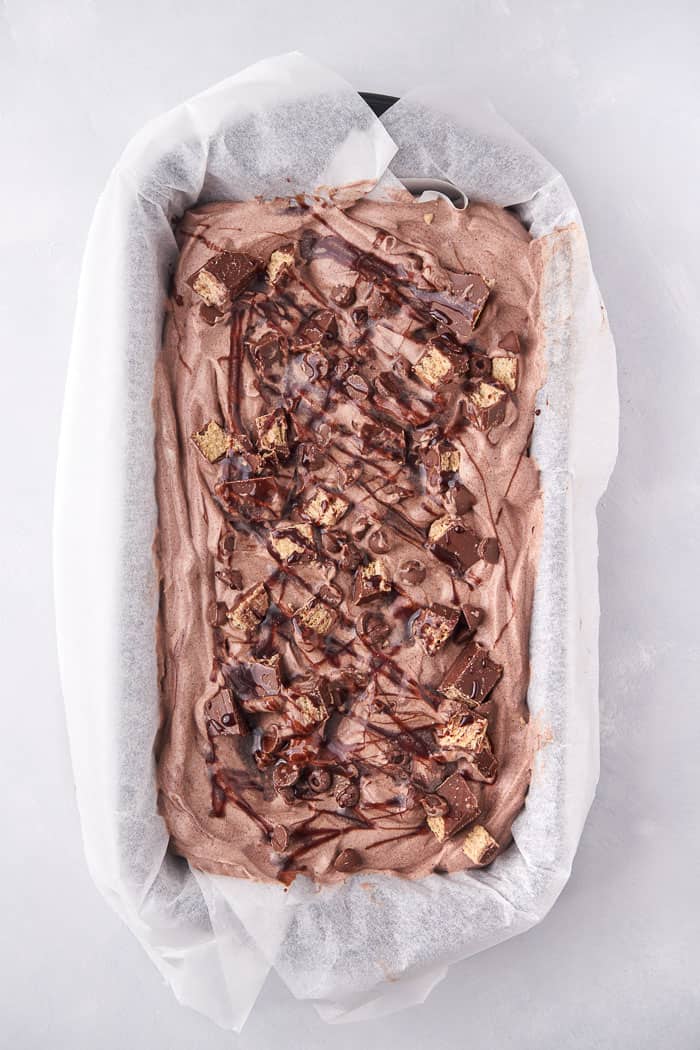 Top with remaining chocolate chips, Kit Kat bites, and chocolate sauce. Cover tightly with cling wrap so no air can get in.
Place into the freezer for 8 hours or overnight if you can.
It is time for you to enjoy your masterpiece!
Remove and let it stand for approximately 10-15 minutes.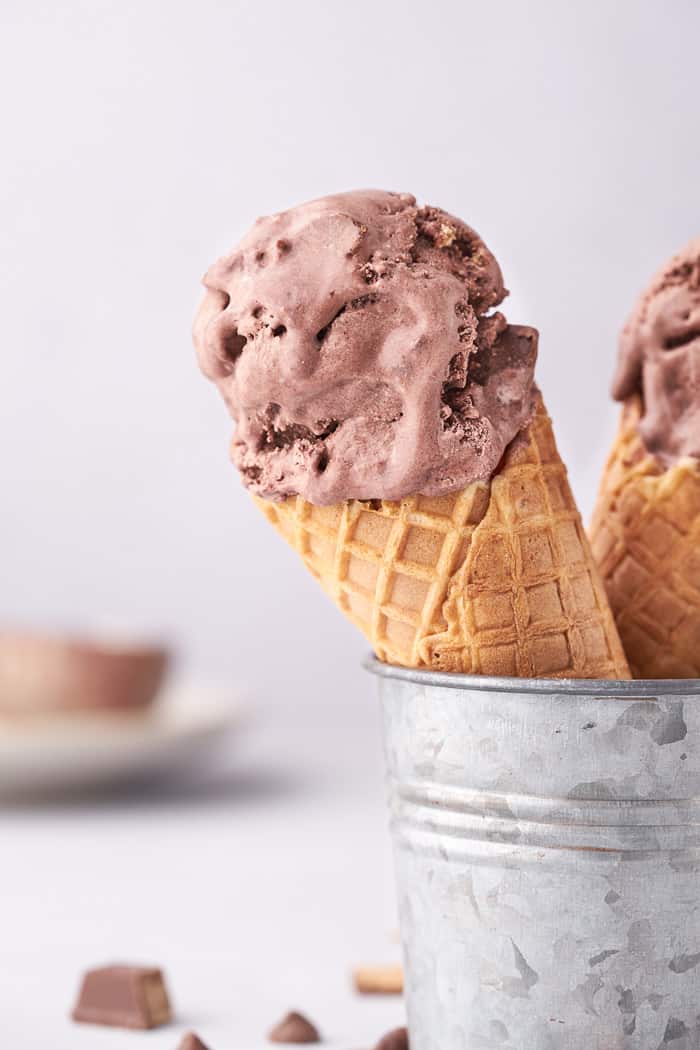 Grab a bowl or an ice cream cone, get one or two scoops, add whatever toppings your heart desires, and ENJOY!
I highly recommend doing this at night, so when the kids wake up ready to go in the morning, you have their treat on deck prepared for everyone to enjoy.
I hope you all enjoy this recipe and share it with friends and family throughout the Summer months. If you do recreate it, let me know! I love hearing about any twists you add to make it unique for you. Stay cool :-).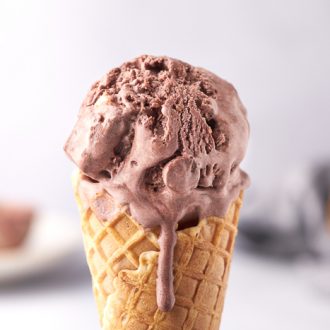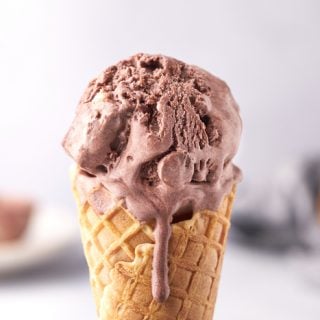 Yield: 8 servings
No Churn Chocolate Kit Kat Ice Cream
Total Time
8 hours
15 minutes
Ingredients
7 ounce Kit Kat bar, chopped
2 cups of heavy whipping cream
1/2 cup of unsweetened cocoa powder
14 ounces of sweetened condensed milk (1 can)
1 teaspoon of pure vanilla extract
⅓ cup of chocolate chips
1/4 cup of chocolate sauce for topping
Instructions
Place the beaters/whisk attachment and a large bowl in the freezer for 20 minutes. The cold helps the cream to whip up. Make sure the heavy whipping cream is chill.
Line a large loaf pan with parchment paper. It will prevent scratching the loaf pan with the ice cream scoop. You can also use a glass container. Set aside.
With an electric mixer on high speed, whip the heavy cream until stiff peaks form. It takes 5 to 10 minutes. Do not over-whip.
In a separate bowl, sieve the cocoa powder and combine it with the sweetened condensed milk and vanilla extract. Stir until fully combined and no lumps remain.
Add the sweetened condensed milk mixture into the whipped cream. Carefully fold with a spatula until completely incorporated but do not over mix otherwise the whipped cream will deflate.
Fold about ⅔ of the Kit Kat bites and ⅔ of the chocolate chips into the mix.
Add the chocolate sauce if you opt for this version, leaving a small quantity for topping.
Gently swirl. We don't want to fully incorporate it, just swirl.
Transfer the mix into the prepared loaf pan and spread evenly. Top with remaining Kit Kat bites, chocolate chips, and drizzle the remaining chocolate sauce. Cover with cling wrap.
Freeze for at l least 8 hours or overnight.
Remove from the freezer and allow to stand for 10-15 minutes before serving (adjust the time according to your room temperature)

Notes
Use heavy whipping cream with at least 36% of fat. It will whip better and give t his creamy texture.
Recommended Products
As an Amazon Associate and member of other affiliate programs, I earn from qualifying purchases.