Fresh Strawberry Cake
Hey there friends. I have had a busy few months with moving into a new house, but that didn't stop us from going to a local farm and picking our own strawberries. Even though we got a late start, the strawberries were AMAZING! It was nice to just take a break from the hustle and bustle and spend some time with my kiddos especially since we made this fresh strawberry cake right after.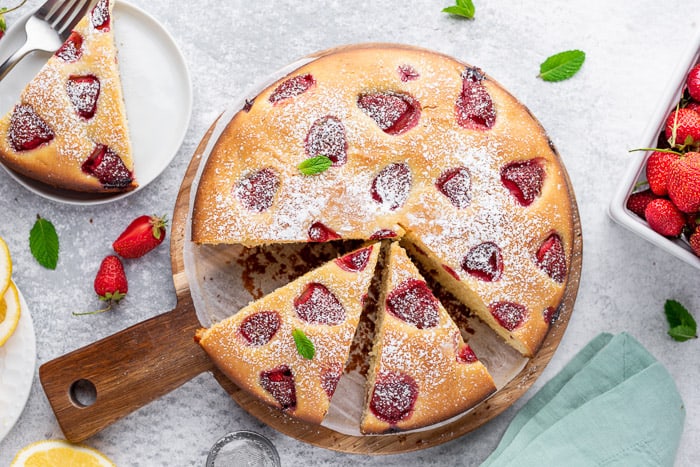 I wanted to try something a little different with my bounty compared to the usual Strawberry Cake With Strawberry Frosting and Dark Chocolate Strawberry Cake. After visiting the farm and handpicking our own fresh Strawberries, I decided that they should really be made the spotlight and not covered with frosting. Introducing the Fresh Strawberry Cake.
I know I know, where is that glorious frosting? Well, on top of not wanting to cover up the natural taste of fresh strawberries I also wanted this cake to be versatile for you to enjoy whenever you want without the guilt of eating frosting for breakfast. We have all been there, trust me.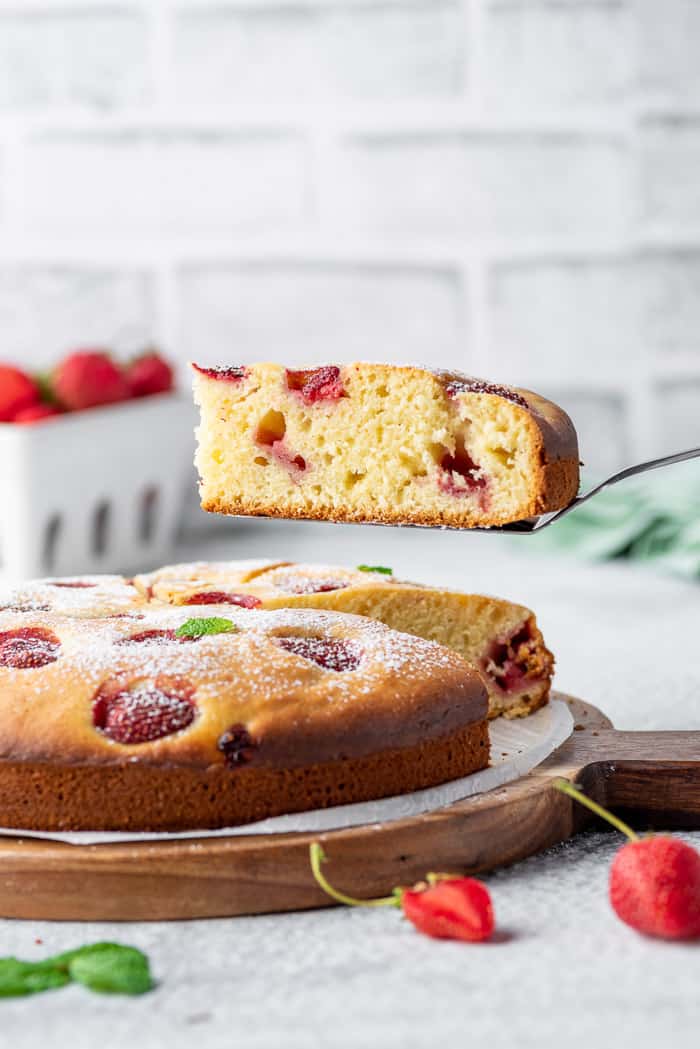 With each bite, you get the perfect amount of sweetness and zesty from the strawberries and subtle lemon flavors. While the strawberries bake down the natural sugars are released into your batter amplifying that delicious flavor. Serve alongside your morning cup of coffee or as a snack, you can feel less guilty about eating; the list goes on and on.
Now to the fun part, actually baking this heavenly creation and hoping it lasts the day :-).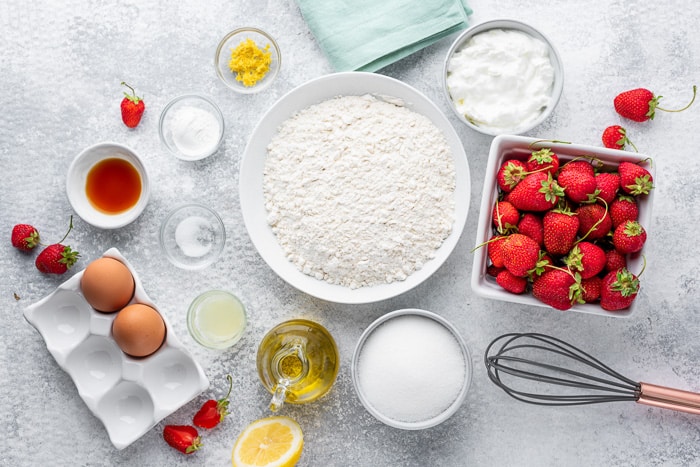 Let me walk you through making this fresh strawberry cake. It is easy! (If you are not interested in the step-by-step photos, please scroll to the end for the recipe.!)
Start by gathering your ingredients.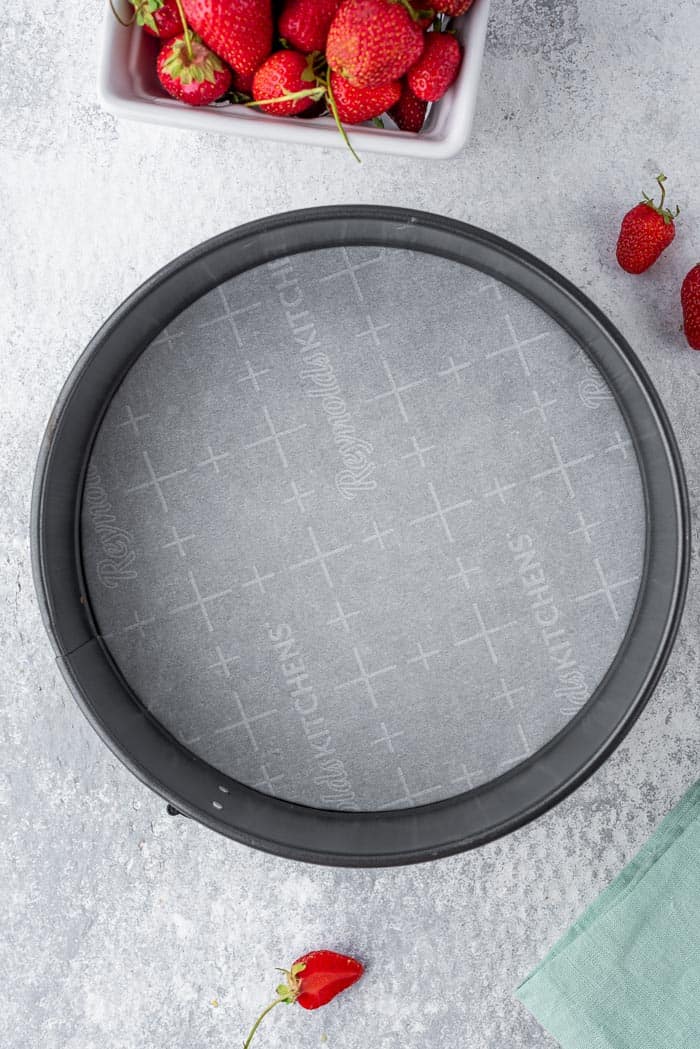 Grab your 9-inch Springform pam and evenly grease the bottom and sides. Once your pan is greased properly, layer the parchment paper on top. Set aside.
In a large mixing bowl, you are going to add in your eggs and sugar.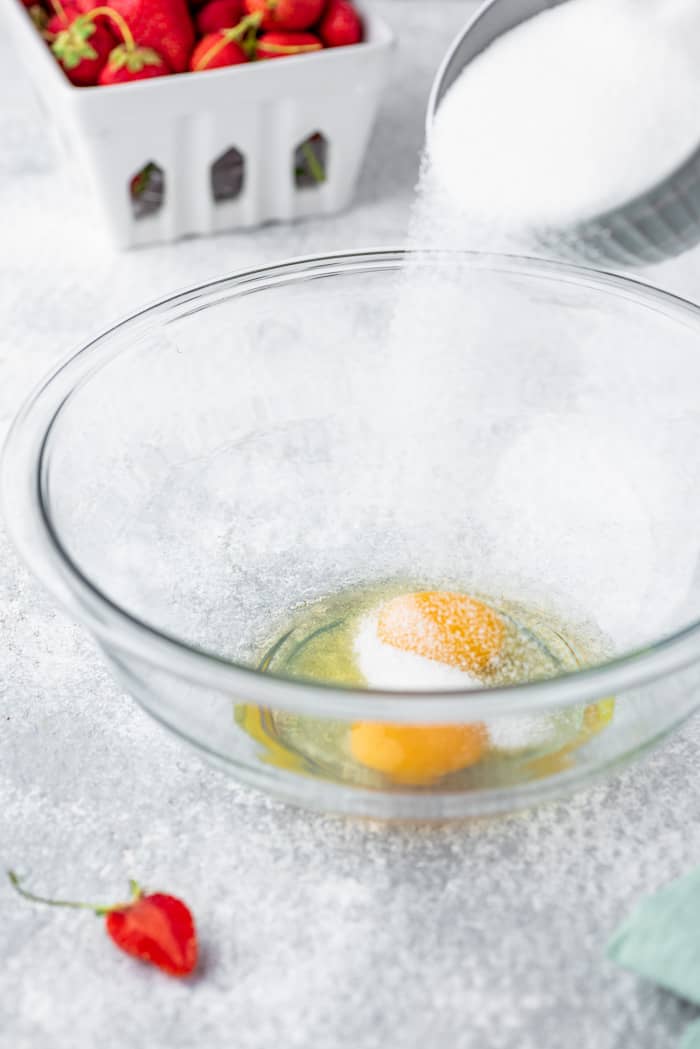 Beat with an electric mixer until ingredients are light and fluffy.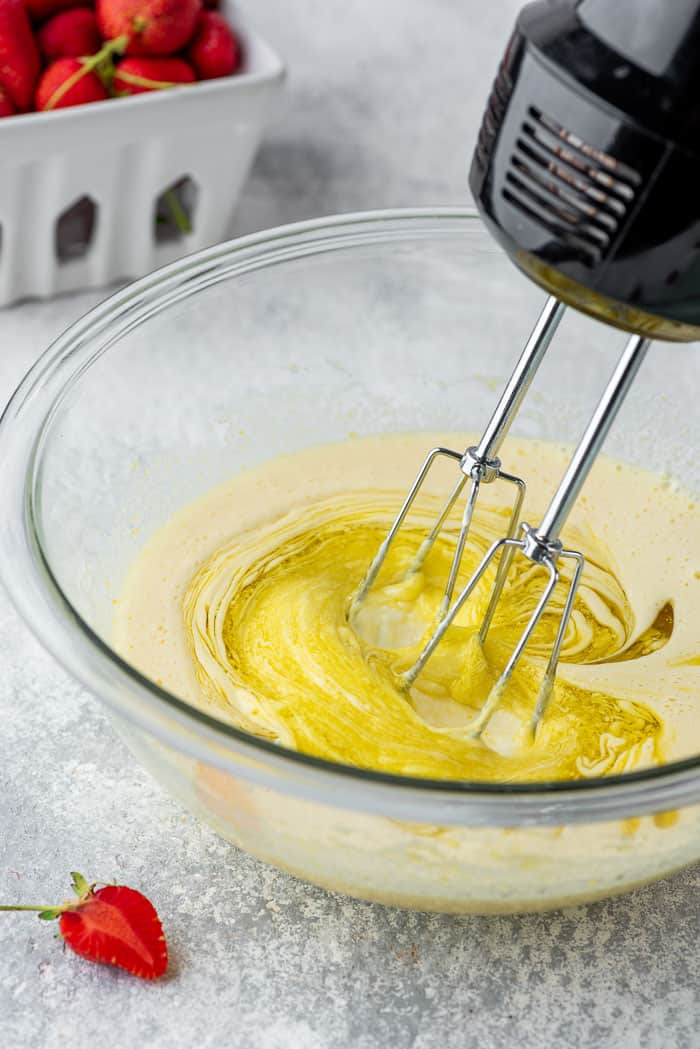 Pour in your olive oil and sour cream. Beat all ingredients again until everything is incorporated.
Add in lemon juice, lemon zest, and your vanilla extract. Beat on medium speed for one minute then set the bowl to the side for now.
You need another medium-sized mixing bowl for the dry ingredients. Pour in the all-purpose flour, salt, and baking powder. Whisk together or you can sift all ingredients prior to adding them into the bowl. This will ensure an even distribution of ingredients.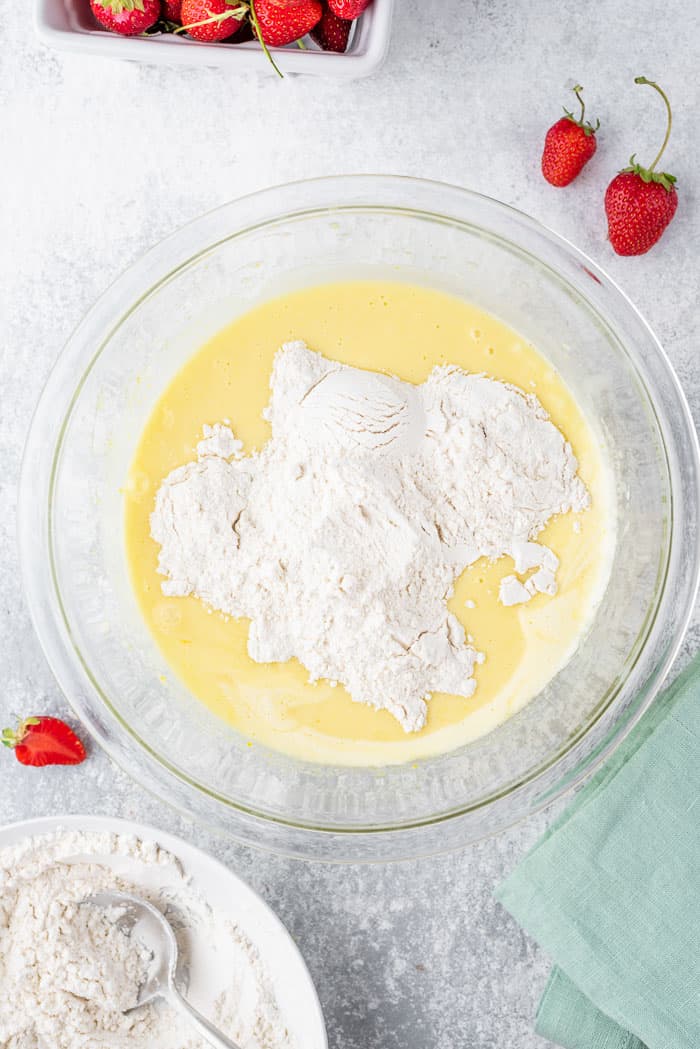 Turn your electric mixer on low and start to slowly incorporate the dry and wet ingredients together. Keep mixing until you notice the batter consistency turn smooth in texture and all lumps are gone.
Pour half the mixture into your prepared springform pan and top with a layer of sliced strawberries.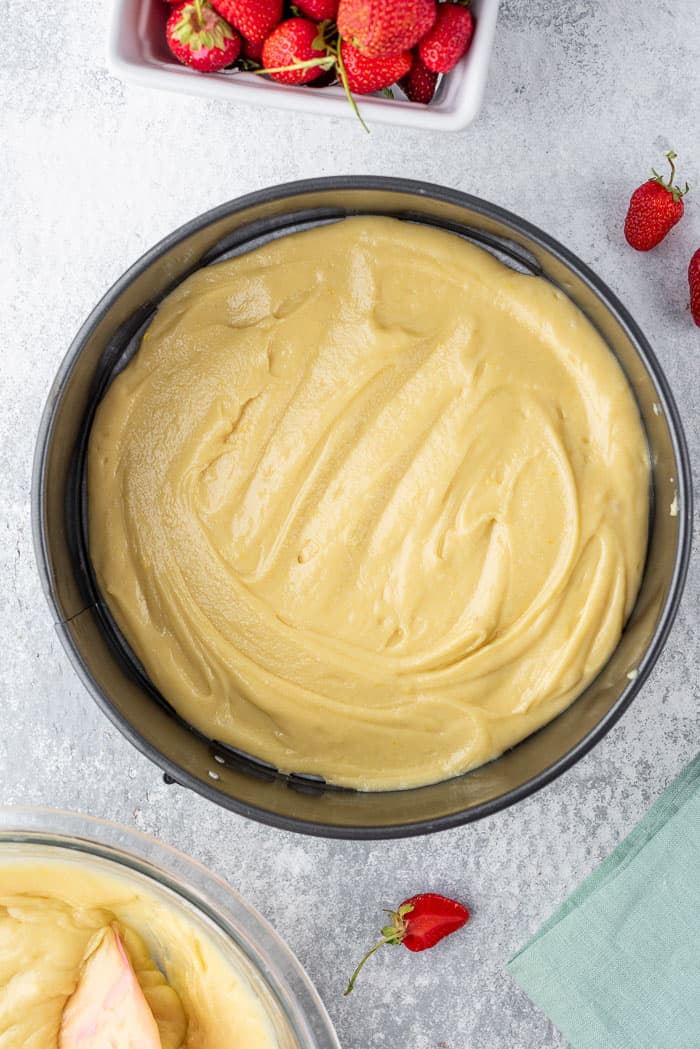 Now you can pour the rest of the batter to form a second layer. Top with more sliced strawberries.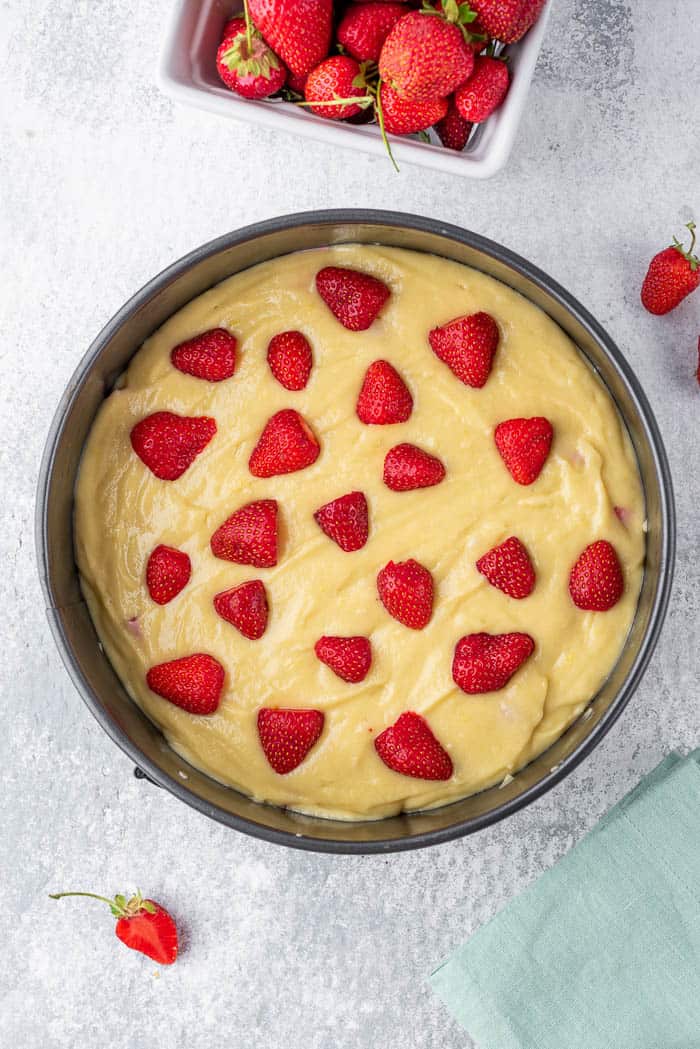 We aren't skimping with this cake so go ahead and form a third layer of sliced strawberries on top of the batter.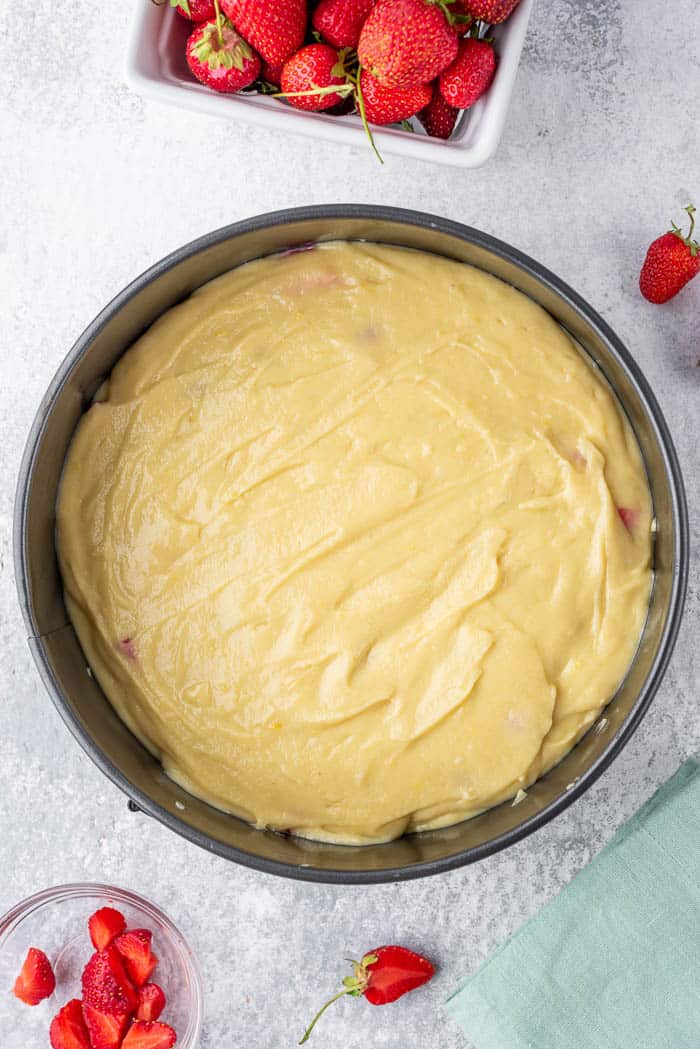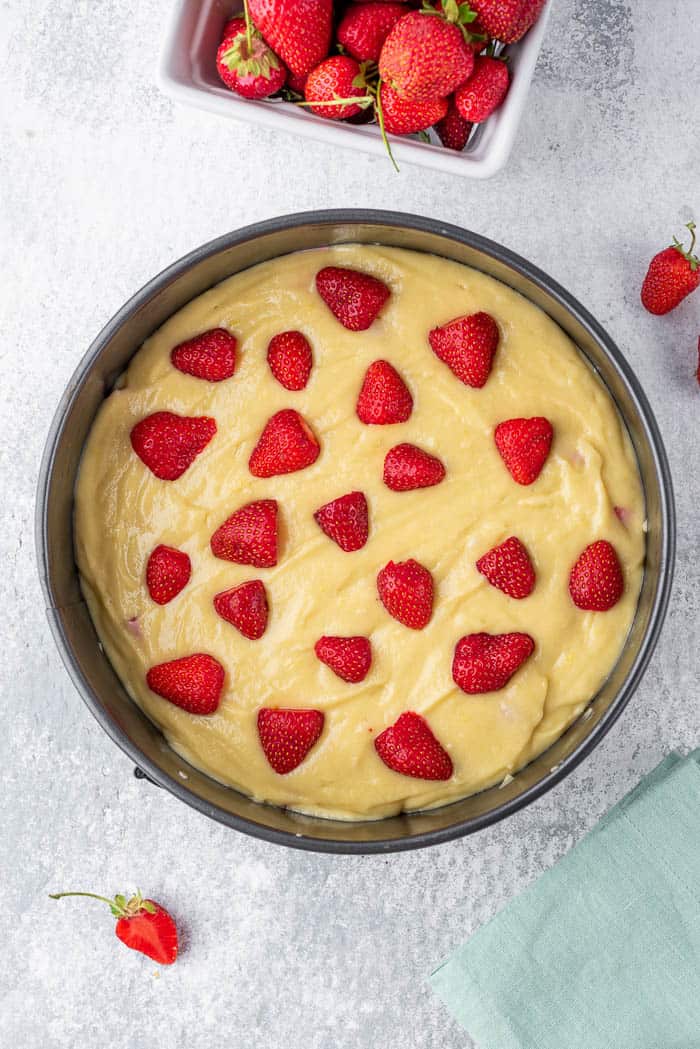 Place in the oven for 50-55 minutes.
You then have a beautiful golden hue on the top when it is finished. Another way to test if it's done is to stick a toothpick into the center of the cake and pull it out. If the toothpick is dry the cake is done. If batter sticks to the toothpick you need to leave it in the oven for a little while longer.
All we have to do now is wait. So place your cake on a cooling rack for 20 minutes.
Remove cake from pan and sprinkle with confectioners sugar.
Serve alone or with whipped cream.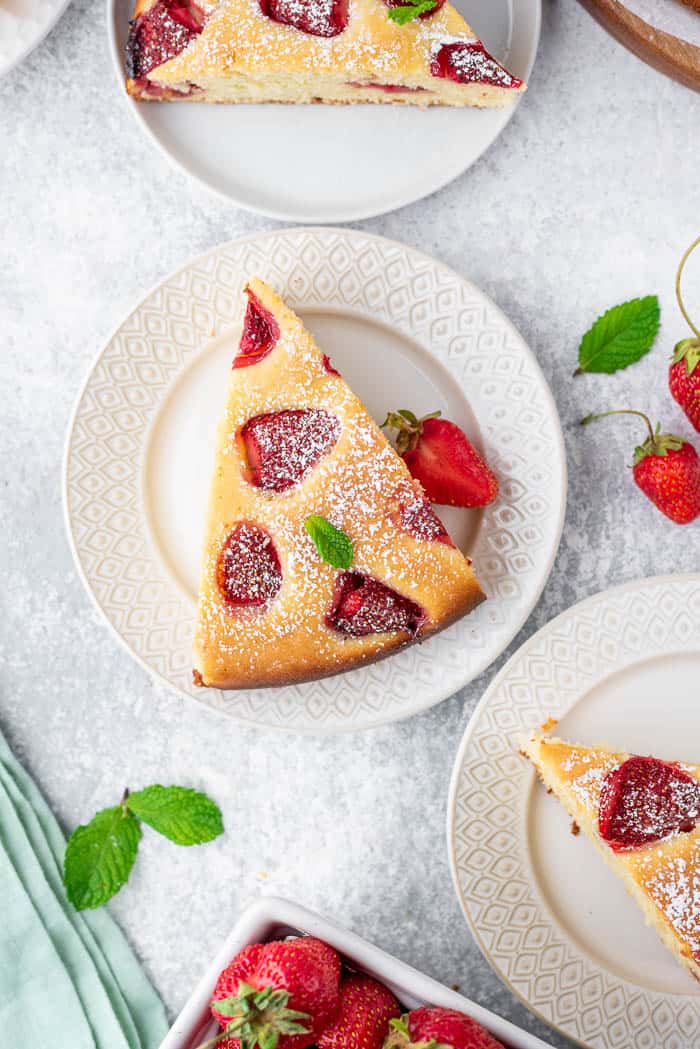 Due to the usage of fresh strawberries in this dessert, it will stay fresh for approximately 2-3 days after baking. Make sure it is sealed in an air-tight container or the cake will dry out and become too crumbly. Storing in the refrigerator is ideal.
Now that you are armored with another recipe to try this summer, how are you serving it? I absolutely love baking but I love nothing more than to see you all share them with family and friends. Let me know in the comment section below what you thought. Make sure to take me @aclassictwist. Have a wonderful first week of summer and enjoy :-).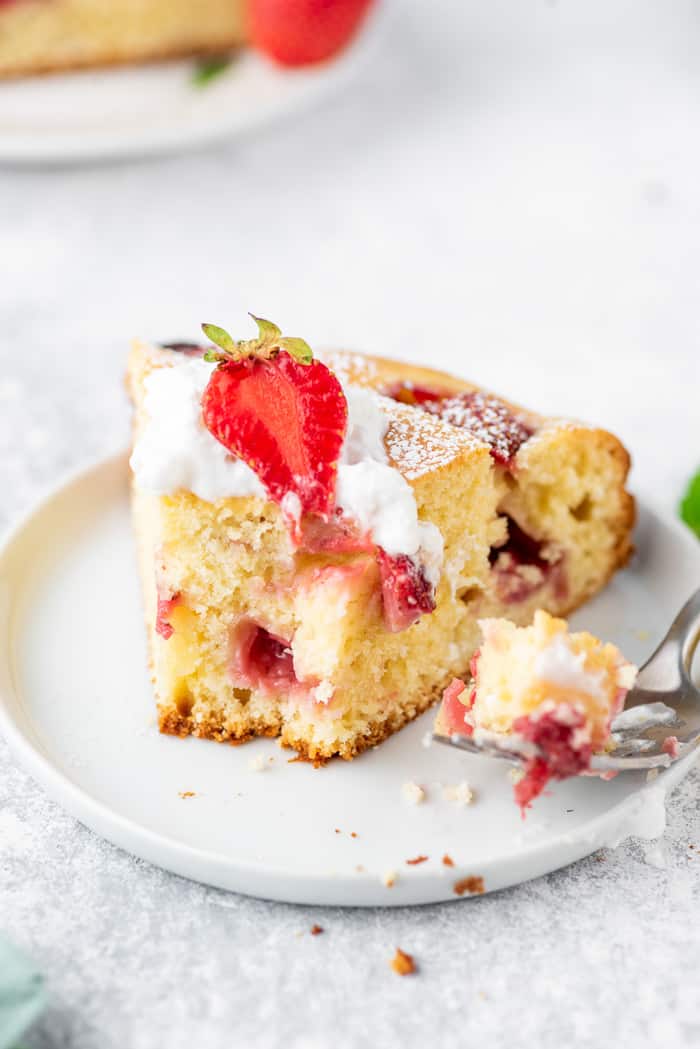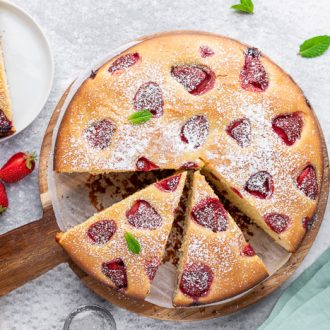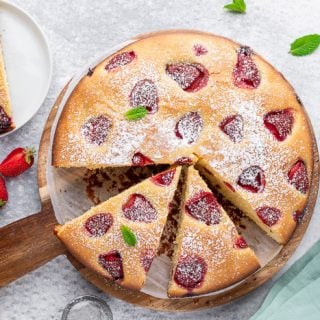 Yield: 1 9-inch cake
Fresh Strawberry Cake
Have freshly picked strawberries?Try this super moist and fluffy strawberry cake recipe bursting with strawberryand lemon flavors in every bite, perfect recipe for strawberry lovers to enjoythis summer!
Total Time
1 hour
5 minutes
Ingredients
2 large eggs, at room temperature
1 cup granulated sugar
1 cup sour cream
½ cup olive oil
1 teaspoon lemon zest
1 tablespoon lemon juice
1 tablespoon pure vanilla extract
2 cups all-purpose flour
2 teaspoons baking powder
½ teaspoon salt
½ cup diced fresh strawberries
1 cup halved fresh strawberries
Confectioners/Icing sugar, for dusting
Extra strawberries, to serve
Whipped cream, to serve (optional)
Mint leaves, to garnish (optional)
Instructions
Preheat the oven to 350 degrees F. Grease and line a 9-inch springform pan with parchment paper and keep it aside.
In a large mixing bowl, beat the eggs and sugar until light and fluffy with the help of an electric mixer or stand mixer.
Add in the sour cream and olive oil and beat until well combined.
Now add the lemon zest, lemon juice, and vanilla extract. Beat for a minute and set aside.
In another bowl whisk together the dry ingredients; all-purpose flour, baking powder, and salt.
Gently combine the dry and wet mixture, beat on low speed until the cake batter turns smooth.
Pour half of the prepared batter into the cake pan and top with diced strawberries.
Spread the remaining cake batter evenly by covering the diced strawberries.
Arrange the halved strawberries on top and bake the cake for 50-55 minutes until the cake looks golden on top and a cake tester comes out clean.
Allow the cake to cool down for 20 minutes by placing the cake pan on a cooling rack.
Slowly remove the cake from the pan and dust with icing sugar.
Slice the cake and serve along with whipped cream on top.
Notes
The cake can be stored at room temperature for 2-3 days in an air-tight container.
Sour cream can be replaced with Greek yogurt.
Recommended Products
As an Amazon Associate and member of other affiliate programs, I earn from qualifying purchases.