Fresh Strawberry Cake with Strawberry Frosting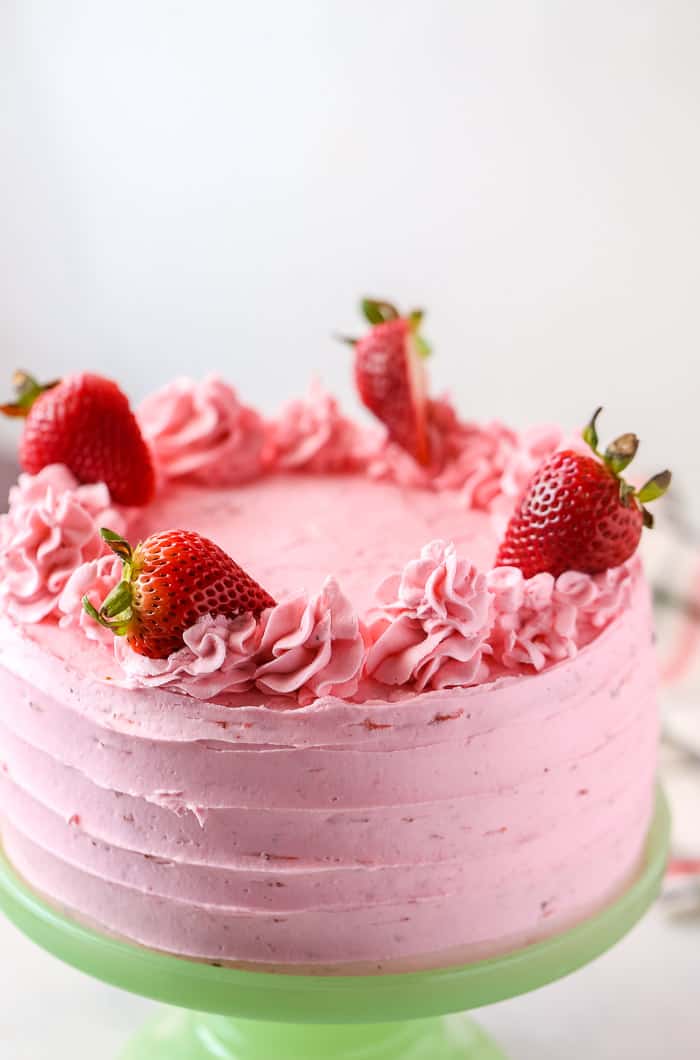 Happy August friends!! How are we already in this month?? Seriously?? This year has been fast and yet felt so slow at the same time. It's interesting times we are living in and I hope you are all finding ways to survive, adjust, and thrive. My survival includes eating lots of cakes, ice cream, and cookies. This fresh strawberry cake with strawberry frosting has been a summer favorite and one that I think you will enjoy too.
I am for sure trying to embrace the summer season even though what we can do is limited. We can't take our usual vacations, visit friends, or gather in large crowds for celebrations but we are trying to keep the essence of summer alive. From safely going to the farmers market weekly to spending more time outside hiking and picnicking and making sure I am maximizing my summer baking.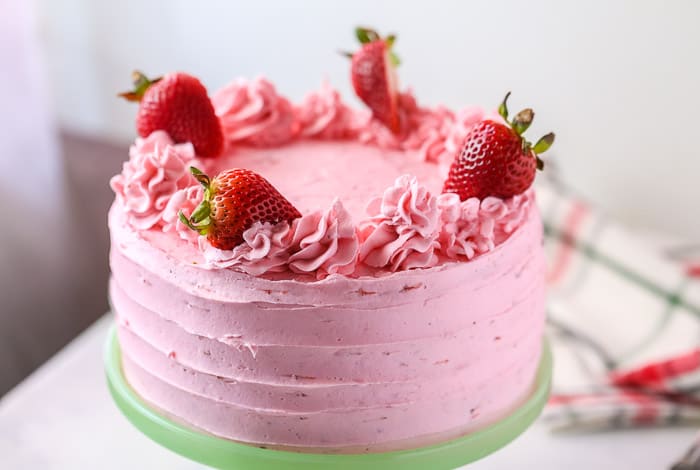 We are at the end of the strawberry season, depending on where you are, but I made this fresh strawberry cake for myself. See, it's my birthday this week and I always make myself a cake. I have a long streak of making my own birthday cakes. From this Birthday Ice Cream Cake to this Lemon Raspberry Cake (with a honey mascarpone filling and cream cheese frosting) and this Strawberry Lavender Cake.
This year, I wanted to continue the strawberry wagon as well especially that many of you have asked for a strawberry cake recipe even though I have these strawberry cupcakes you can adapt to a cake. In order to provide you what you want, I give you a good old-fashioned strawberry cake.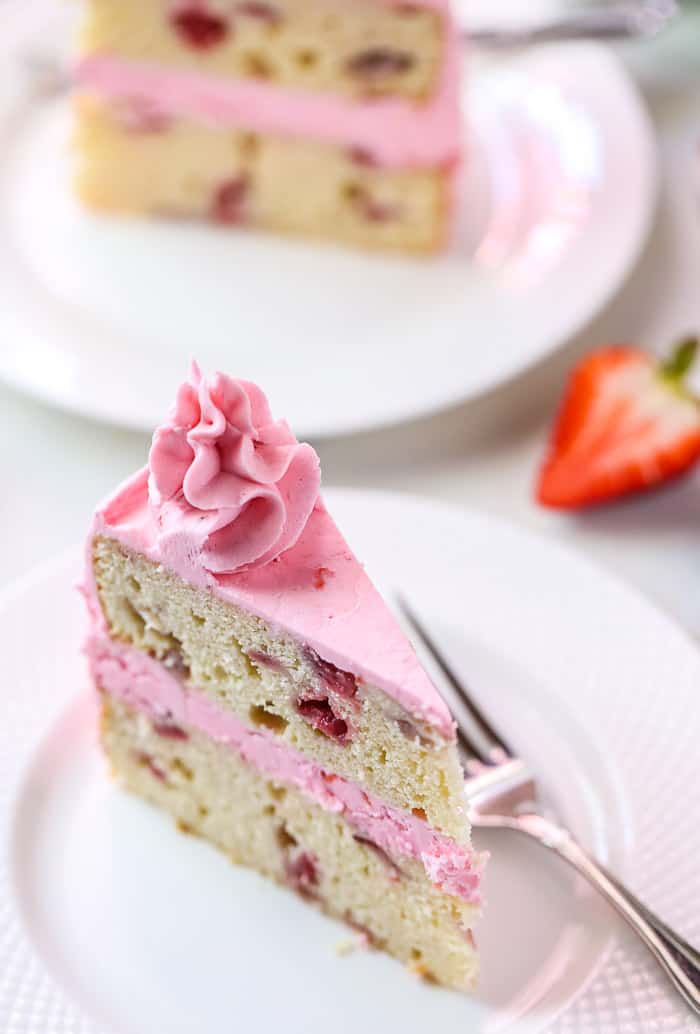 The cake is bursting with fresh strawberries in the batter as well as the sweet strawberry frosting. In my strawberry cupcakes recipe, we add in both strawberry puree and chopped strawberries in the batter. However, for this strawberry cake, I kept the batter simple with just freshly chopped strawberries. I wanted to focus on a soft, light cake that is dotted with juicy strawberries in each bite. Don't worry, you get the wonderful strawberry flavor all throughout, especially with the frosting pair.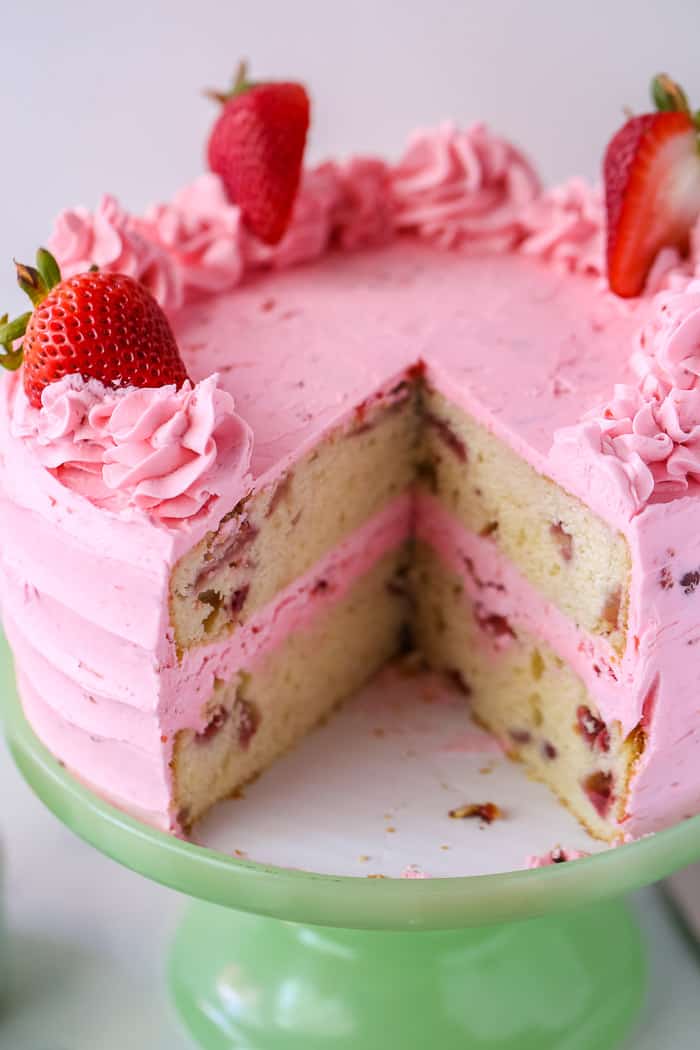 For the frosting, we are using strawberry compote for a concentrated flavor. We cook down fresh strawberries and then use that compote in the frosting. Frosting tends to separate when you add fruit additions to it and my trick is to make sure my compote is thick and is at room temperature or cold. And to make sure you add it after you have whipped the frosting very well. I like adding it in the last two minutes of whipping. It incorporates easily when there is some air in the frosting. Try these tricks next time you make a frosting that needs fruits incorporated.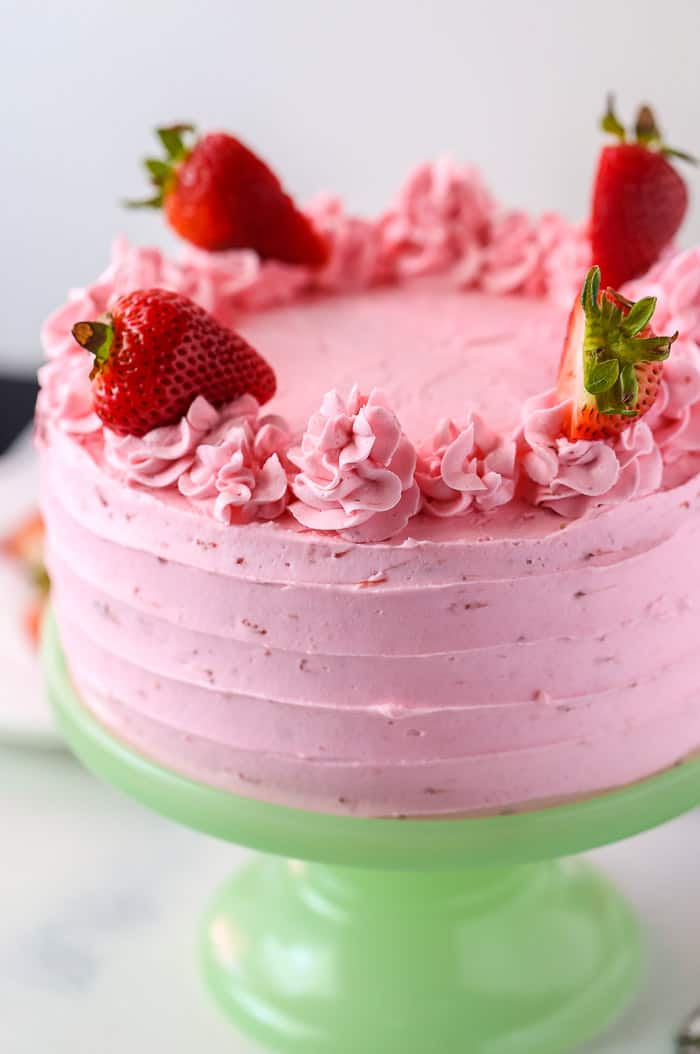 Okay, friends, that's all for today. This fresh strawberry cake is one you will keep in your recipe box for a long time. For all those strawberry lovers out there, this cake is for you. It's bursting with juicy strawberries and just the right amount of sweet to showcase the fresh summer bounty of strawberries. Enjoy!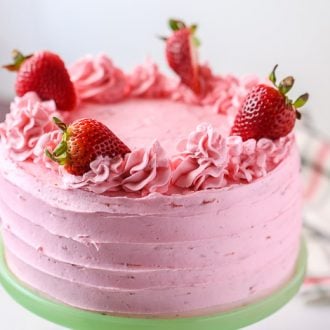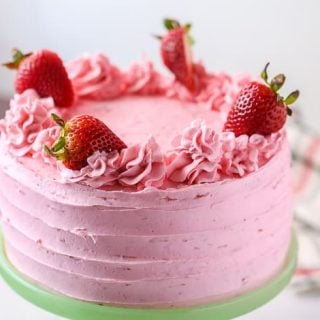 Yield: 1 9-inch layer cake
Fresh Strawberry Cake with Strawberry Frosting
This is a summer favorite. An epic soft and tender fresh strawberry cake with strawberry frosting that's to die for! You will love this.
Prep Time 45 minutes
Cook Time 15 minutes
Additional Time 30 minutes
Total Time 1 hour 30 minutes
Ingredients
For Strawberry Cake
2 3/4 cup all-purpose flour
1/2 cup cake flour
1 tablespoon baking powder
1 teaspoon salt
11/2 teaspoon pure vanilla extract
1 cup whole milk, at room temperature
1 cup (2 sticks) unsalted butter, at room temperature
2 cups granulated sugar
3 large eggs, at room temperature
1 large egg white
food coloring (optional)
2 cups finely chopped strawberries
For the Strawberry Frosting:
1 cup chopped strawberries
1 cup (2 sticks) unsalted butter, at room temperature
3 cups powdered sugar
1/2 teaspoon pure vanilla extract
food coloring (optional)
Instructions
For the Cake:
Preheat oven to 350 degrees F. Grease two 9-inch round cake pans (or 3 8-inch round cake pans) with baking spray and line with parchment paper. Grease parchment paper.
In a large bowl, sift (please do!) together the flours, baking powder, and salt. In a large mixing cup, whisk together the whole milk and vanilla extract.
In the bowl of an electric mixer, cream the butter and sugar together over medium speed until light and creamy, about 3-5 minutes.
Beat in the eggs and egg white, one at a time, scraping down the bowl after each addition.
If you are using food coloring, add in 3-4 drops of food coloring.
Reduce speed to low. Alternately add in the flour and milk mixture, starting and ending with the flour. Mix well after each addition.
Gently fold in the diced strawberries into the batter.
Divide batter into the prepared pans.
Bake cakes until a toothpick inserted into the center come out clean, about 25 minutes.
Let cakes cool in the pan for 10 minutes before turning onto a wire rack. Cool completely.
For the Frosting:
In a medium saucepan, cook the strawberries over low heat, stirring occasionally until they break down. Use a potato masher to mash them as fine as you can. Remove from heat and let cool completely. You can pass the strawberry compote through a sieve but I choose not to.
In a bowl with an electric mixer, beat the butter on medium speed until light and creamy, about 3 minutes.
Add in the rest of the ingredients, including 1/4 cup cooled strawberry compote. Mix on low until combined, then increase speed to medium and beat the frosting for about 5 minutes until light and fluffy. Add in food coloring if using.

To Assemble:
Level the cakes if needed.
Onto a cake stand, place the first layer of cake. Evenly spread about 1/2 cup buttercream on top. Top with the rest of the strawberry compote. Add the top layer of cake with the top of the cake down. Crumb coat the cake with a thin layer of buttercream.
Then spread the icing evenly and frost the cake. Decorate as desired with fresh strawberries.
The cake will store in an airtight container at room temperature for up to 3 days or refrigerated.
Recommended Products
As an Amazon Associate and member of other affiliate programs, I earn from qualifying purchases.