Lemon Raspberry Cake with Honey Mascarpone Filling and Cream Cheese Frosting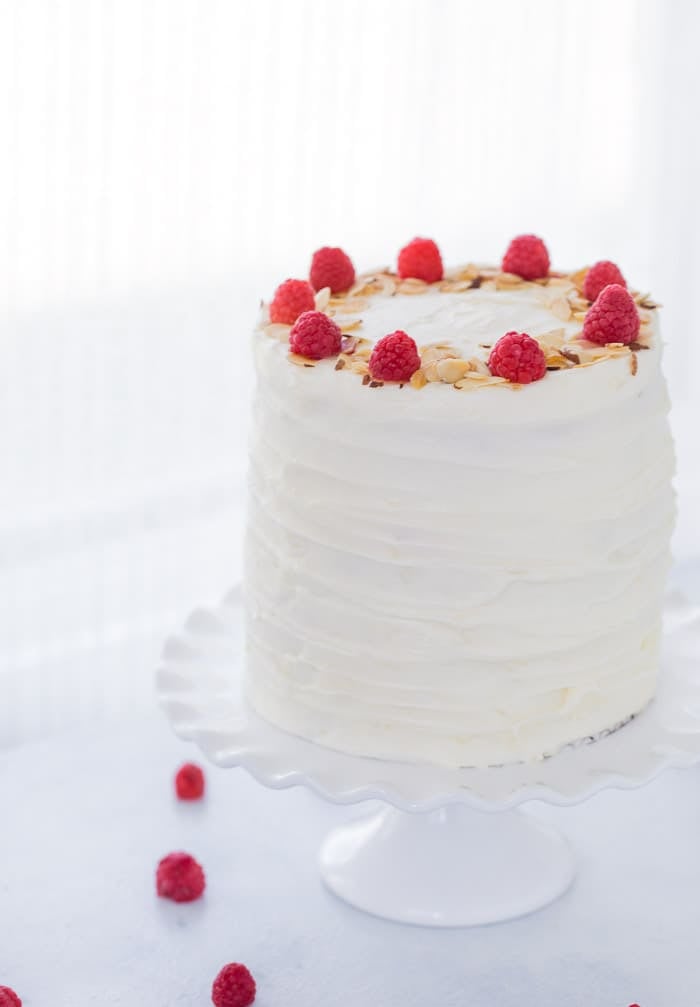 Hi friends!! I have a cake for you today and this is no ordinary cake. It's an epic lemon raspberry cake filled with a sweet honey mascarpone filling, raspberry compote and cream cheese frosting. Doesn't that sound so so good? Well, it is!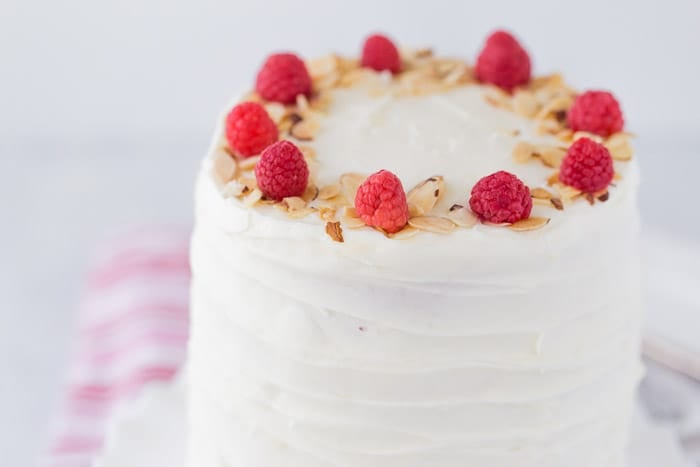 I get very excited about cake, especially birthday cakes. It was my birthday a two weeks ago and I had to make myself a birthday cake. Yes, I am one of those people who bakes their own birthday cakes. I love it and it is my time to make exactly what I want. If you are the baker in your family, you understand you are always taking requests from people. I love baking for my family but I don't get to explore flavors much with them. We stick to classic chocolate cupcakes, chocolate peanut butter cake or coconut cream pie. All very amazing classics but the explorer in me needs more for my birthday.
So for my birthday, I get to make exactly what I want like this Strawberry Lavender Cake from a few years ago. This year, I re-created a flavor combo I saw from a local bakery. A friend posted the cake on Instagram and I've been meaning to go to the bakery but haven't found time. Making it at home was the next best thing.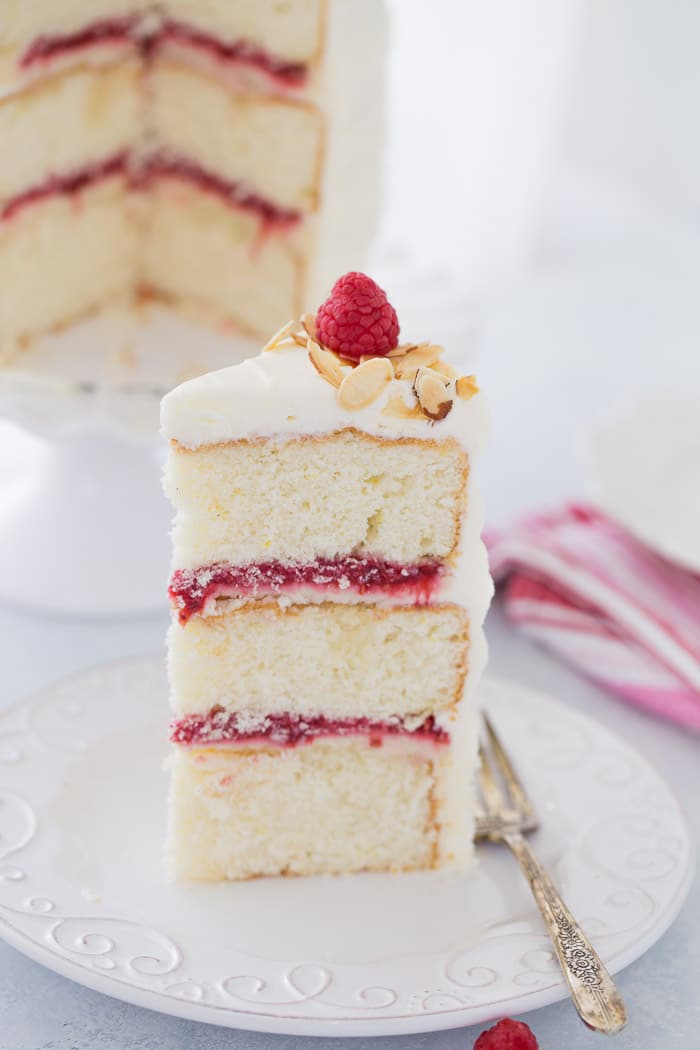 Using my favorite lemon cupcake recipe, I created a mini three-layered cake for two. The lemon cake is full of fresh lemon zest, hints of almond and is moist and crumbly. The perfect canvas for some great flavors in the filling and frosting.
The filling is a whipped mascarpone cream sweetened with honey. It is fluffy and hard not to just eat by the spoonful. Also in the middle of the cake is a raspberry compote that perfectly completes the lemon and mascarpone flavors in the cake. Brings out a little summer as well. All in all, the best part of the cake is the filling!
Finally, the cake is frosted with classic cream cheese frosting. I am not usually a fan of cream cheese frosting. Despite being delicious and addicting, it is a decorator's nightmare. But in some cakes, like this one, cream cheese frosting just makes sense and is needed.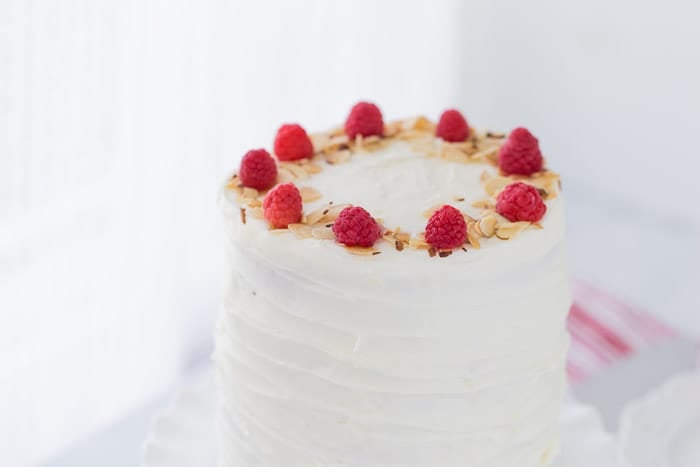 This cake is a celebration cake and worth the time it takes to assemble. It's full of wonderfully blended flavors and is rich. It's truly incredible.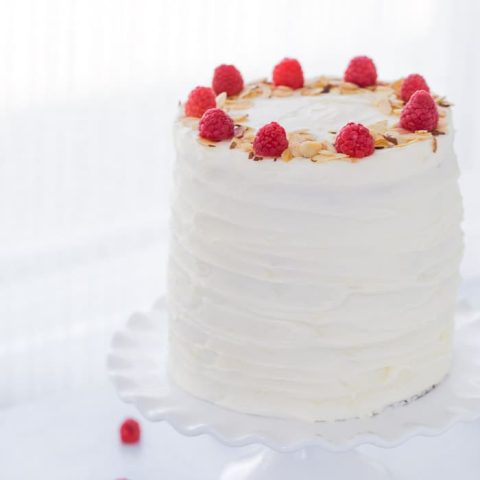 Yield: 1 6-inch cake
Lemon Raspberry Cake with Honey Mascarpone Filling and Cream Cheese Frosting
Prep Time 1 hour 15 minutes
Cook Time 25 minutes
Total Time 1 hour 40 minutes
Ingredients
For the Raspberry Compote:
1/2 cup fresh raspberries
juice of half a lemon
2 tablespoons granulated sugar
For the Lemon Cake:
1 cup whole milk, room temperature
1 whole egg, room temperature
4 large egg whites, room temperature
2 teaspoons pure vanilla extract
1 teaspoon lemon extract
1/4 teaspoon almond extract
2 ½ cups cake flour, sifted
1 ½ cups granulated sugar
1 ¼ tablespoons baking powder
¾ teaspoon salt
zest of 1 lemon
1 ½ sticks unsalted butter, room temperature and cut into cubes
For the Honey Mascarpone Filling:
8 oz mascarpone cheese, softened
1/4 cup honey
For the Cream Cheese Frosting:
8 ounces cream cheese, softened
1/2 cup (1 stick) unsalted butter, softened
1 teaspoon vanilla extract
3 cups sifted confectioners' sugar
Instructions
For the Raspberry compote:
Combine all the ingredients in a small saucepan set over medium-low heat. Cook, stirring occasionally until mixture thickens. Remove from heat and let cool completely.
For the Cakes:
Preheat oven to 350 degrees F. Grease and line three round 6-inch baking pans.
In a small bowl, whisk together a third cup of the milk, egg whites, egg, vanilla, lemon, and almond extracts.
Sift the cake flour in the bowl of an electric mixer fitted with the paddle attachment (or a medium bowl if using a hand mixer). Combine the rest of the dry ingredients including the lemon zest and sugar. Stir together on low speed for 30 seconds.
Add the butter one piece at a time and blend on low speed for 30 seconds. Then add the remaining milk, and mix on low speed until moistened. Increase speed to medium and mix for 1½ minutes. Be careful not to overmix. Scrape the sides of the bowl as needed.
Add the egg/milk/extract mixture in 3 separate batches mixing on medium speed after each addition until combined.
Divide batter equally into prepared pans and bake in the center of the oven for 20-25 minutes or until a cake tester comes out clean when inserted in the center of the cake.
Let cakes cool completely before frosting.
For Honey Mascarpone Filling:
In a small bowl, whisk together the mascarpone cheese and honey until smooth. Set aside.
For the Cream Cheese Frosting:
Cream the first three ingredients on medium speed using the paddle attachment of an electric mixer until smooth, about 2-3 minutes.
Add the powdered sugar and mix on low speed for 1 minute. Then increase speed to medium and mix for 2-3 minutes until the frosting is very light and fluffy.
Refrigerate for 10-15mins before frosting the cake.
Assembly:
Level your cakes as needed. Place the first cake layer on a cake plate or serving plate.
Add half of the mascarpone filling on top of the cake. Spread evenly.
Add half of the raspberry compote on top and carefully spread over the filling. Repeat this until you finish with the last layer.
Frost the cake with the cream cheese frosting.
Decorate as desired.
Recommended Products
As an Amazon Associate and member of other affiliate programs, I earn from qualifying purchases.