Mango Macarons
These mango macarons are filled with a mango-coconut buttercream to make this a sweet tropical treat perfect for Summer.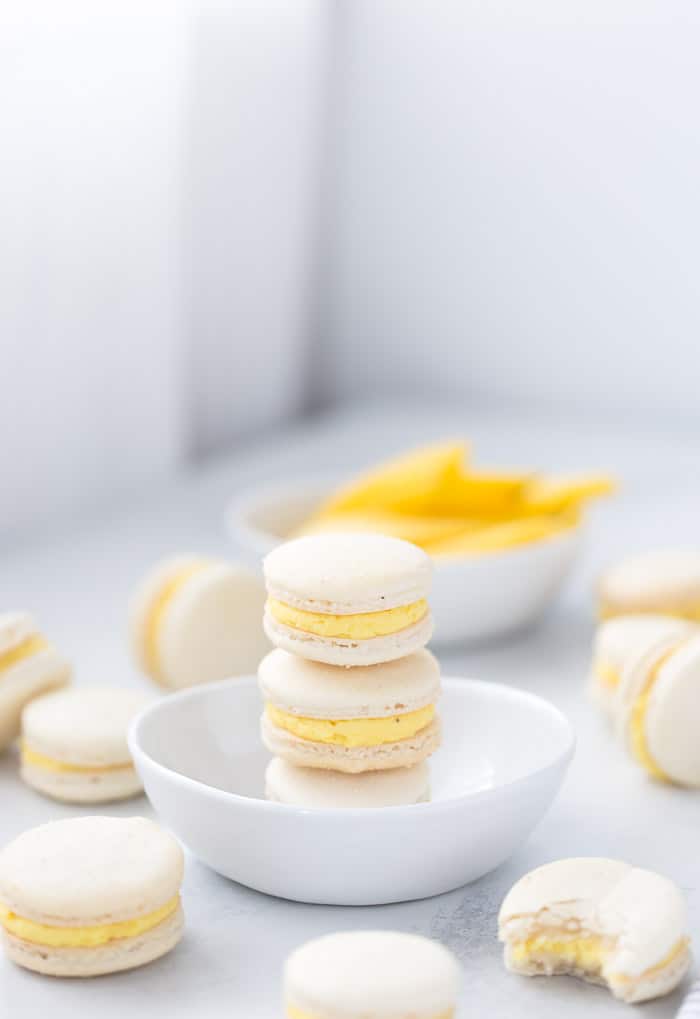 Hi friends! Happy Friday. I hope you all had a great week and an even better weekend planned. It is Mother's Day weekend and I hope you are planning something special to celebrate the moms in your life. I'm going into the weekend with a batch of these mango macarons.
My husband's family has experienced a lot of loss this past year and we are using this weekend to pay respect to some of our loved ones. From visiting Grandma's graveside to spending Mother's Days with my SIL who lost her 22-year old daughter mere months ago, we are making sure we take time to acknowledge that life's seasons are not always happy. These seasons remind us of what really matters and appreciate time with our loved ones even more.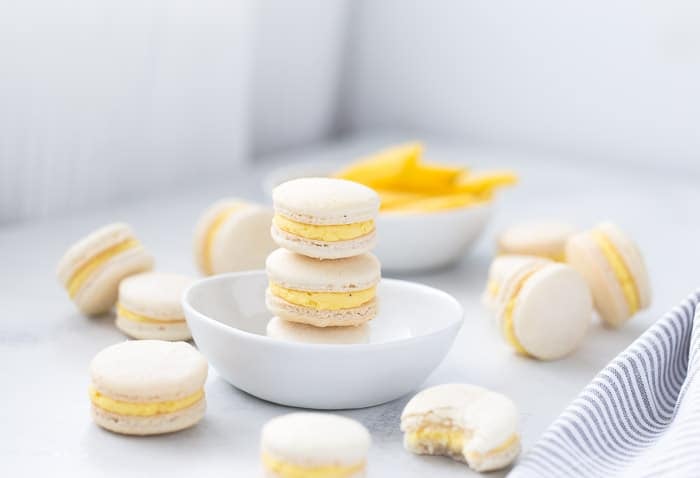 Macarons have become my comfort food for troubling times. I am not sure how that happened but somehow every time I am stressed, sad or angry I get into the kitchen to make some macarons (lavender macarons came at one such time). At first, it started with the challenge. I loved the challenge of making macarons; their finicky nature intrigued me. But over time, it was just a matter of getting into the kitchen to bake when I had a bad day. Of course, at the end of the baking session, successful or not, I could always count on macarons to be delicious. These pillowy cookies with jelly or sweet buttercream are always a great afternoon treat.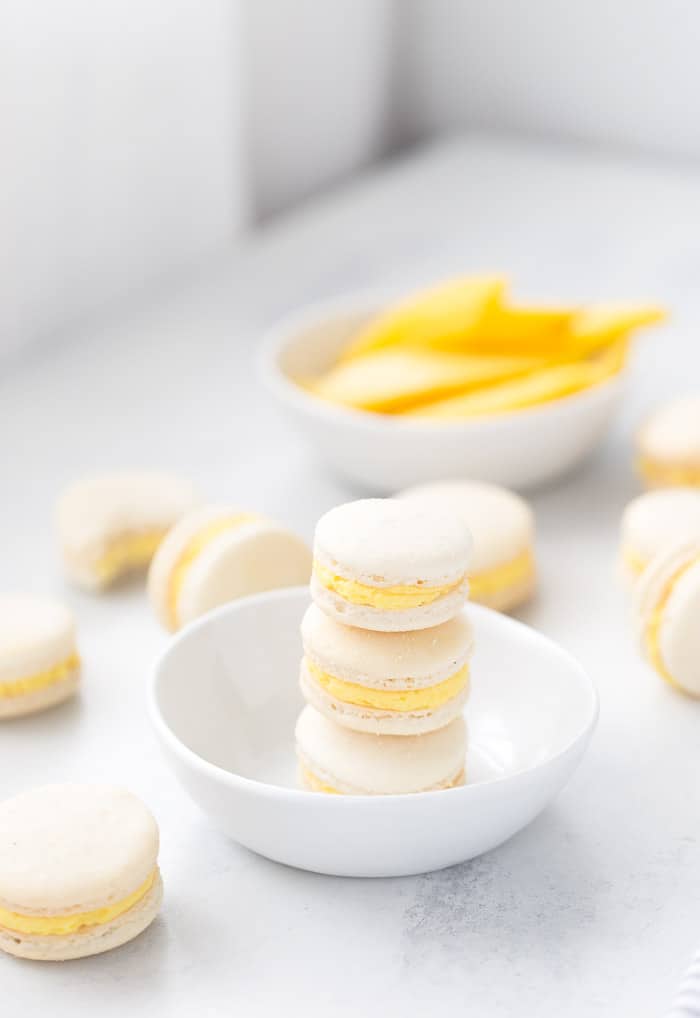 For these mango macarons, I experimented with freeze-dried fruits. I tried using the freeze-dried mangos in the macaron shells themselves but I couldn't reproduce the recipe reliably so instead I decided to sift the mango powder over the shells before they dry. This worked great without having to alter an already solid macaron shell recipe. The mango flavor is subtle this way but I love it. The mango-coconut buttercream filling tops off the tropical flavors here. I again used the freeze-dried mangoes and it was a great way to infuse the flavor. I am not sure why it took me this long to start using freeze-dried fruits. Wowza.
On that note, these mango macarons need to be your next macaron adventure. They are seriously crunchy good and perfect for summer. My toddler was excited to help with this photoshoot and insisted that the mango slice should not be in the background but in the dish upfront. He took a slice from it first, I guess that's authentic? I went with it, lol!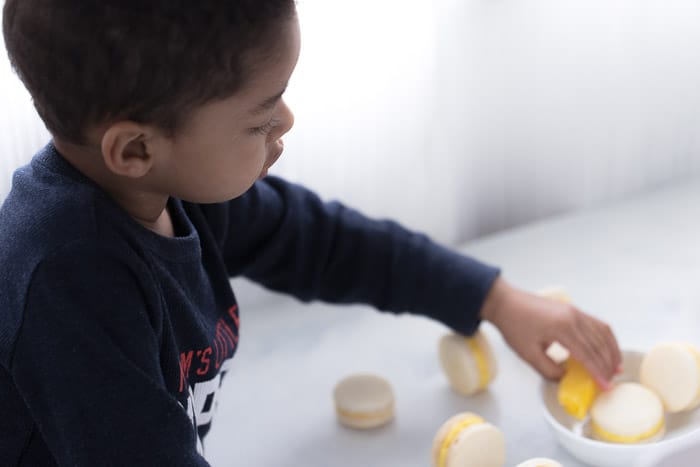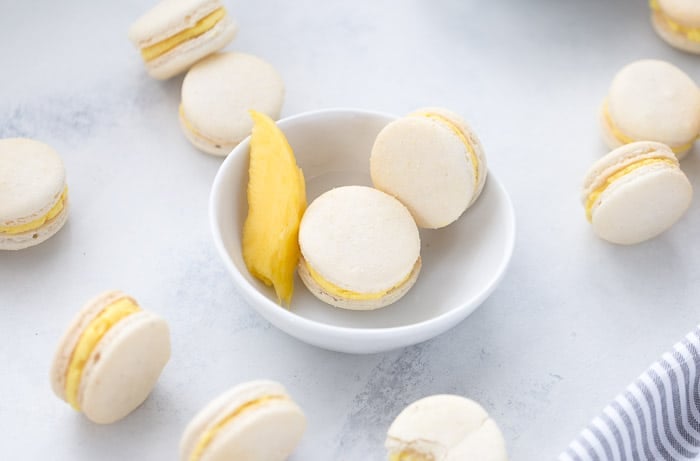 Be sure to take time this weekend to spend time with your loved ones and appreciate all the blessings in your life. Take some time and smell the roses.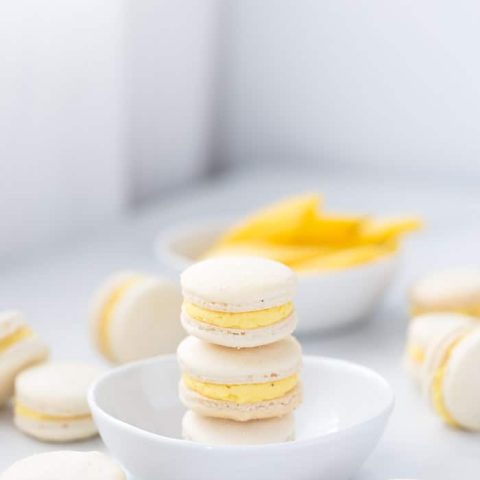 Yield: ~15 macarons
Mango Macarons
These mango macarons are filled with a mango-coconut buttercream to make this a sweet tropical treat perfect for Summer. 
Prep Time 30 minutes
Cook Time 20 minutes
Additional Time 2 hours
Total Time 2 hours 50 minutes
Ingredients
110 g almond meal/flour
155 g confectioner's sugar
90 g egg white (3 large egg whites)
55 g granulated sugar
¼ teaspoon cream of tartar
For the Filling:
1/2 cup (1 stick) unsalted butter, softened
1½ cups powdered sugar
2 tablespoons coconut milk
1/4 teaspoon coconut extract
2 tablespoons freeze-dried mango, finely crushed
Few drops yellow food coloring (optional)
Instructions
Line two sheet pans with parchment paper. I used a 1½-inch round cookie cutter to draw circles on the parchment paper and flip over the paper (drawing side down). Prepare a pastry bag with a round tip. I used Wilton 2A.
Using a food processor, pulse the powdered sugar and almond flour. Sift several times until there is less than 2 tablespoons of almond bits left. Add these to the mixture.
In the bowl of an electric mixer with the whisk attachment, combine the egg whites, cream of tartar, and sugar. Whip on medium-high speed until stiff peaks form, about 5-7 minutes.
Add the dry ingredients to the meringue and fold with a rubber spatula. Gently fold to deflate the meringue by pressing against the side of the bowl and scooping from the bottom until batter is smooth and shiny; about 20-25 folds. To check consistency, drop a spoonful of batter and it should have a peak that quickly relaxes back into the batter. Start checking the batter around 18-20 folds.
Transfer batter into pastry bag and pipe the batter into the pre-traced circles on the baking sheet. Tap baking sheet hard on a counter to release any air bubbles trapped in the batter.
Using a fine sieve, gently sift the finely crushed freeze-dried mango powder over the shells. A thin coating of the mango powder is sufficient.
Let shells sit on a counter for at least 30 minutes and up to 2 hours to dry. When you touch the shells, they should not be sticky.
Preheat oven to 300 degrees F. Bake for 15-20 minutes or until shells hardens, rotating cookie sheets halfway through baking time. You should be able to peel off the macaron from the parchment. Cool completely on cookie sheets before peeling from the parchment.
For Filling:
Whip the butter until light and creamy. Add in the rest of the ingredients and mix on low until combined. Increase speed to low and whip for additional 2-3 minutes.
Using a pastry bag fitted with a large round or star tip, fill macarons. Store in refrigerator until ready to serve. Allow to get to room temperature before enjoying!
Notes
NOTES:
As always, macarons take patience and practice.
Do not over mix the batter or under mix. Your shells will not form feet. The ideal mixture from macaronage is a batter that falls off your spatula and reintegrates into the rest of the batter within 10 seconds.
The drying time depends on your altitude and humidity and of course the weather. Just be patient and wait until the shells dry to the touch.
Remember they are still delicious even if they are not perfect.