Lemon Cheesecake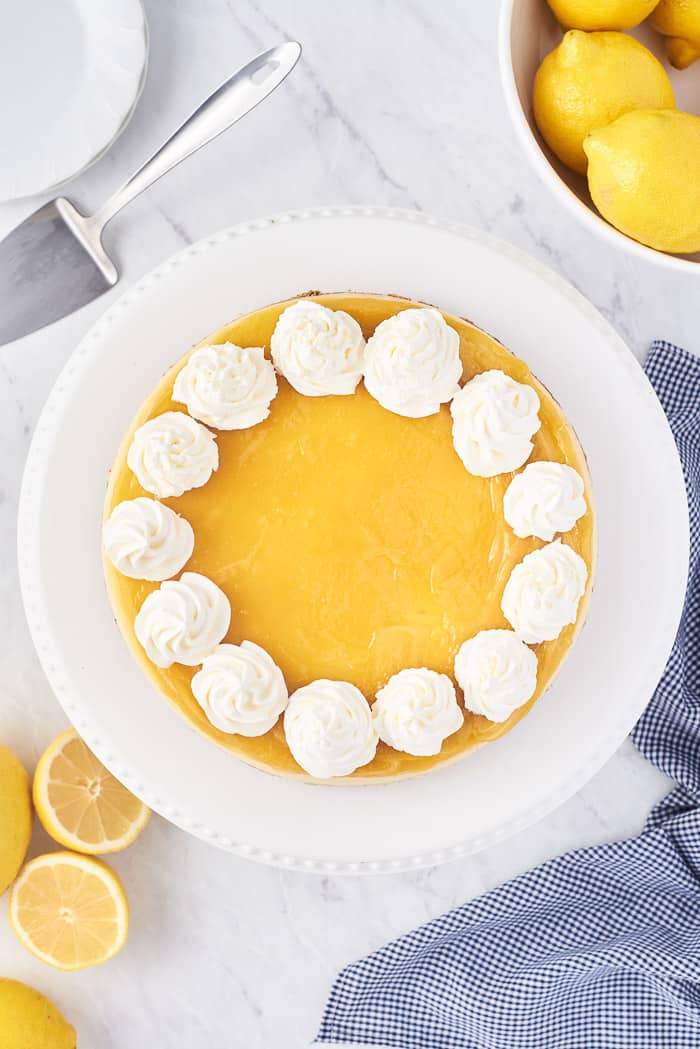 Hey there, and welcome back, friends.
You are in for a treat!
Lemon Cheesecake
There's nothing like this homemade lemon cheesecake. Creamy, decadent and perfect for Spring and that lip-puckering craving for a lemon dessert.
If you have been with me since the beginning then you know I love lemon desserts. It is such a versatile fruit with a unique ability to enhance so many other flavors to the max.
Lemon coconut? Lemon Blueberry? Lemon meringue? Strawberry lemonade? See what I mean? Lemons are a great match for so many things. This Lemon Cheesecake is a classic recipe I've meant to share for a while.
It boasts the pure flavor of bold lemons in a creamy decadent cheesecake.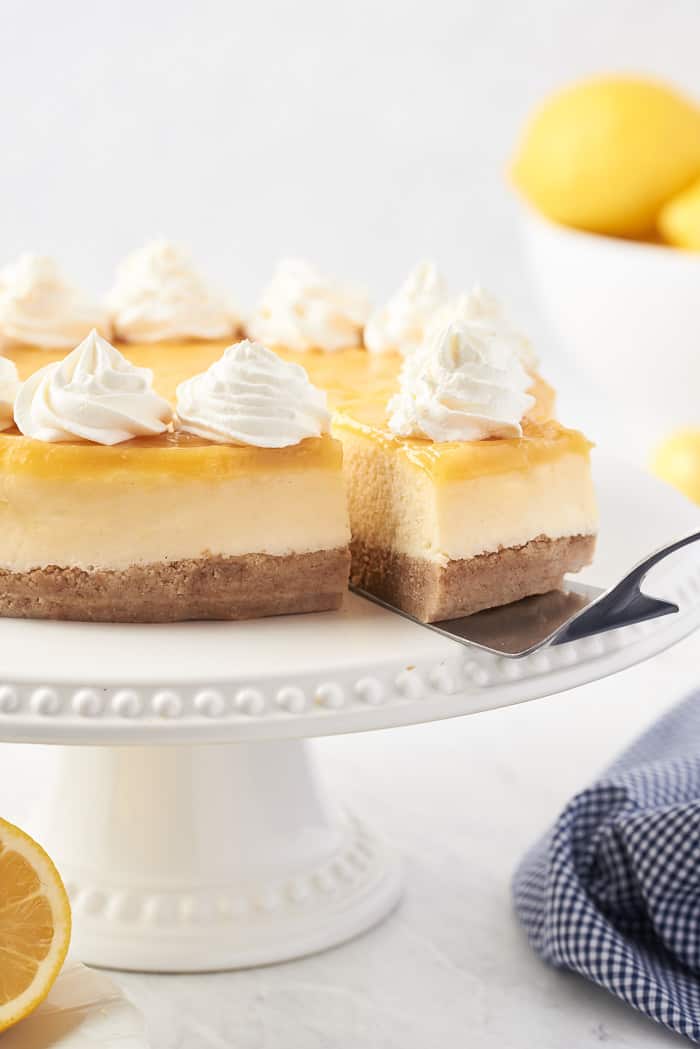 Now that I have hopefully grabbed your taste buds, let's get to baking! Let's walk through how to make this Lemon Cheesecake. I took lots of in-process images as you guys have been asking.
While I can't make videos for all my recipes, I try to take in-process images when I can to fill in the cake. The process is also detailed in my coconut cheesecake recipe.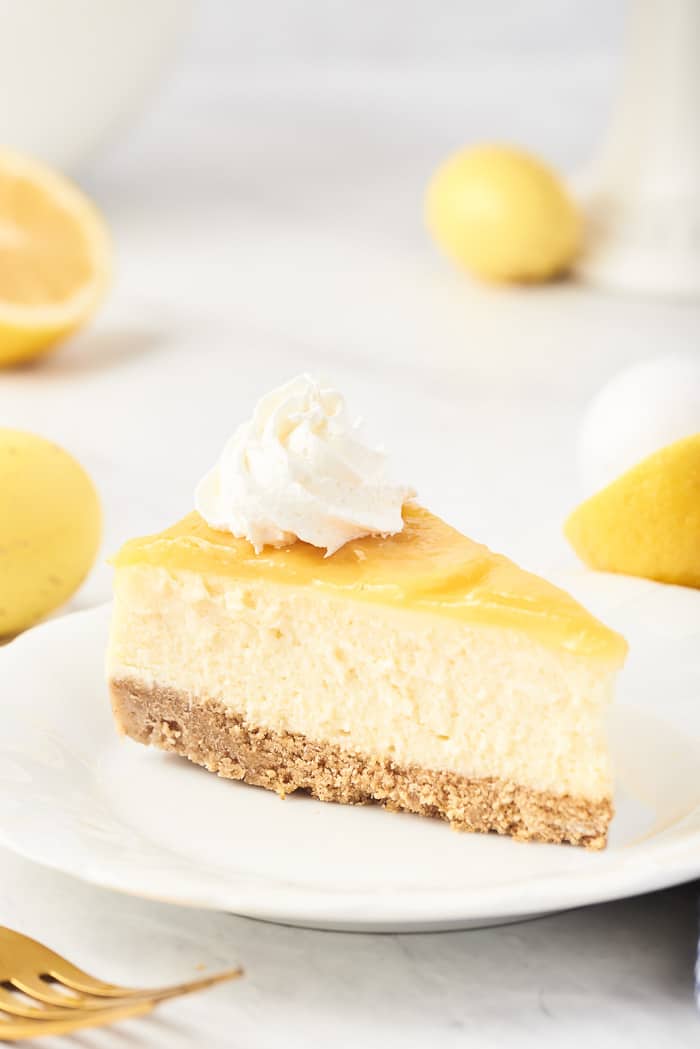 Lemon Cheesecake Ingredients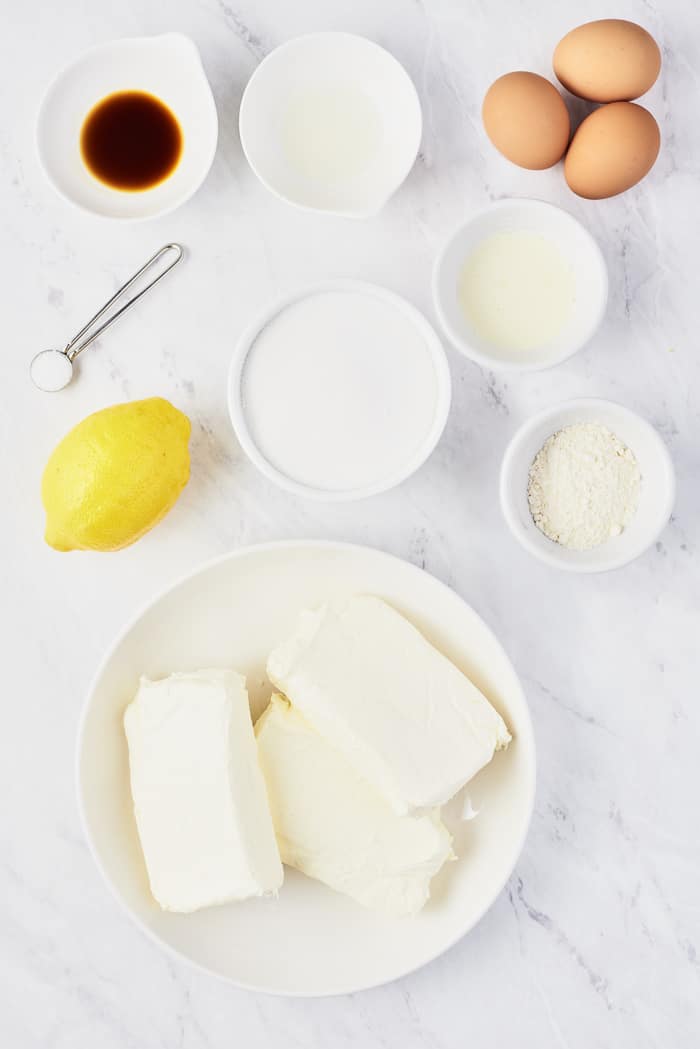 graham cracker crumbs
unsalted butter
granulated sugar
juice and zest from a lemon
cream cheese
all-purpose flour
heavy cream
kosher salt
pure vanilla extract & lemon extract
a few large eggs
powdered sugar
lemon curd
How to Make Lemon Cheesecake
To start gather your ingredients first. The crust is extremely simple. Just crushed graham cracker crumbs and melted butter.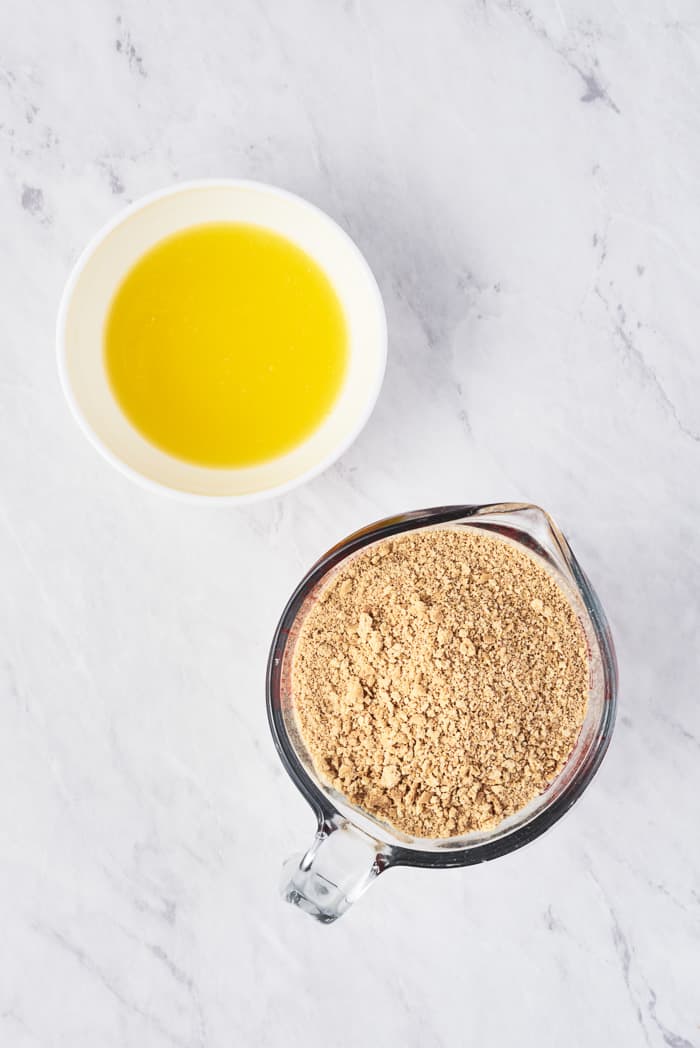 Combine both in a bowl and that is your crust!!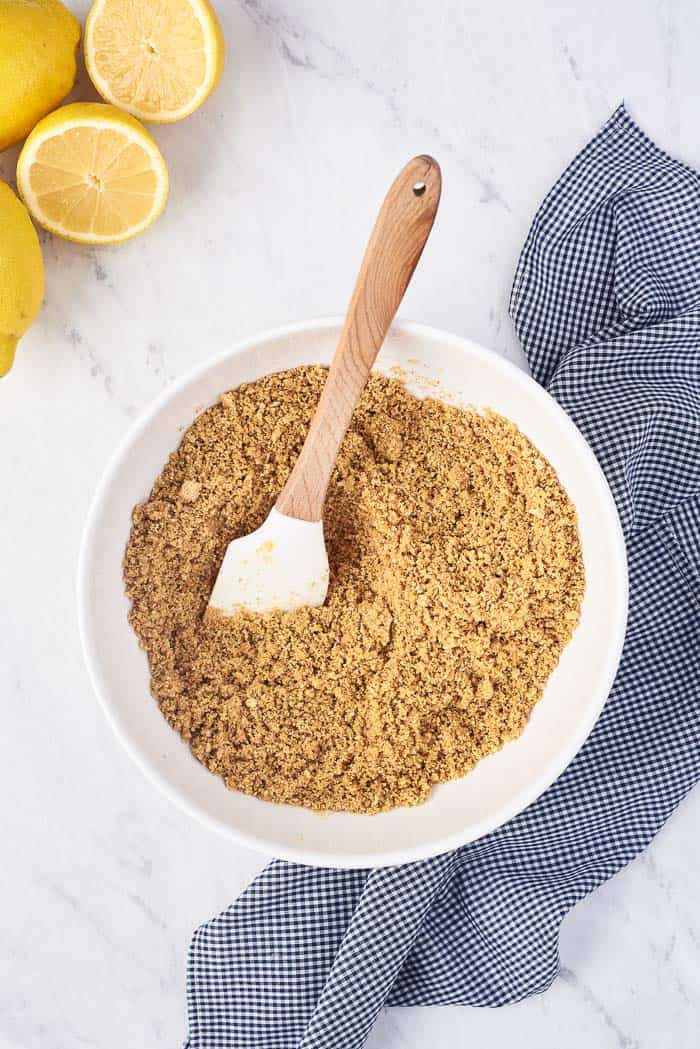 You can add a few tablespoons of sugar or lemon zest. I usually skip the sugar since I think the filling is sweet enough. Bake the crust in a 9-inch springform pan and wrap the entire outside with two layers of aluminum foil.
If you are not sure what the heck a springform pan looks like, it is one where the sides are removable from the bottom. To ensure the crust layer is completely even you can use either a drinking glass or a ramekin to push any lumps down.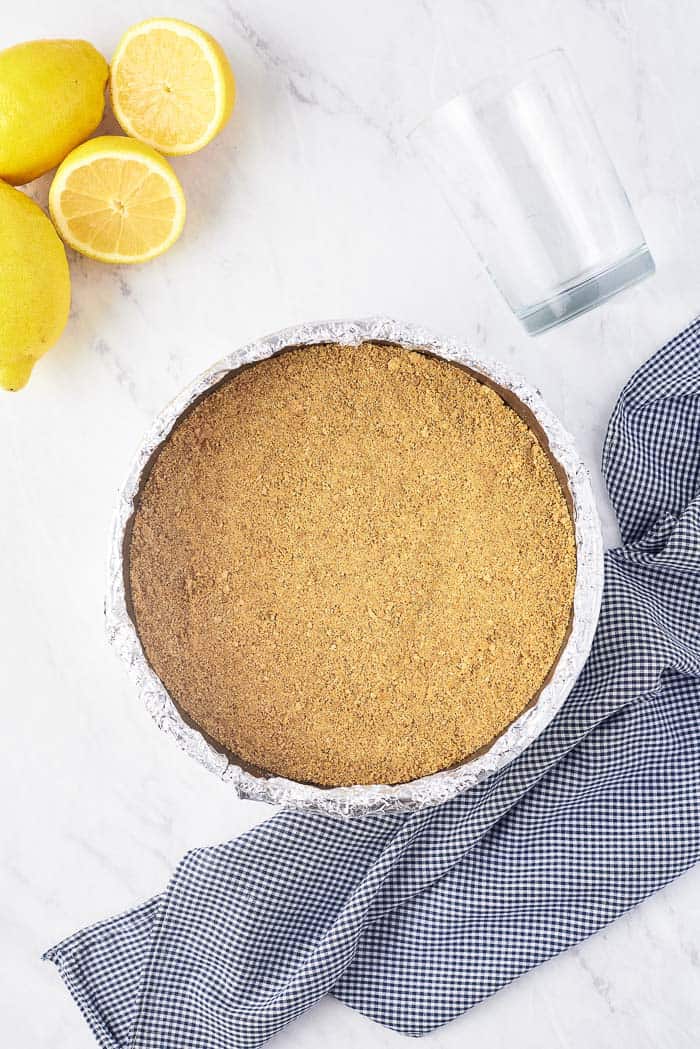 While the crust cools, let's make the filling.
Again the filling is simple. Cream cheese, sugar, eggs, lemon zest and juice, and some flour to help things set. Using an electric mixer is helpful to ensure the filling is smooth.
To ensure we have the lemon flavor in the filling, we start by mixing the zest and the sugar together to release the oils from the zest.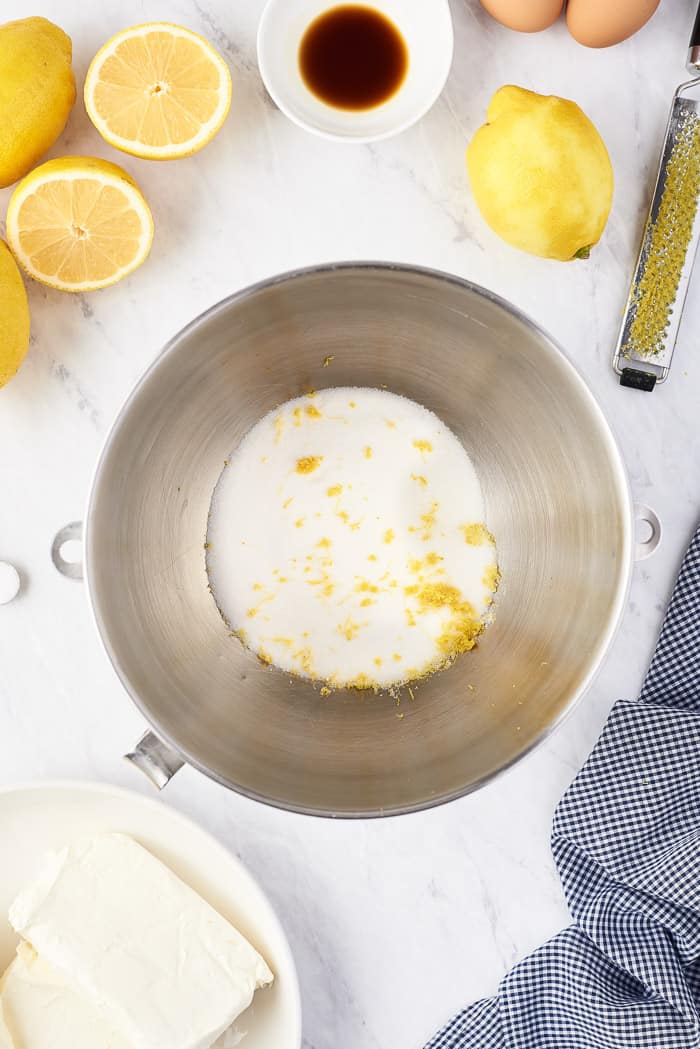 Continue to mix in the cream cheese and the rest of the ingredients slowly until the filling mixture is creamy and smooth.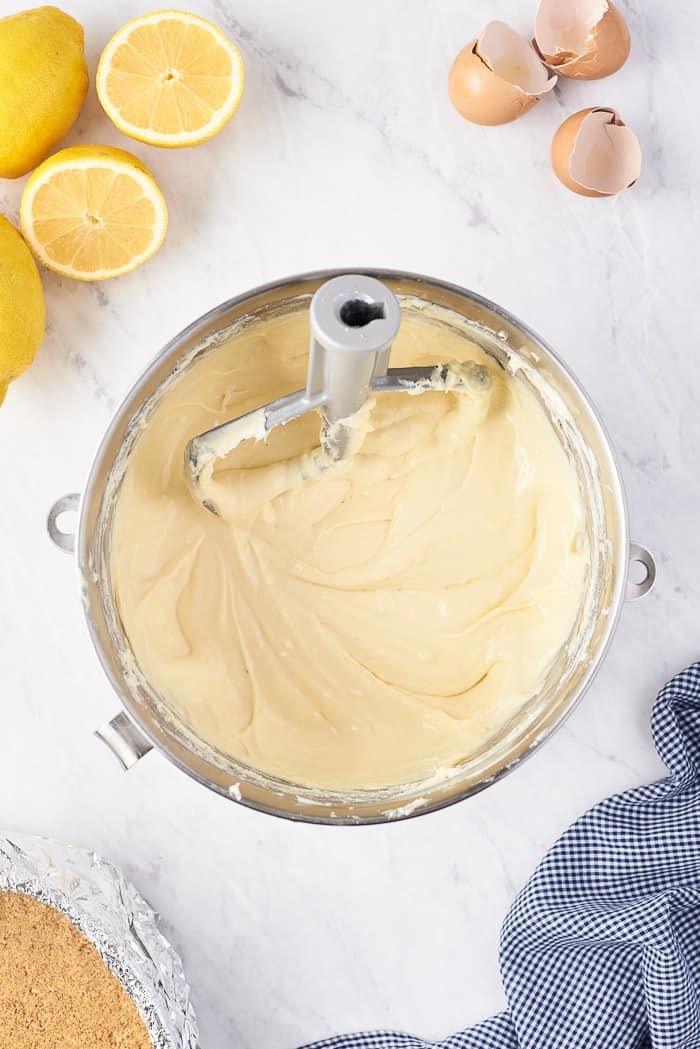 Pour the cheesecake mixture over the baked crust.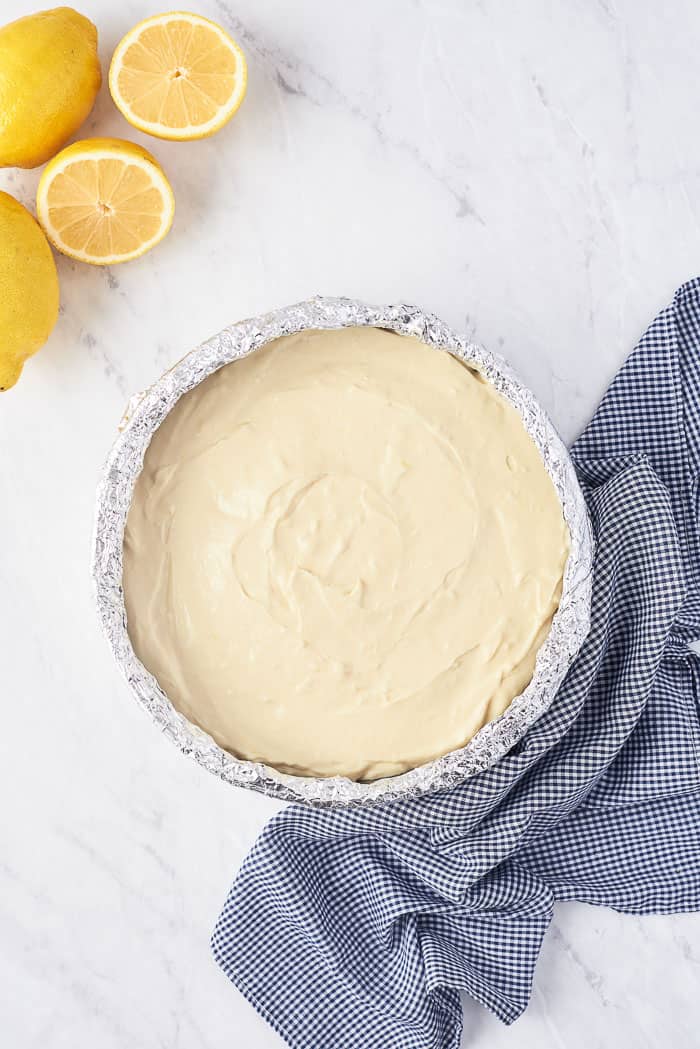 Smooth the top as much as possible so you have an even layer. Next, we transfer the cheesecake pan into a much larger pan (a roasting pan is perfect!)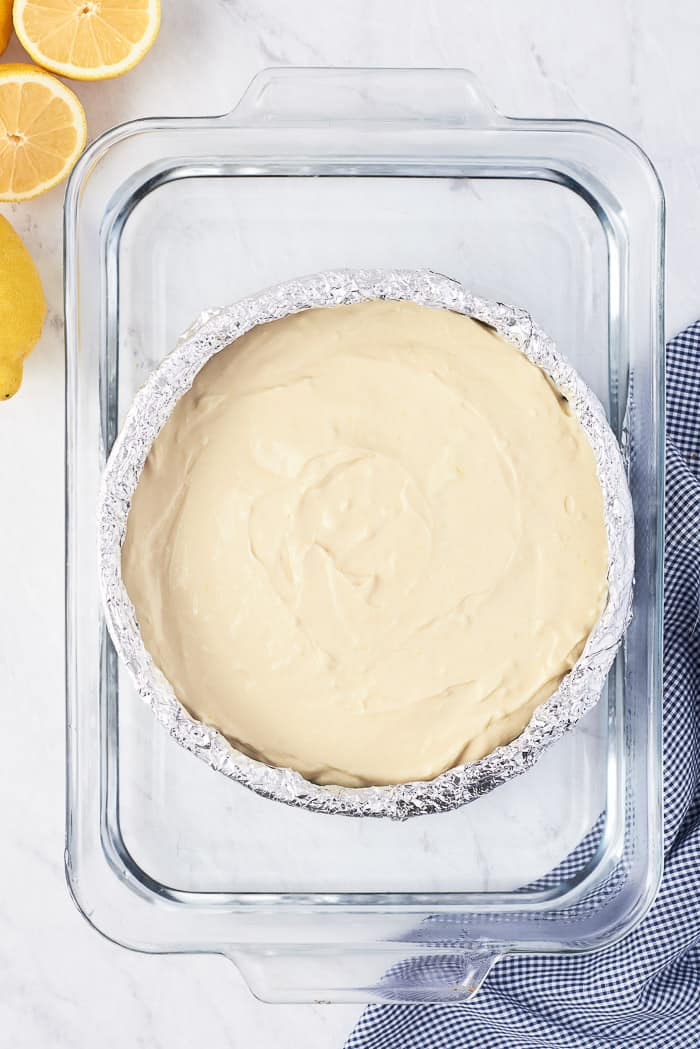 Make sure it sits level and the large pan is wide enough for your cheesecake to sit flat. Slowly pour in hot water around the springform pan. The water only needs to go halfway up the sides of your springform pan. Make sure you do not add too much water.
Slide your lemon cheesecake into the oven at 325 degrees F for one hour. Keep an eye on it throughout the baking process. The edges should be set and the center should still be jiggly.
Turn off your oven but leave the cheesecake inside for approximately 45 minutes.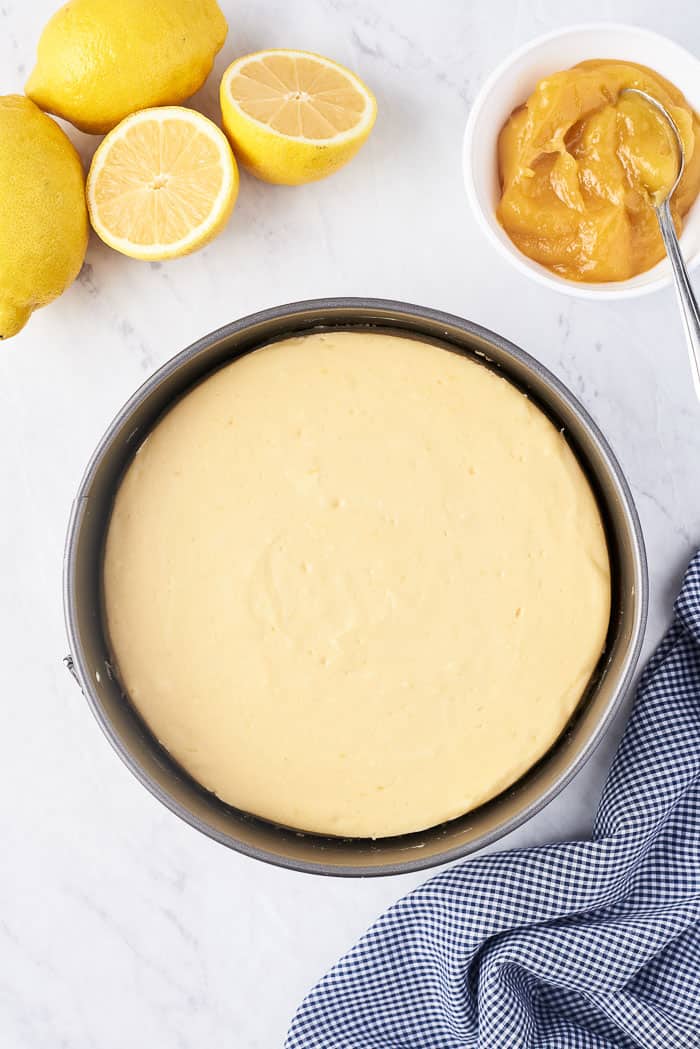 Take your delicious treat out of the oven and let it cool on the counter before chilling. I recommend leaving it out for an hour before putting it in the fridge.
The best time to prepare this treat is at night. You can put it in the fridge overnight to cool and firm up then wake up in the morning and prep the topping.
The toppings for this cheesecake are homemade lemon curd and homemade whipped cream. Feel free to customize as you see fit of course 🙂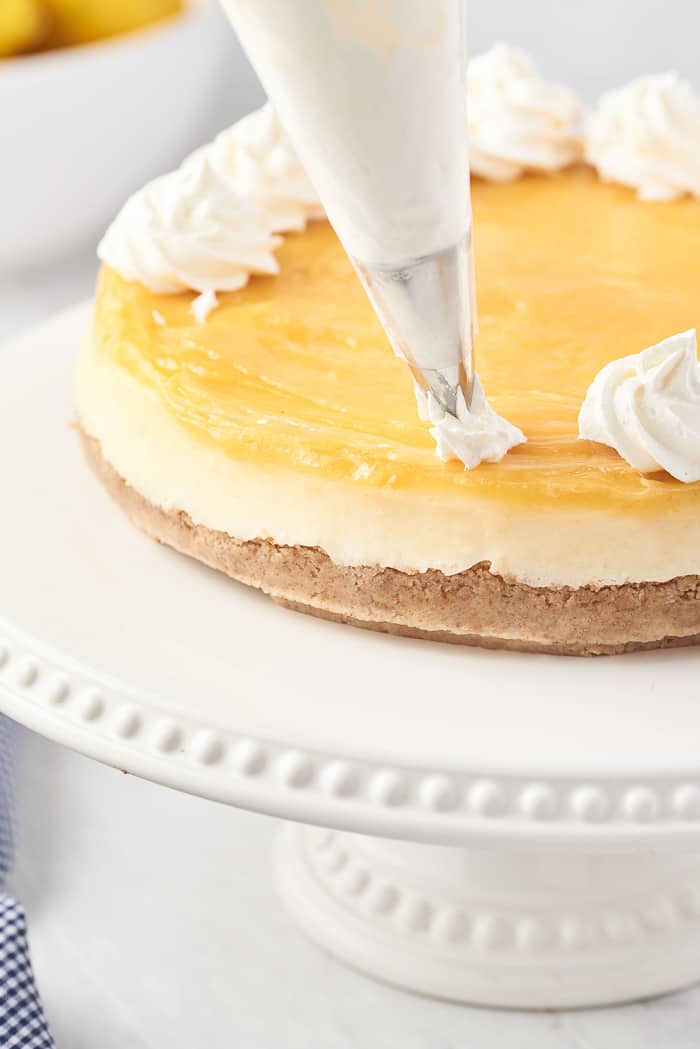 Voila! You have successfully recreated one of my favorite desserts of all time. Definitely a labor of love but absolutely worth every second!
The array of flavors in this Lemon Cheesecake pairs very well with prosecco or Moscato. Two light sparkling wines. Whether you are enjoying it with family or treating yourself, savor every bit of this dessert.
It's also a great Easter dessert if you celebrate the holiday.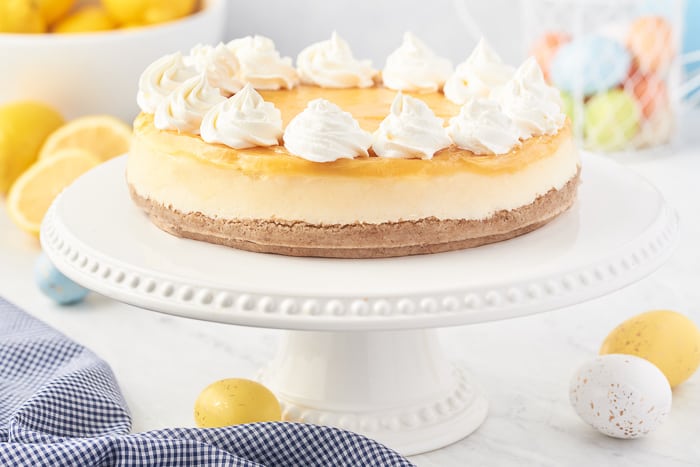 How to Store Lemon Cheesecake
Store your cheesecake in an airtight container in your refrigerator for up to 7 days or in your freezer for up to 3 months.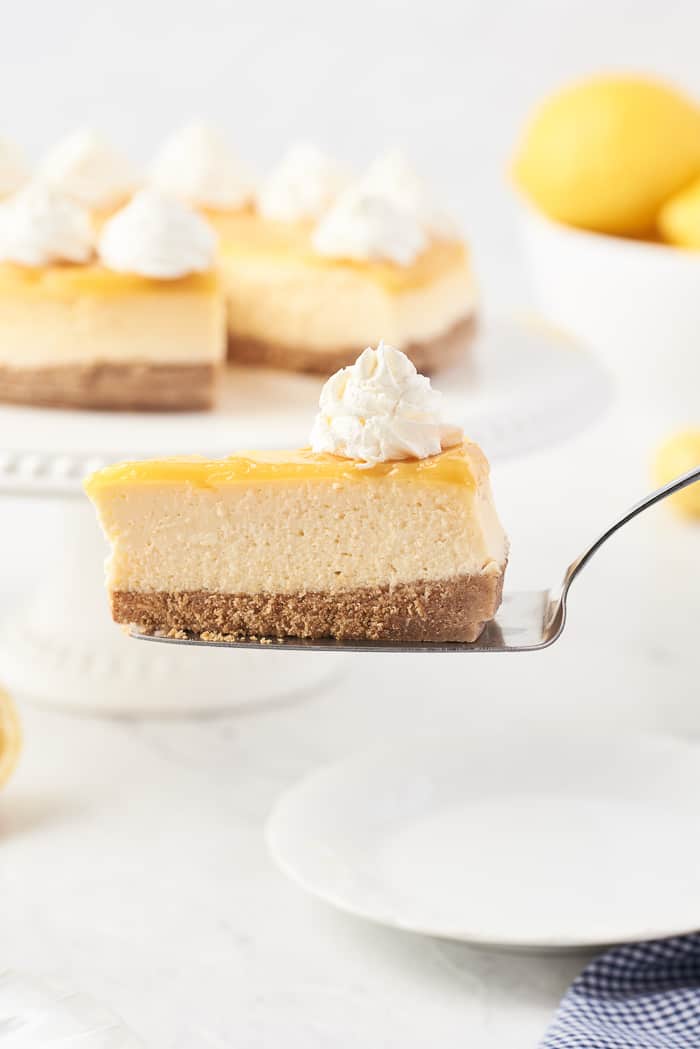 More Cheesecake Recipes
You can find all of my cheesecake recipes here. Below are a few that are perfect for spring and summer.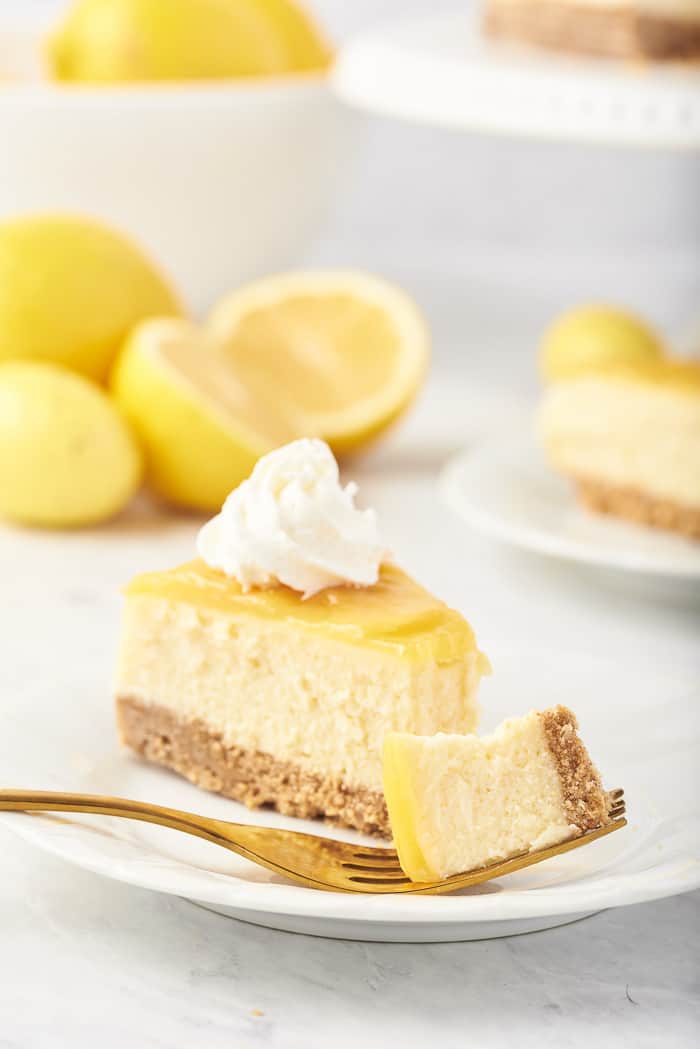 What do you think of this amazing lemon cheesecake recipe? What would you serve with a slice of this? Let me know in the comment section below.
If you share across social media, make sure to tag #aclassictwist, so I can see your beautiful creation come to life!
Happy baking, friends!
Lemon Cheesecake Recipe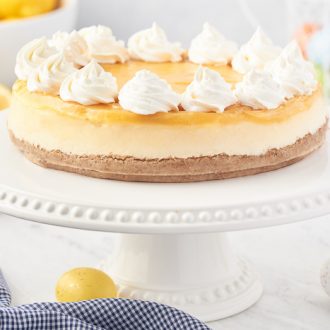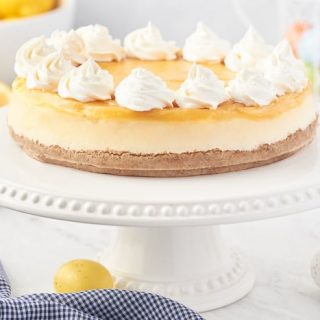 Yield: 1 9-inch cheesecake
Lemon Cheesecake
There's nothing like this homemade lemon cheesecake. Creamy, decadent and perfect for Spring and that lip-puckering craving for a lemon dessert.
Cook Time
2 hours
45 minutes
Total Time
9 hours
30 minutes
Ingredients
For Crust:
2 cups graham cracker crumbs
5 tablespoons unsalted butter, melted
For the Filling:
1 cup granulated sugar
zest of one lemon
24 ounces cream cheese, softened at room temperature
1 ½ tablespoon all-purpose flour
1 ½ tablespoon heavy cream
¼ teaspoon kosher salt
juice of half a lemon
1 teaspoon pure vanilla extract
1 teaspoon lemon extract
3 large eggs, room temperature
For Topping:
1 cup heavy cream, cold
1/4 cup powdered sugar
½ teaspoons lemon extract
Lemon curd (optional)
Instructions
Preheat oven to 350 degrees F. Wrap the entire outside of a 9-inch springform pan with two sheets of foil.
In a large bowl, combine the graham cracker crumbs with melted butter. Mix until moist.
Transfer the crumbs to the prepared pan and evenly spread it. Use a flat bottom cup and press down on the crust to create an even layer.
Bake crust for 10 minutes or until lightly golden. Let cool while you prepare the filling.
Reduce oven temperature to 325 degrees F.
In the bowl of an electric mixer, combine the sugar and lemon zest. Using your fingers, mix the zest into the sugar until fragrant and oils of zest comes out. Add in the cream cheese and using an electric mixer, beat the cream cheese and sugar on medium speed until smooth and creamy, about 2 -3 minutes.
Add in flour, heavy cream, salt, lemon juice and extracts. Mix well on medium-low speed. Reduce speed to low and add eggs in one at a time, mixing until combined. Mix filling until smooth for an additional minute.
Pour filling into springform pan with crust.
Place springform pan into a much larger baking pan (I like using a roasting pan). Add hot water into the larger baking pan to reach halfway up the side of your spring-form pan.
Bake at 325 degrees F for one hour or until cheesecake is set around the edges but still jiggly in the center. Then turn off the oven and leave the cheesecake in the oven for additional 45 minutes.
Remove cheesecake from oven and allow to cool at room temperature for at least an hour before chilling. Chill for 6 hours or overnight.
The next day, whisk together all the ingredients for the topping in a medium bowl until soft peaks form.
Remove the sides from the spring-form pan and spread the mousse mixture on top of the cheesecake. Smooth evenly.
Chill for 1-2 hours before serving.
Store leftovers covered in the refrigerator.
Notes
Top with lemon curd, if desired
Recommended Products
As an Amazon Associate and member of other affiliate programs, I earn from qualifying purchases.
Nutrition Information:
Yield:
8
Serving Size:
1
Amount Per Serving:
Calories:

824
Total Fat:

57g
Saturated Fat:

33g
Trans Fat:

1g
Unsaturated Fat:

19g
Cholesterol:

253mg
Sodium:

514mg
Carbohydrates:

70g
Fiber:

1g
Sugar:

55g
Protein:

11g