Piña Colada Cheesecake
Piña colada cheesecake is a pure delight that will transport you to the tropics in no time! A rich, creamy cheesecake filling, infused with cream of coconut and pineapple chunks make this dessert extra special.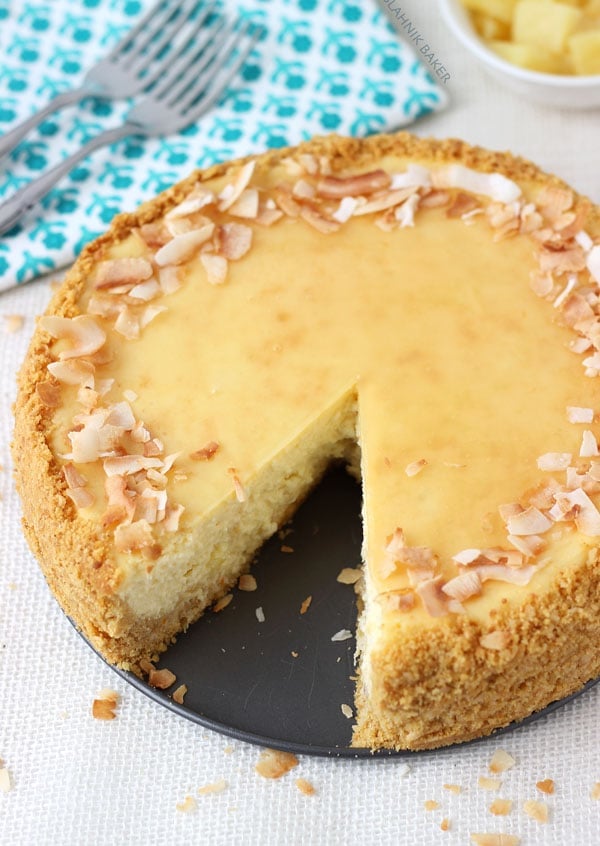 What do you do when the temperature goes from a sunny 52 degrees to 18 degrees in the span of two days? You make a piña colada cheesecake and dream of the days you spent in the tropics. That my friend is how this cheesecake came about. I am in need of some serious warm therapy and I created it myself. It worked… for as long as the cheesecake lasted.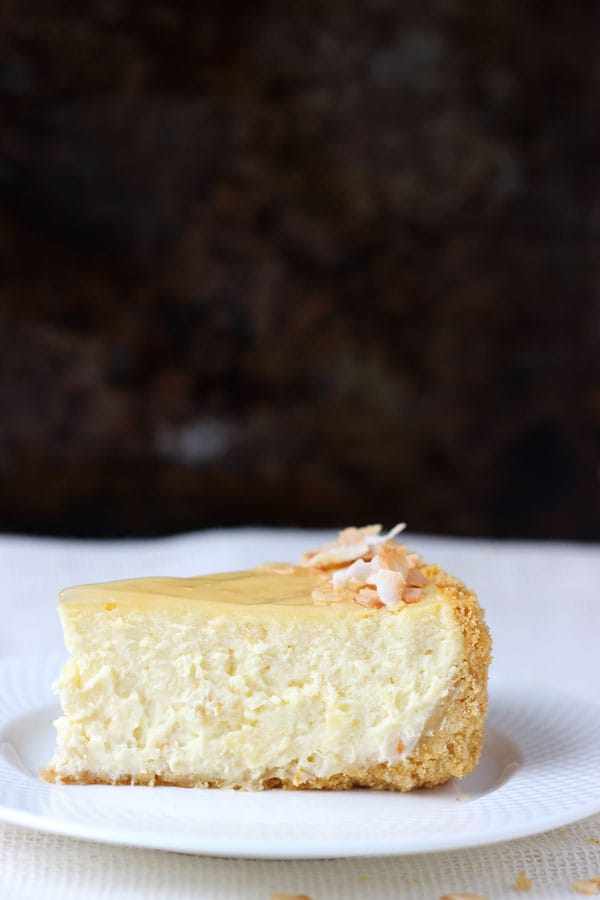 This month, I joined a new food group with some blogging friends called Mystery Dish. Have you guys ever seen the cooking show Chopped? I love that show! If you don't know what I'm talking about, it's a cooking competition where the contestants are given a basket of mystery ingredients and are required to make a dish using those ingredients.
Well, mystery dish is pretty much the same idea. Each month, random ingredients are selected by a host and group members are required to use at least 2-3 of these ingredients to create a unique recipe. And at the end of the month, we all reveal our creations. Amazing right?
This month's ingredients were chosen by our host, Christine over at I Dig Pinterest, and they were:
Mushrooms
Pork
Spinach
Cream Cheese
Pineapple
Butterscotch chips
Macadamia nuts
Sriracha
Ritz Crackers
Tortillas
Because I've been eating Sriracha like it's my job lately, initially, I was going to go a savory route. But then one day, the boy mentioned how he wished we were back in Jamaica, enjoying piña coladas on the beach again. And that just lit the fire under the creation of this cheesecake. Of course, the winter blues did not help either!
For the piña colada cheesecake, I used three ingredients from the list; cream cheese, pineapple, and macadamia nuts.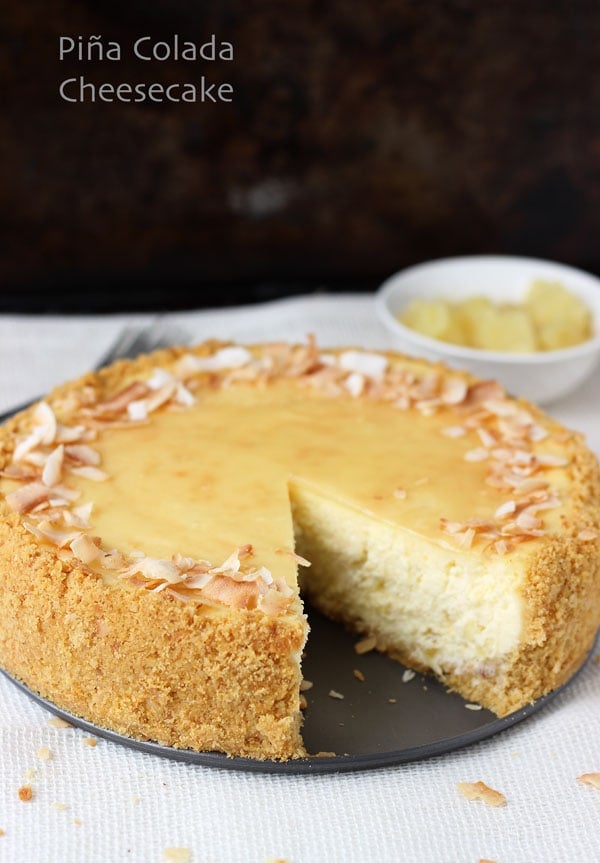 Let us break down this piña colada cheesecake, because there are so many delicious layers that they each need special mention.
Starting with the crust, which is a combination of shortbread cookies, coconut flakes and macadamia nuts for added crunch. Yes, I'm obsessed with nuts in my crust these days, I can't help it. (See this peanut butter pie and blood orange torte). Ok, so we have a crust that's boasting of coconut and macadamia nuts, now on to the filling. I made a traditional rich and creamy cheesecake filling infused with cream of coconut and pineapple chunks making this a pure delight. If you like, you can add in some rum to the filling as well.
To top it all off, the cheesecake is covered with a pineapple glaze and toasted coconut. Tell me you are not smelling the ocean already and seeing yourself holding that piña colada in your hand. I know I am!
If you love coconut you'll love my coconut cheesecake too!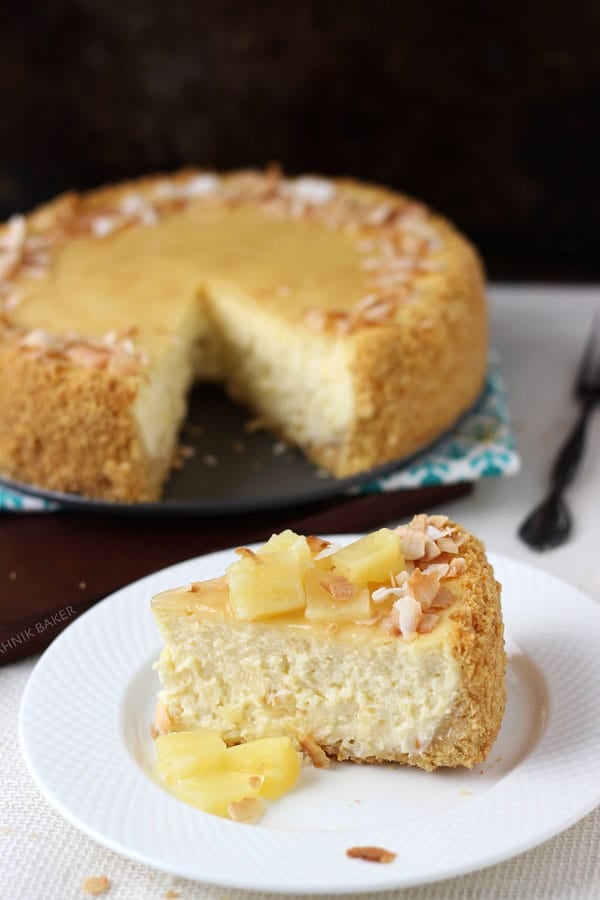 Here's what everyone else in the group made! Be sure to check them out 🙂 Thank you Allie and Mystery Dish ladies for inviting me to join this fun adventure. I can't wait to see what next month's ingredients are!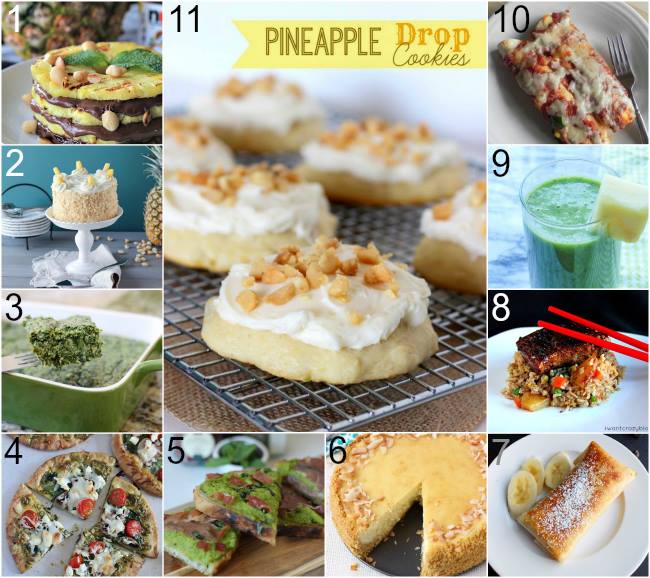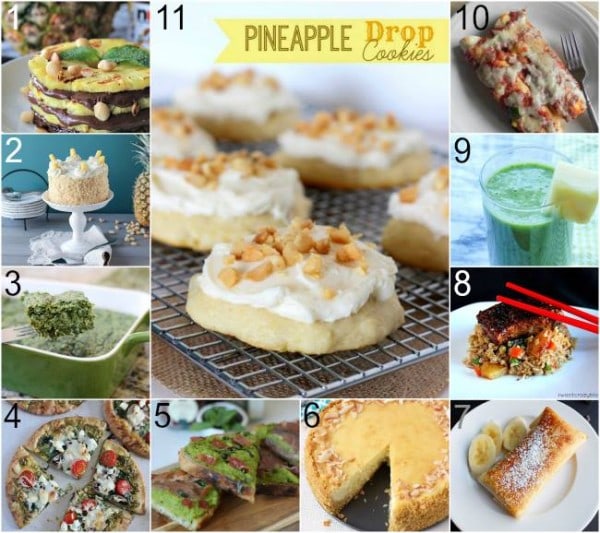 6. Pina Colada Cheesecake by A Classic Twist
Enjoy the Piña Colada Cheesecake recipe.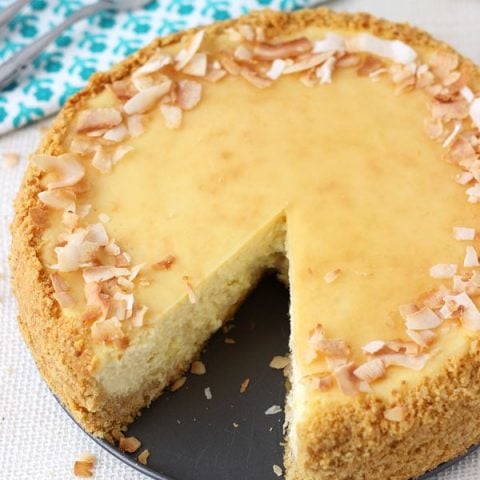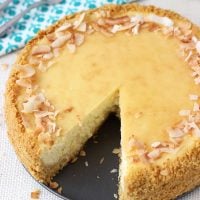 Yield: 1 9-inch cheesecake
Piña Colada Cheesecake
Piña colada cheesecake is a pure delight that will transport you to the tropics in no time! A rich, creamy cheesecake filling, infused with cream of coconut and pineapple chunks make this dessert extra special.
Cook Time
1 hour
30 minutes
Total Time
2 hours
10 minutes
Ingredients
For Crust:
1 ¾ cup shortbread cookie crumbs (about 15-20 cookies)
1 cup coconut flakes, toasted
½ cup macadamia nuts, toasted
4 tablespoons unsalted butter, melted
For Filling:
24 ounces (3 packages) cream cheese, softened
½ cup granulated sugar
3 large eggs
¾ cup cream of coconut (NOT coconut milk)
¼ cup Caribbean Rum with Coconut liqueur (I used Malibu. You can use any rum)
3 tablespoons milk
Zest from one orange
2 teaspoons coconut extract, optional (only for a more intense coconut flavor)
1 can (8 ounces) crushed pineapple, juice drained and reserved
Toppings:
½ cup reserved pineapple juice
2 teaspoons cornstarch
¼ cup granulated sugar
Garnishes: 1 can (8oz) pineapple chunks, toasted coconut flakes
Instructions
Preheat oven to 325 degrees. Lightly grease a 9-inch springform pan and place on a baking sheet. (You can securely wrap your pan with a double thickness of foil. I have a leak proof pan and skip this step.)
In the bowl of a food processor, combine cookie crumbs, coconut flakes and nuts. Pulse until finely ground, about 1 minute. Drizzle in butter over crumbs and mix until moist and wet. Press the crust mixture into bottom and 1 ½ inch up the sides of pan. Bake until set and lightly browned, about 8-10 minutes. Let cool on wire rack.
In the bowl of an electric mixer, beat the cream cheese and sugar on medium speed until fluffy, about 3 minutes. Add in eggs, one at a time and beat until well after each addition. Beat in the cream of coconut, rum, milk, zest and coconut extract. Mix until blended. Fold in crushed pineapple. Pour mixture into prepared crust.
Bake cheesecake at 325 degrees F until edge is set and center still jiggles slightly, about 1 hour and 15 minutes. (Note: I did not use a water bath and my cheesecake baked just fine. If you would like to use a water bath, wrap your cheesecake pan with double foil and place pan in a large baking pan and add about 1 inch of hot water to larger pan). Turn off oven and open door. Let cheesecake remain in oven for at least 30 minutes to an hour.
Remove from oven and let cool in pan on a wire rack for at least 30 minutes. Refrigerate overnight.
To make topping: In a small saucepan, combine the reserved pineapple juice, cornstarch, sugar and two tablespoons water. Cook over medium heat stirring constantly until it boils. Boil for 1 minute until it slightly thickens. Cool for about 20 minutes at room temperature.
When ready to serve, spread glaze over the top of cheesecake. Top with pineapple chunks and toasted coconut.
Store leftovers refrigerated.
Tools I used for this recipe: (some affiliate links included)