Banana Foster Pie
Pecan praline ice cream on top of a graham cracker crust is topped off with brown butter and brown sugar caramelized bananas in this classic banana foster pie.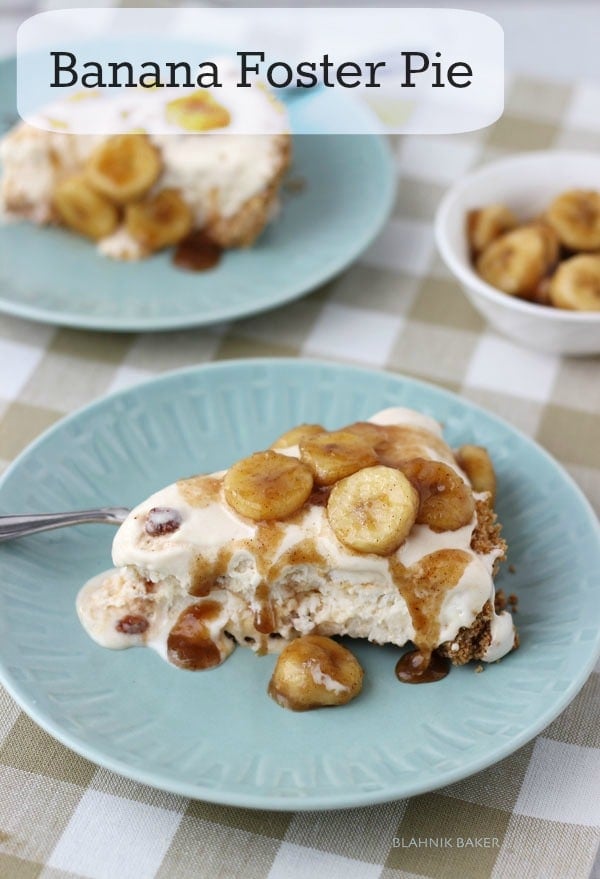 For this month's Pass the Cookbook Club selection, our leader Kita chose Cooking Up a Storm: Recipes Lost and Found from The Times-Picayune of New Orleans. I've never heard of this book before but after hearing the story behind it, I had to purchase it.  After the tragic hurricane a few years ago, families lost their treasures and keepsakes. As residents were trying to rebuild their lives, a local newspaper The Times-Picayune of New Orleans became a place for families to share and swap old recipes that were lost in the storm. The newspaper compiled over 200 of these recipes along with the stories behind each recipe into this book Cooking up a Storm. It's a great read and I urge you to grab a copy and read about one of the greatest food cities.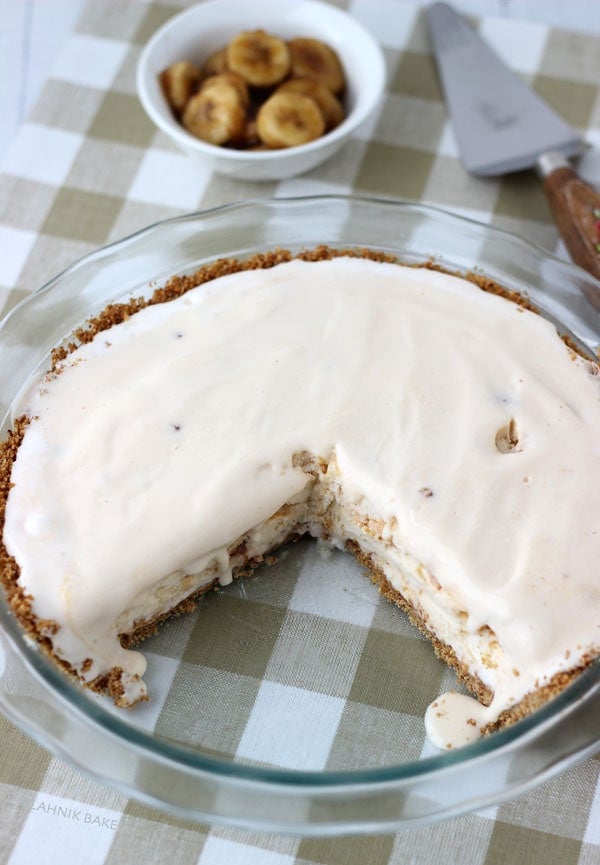 For our book club, Kita selected three recipes from Cooking up a Storm for us to try;  Chicken and Sausage Jambalaya, Crawfish in Saffron Cream and this Banana Foster Pie.  As always when it comes to selecting what to make for this club, the hubs gets to pick and the banana foster pie simply won because he is a sweet-a-holic that needs therapy. In his defense, I (and this blog) may be an enabler.
Quick aside my friends. While writing this second post of the week, I just realized, it looks like it is going to be a pie-torte-crust-abulous week here on the blog! I did not plan it that way but I am loving all the crust + filling combinations. Earlier in the week, we had a decadent blood orange chocolate truffle torte on top of a crunchy pecan graham cracker crust and today, it is a creamy butter pecan ice cream with caramel swirls filled crust that is topped with brown butter and brown sugar caramelized bananas with rum in this classic banana foster pie. And you just wait until tomorrow when you see the creamy pina colada cheesecake coming your way. I think my hips have expanded a pants size the past two weeks. But I am not complaining as I am hitting Zumba!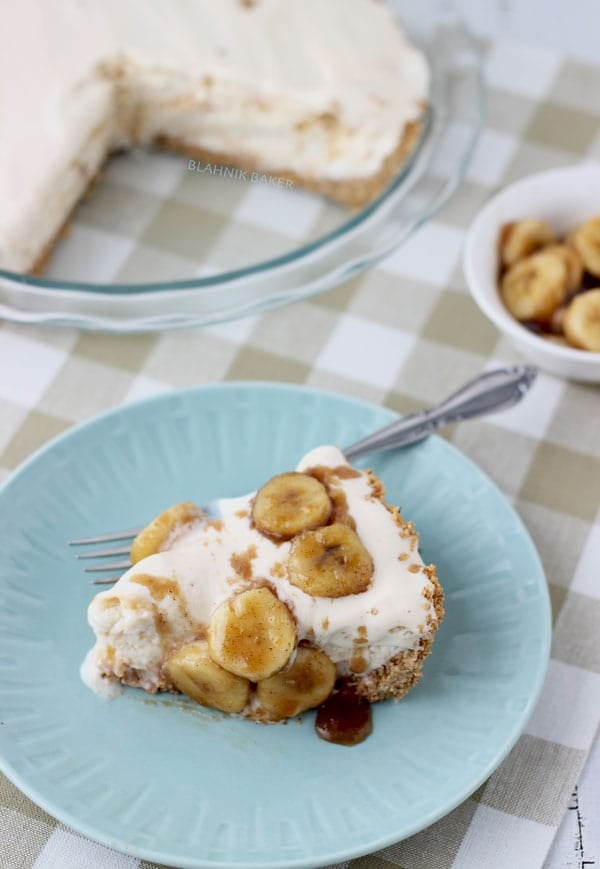 Anyway, back to this pie on hand.
This banana foster pie recipe is simple and good.
The original recipe calls for a pre-made graham cracker crust but after my success with the pecan graham cracker crust I used in this chocolate torte, I used it here as well and it worked great with the pecan praline ice cream filling. The crust is filled with softened ice cream of your choice and frozen. Right before serving, you caramelize the bananas in butter, brown sugar and dark rum. Since I love the nutty aroma of brown butter, I browned my butter before adding the brown sugar and I also used some spiced dark rum I had. Both these changes were subtle but delicious additions to the recipe.
This pie is a summer delight and a must-have!!
On another note, let the record show that I do not like taking photos of ice cream. It's a melty mess.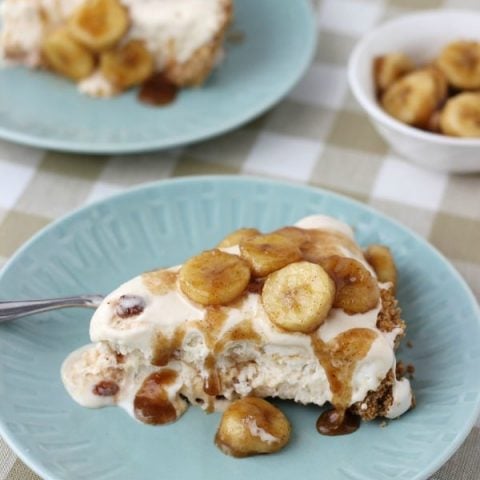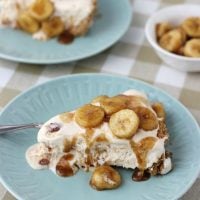 Yield: 1 9-inch pie
Banana Foster Pie
Pecan praline ice cream on top of a graham cracker crust is topped off with brown butter and brown sugar caramelized bananas in this classic banana foster pie.
Ingredients
1 cup pecans, toasted
1 cup graham cracker crumbs
2 tablespoons sugar
¼ cup butter, melted
2 quarts pecan praline ice cream, softened (or butter pecan, vanilla, etc)
4 tbs unsalted butter
½ cup packed light brown sugar
¼ teas ground cinnamon
¼ cup dark rum
6 medium bananas, peeled and cut into ¼" slices
Instructions
Preheat oven to 325 degrees F. Grease a 9-inch pie dish or springform pan.
To make the crust, combine pecans, graham cracker crumbs and sugar in the bowl of the food processor. Process for a minute until fine. Drizzle melted butter over crumbles and process for another minute. Press the crumbs onto bottom and up the sides of the prepared pan. Bake for about 10 minutes until golden. Let cool completely.
Spread the softened ice cream evenly over the cooled crust. Freeze until firm, 3 to 4 hours or overnight.
Just before serving, melt the butter in a large skillet over medium heat. Brown the butter before stirring in the brown sugar, cinnamon, and rum. Add the bananas and heat through.
To serve, cut the pie into wedges and spoon equal portions of the banana mixture over each.