Blood Orange Chocolate Truffle Torte
Starting with a pecan graham cracker crust, this blood orange chocolate truffle torte is decadent and fudgy with hints of citrus.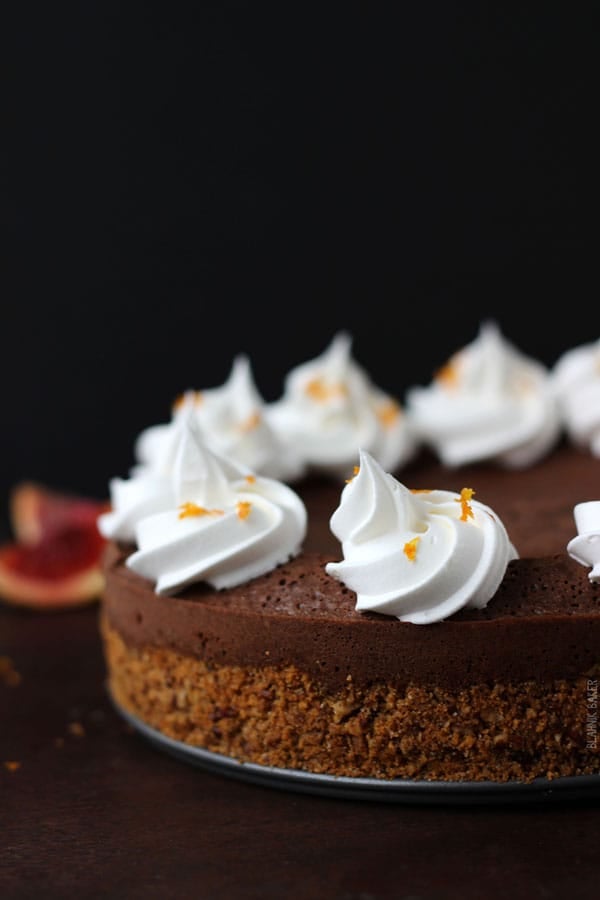 Are you ever in vogue? I am always behind trends and times. I get hooked on things way after they were cool or popular. Despite my monthly subscription to Vogue, I still can't help it. I finally got into colored skinny jeans this past fall and I'm sure people are thinking that's so last year.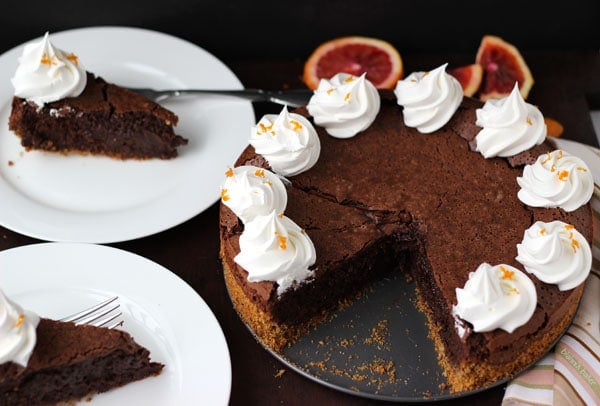 The same goes for food trends. Meyer lemons, kale chips, macarons, you name it. I am discovering and playing with them way after they were cool. For example, blood oranges have been all over Pinterest and blogland for a few months now. Heck I've even read articles about preserving them for when they are not in season but I didn't grab my first samples until last weekend while grocery shopping.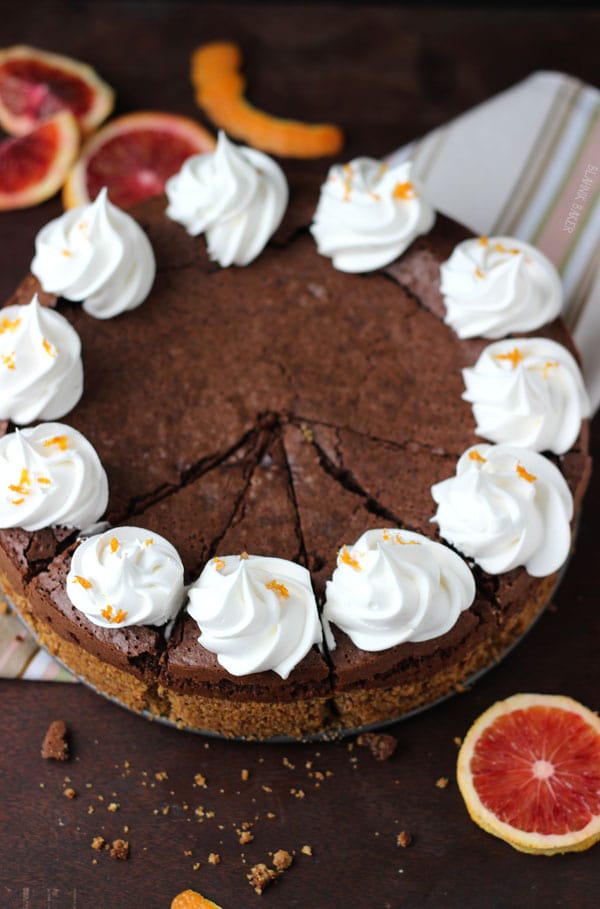 And now I don't know why I waited so long because they are freaking delightful. If you have never tried one, you are missing out. They are a unique cross between oranges and tangerines, but much more vibrant and beautiful than those two alone. Of course the first thing I did after tasting a few was to play around with some flavor ideas.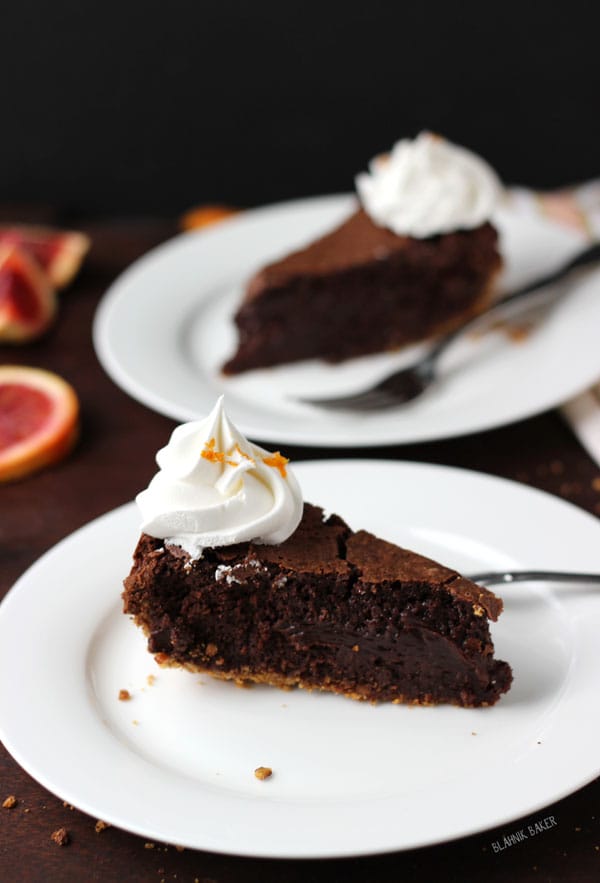 I settled on chocolate of course because what doesn't go well with chocolate? This blood orange chocolate truffle torte is amaze balls. Simply put. And here is why. Apart from all that gooey fudgy chocolate filling I know you chocolate lovers are glued on, it has my new favorite way to make crust; adding nuts to graham cracker crumbs. This torte has toasted pecans in it's starting layer giving it a crunchy beginning. And the crust is filled with a truffle chocolate brownie-like cake that is infused with the zest and juice of blood oranges.
If you are a chocolate lover (who isn't?), then you will love this decadent, fudgy torte with hints of sweet citrus. Make it soon and be in vogue.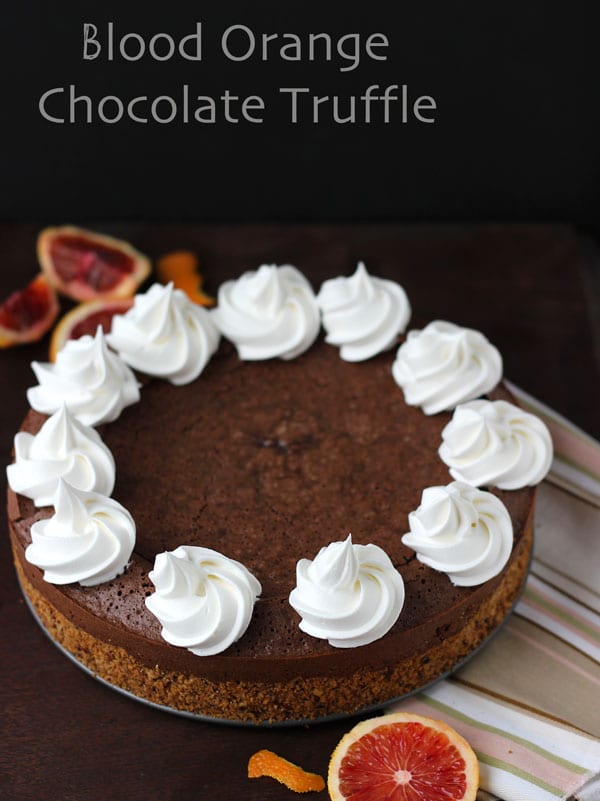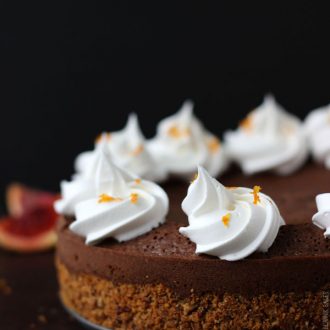 Blood Orange Chocolate Truffle
Starting with a pecan graham cracker crust, this blood orange chocolate truffle torte is decadent and fudgy with hints of citrus.
Ingredients:
For Crust
1 cup pecans, toasted
1 cup graham cracker crumbs
2 tablespoons granulated sugar
¼ cup unsalted butter, melted
Chocolate truffle torte
16 ounces semisweet chocolate, chopped finely
1 cup heavy cream
6 large eggs, beaten
¾ cup granulated sugar
⅓ cup all-purpose flour
zest of one blood orange
2 teaspoons blood orange juice
Whipped cream, optional for topping
Directions:
Preheat oven to 325 degrees F. Grease a 9-inch springform pan.
To make the crust, combine pecans, graham cracker crumbs and sugar in the bowl of the food processor. Process for a minute until fine. Drizzle melted butter over crumbles and process for another minute. Press the crumbs onto bottom and about an inch up the sides of the prepared springform pan.
In a medium saucepan, combine chocolate and heavy cream and cook over low heat until chocolate melts, stirring occasionally. Transfer to a medium bowl and set aside.
In a large mixing bowl, whip together the eggs, sugar and flour until thick and pale lemon colored, about 10 minutes. Whisk in zest and blood orange juice. Fold in a fourth of the egg mixture into the chocolate mixture. Fold in the remaining mixture until just combined. Pour the batter into the prepared crust.
Bake torte until puffed around the edge and halfway to the center but the center is slightly soft, about 40- 45 minutes (Do not over bake as the edges will crack while cooling). Let torte cool in pan for 20 minutes. Remove the sides of the pan and let cool on wire rack for 4 hours. Serve with whipped cream. Store in refrigerator.
Adapted from Better Homes & Garden Cookbook
//
MAKING THIS RECIPE? Share it with us on Instagram using #aclassictwist so we can see what you are baking up in your kitchen!