Guinness Pistachio Sweet Rolls with Irish Cream Cheese Glaze
Soft and fluffy Guinness sweet rolls are filled with brown sugar and pistachios and topped with an Irish Cream cheese glaze.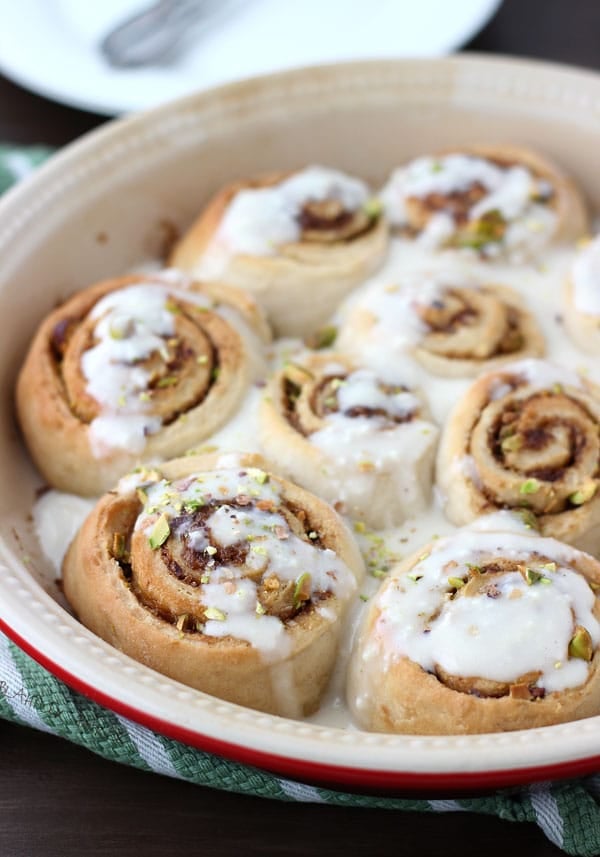 Happy Monday my friends. Yes it is a happy Monday. I made these Guinness pistachio sweet rolls with Bailey's cream cheese glaze over the weekend and I couldn't wait to share them with you today. In fact, I was not supposed to share a recipe here today. I was just going to send you all over to my friend Nancy's blog The Bitter Side of Sweet where I am guest posting today. But after the deliciousness that occurred when these Guinness sweet rolls rolled out of the oven, I had to tell you right away. I don't keep secrets well and clearly this one was too big to hold on to for more than two days.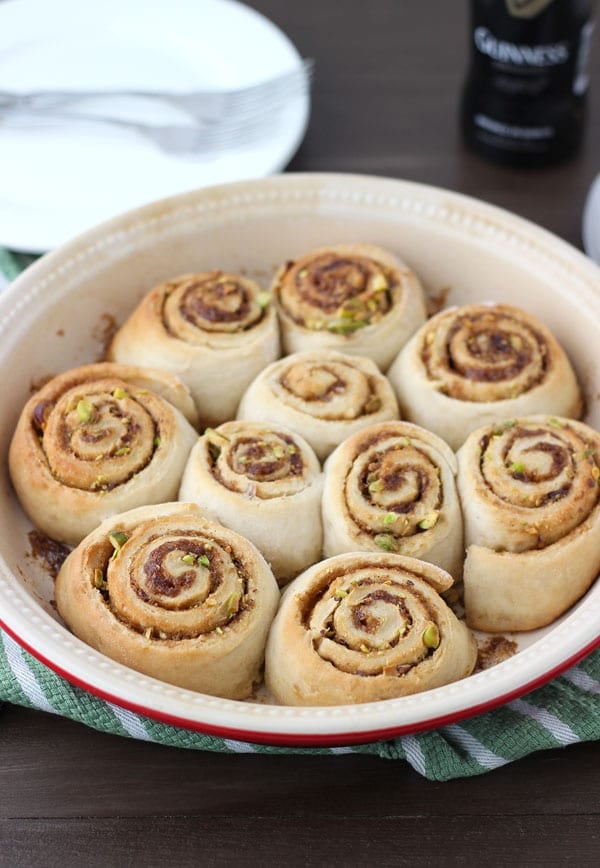 Let's back up for a minute and let me tell you how these rolls came about. I wanted to make sweet rolls for brunch on Saturday and had all intentions to make these peanut butter rolls I've had my eyes on for weeks now. But my mind went to the Guinness beer I just purchased for some cupcakes for an upcoming St Patrick's Day celebration. And the rest was history as I created these bad boys in my head. And boy were they amazing on the first try!! Like I had to share immediately!!!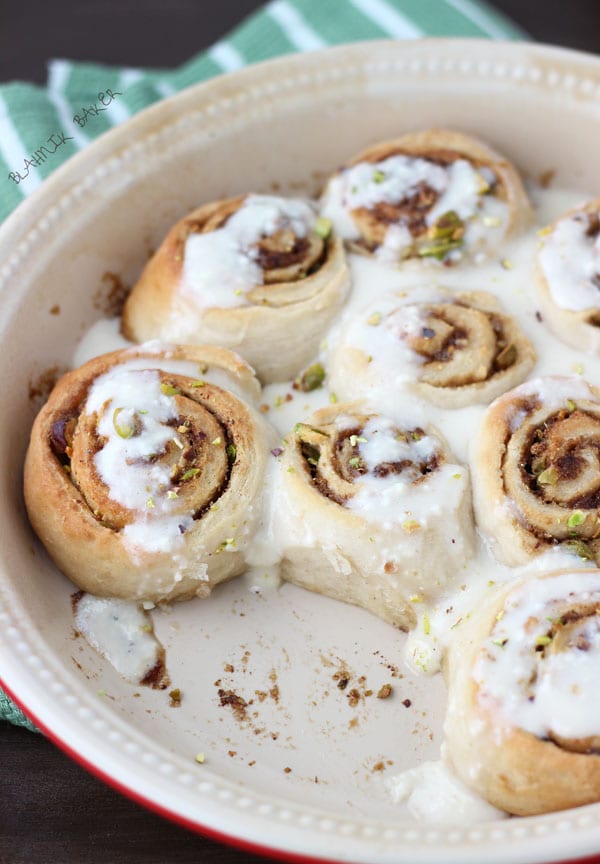 I know what you are thinking. Beer in your breakfast? Are you kidding me? Well, I am telling you it's amazing!! I don't drink beer…hate the smell and taste of it. So I was very skeptical about the idea of making Guinness sweet rolls, but they surprised me. I had to go with a full-proof recipe for the rolls since I am a yeast novice. I used the Pioneer Woman's famous cinnamon roll recipe. I infused some Guinness beer in the dough and the smell was just heavenly. I then filled the Guinness sweet rolls with brown butter, brown sugar and pistachios (for good luck!). The full-bodied stout marries the brown sugar filling perfectly and it cuts down the sweetness of the bread a little bit. But that's not a problem, the Irish cream cheese glaze brings in the sweet factor with hints of Irish whiskey. These rolls are fluffy, sweet-and-salty, crunchy and just delicious. Goodness, mornings were made to start like this.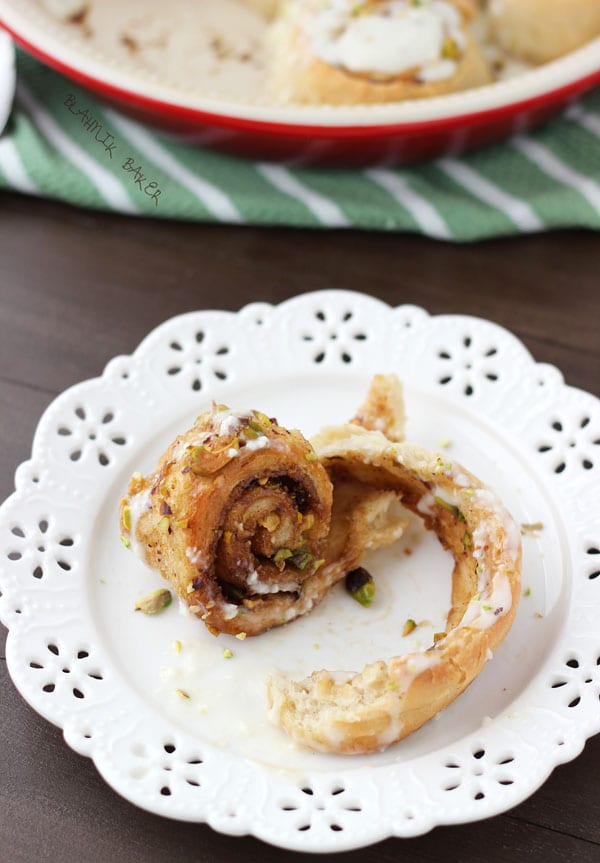 OK, I've made my case. Go make this NOW. But before you leave, head over to The Bitter Side of Sweet where I am sharing another delicious recipe for these chewy Coconut Chai Latte Bars.
Happy Monday!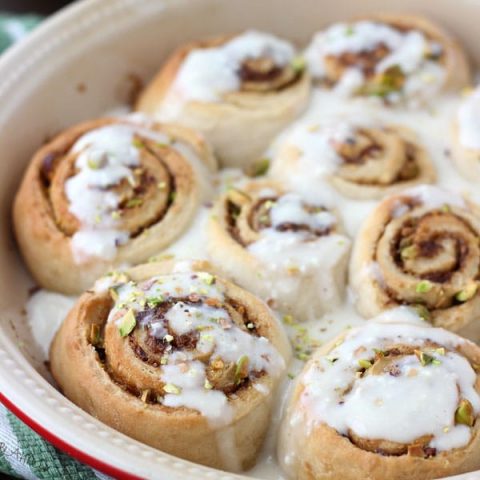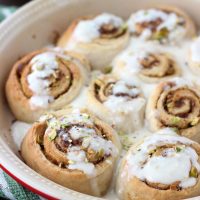 Yield: About 16 rolls
Guinness Pistachio Sweet Rolls with Irish Cream Cheese Glaze
Soft and fluffy Guinness sweet rolls are filled with brown sugar and pistachios and topped with an Irish Cream cheese glaze!
Total Time
5 hours
2 minutes
Ingredients
1 ½ cups whole milk
½ cup Guinness draft beer
½ cup vegetable oil
½ cup granulated sugar
1 package (0.25 ounces) active dry yeast (about 2 ¼ teaspoons), I used Red Star Yeast
4 ½ cups all-purpose flour, divided
½ teaspoon baking powder
½ teaspoon baking soda
1 ½ teaspoon salt
½ cup unsalted butter, melted and browned
¾ cup brown sugar
¾ cup shelled pistachios, chopped
4 ounces cream cheese, room temperature
¼ cup milk
1 tablespoon Irish Cream (Bailey's), or more to taste
½ to 1 cup confectioner's sugar
Instructions
To make the rolls:
In a large saucepan or dutch-oven, heat the milk, Guinness, oil and granulated sugar over medium heat to just below a boil. Remove pot from heat and allow to cool to warm. When the mixture is warm to the touch, sprinkle the yeast over the top and allow to sit for a minute.
To the milk mixture, add 4 cups of the flour and stir until just combined. Cover saucepan with lid or plastic wrap and set aside in a relatively warm area and allow dough to rise for an hour. Check dough after 30 minutes to make sure it is rising, if not, you may want to start from scratch again.
In a small bowl, combine the remaining half cup of flour, baking powder and baking soda. After an hour, sprinkle this mixture over the dough and stir thoroughly to combine. At this point you can use the dough right away or cover and refrigerate overnight.
Preheat oven to 375 degrees F. Lightly grease two 9-inch pie dishes.
To assemble rolls:
Split dough in half. On a lightly floured surface, roll out the first half of the dough into a rectangle, about 12 x 8 inches. Spread half of the browned butter over the dough using a pastry brush. Sprinkle half of the brown sugar and then half of the pistachios. To roll, start at the end farthest from you and roll the rectangle towards you. Use both hands and roll tightly. Finish with the seam side down, pinching together any loose ends. Using a sharp knife, slice the dough into 8 equal slices and arrange in one of the prepared pie dishes. Repeat this for the second half of the dough.
Let the rolls sit for 15 minutes before baking. Bake for 20-22 minutes, or until rolls are golden brown and bubbling. Remove from oven and let cool for 10 minutes.
To make glaze:
Make glaze when rolls are baking. Beat cream cheese until smooth. Add milk, Irish cream and confectioner's sugar. Whisk until combined. If glaze is too thin, add some more powdered sugar. If it's too thick, add tablespoon of milk until you get pouring consistency.
Pour glaze over warm rolls and serve.