Classic Lemon Meringue Pie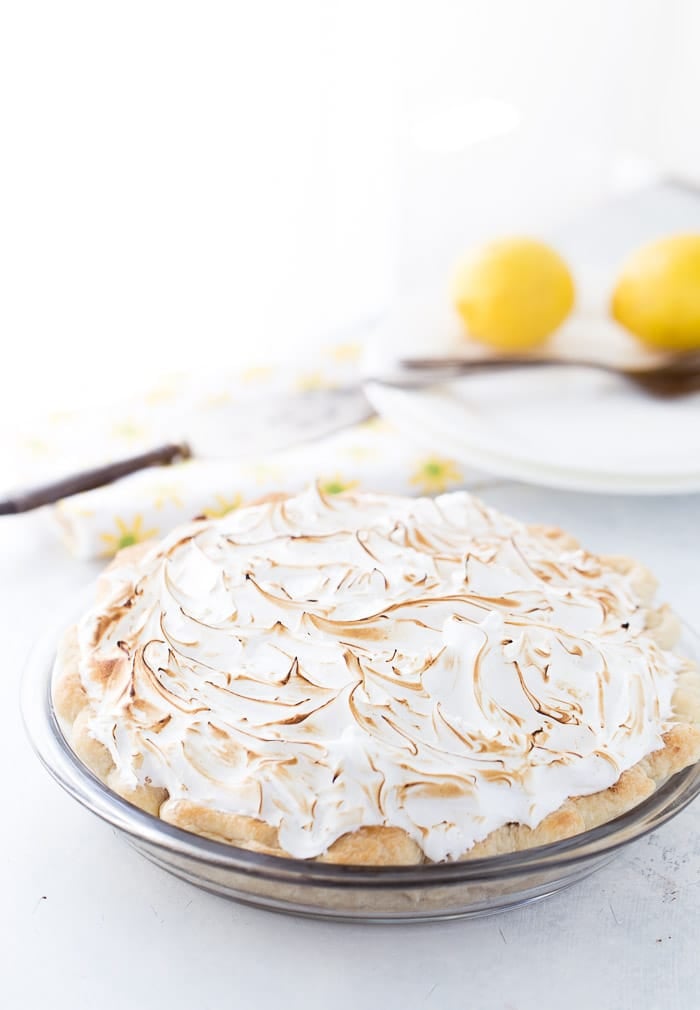 After 5 years of blogging and making recipes for you, I am going back through my recipe index to locate classic recipes I've missed.  Like lemon meringue pie. How did I miss that? I do have lemon meringue cupcakes and a raspberry lemon meringue tart which both have that classic meringue top.
But nothing beats the classic and why I needed to share with you this true classic. A flaky buttery pie crust filled with tart sweet lemon custard filling and topped with that toasty meringue cloud we all adore. This classic lemon meringue pie is beyond amazing and a must for any summer baking bucket list. I don't think I need to convince you much. Just look at this pie 🙂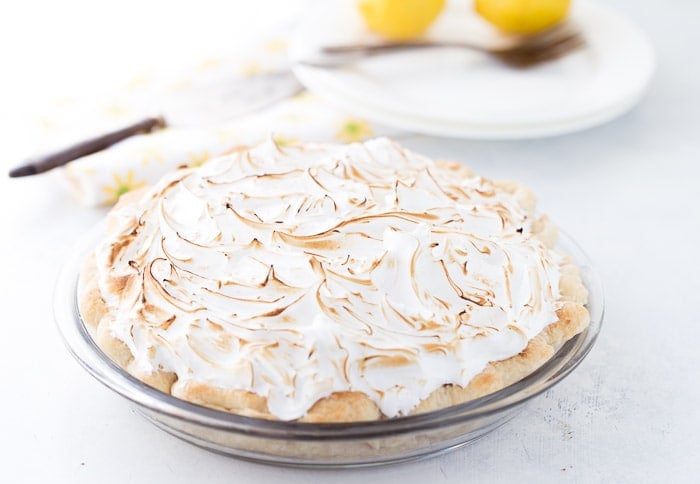 On another note, what other classic recipes would you like to see? I've so far shared my classic chocolate cupcake recipe, classic yellow cake with chocolate frosting, classic lemon cupcakes and chocolate cream pie and looking for more to help fill your recipe box. Let me know in the comments below what next I should go on the hunt for!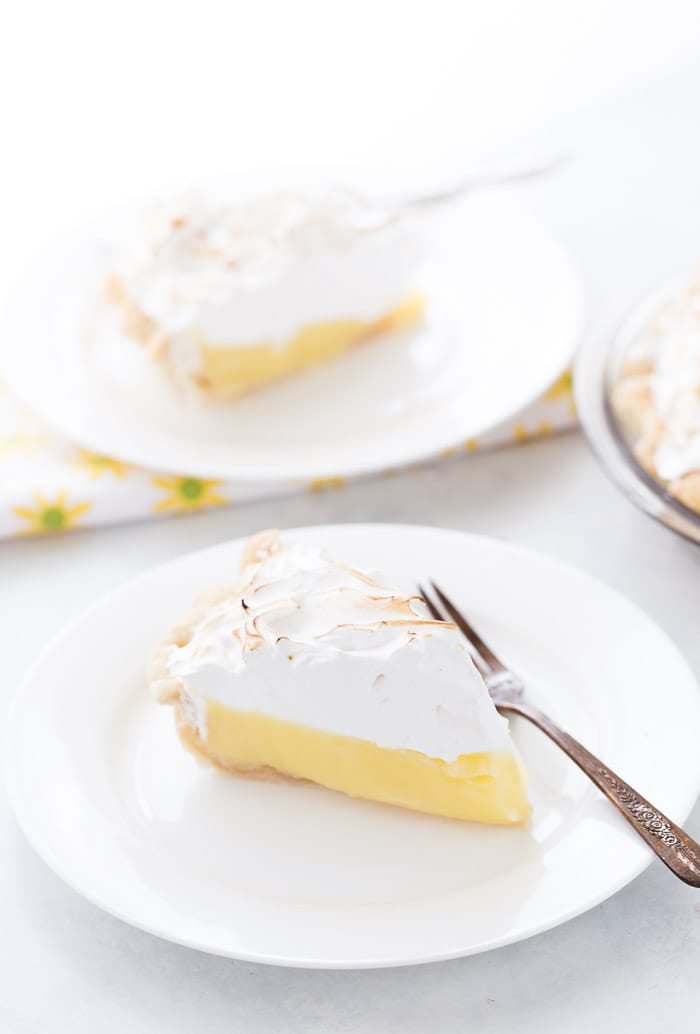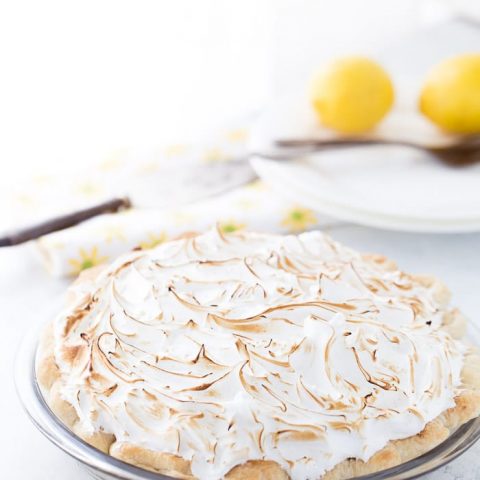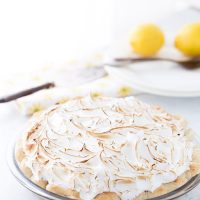 Yield: 1 9-inch pie
Classic Lemon Meringue Pie
Ingredients
For the Pie Crust:
2 ½ cups all-purpose flour
1 teaspoon salt
1 teaspoon sugar
14 tablespoons cold unsalted butter, cut into cubes
ice cold water
6 tablespoons chilled unsalted butter, cut into pieces
4 large egg yolks
1⅓ cups sugar
⅓ cup cornstarch
½ teaspoon kosher salt
1 tablespoon finely grated lemon zest
½ cup fresh lemon juice
3 large egg whites
½ teaspoon vanilla extract
⅛ teaspoon cream of tartar
Pinch of kosher salt
3 tablespoons plus ½ cup sugar
¼ teaspoon fresh lemon juice
Instructions
For the Crust:
Prepare ½ cup ice-cold water and keep in fridge. In a food processor, pulse flour, sugar and salt. Add in half of the butter and pulse for 30 seconds. Add in the rest of butter and pulse until the mixture looks like coarse meal.
Sprinkle about 6 tablespoons cold water over mixture and pulse until dough comes together in clumps. If dry, add a little bit more water (1 teaspoon at a time) until dough comes together. Remove dough from processor and pat into a disk.
Divide dough into two disks; one slightly bigger than the other and wrap in plastic wrap. Chill for at least an hour or overnight. The dough can be made up to 3 days ahead. Keep chilled.
Let stand at room temperature a few minutes before rolling out.
Roll out larger disk on a lightly floured surface to a large circle. Fit into an ungreased 9-inch pie dish, trim the edges leaving an inch or two overhang. Refrigerate for 30 minutes.
Preheat oven to 425 degrees. Line the crust with buttered parchment or foil and fill with pie weights.
Bake the crust for 20 minutes. Then remove the pie weights and lining. Continue baking for 10-15 minutes until crust is lightly brown. Let cool completely.
For the Lemon Filling:
Place the butter in a medium bowl. Set the bowl in a larger bowl filled with ice water. Place a fine mesh sieve over the bowl with butter. Set aside.
In another small bowl, whisk the egg yolks.
In a medium saucepan, whisk together sugar, cornstarch and salt with 1 1/2 cup water. Set over medium-high heat and whisking constantly until mixture thickens and bubbling, about a minute.
Remove mixture from heat and gradually whisk in half of the mixture into the egg yolks. Pour the egg yolk mixture back into the saucepan and whisk in along with the lemon zest and juice.
Reduce heat to medium-low, cook mixture, stirring constantly, until mixture is bubbling and thickens, about two minutes.
Immediately pour the custard over the prepared fine sieve. Press through the sieve into the bowl with butter. Stir until butter is melted and mixture is cool, about 5 minutes.
Pour into the chilled crust and cover with a plastic wrap pressing directly onto the surface. Chill until set, about 8 hours.
For the Topping:
In the bowl of the stand mixer fitted with the whisk attachment, beat the egg whites, vanilla extract, cream of tartar and salt on medium-high speed until soft peaks form, about 2 minutes. With mixer running, gradually add in the 3 tablespoons sugar.
Meanwhile, in a small saucepan bring to boil the 1/2 cup sugar, lemon juice and 2 tablespoons water, stirring until sugar melts. Cook, without stirring, until a thermometer reads 240 degrees, about 4 minutes.
Immediately remove from heat and gradually stream into the egg whites with mixer running. Increase speed to high and beat until the meringue is glossy and stiff and the bowl feels cool to the touch.
Top the pie with the meringue and use a kitchen torch to toast the top of the meringue.
Notes
Notes:
Dough can be made up to 3 days ahead. Keep refrigerated until ready to bake.
Filling can be made up to 3 days ahead. Keep refrigerated.